Natural Stone Vs. Porcelain Tile For Kitchen Flooring
May 20, 2017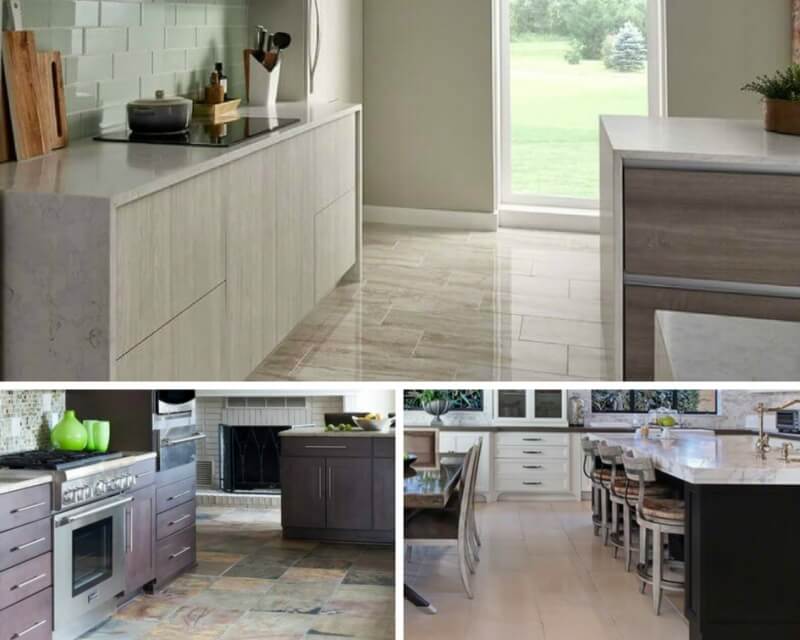 When you can install porcelain tile that looks just like natural stone tile – or wood, or other materials, with an incredibly realistic appearance – why would you choose the real thing instead? On the other hand, some homeowners may wonder why they should even consider a lookalike when the real thing is available.
Porcelain and natural stone tiles have their benefits and drawbacks, and your preference is a personal choice depending on many factors. In this article, we'll cover a few tips to help you decide which is right for your kitchen.
Cost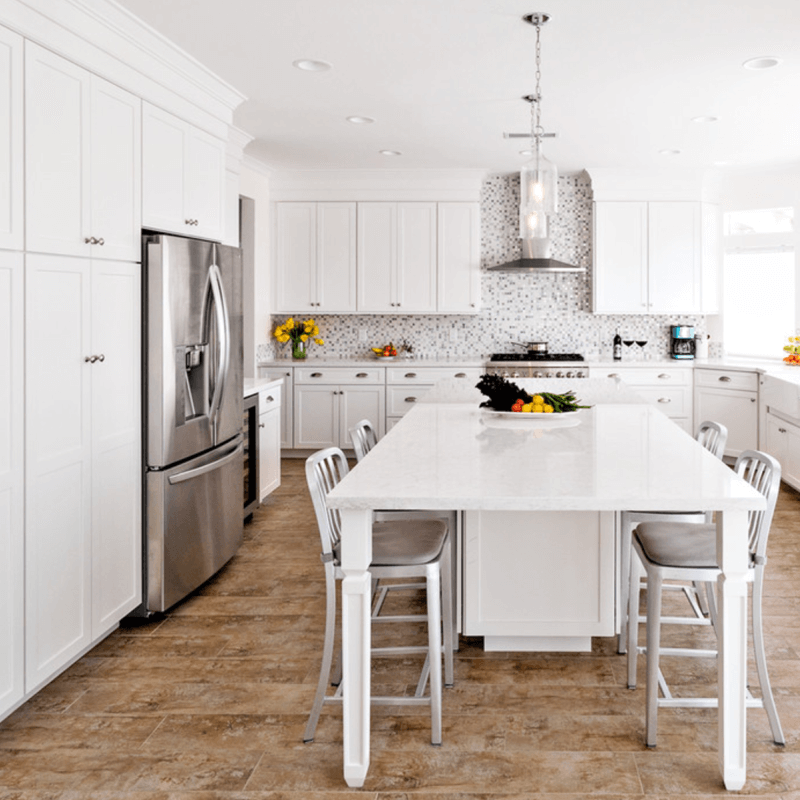 Get this look with MSI's Emperador Dark Marble (Photo credit: Houzz)
For many homeowners, cost is a big consideration when choosing their kitchen flooring. Even with a large remodeling budget, saving on flooring costs allows you to splurge elsewhere! Natural stone costs more than porcelain.
However, the investment in natural stone tile instead of porcelain tile may add to the home's resale value – a big consideration if you plan to move within the next several years. Along with the cost of materials and installation, natural stone flooring has maintenance requirements, such as yearly sealing. Porcelain tile does not need to be sealed.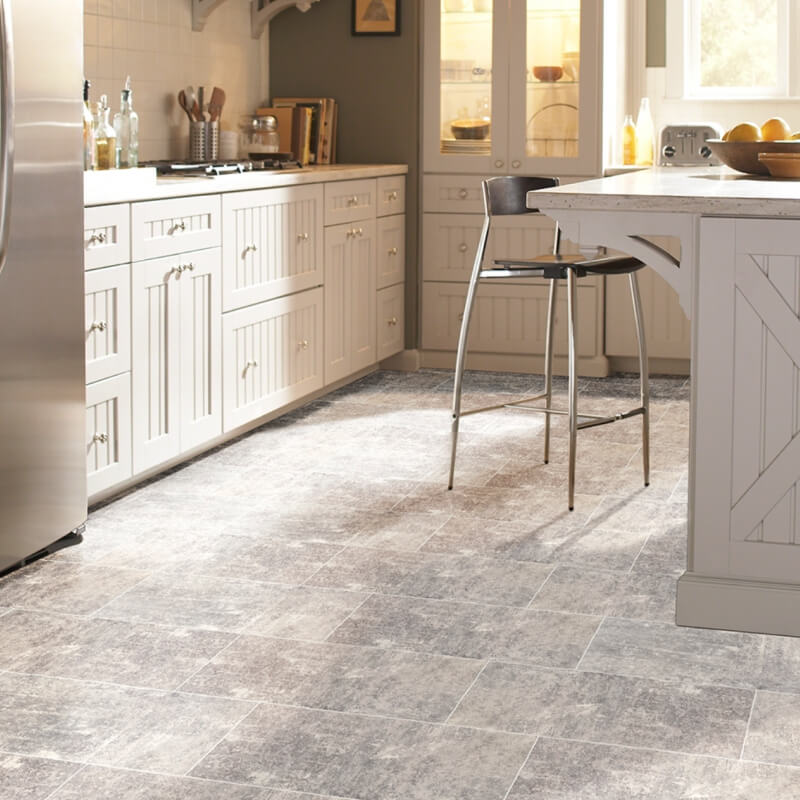 Featured: Treviso Cemento Porcelain
While porcelain tile may not add the same value to a home as natural stone, it is still a beautiful option, and many tile colors realistically mimic natural stone so well it's tough to tell the difference.
Choosing flooring tile for kitchens is a smart, strong, and easy-care option, especially when compared to vinyl or laminate.
Maintenance and Durability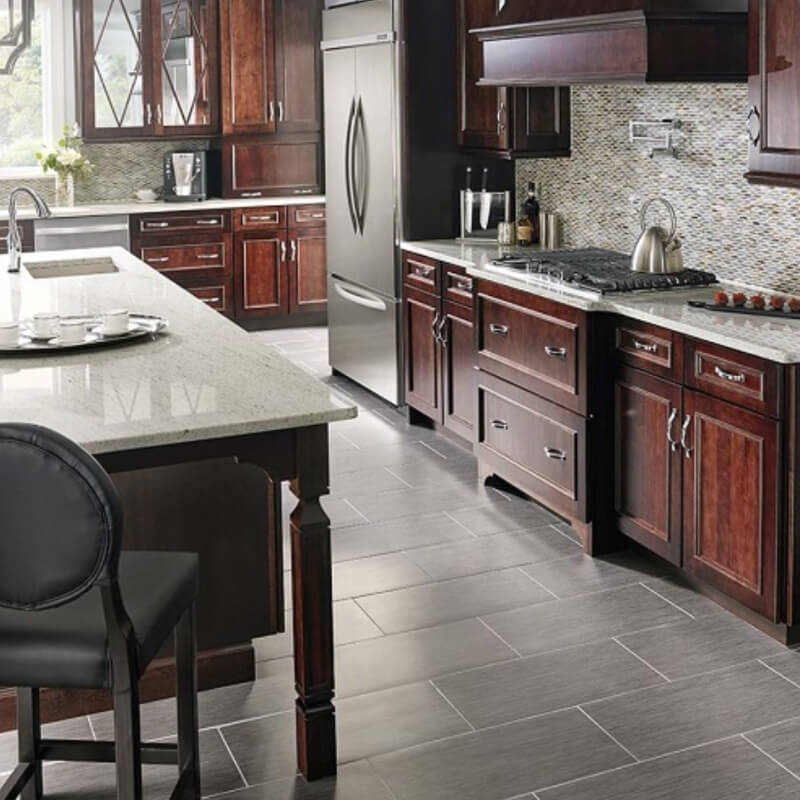 Featured: Focus Graphite Porcelain
Busy families with kids, pets, and messy cooks enjoy the low-maintenance durability of porcelain tile. It's resistant to water, staining, scratching, and chipping, and needs no yearly application of sealant to stay that way.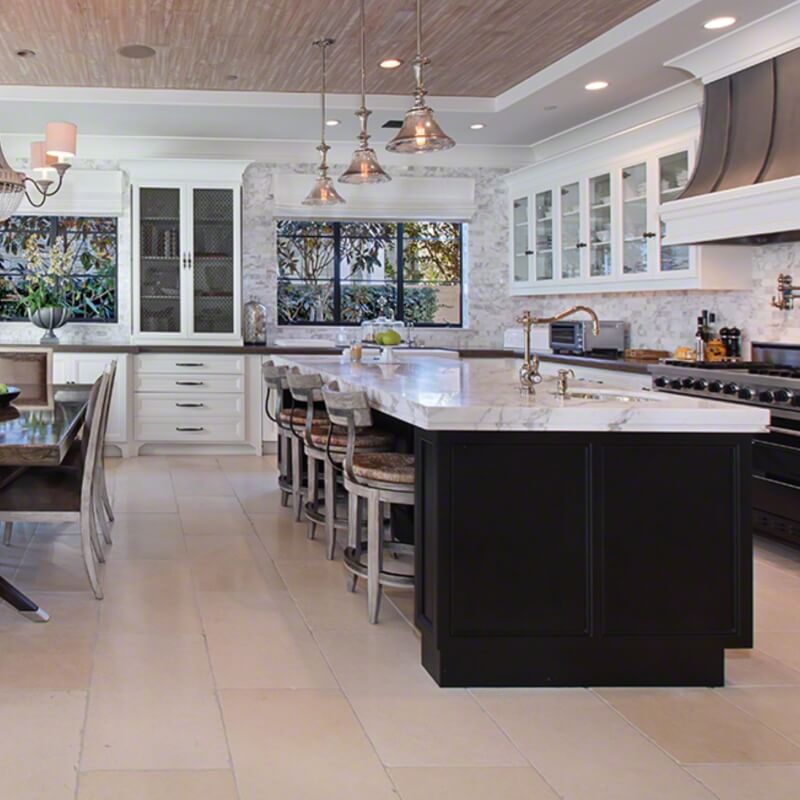 Featured: Tuscany Platinum Travertine
Natural stone, such as slate flooring, does need the yearly sealing. Without sealing, it is prone to absorbing water which leads to staining and other damage. However, although it's an extra step you'll need to schedule, the process of sealing does not take long – less than an hour, after a thorough cleaning – and is often much easier than homeowners initially think.
Looks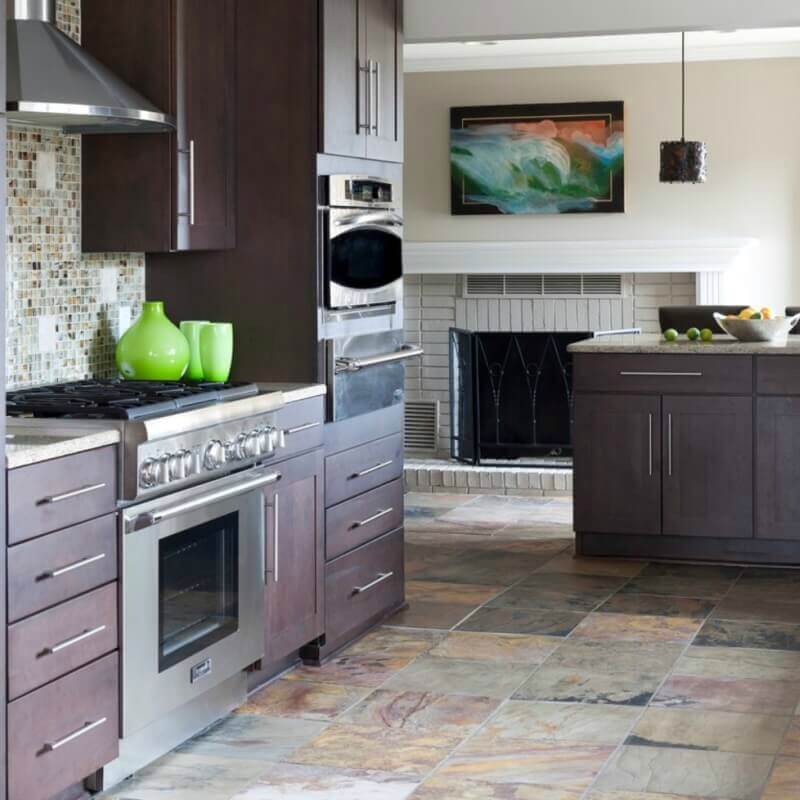 Recreate this look with MSI's Jak Slate (Photo Credit: Houzz)
The breathtaking appearance of natural stone is hard to mimic with a manufactured tile. However, thanks to inkjet printing technology, modern porcelain tile comes extremely close. Even in side-by-side comparisons, it can be difficult to tell which is the natural stone and which is porcelain. Even so, stone flooring has an innate look of true luxury that cannot completely be replicated.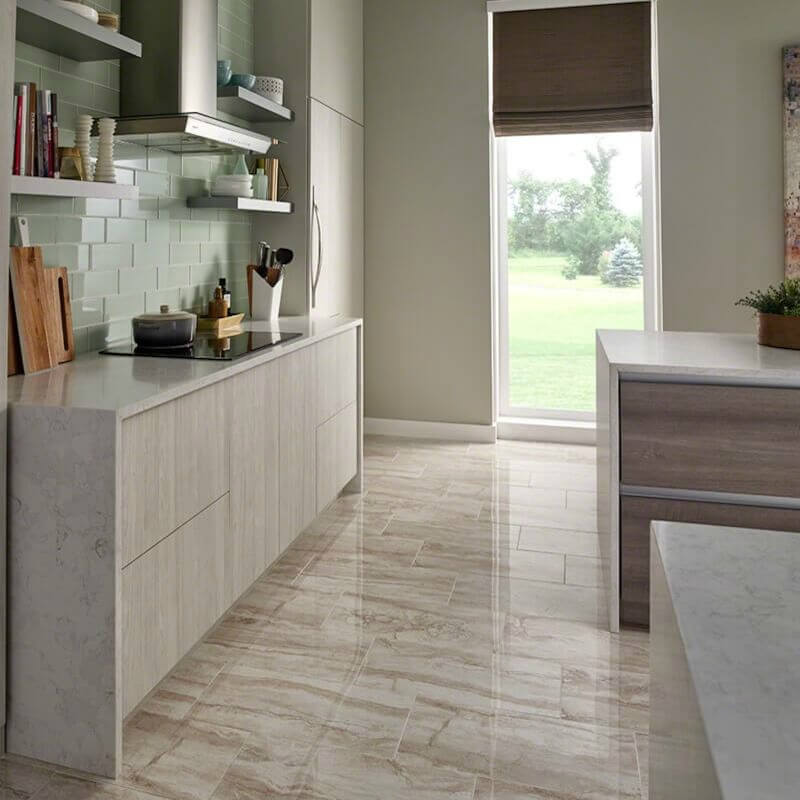 Featured: Bernini Bianco Pietra Porcelain
With today's natural-stone lookalikes in porcelain tile, the choice between the two popular flooring materials is tougher than ever. While deciding, you need to think seriously about your lifestyle, budget, and priorities.
Is it important to have the warmth and character of natural stone underfoot, even if it costs more and requires more work? Or do you embrace modern technology and appreciate the benefits of a lookalike? No matter which you choose, with MSI's tile flooring you're sure to have a gorgeous kitchen where you'll love to spend your time.
READ MORE ABOUT PORCELAIN TILE with NATURAL STONE LOOKS
the Look of Eramosa Stone In Porcelain Tile
Does Porcelain Tile Look Like Real Stone?
Natural Stone Vs. Porcelain Tile for Kitchen Flooring
You Won't Believe These Inkjet Porcelain Tiles Aren't Real Stone
Everyday Porcelain Tiles That Masquerade as Marble
READ MORE ABOUT PORCELAIN TILE with NATURAL STONE LOOKS
the Look of Eramosa Stone In Porcelain Tile
Does Porcelain Tile Look Like Real Stone?
NATURAL STONE VS. PORCELAIN TILE FOR KITCHEN FLOORING
You Won't Believe These Inkjet Porcelain Tiles Aren't Real Stone