You Wont Believe These Inkjet Porcelain Tiles Aren'T Real Stone
October 17, 2018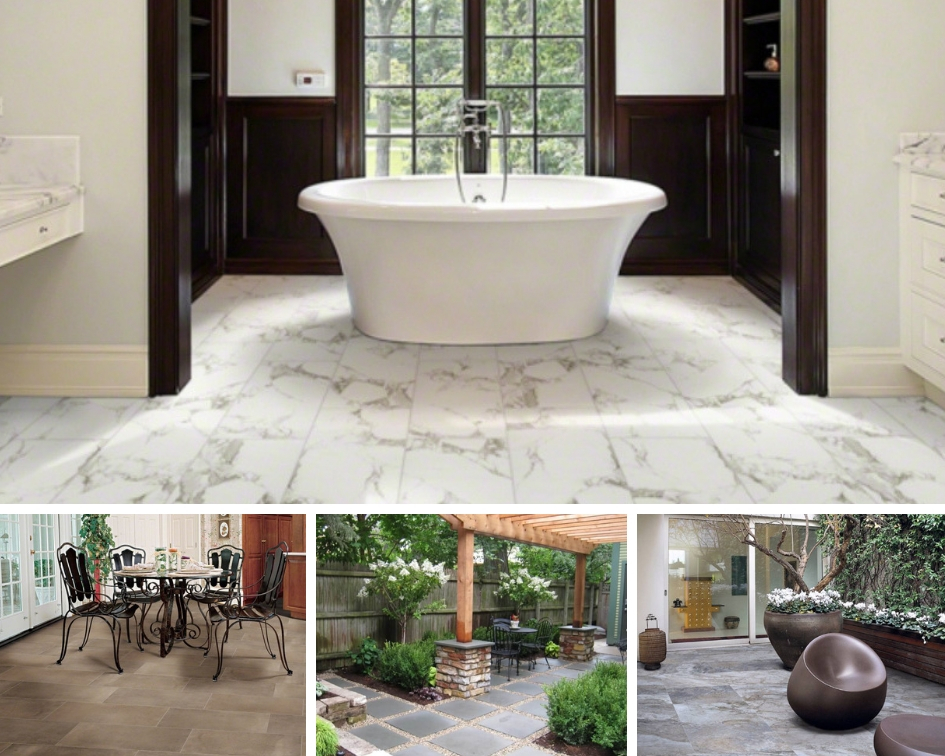 Not real stone, you say? That's right! You'll be doing a double take after seeing just how much these porcelain tiles mimic the real deal.
Modern-day inkjet printing has pretty much perfected the process of getting porcelain to look like luxurious marble, travertine, and even terra cotta for less. The printing capabilities include all the color variations, inflections, and textures native to natural stone. After awhile, even the homeowners will be fooled themselves by the tiles that they got!
What's even more wonderful is that stone-look porcelain tile is so durable that it can stand up to high traffic indoors and even withstand the elements outside. If we didn't tell you that these unbelievable installs weren't real stone, we bet you'd never know!
Quarzo Gray

Featured: Quarzo Gray Arterra Pavers
When it comes to outdoor installations, natural slate or quartz is often a go-to for many homeowners. However, Quarzo Gray is a stunning porcelain paver with various gray tones that look just like real quartz. It's a smarter solution for outdoor spaces because it's resistant to mold, and that's especially helpful for homeowners in areas that get a lot of rain or humidity. It blends in beautifully with all of this backyard's natural elements, from the greenery to the stone to the wooden pergola. And, with porcelain as a low-maintenance addition, you'll have more time to spend simply enjoying the outdoors instead of maintaining it.
Arabescato Polished Bookmatched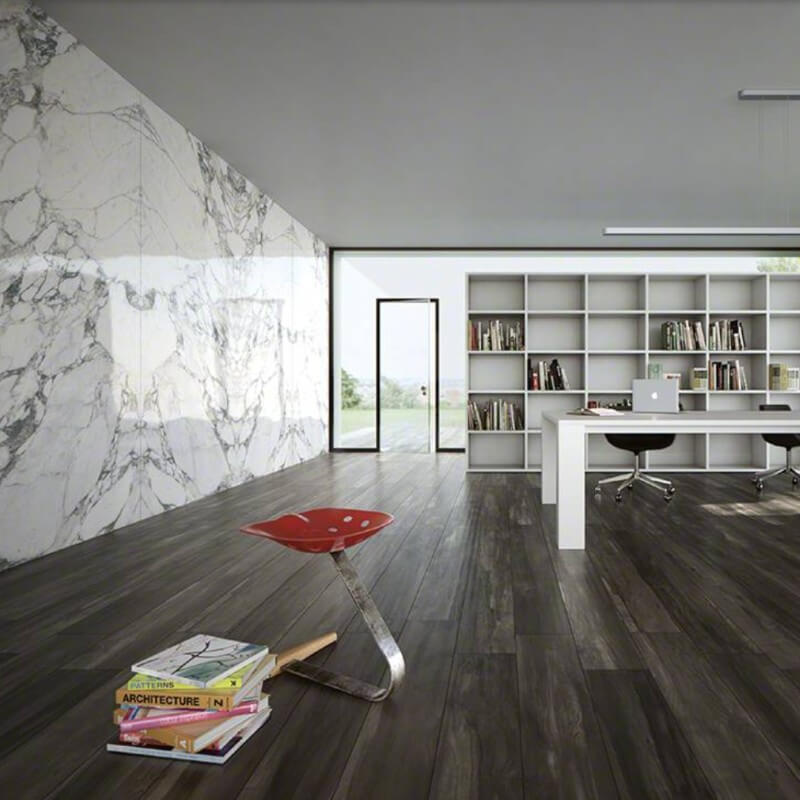 Featured: Arabascato Polished Bookmatched Porcelain Slabs
Feature walls sure are one way to add drama to a room! Oftentimes it's done using natural stone, but did you know that porcelain could be used on the walls, too? Arabescato Polished Bookmatched is just one stunning example of a lightweight porcelain from MSI's Stile collection. The 6mm-thick, 59x118-inch slabs come in a mirrored or reflective pattern, and the soft creamy white background and strong gray veining truly make a statement in this modern office space.
Argento Travertino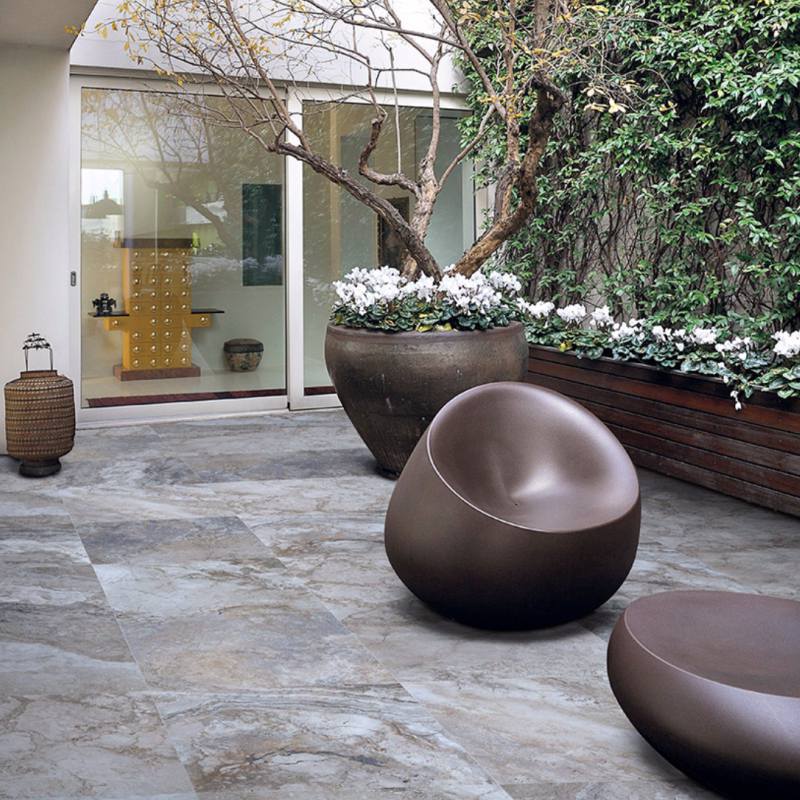 Featured: Argento Travertino Arterra Pavers
Large-format porcelain is the perfect choice for indoor or outdoor spaces with a modern aesthetic. You might even say that Argento Travertino provides a more stunning pattern and detail than many natural options. Thanks to the soft grays, whites, creams, and taupes harmoniously swirled throughout the 24x240-inch tiles, the coloring creates an exquisite outdoor tile for this contemporary patio area.
Capella Silt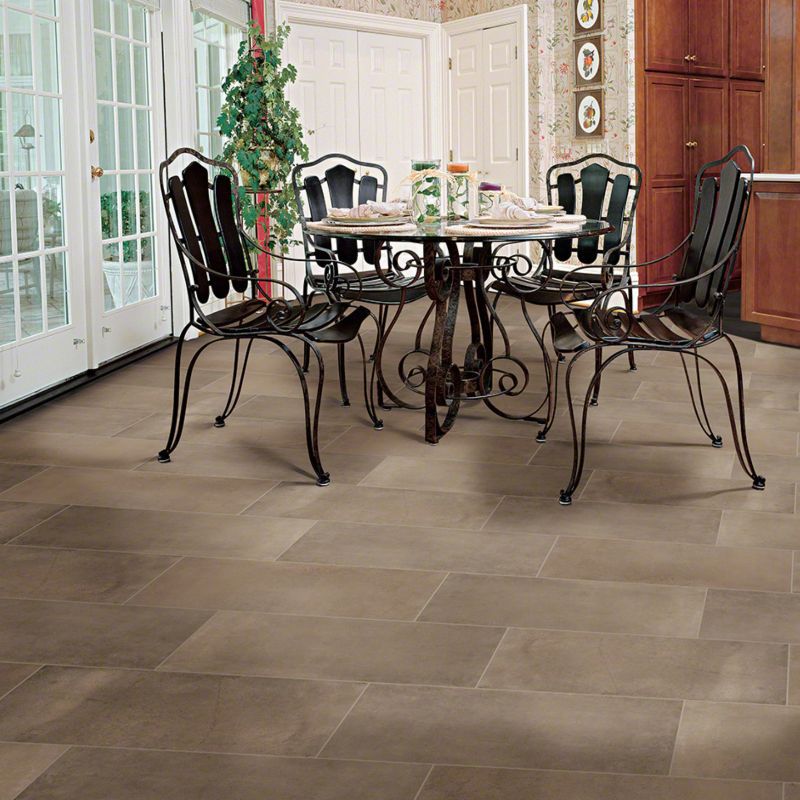 Featured: Capella Silt Porcelain Tile
One way to add old-world charm to your home is with terracotta. A porcelain version like Capella Silt offers the same rustic look but is easy to care for, while the porous clay-based ceramic may be problematic in areas like a kitchen or dining room. The oversized 12x24-inch porcelain flooring, with its mid-tone beige and taupe tones, is a more modern update for this traditional home. Spills or messes won't etch or stain your tile because it's super durable. Another plus, unlike real terracotta, is that you won't have to seal it, either!
Statuario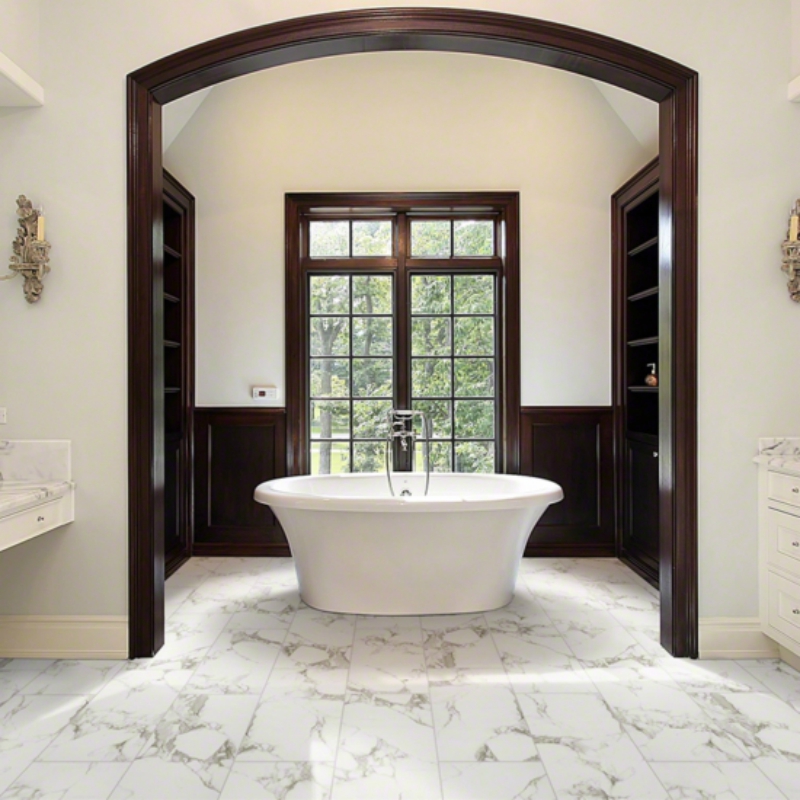 Featured: Statuario Porcelain Tile
Marble is the ultimate in luxury stone, but it might not be within your budget. Something like Statuario porcelain tile provides the high-end look of marble at a more affordable price point, and it sure makes this marvelous master bath look expensive! The brown and gold veining across the soft white background is printed in a unique pattern that mimics the natural strokes of marble. Porcelain is also is a more practical option for places like a bathroom because it can handle moisture.
When remodeling your home or building a brand-new one, consider porcelain tile, especially for those areas where a natural stone alternative is better suited. This durable option is big on style but small on the budget and maintenance needs. If you're excited to learn even more about pretty porcelain, then check out this article on comparing ceramic and porcelain tile.
READ MORE ABOUT OUTDOOR SPACES with PAVERS AND PORCELAIN TILE:
Outdoor Tile Guide - Porcelain, Slate, Travertine and Quartzite
Porcelain Pavers Add Instant Curb Appeal
Porcelain Pavers Come in with A Bang
Porcelain Pavers That Look Like Real Stone
READ MORE ABOUT PORCELAIN TILE with NATURAL STONE LOOKS
the Look of Eramosa Stone In Porcelain Tile
Does Porcelain Tile Look Like Real Stone?
Natural Stone Vs. Porcelain Tile for Kitchen Flooring
NATURAL STONE VS. PORCELAIN TILE FOR KITCHEN FLOORING
You Won't Believe These Inkjet Porcelain Tiles Aren't Real Stone