Porcelain Pavers Come In With A Bang
September 13, 2016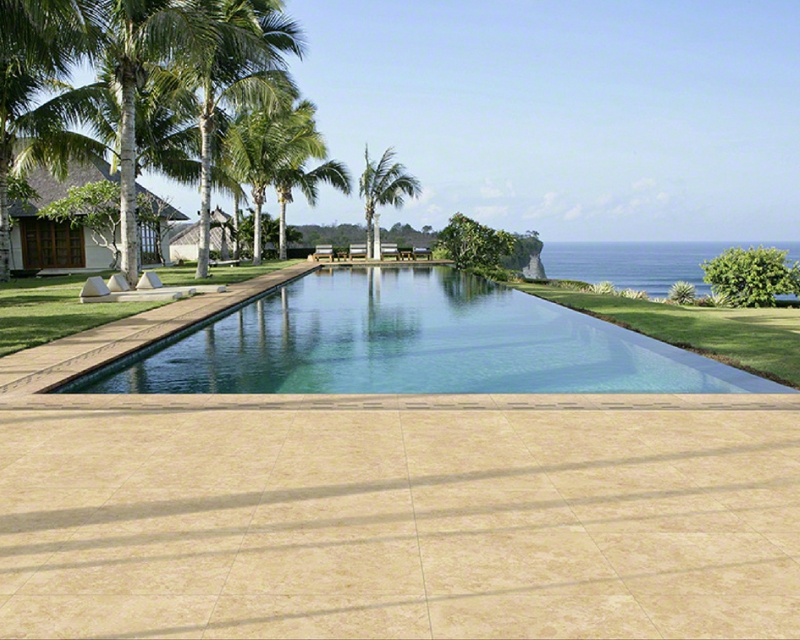 You've got many options when it comes to hardscaping your outdoor living spaces. Choosing the pavers for your patio, walkways, pool decks and even elevated decks used to mean weighing the pros and cons of the various natural stones – considering price, durability, slip-resistance, ease of installation. But the Arterra Porcelain Paver Collection changes all that. This man-made product has come a long way! Modern inkjet technology can produce a porcelain tile that mimics natural materials. Now you no longer have to make sacrifices in the name of beauty.
There are lots of reasons to choose a beautiful natural stone paver, but even more reasons why porcelain pavers are advantageous. For one thing, porcelain is durable. Even in areas with high foot traffic, including commercial settings, it resists chipping, scratching and marking by tables and chairs. They come in an array of colorways that won't fade in the sun. And unlike natural stone and concrete, porcelain pavers do not absorb water, which means that freezing and thawing won't crack the surface. So no matter how cold your winters are, a patio with porcelain pavers will look just as great when the weather warms up again in the spring.
Natural stone has maintenance needs, such as sealing and coating, and occasional pressure-washing to remove stains from mold and mildew. Porcelain pavers? Nope. Just hose them off with water occasionally and you're done! The non-porous surface is inhospitable to unsightly mold and mildew. They're also resistant to staining or etching, which makes them perfect for dining areas and pool decks.
Another great reason to choose porcelain pavers is their ease of installation, including in areas where natural stone or wood would be impractical. They don't need adhesives or grout, and can be installed directly on sand or concrete. Porcelain tiles that mimic wood are ideal for decks – no need for painting or staining, no termites, and no splinters! Also no worries about fire, so you can install that fire pit with no worries.
Finally, there's the financial aspect to consider – Porcelain Pavers are almost always less expensive than natural stone. They are produced quickly and efficiently in quantity, whereas natural stones are quarried and often shipped from far away places, even other parts of the world. And since they are lighter than natural stone pavers, they are easier to transport, which reduces the cost of delivery and time and labor costs for installation.
Here are two of MSI's most popular porcelain tile options for outdoor areas:
Petra Beige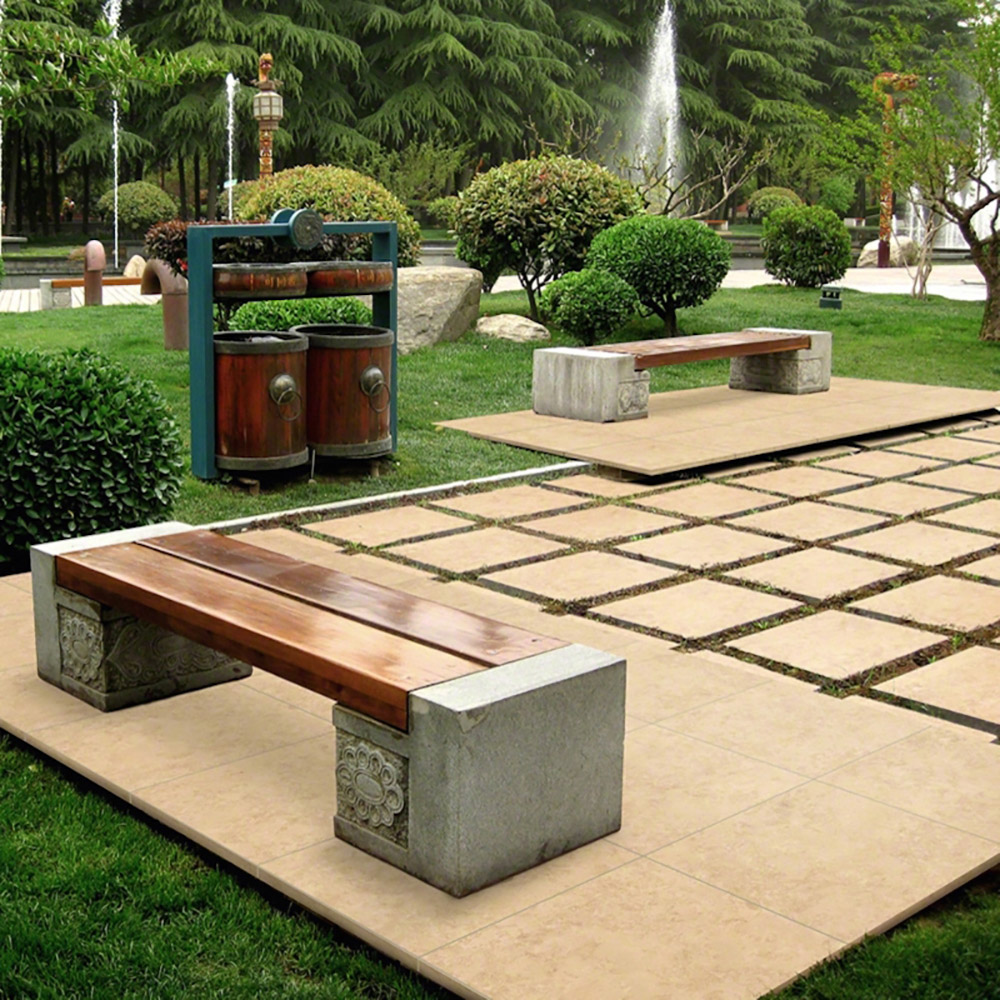 Featured: Petra Beige Porcelain Pavers
This natural-stone lookalike, Petra Beige, features a warm beige tone with subtle speckled variation and a slip-resistant matte glazed finish. It's ideal for patios, pathways, pool decking and even driveways – yes, you can drive a car over this tough material with no worries. Available in 12" x 24" and 24" x 24" sizes, it's versatile and easy to fit into any hardscape project.
Tierra Ivory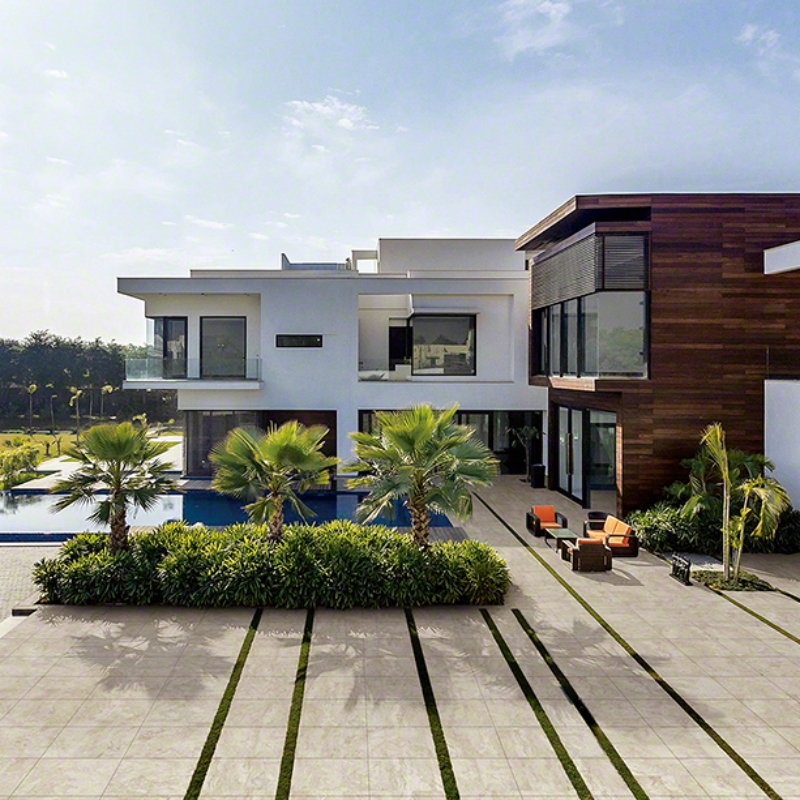 Featured: Tierra Ivory Porcelain Pavers
Featuring a pale taupe background with slightly darker swirls and veins, Tierra Ivory is a practical neutral paver for a wide variety of projects. Practical doesn't mean plain, though! You'll love the close resemblance to elegant natural stone, and the tough glazed finish, not to mention the slip-resistant matte surface that makes it safe even in wet conditions.
Hardscape installations, no matter what style you choose from traditional to contemporary, look great with natural materials such as travertine, slate, quartzite or wood – but we've improved upon Mother Nature to produce amazing porcelain lookalikes. Enjoy all of the beauty and benefits of natural stone pavers with none of the drawbacks. Porcelain Pavers let you focus on the reason you've installed your hardscape in the first place – enjoying the great outdoors.
READ MORE ABOUT OUTDOOR SPACES with PAVERS AND PORCELAIN TILE:
Outdoor Tile Guide - Porcelain, Slate, Travertine and Quartzite
Porcelain Pavers Add Instant Curb Appeal
Porcelain Pavers That Look Like Real Stone
You Won't Believe These Inkjet Porcelain Tiles Aren't Real Stone