Popular
A First Look: Top 5 Design Trends Of 2022
December 30, 2021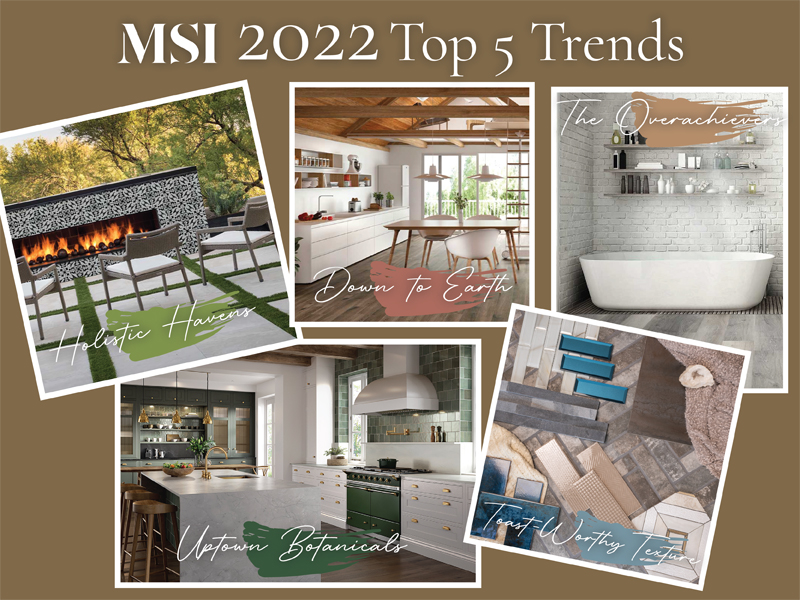 For many, January represents a fresh beginning. It's a chance to reinvent and reinvigorate. To discover new passions and get creative. At MSI, it's an opportunity to offer further inspiration and help ignite the imagination. We begin with our Top 5 Design Trends – curated looks inspired by global designs, rich imagery, industry insights, and the people and environment surrounding us. The MSI 2022 Lookbook showcases these new trends and invites you to explore your inner artist and get ideas flowing.
Down to Earth, Holistic Havens, Toast-Worthy Texture, Uptown Botanicals, and The Overachievers are the hard surface trends we're highlighting in this year's Lookbook. We know style is personal and hope this tool will encourage you to explore and express your unique style. And that MSI trade partners will revisit the 2022 Lookbook as they work together with clients to help create their dream spaces.
Whether you are looking to add value to your home, refresh a small space, redesign a large room, or create something entirely new, this Lookbook can be a resource throughout every step of your journey. From flooring to countertops to backsplash tile and more, we have your surfaces covered for 2022 and beyond.
#1 DOWN TO EARTH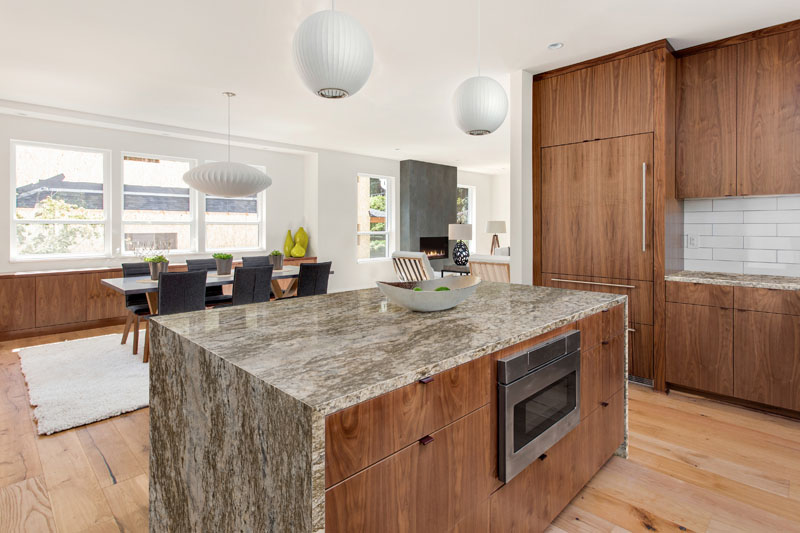 Whether using it for cooking, studying, or entertaining, the kitchen is often the heart of the home. Wood flooring and countertops in rich golden and cinnamon shades bring warmth and add layers of natural elements. And this island made using Savanna Gold Granite in a waterfall style is the striking focal point where everyone can gather.
Inspired by Mother Nature and the beauty of our natural surroundings, the Down to Earth Lookbook exudes warmth and comfort. The trend's ardent palette is reminiscent of the rich hues found in a spice market – vanilla, turmeric, cinnamon, saffron, fennel, and black pepper. Timeless and versatile earth tones create chic, cozy, and inviting interiors.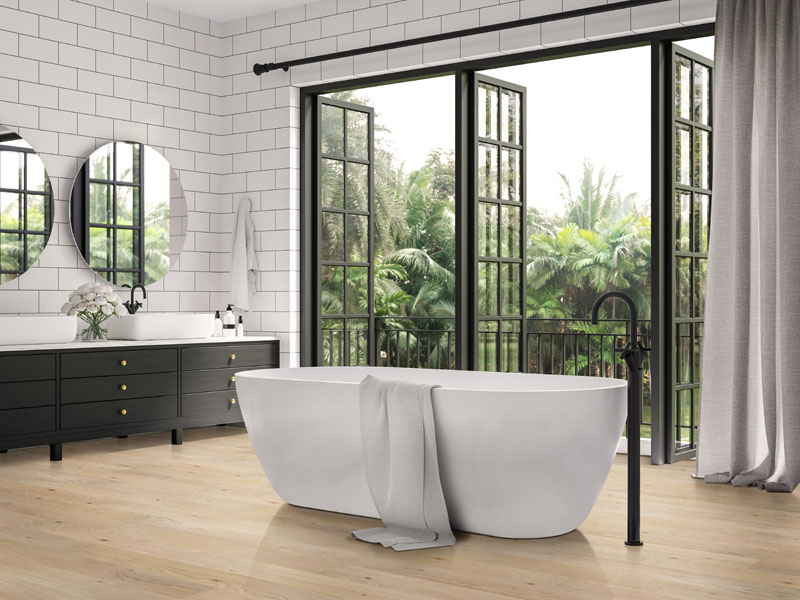 This stunning bathroom invites calm and relaxation. The light, creamy beige tones of the Bali Bluff™ Wood Flooring provide an airy and sophisticated appearance. And with sleek, white floor-to-ceiling tiles and tons of natural light, Mother Nature herself may be found unwinding in this space.
Elements from nature including wood, stone, or marble add texture and enhance the organic feel of a space. Bring the style home by mixing warm-tone foundational elements (floors, countertops, and walls) with tactile accents like pampas grass, linen, and rattan.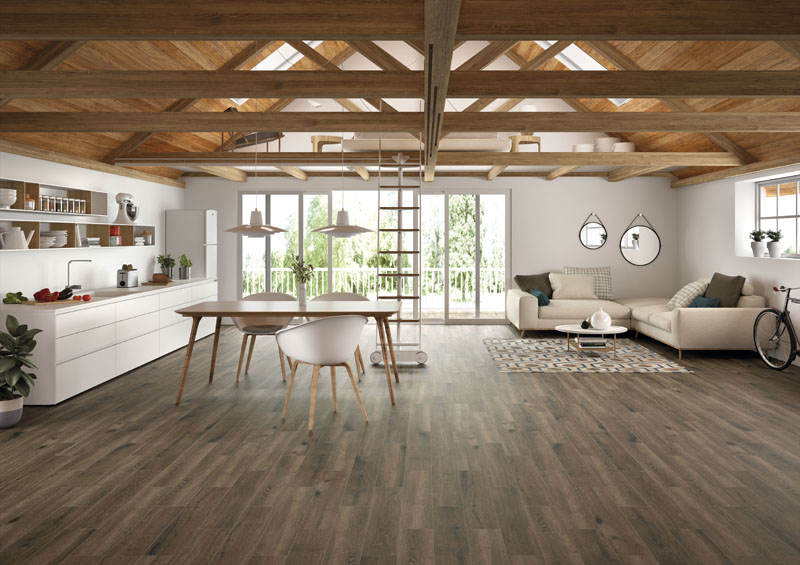 Elevating a space often begins from the ground up. These gorgeous Antoni Nero Porcelain Wood Tile floors draw the eye to the length of the room while bringing up to the ceiling. Cool white cabinets and countertops balance the look with a minimalist feel.
Design Tip: Earth tones may be considered neutrals but can be a powerful addition to any room. Consider pairing warm wood or tiles with dark countertops or accent pieces to add depth and make the colors pop.
Land the Look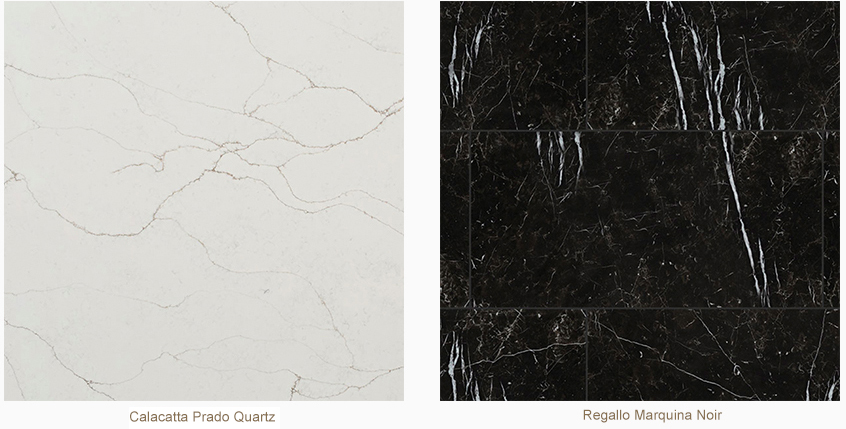 Click these links to access the products above: Calacatta Prado Quartz and Regallo Marquina Noir.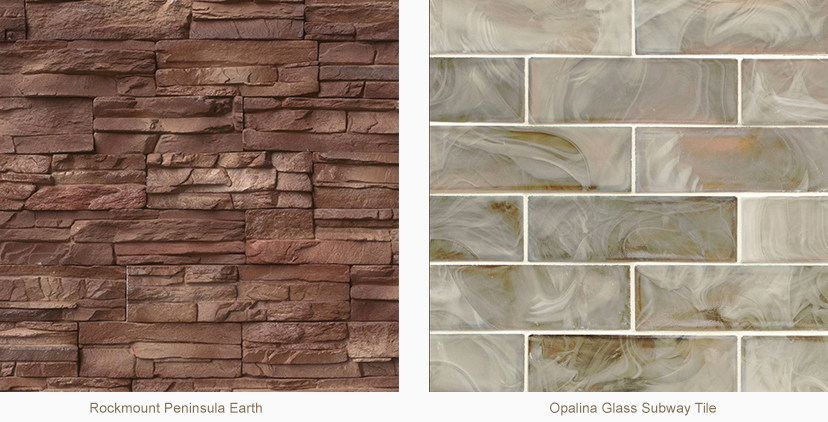 Click these links to access the products above: Rockmount Peninsula Earth and Opalina Glass Subway Tile.
#2 HOLISTIC HAVENS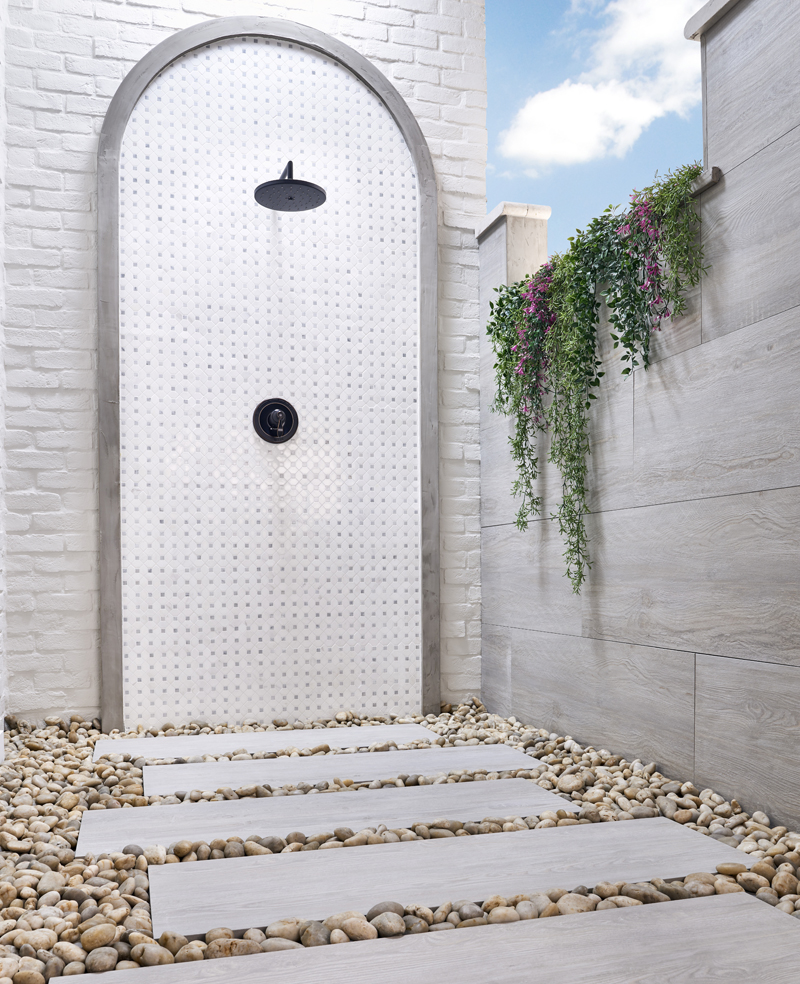 The best shower in the house is no longer inside. Instead, the gorgeous natural marble Bianco Dolomite Polished Tiles create a stunning backdrop bringing a luxurious feel to the outdoors. And it's easy to take a step toward relaxation with Caldera™ Grigia Arterra Pavers.
If 2021 was a year for recovery, 2022 is a time for us to focus on personal health and wellbeing. Putting our bodies and minds at rest is a priority, and the importance of self-care is at an all-time high. So this year – more than ever – we look forward to stepping outside and connecting with our natural surroundings. Holistic Havens has us designing backyard retreats with wellness in mind.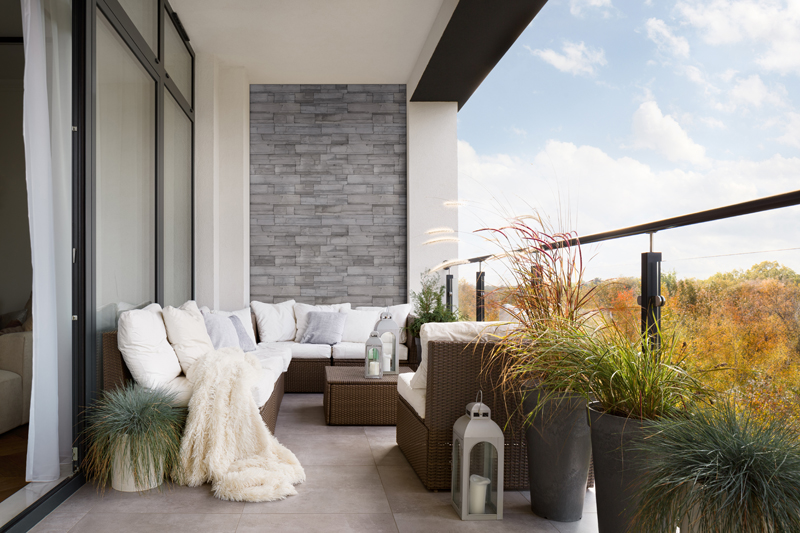 The dusty grey tone and inherently varied sizes of Copen Ash Stacked Stone offers a modern yet relaxed aesthetic to an outdoor space. The serene colors are a perfect backdrop to nature's glorious colors and beauty.
There is a certain calm that nature brings about. Whether resting on a balcony or by a pool, tending to gardens, reading by a fire, or simply having fun with family and friends, the outdoors welcomes us to enjoy life outside the confines of our walls. Pebble pathways, stacked stone, gorgeous outdoor fireplaces, and indoor/outdoor tile are a few materials designers have used to create these beautiful outdoor escapes.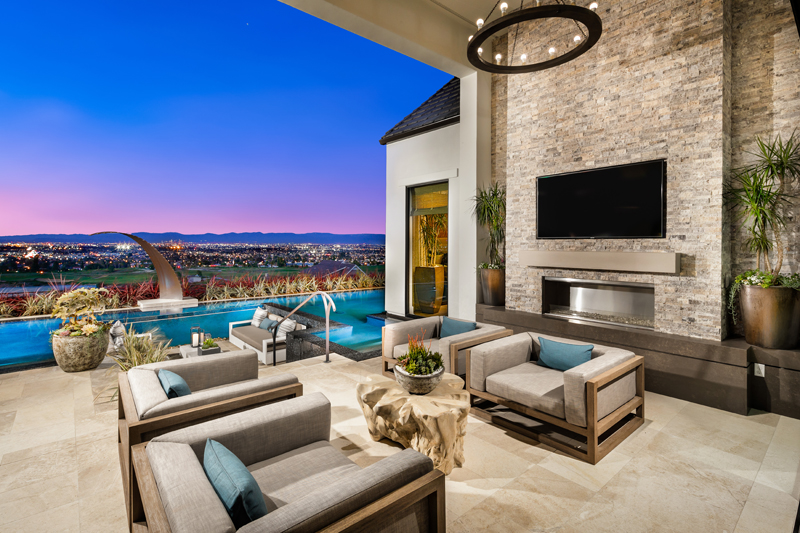 The soft colors of Pearl Pavers and Silver Travertine Stacked Stone Panels enhance the blue of the pool water and outdoor setting, while the Blue Pearl Granite adds a touch of luxury to this lush outdoor retreat.
Design Tip: Creating your own perfect oasis is the ultimate form of self-care. Holistic Havens takes an outdoor approach, but there is opportunity to bring the indoors out and blur the lines between sanctuaries. Consider using pavers or stone tile to carry the look of an interior space outdoors.
Land the Look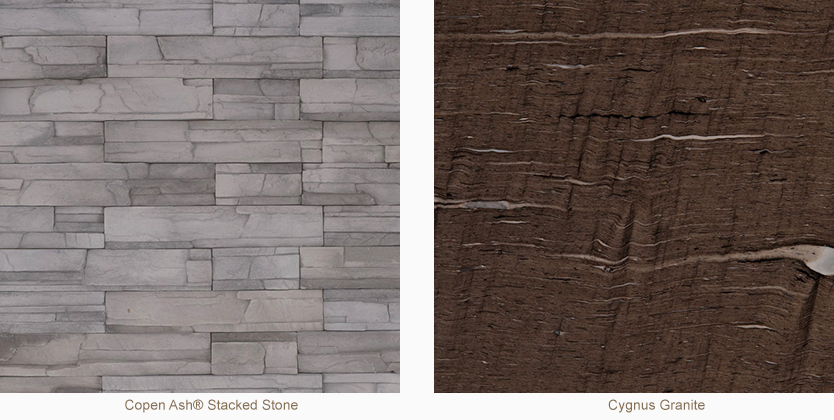 Click these links to access the products above: Copen Ash® and Cygnus.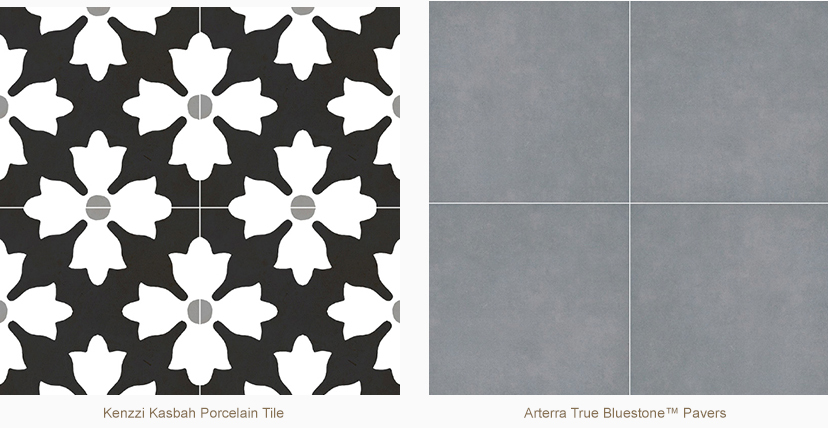 Click these links to access the products above: Kenzzi Kasbah Porcelain Tile and Arterra True Bluestone™ Pavers.

#3 TOAST-WORTHY TEXTURE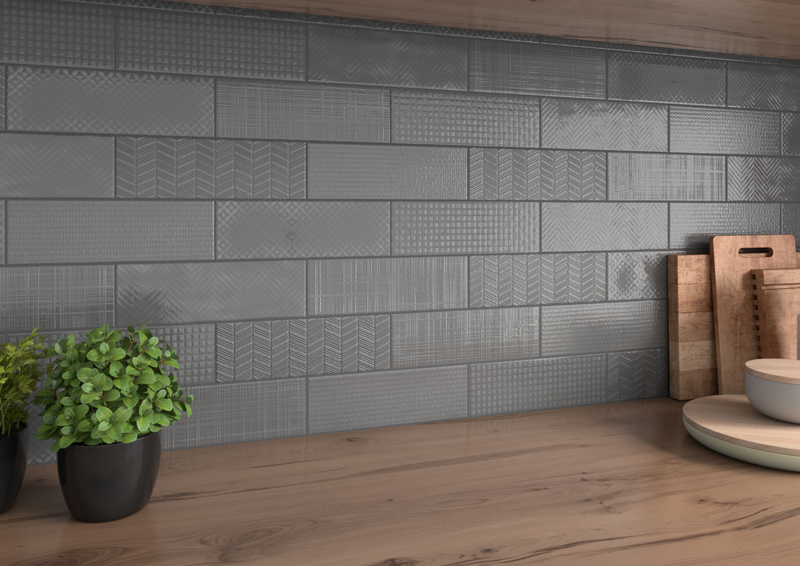 Three-dimensional tiles are in demand when it comes to adding texture. Whether the space you want to create is large or small, 3D tiles like Urbano Graphite 3D Mix offer a simple and stylish solution.
There is a lot to be said about texture in design. When the texture is good, it turns heads. When texture is great, it invites touch and inspires awe. People will talk about great texture, and today, more designers are creating tactile moments that evoke conversation. Toast-Worthy Texture encourages design that considers sight and touch.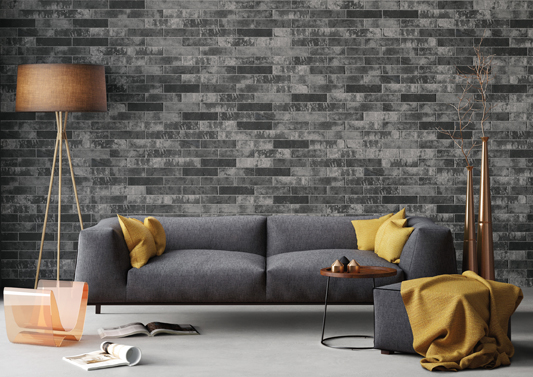 Brick walls are a classic way to add texture and depth to any room. Brickstone Charcoal Brick Wall Tiles update this timeless look. Layering various shades of a similar color creates a chic yet serene feel.
Gone are the days of flat design. Today, we seek visual interest and comfort. We can induce feelings and inject true personality into a space through design. From bouclé and stacked stone to woven jute and rough-hewn beams, mixing materials with unique textural elements lend depth, dimension, and vitality to interiors.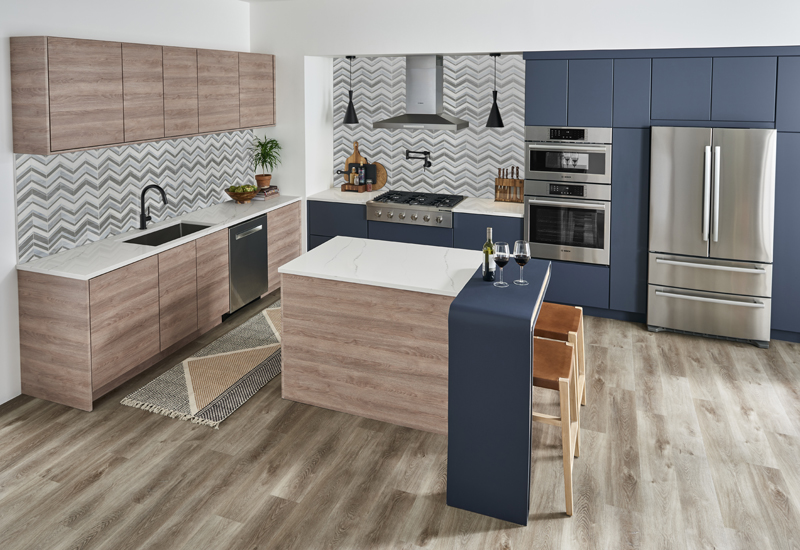 The combination of wood and solid surfaces, color, and geometric tile makes this kitchen a true showpiece. The Urban Wave Lapis Glass Tile on the backsplash features a chevron pattern that is reminiscent of the ocean.
Design Tip: Don't be afraid to play with color and to intersperse various surface materials throughout a space to showcase create an experience. Touch-Worthy Texture isn't about just one area of a room but about tying the complete area together.
Land the Look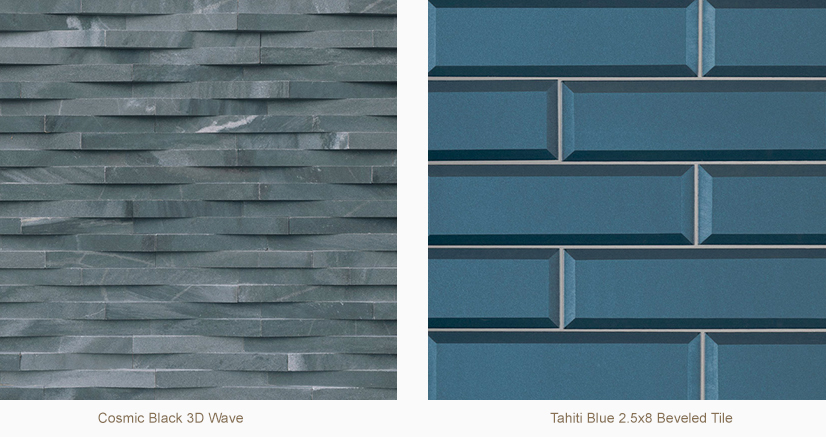 Click these links to access the products above: Cosmic Black 3D Wave and Tahiti Blue 2.5x8 Beveled Tile.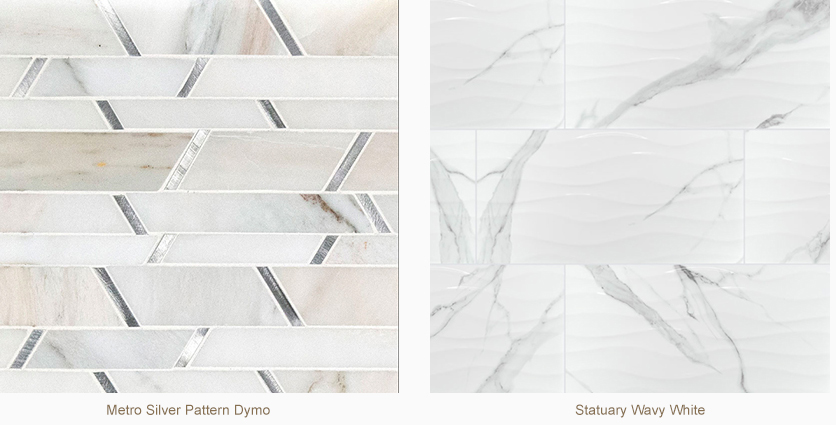 Click these links to access the products above: Metro Silver Pattern and Dymo Statuary Wavy White.

#4 UPTOWN BOTANICALS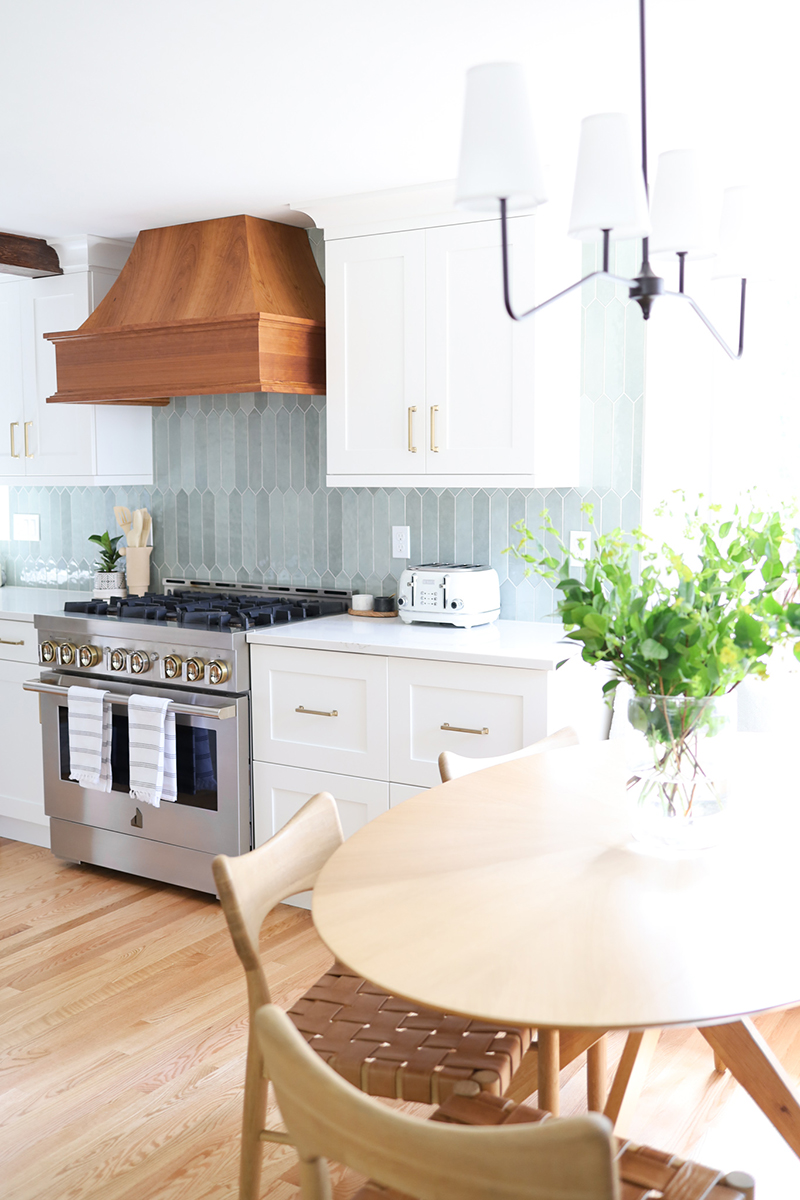 Renzo Jade Pickett Wall Tile delivers tranquil green tones to this kitchen, drawing the eye to the backsplash and adding soft color to the space.
Our love of flora and fauna continues into 2022. Soft sages, bright emeralds, and deep evergreens have us recalling the majestic beauty of rolling hills and sanguine country landscapes. It's no secret that nature inspires design, and Uptown Botanicals taps into this lush color scheme to craft spaces that are fresh and fashionable.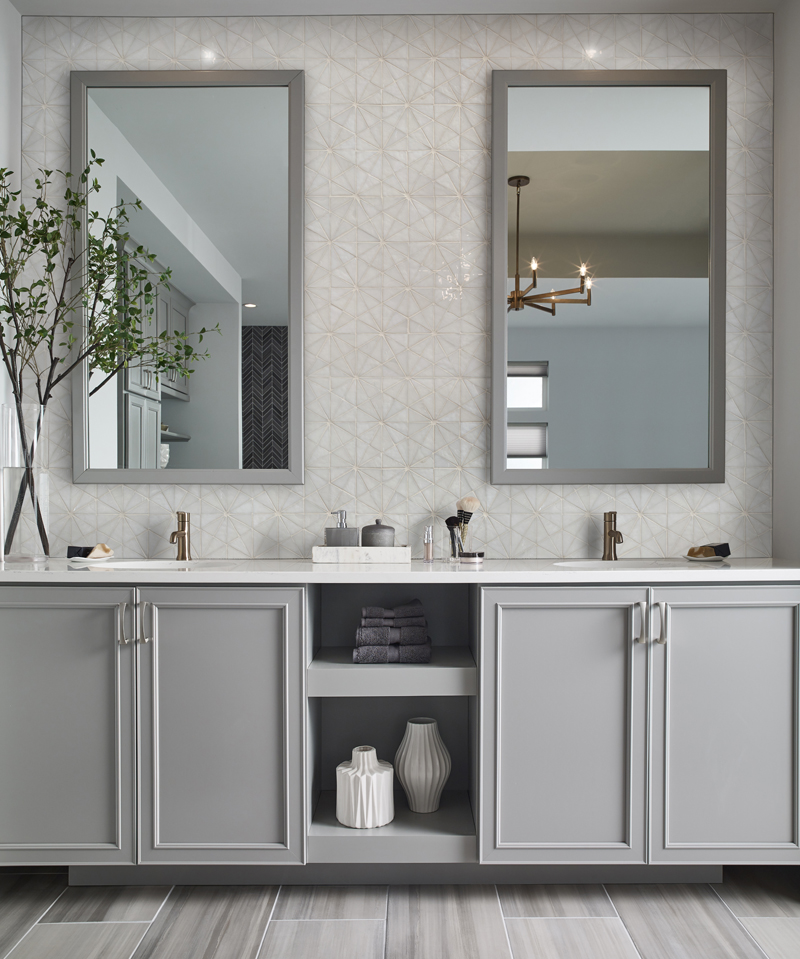 Pale greys and cool whites evoke the feeling of the sky on a chilly winter day – mysterious and comforting. Stella Blanca Glass Tile adds subtle flair to the wall and Watercolor Grigio Porcelain Tile on the floor brings this sensation indoors in a stylish and sophisticated fashion.
The look is at once subtle, inviting, and sophisticated. Layering textures, colors, and patterns create an organic response akin to walking through a botanical garden. Wood tones, stone, and marble enhance the clean, open-air vibe. From pale, icy subway tiles to hunter-green cabinetry, tap this botanical trend story for ethereal and sweeping updates.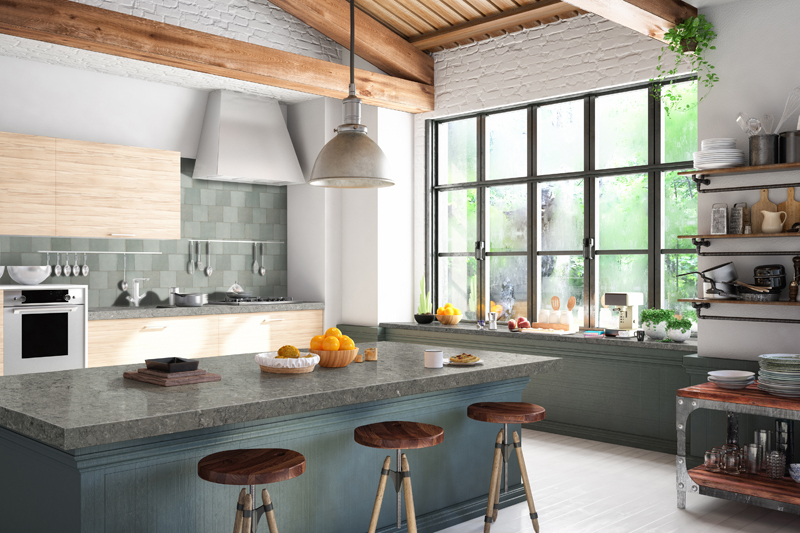 Dreamy, Fantasy Gray™ Quartz Countertops are the perfect foundation to bring out the varying shades of green throughout this striking kitchen. Renzo Jade 5x5 Tile adds a soft green backdrop and polished finish.
Design Tip: Shades of green are the top colors of 2022, as noted by several designers and leading paint companies. As nature's neutral, green complements almost any color or style. Don't be afraid to use it boldly, work with varying hues in the same space, or create an accent wall or minor design feature to bring this fresh palate to life.
Land the Look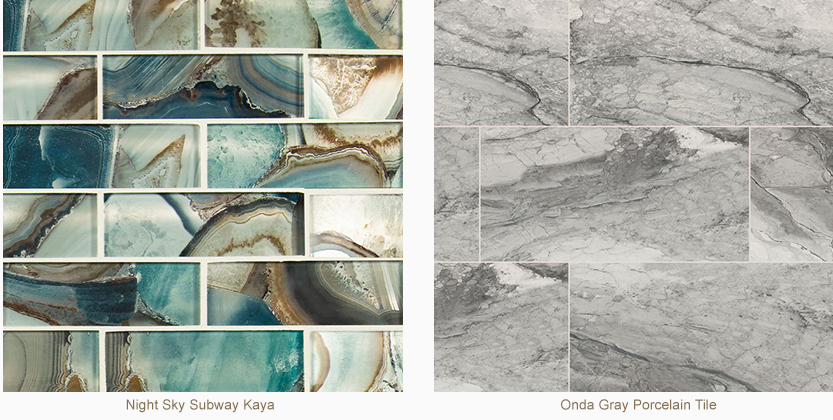 Click these links to access the products above: Night Sky Subway and Kaya Onda Gray.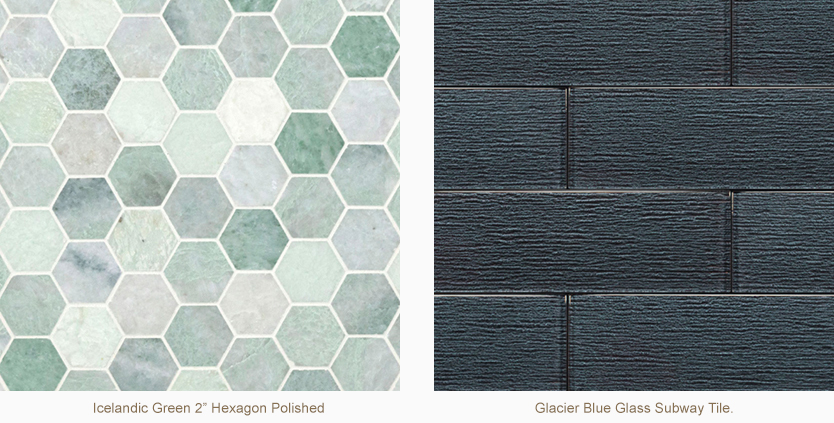 Click these links to access the products above: Icelandic Green 2" Hexagon Polished and Glacier Blue Glass Subway Tile.

#5 THE OVERACHIEVERS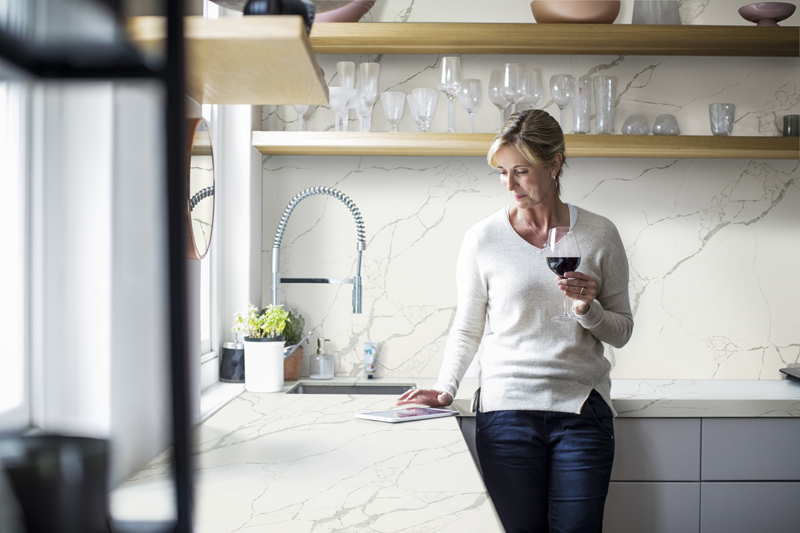 Who said luxurious countertops weren't easy to maintain? The Calacatta Laza Quartz has a marble look that brings modern luxury to a kitchen but is durable, easy to clean, and maintenance-free, so there is no worrying over spilled wine.
A home is a place to be lived in and enjoyed. We want them to be inviting and beautiful but not hard to maintain. Time with family and friends should be spent appreciating the moments and not worry whether surfaces will be damaged by activity. In 2022, family-friendly surfaces top the list of home improvement requirements. Solutions like quartz, luxury vinyl tile, and porcelain create head-turning interiors without the stress of scratches, water damage, stains, or dents. In 2022 life should be about living, and The Overachievers can help.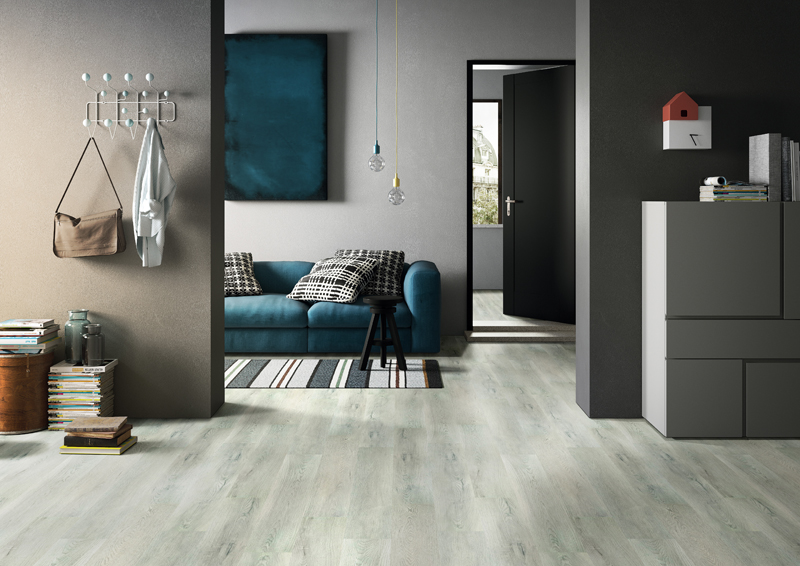 Sit back and relax because Kardigan Luxury Vinyl Planks offer the on-trend look of reclaimed wood without the cost and upkeep.
A room must be functional and fashionable. The materials we select for that room have a lot to say about the purpose of the space and the occupants' personalities. Likewise, approachable interiors that don't take time to maintain have a lot to offer personal wellness and wellbeing. From wood-look plank floors to marble-inspired quartz countertops, expect an elevated collection of low-maintenance styles this year.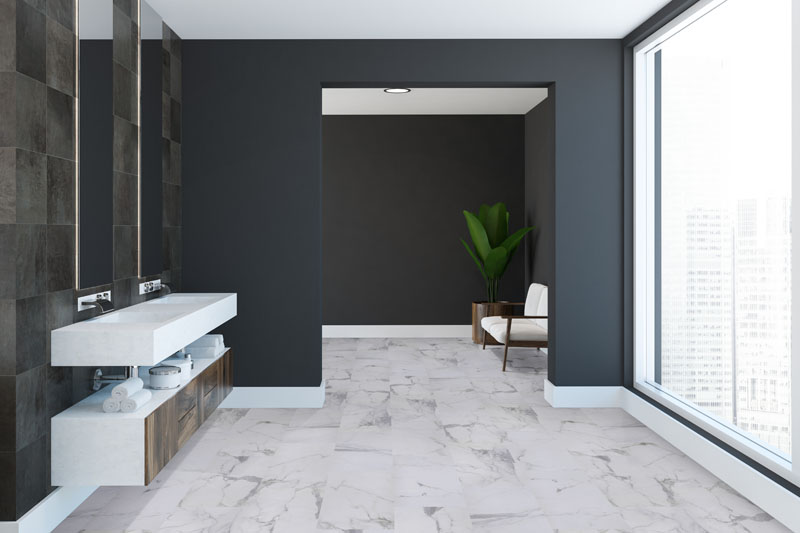 The waterproof Calacatta Legend Luxury Vinyl Tile offers the look of natural stone that is sophisticated, elevating the look of a bathroom.
Design Tip: In the past, vinyl flooring was something that made us think back to the kitchen floors our grandparents had. Today, vinyl is having a new renaissance and it is showcasing affordable luxury in every room in the house. Beautiful designs ranging from rich wood looks to classic marble combined with durability, resistance, and ease of maintenance make this material the surface of choice for families worldwide.
Land the Look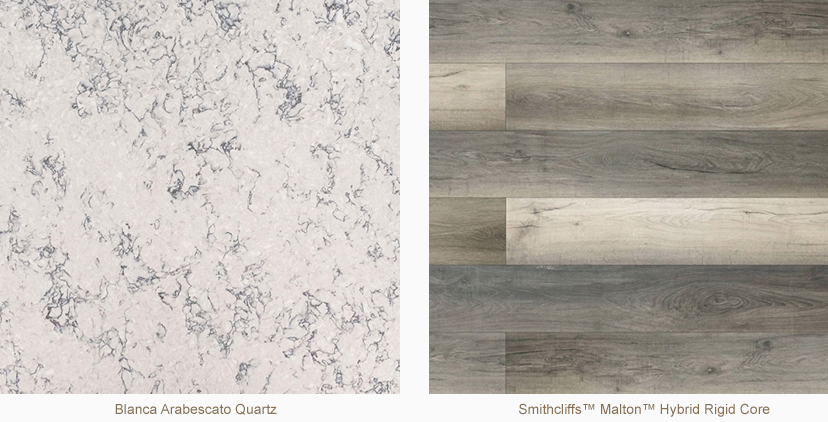 Click these links to access the products above: Blanca Arabescato Quartz and Smithcliffs™ Malton™
Click these links to access the products above: Calacatta Sierra Quartz and XL Quarzo Taj Luxury Vinyl Tile.
Whether you want to bring the magnificence of nature indoors or step outside for a breath of fresh air, our 2022 Lookbook has you covered. Incorporating texture, color, neutrals, wood tones, or other surfaces and trends into your home is personal to you. There are no rules. We hope that we may inspire you to fulfill a design dream. Author and world-renowned interior Bunny Williams said, "If you love something, it will work. That's the only real rule."
Are you feeling inspired? If you plan to try one of the new 2022 trends on your next project, please be sure to tag #msisurfaces. The looks you create excite us, and we love to see them pop up on our Instagram feed.