Durable, Beautiful & Natural Granite Countertops
January 31, 2017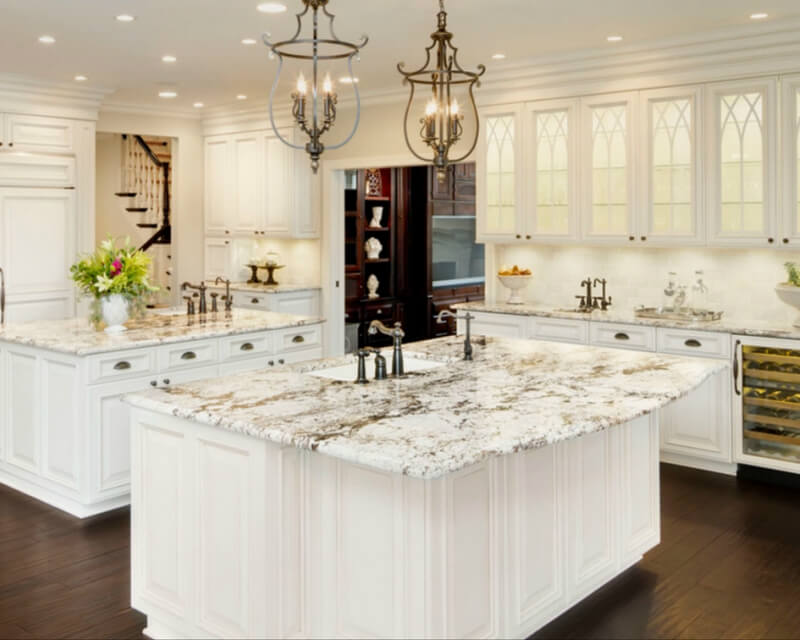 (Photo Credit: Houzz)
Natural granite stone stands up to heat, cold, and spills, making it the hallmark of many busy and working kitchen designs. Granite is also stain, scratch, and heat resistant; if properly sealed, it won't even soak up the wine and grease stains that are the bane of other countertop and flooring materials.
Best of all, granite is a unique and beautiful material that has become associated with the high-end construction and remodels that upgrade the value of your home. So if you're ready for luxury and functionality, take a look at these granite colors and styles, a stunning addition to any home.
Bain Brook Brown
Featured: Bain Brook Brown Granite
Bain Brook Brown Granite is a granite slab that plays well with many colors and styles. It is medium-variation, with hints of cream, gray, and black, warming up contemporary kitchens and giving modern pizzazz to traditional areas.
Like other granites that can stand up to anything Nature or your kids can throw at it, Bain Brook Brown is a wonderful choice for interior and exterior projects, including bathroom vanities and outdoor kitchen countertops.
Delicatus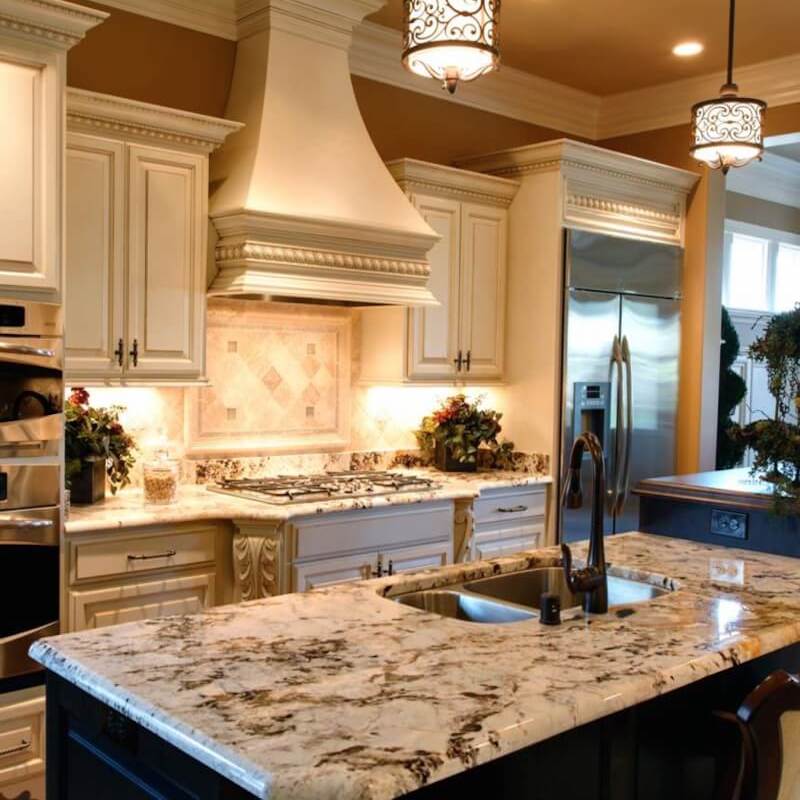 Featured: Delicatus Granite
Delicatus Granite features a white background with subtle gray flecks and black veins, lending it a dramatic punch. Delicatus would looks gorgeous on a center prep island countertop, or even as flooring.
It warms white kitchens and brightens dark wood cabinetry, and is also a great marble alternative because it is less porous and more stain resistant than that other natural stone. Of course, it's important to seal granite annually, which protects it from acid-based foods and drinks, keeping your stone beautiful for decades.
Snowfall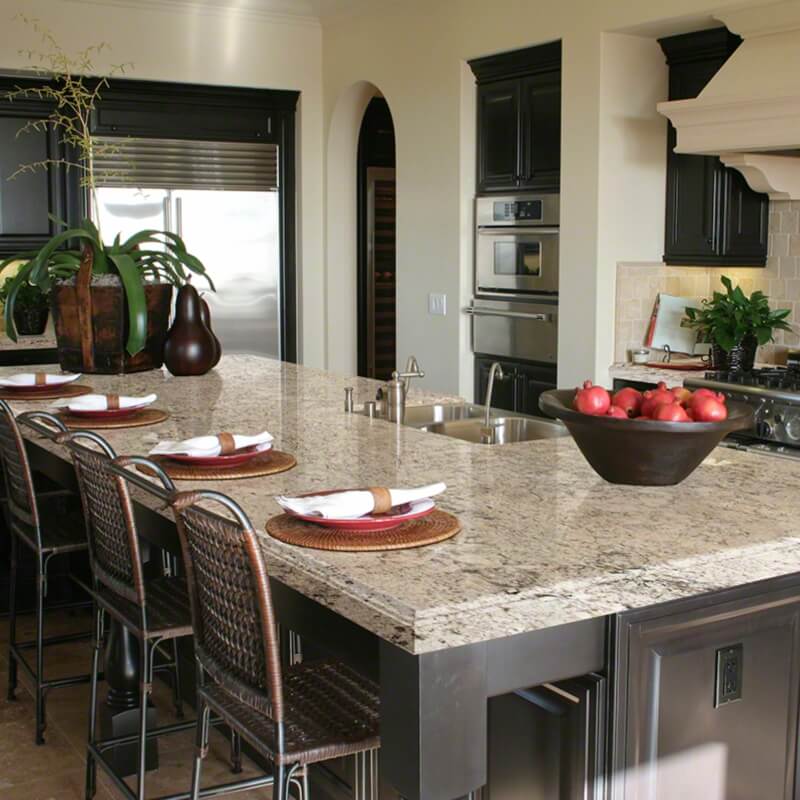 Featured: Snowfall Granite
Snowfall Granite, imported from Brazil, is a polished granite that adds a cool, bright element to white kitchens or gray cabinets. The white granite is flecked with ebony and charcoal, and brushed with fawn and tawny clouds.
Snowfall, like most granite, is versatile and can be used for backsplashes, as well as counters and floors. It's easy to maintain with a daily dusting and a quick swipe with a damp micro-fiber cloth.
Cygnus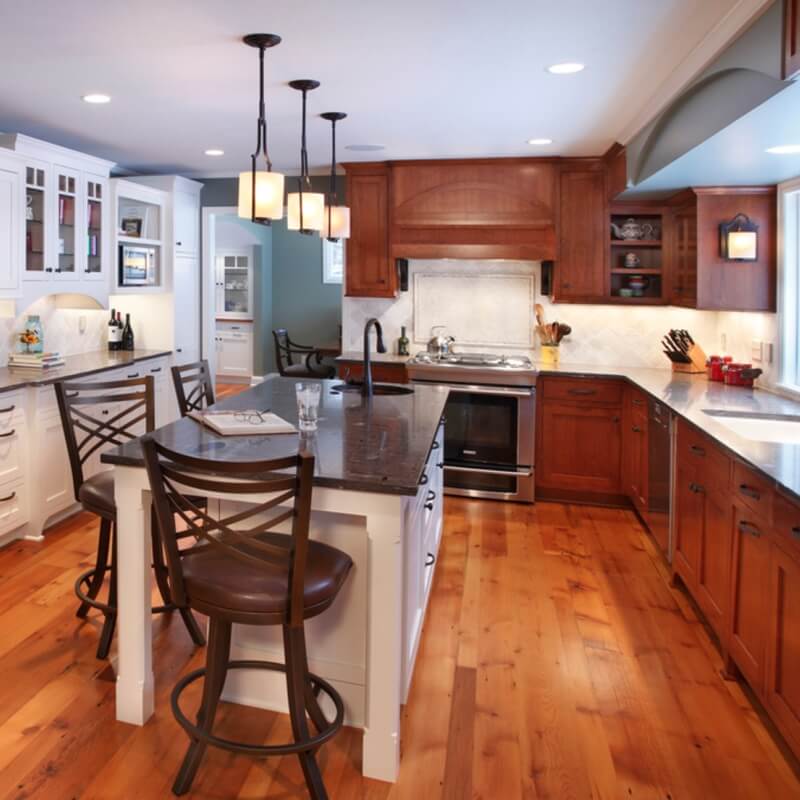 Featured: Cygnus Granite
Chocoholics will love warm and luscious Cygnus Granite, which looks like a combination of milk and semi-sweet chocolate. Slabs combine bronze, antique copper, cedar and coffee colors, dotted with pearl, ivory and midnight black.
Cygnus, installed on top of dark cabinets, creates a dramatic look. Place it on top of golden oak or white cabinets, and the contrast is eye-popping. Like all granite, large slabs avoid the seams and grout lines that are the negatives associated with tile counters and backsplashes.
Alaska White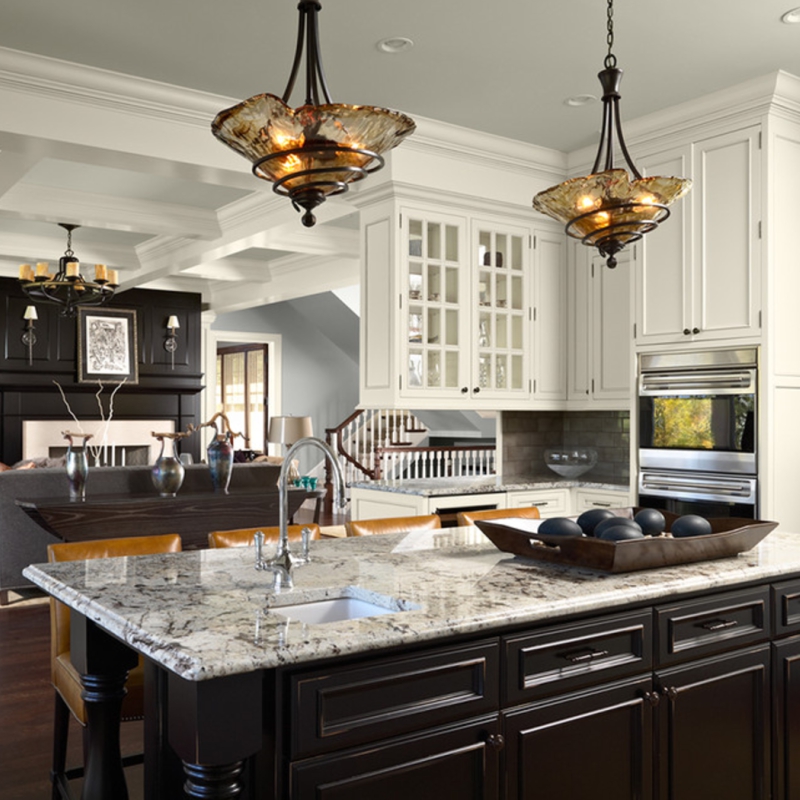 Featured: Alaska White Granite
You may never have the opportunity to travel to Alaska, but the next best thing is placing Alaska White Granite in your kitchen or bath. The glacial blend of silver and white, flecked with warming neutral and onyx hues, makes Alaska White a versatile and popular granite. One of the best things about granite is that Nature never creates the same stone twice. Each slab is unique, making your remodeling project one-of-a-kind.
Want to explore more ways to use and love granite countertops? Visit MSI's Granite Visualizer, which lets you see how our 250 different styles of granite will light up any space.
READ MORE ABOUT GRANITE COUNTERTOPS
Do Granite Countertops Increase the Resale Value Of Your Home?
Do Light-Colored Granite Countertops Stain Easily?
Dramatic And Flowing Granite Slabs