Favorite Stone Pavers In Travertine, Marble, Quartzite, And Sandstone
January 18, 2018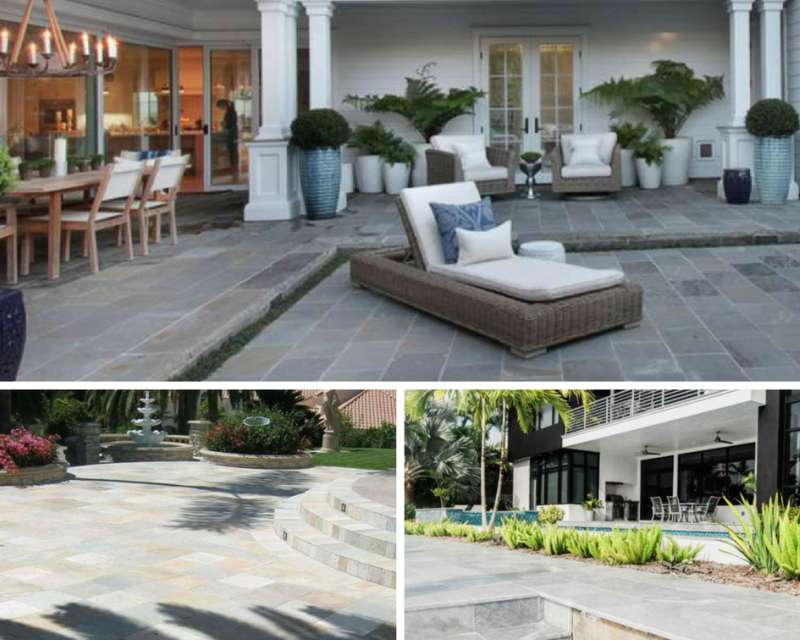 Your outdoor walkway or patio is so much more than just a mere walking surface. In fact, the materials you choose can take your outdoor design from boring to brilliant!
And when it comes to patio design, adding travertine pavers will give your outdoor space the color, character, and ambience it needs. Plus, the durability of these materials makes them well worth the investment. Quartzite, sandstone, marble, and travertine pavers come in a variety of color variations that will perfectly pop against the backdrop of Nature's delights. So, to get you inspired for those warmer months, let's take a look at some of our favorite stone pavers.
Golden White Quartzite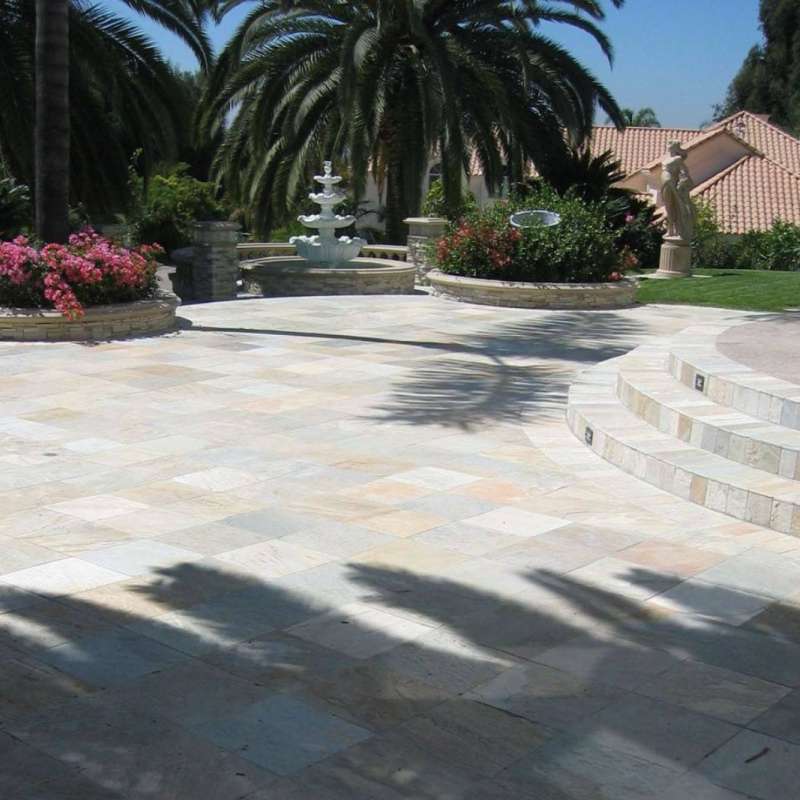 Featured: Golden White Quartzite Pavers
Natural stone is a perfect choice when you are aiming for a sophisticated space. For example, Golden White Quartzite Pavers are a charming natural quartzite stone featuring grays, creams, and white-and-rust veining. It's available in five finishes and a number of sizes to suit your application needs.
Here, the square tiles in this large backyard work well with the Romanesque-style. The varied hues pair well with the tiered water fountain and large statue. Overall, the look is both cohesive and classy.
Walnut Rustico Travertine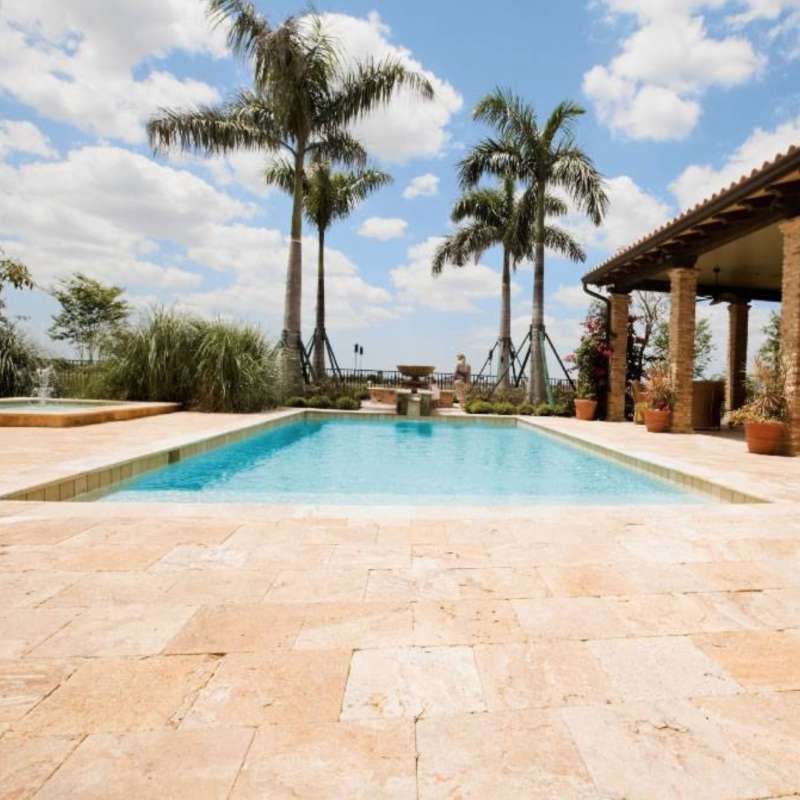 Featured: Walnut Rustico Travertine Pavers
Another popular type of outdoor tile is travertine, a versatile paver that can be installed to complement all styles of homes. Walnut Rustico Travertine Pavers are an example of a beautiful natural travertine stone from Turkey. It comes in a tumbled or chiseled-edge finish. These warm brown pavers can be installed in a pattern with different sizes, or side-by-side as seen around this large pool. Either way, travertine provides a gorgeous, slip-resistant surface that can brave the elements.
Aegean Pearl Marble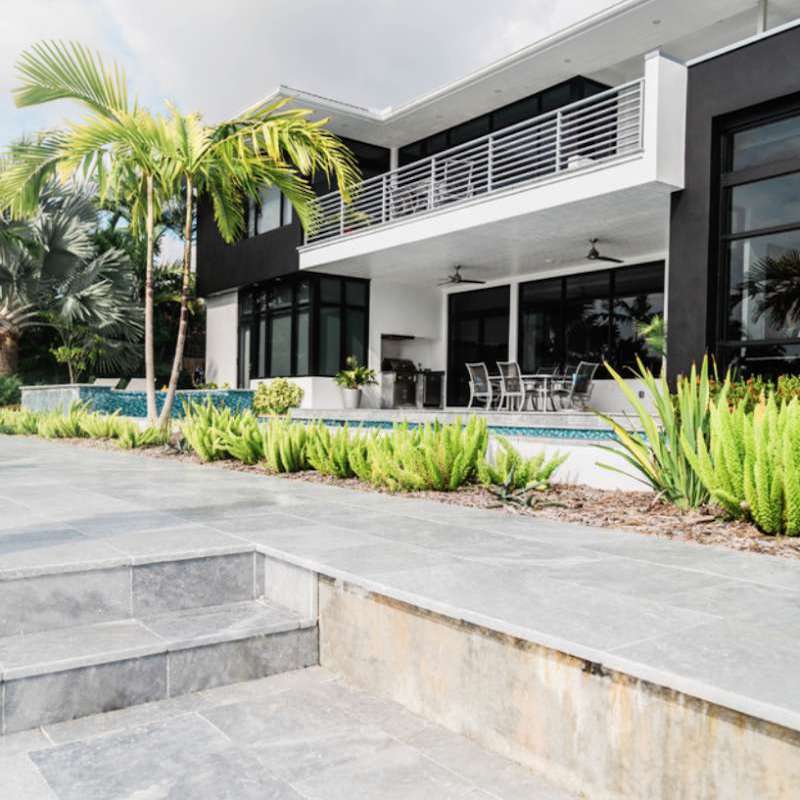 Recreate a similar look with MSI's Aegean Pearl Marble Pavers (Photo Credit: Houzz)
Marble is a perfect match when you're after a classic high-end look and feel. Aegan Pearl Marble Pavers are a tumbled natural marble with beige and gray coloring and charming veining. While marble is typically found in more traditional designs, it can be used successfully to infuse contemporary spaces with a certain coolness. In this stunning backyard, the greenery pops against the soft neutral tones of the pavers and the modern black-and-white home.
Mountain Bluestone Sandstone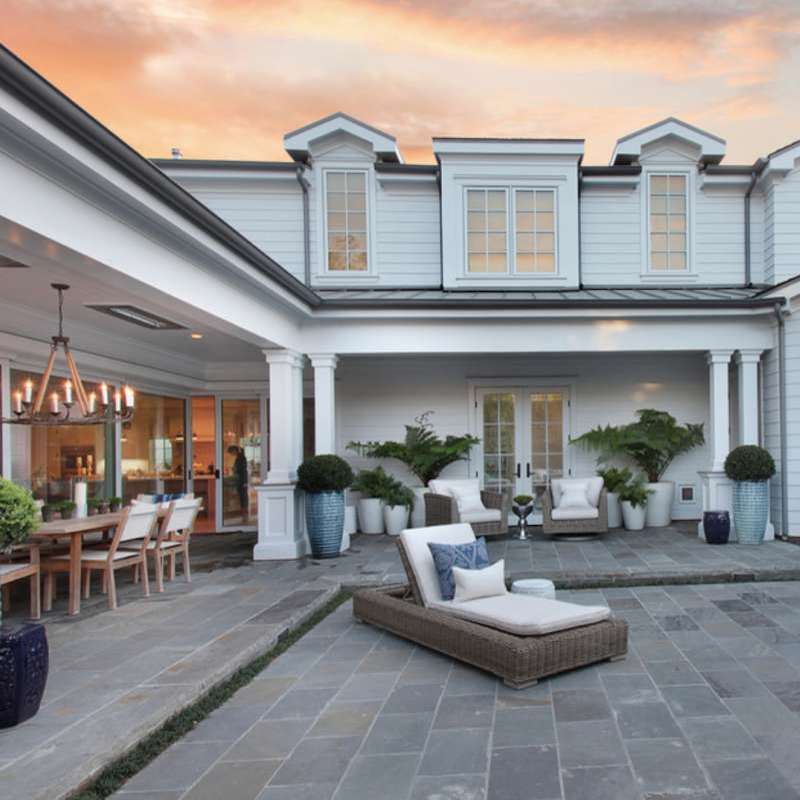 Get this look with MSI's Mountain Bluestone Sandstone (Photo Credit: Houzz)
Sandstone pavers are a classic choice for outdoor spaces, offering distinctive character and versatility to any design. Mountain Bluestone Sandstone features mid-tone bluish grays. These versatile sandstone pavers come in a wide variety of sizes and thicknesses and can be installed in a number of patterns.
For example, this stunning home includes the pavers in a larger-sized brick pattern that stands out even more with the lighter grout lines. The on-trend coloring of these natural sandstone pavers serves as the perfect backdrop for the various wood furnishings and home's white exterior.
Bluestone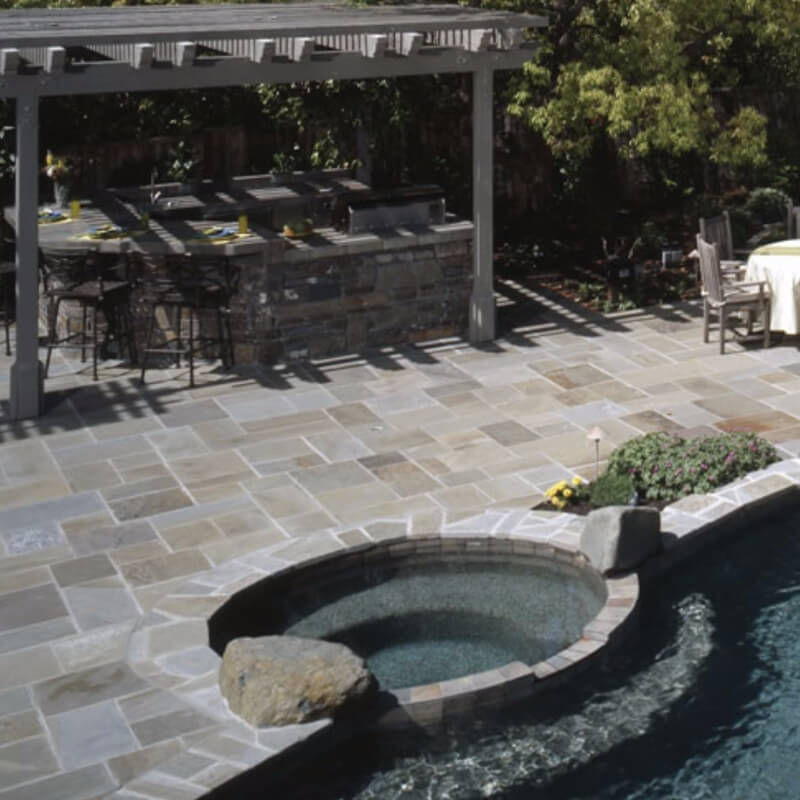 Featured: Bluestone Pavers
Sandstone is also known to be a tough stone, so it's perfect for areas prone to harsh weather. Bluestone Pavers are a rich blue sandstone with rust and gray coloring. These pavers are available in four sizes, including 12x12, 12x24, 24x24, and 24x36.
The natural finish of Bluestone is perfect for a pool and spa—after all, you don't want your flooring to be slippery when wet! The sandstone adds a rustic, outdoorsy feel to this backyard with its large, outdoor kitchen and landscape full of lush trees.
When designing an outdoor space, it's important to remember that your hardscaping can make just as big an impact as your softscaping.
MSI offers pavers in a variety of colors, textures, designs, and materials, all carefully curated to enhance your home's beauty. Whether you prefer natural stone pavers or porcelain pavers, MSI has exactly what you're looking for.
So when it's finally time to get started on your backyard, take a look at this article on how to landscape with pavers for even more ideas.
LEARN MORE ABOUT QUARTZITE PAVERS
Your Guide To Pavers – Porcelain, Travertine, Slate & Quartzite
All About Outdoor Tile: Porcelain, Slate, Travertine, And Quartzite