Popular
Mudrooms Are Having A Moment
March 03, 2017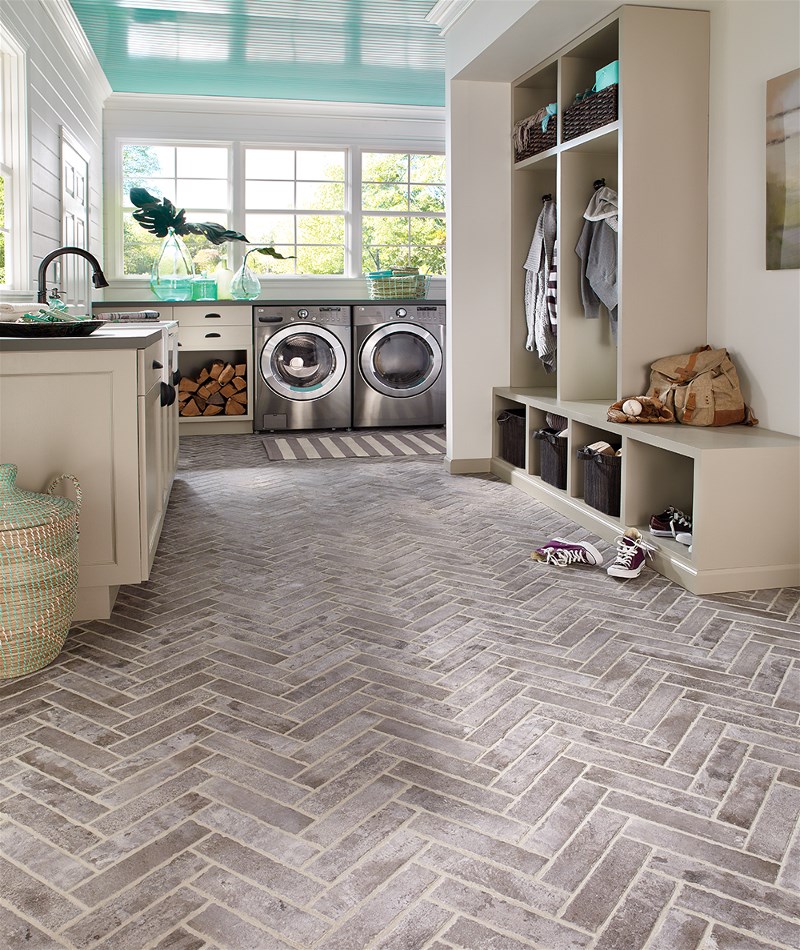 Once in a blue moon, you stumble across a dream space that provides around-the-clock inspiration. The spotlight rarely zooms in on a mudroom—let alone one that doubles as a laundry zone—but alas, this highly sought-after one, shown above, has generated serious traction with homeowners and designers everywhere. (Buzz from the image even landed us a Best of Houzz Design Award!)
Unlike many overworked, underloved spaces, this room is clearly made to be seen. Its most exceptional feature? The flooring! The super chic aged brick lookalikes are arranged in a striking herringbone pattern. All told, this transitional space makes a beautiful case for easy-peasy laundry time, one-of-a-kind storage, and high-style comings and goings.
Hats off if you're lucky enough to have one of these gorgeous yet high-functioning spaces in your home. For the rest of us, our design team rounded up their favorite ideas for making the most of these utilitarian zones. With inspiration aplenty, here's to kickstarting a mudroom/laundry room refresh that fits your lifestyle to a tee.
Featured: Capella Taupe Brick
Why we adore this look:
Topping our design team's fave list, the rustic elegance of the Capella Porcelain Brick Tile flooring (seen here in Taupe) launches this multi-purpose area into seriously stylish territory. Best part? It's low-maintenance and perfect for high-use areas. Quartz countertops above a front-loading washer/dryer unit, kid-friendly locker style built-ins, and shiplap walls combine with a high-shine sea glass hued ceiling for a look we'll be swooning over for years.
A Calm & Collected Corner…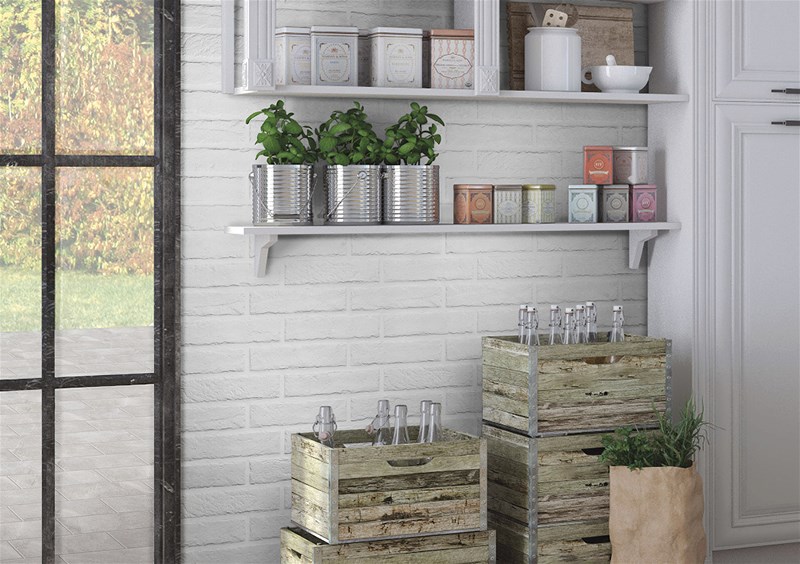 Featured: Capella White Brick
We're loving the sharp looking storage nook in this mudroom – which proves that a single corner wall is all you need to make a space work overtime. In smaller homes, every square foot is valuable. But just because storage space is at a minimum doesn't mean it can't be crazy cute. High-tea anyone?
Why we adore this look:
The Capella White Brick Tile accent wall looks charming, fresh, and inviting – especially alongside the industrial-styled window, no-fuss shelving, and reclaimed wooden crates.
A Place for Everything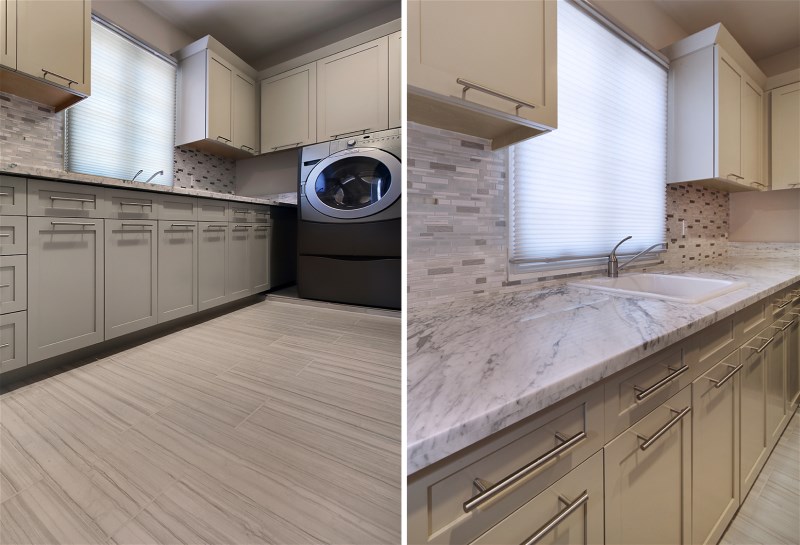 Featured: Carrara White Marble & Sophie White Porcelain & Everest Interlocking
Who says a hardworking space can't be sophisticated and clutter-free? A minimalist's dream, everything in this sleek designated laundry room has a place – and it's tucked out of sight. Since there's no such thing as too much storage – especially in this high-functioning zone—we're loving the cabinets-for-days look.
Why we adore this look:
Designers carried the soothing tones and chic look from the rest of the house into this modern laundry room. The generously-sized countertop with rich white and gray veining – is none other than our Italian Carrara White Marble. Paired with the dynamic Everest Interlocking backsplash, this serene, zen-like room is effortlessly luxe.
A Clean Slate
Photo Courtesy of
Houzz
Who wouldn't want to welcome guests, unleash the dog, and hang a jacket in this well-appointed mudroom? Crisp white walls, black painted wood benches, and easy-to-clean slate floors work together to create an elegant and welcoming space. The bonus? Slate coordinates beautifully with elements outside this home, giving this designer-styled entry a pulled together natural look.
Why we adore this look:
High-contrast black and white spaces are uber trendy right now. And this one – featuring Montauk Black Slate Tiles—doesn't disappoint. Season after season this handsome floor will stand up to daily wear, making it a savvy, practical, and durable choice for mudrooms everywhere.
Going to the Dogs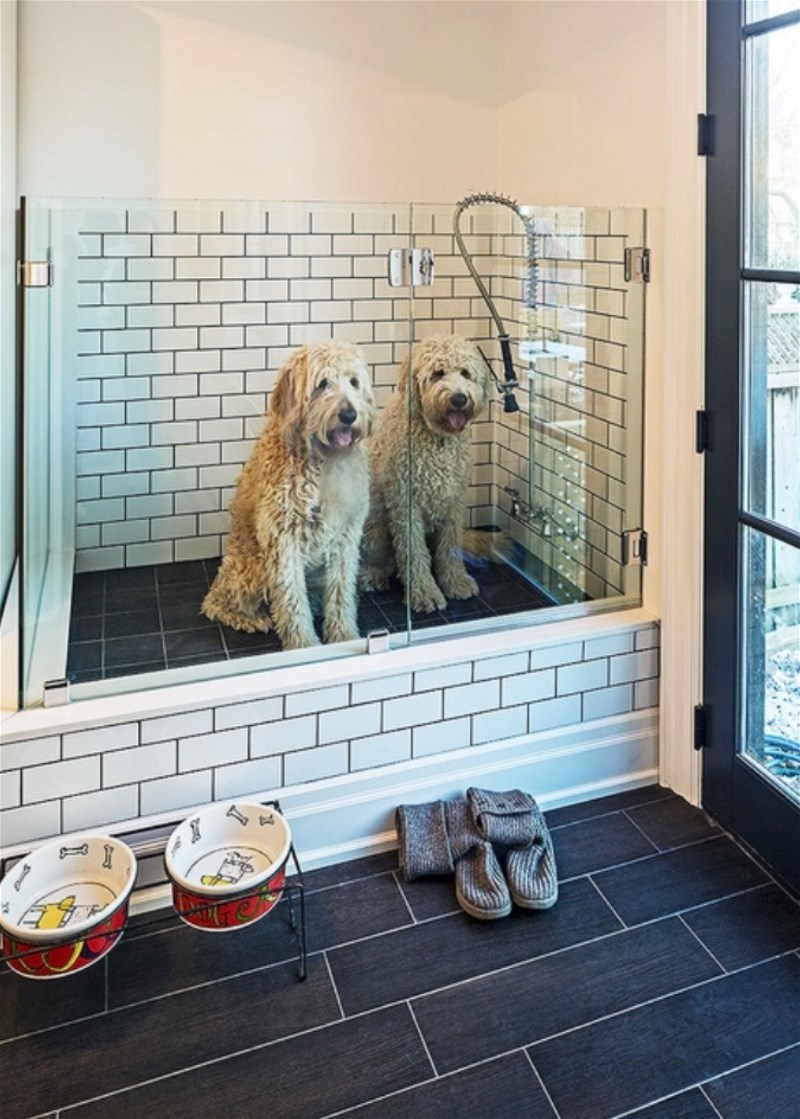 Photo Courtesy of Pinterest
Mudrooms designed with the four-legged set in mind are growing more popular by the minute. Dedicated pet areas with washing stations like this one make cleaning up after furry friends, and storing all things pet-related a breeze. Say goodbye to muddy paws and smelly fur, this hot mess zone is made for Fido and Scout.

Why we adore this look:
When your darling pooches shake off after a shower you don't want them anywhere near drywall. Porcelain wall and floor tiles like the dark and light ones featured here are water-resistant, durable, and easy to clean, making them a natural for this wash zone. Want the MSI version of this look? Our designers recommend Highland Park 3x6 Subway Tiles in Whisper White for the doggie tub, and Country River Porcelain Tile in Bark (of course!) on the floor – both with contrasting grout.

Ready to take on the hardest working areas of your home? Have fun, and keep us on your radar! Remember to share before and after pics with us here.