8 Unique And Exotic Granite Countertop Colors From MSI
October 28, 2021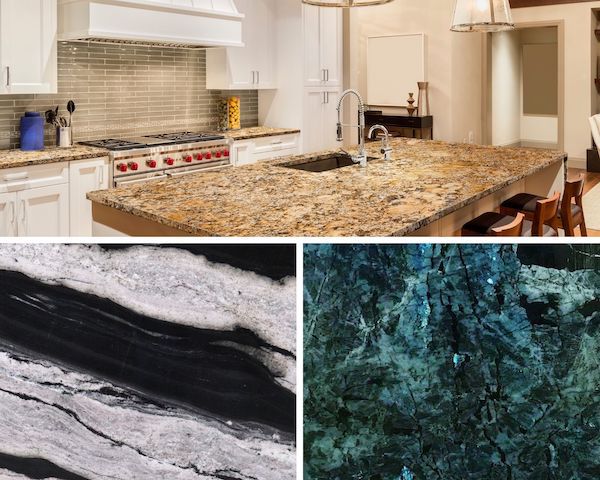 Sixty percent of homeowners have started improvement projects in the last year—so if you want to install new kitchen countertops, you're far from alone! This is a beautiful, durable addition to your home.
There are many granite countertop colors to choose from, which might make it difficult for you to choose. Whether you go with black granite or sparkling white, you'll want your kitchen countertops to add to your home's overall look and feel.
That's why we've picked out 8 unique, exotic colors to help narrow down your choices. It'll make your journey toward gorgeous kitchen countertops so much easier!
1. Desert Dream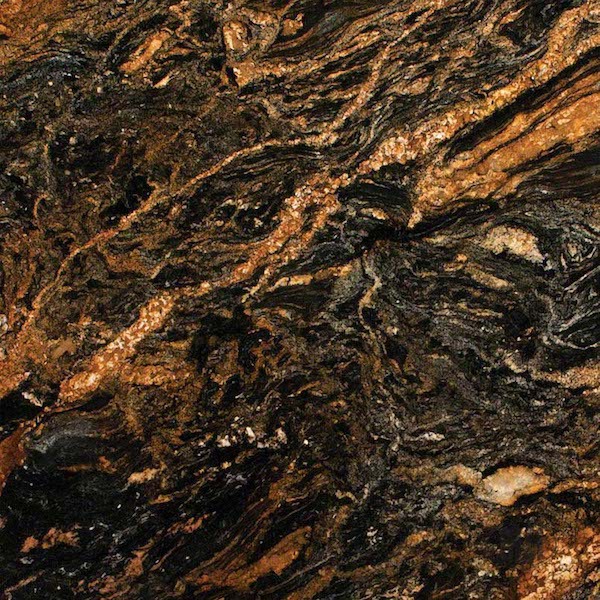 Want to add a sense of luxury to your kitchen countertops? Desert Dream is everything you've dreamed of.
As seen in our granite visualizer, this pattern incorporates black granite, gray, gold, and cream patterns in exotic swirls. Imported from Brazil, this is one of the most durable granite countertop colors.
Granite is expensive, which means placement is important. You don't want to put it in an environment that it was never intended for. That's not a worry with Desert Dream.
You can use these beautiful granite slabs outdoors, even if you live n freezing temperatures. It's also durable enough for any indoor uses, including on your floors, backsplashes, and standard countertop uses.
2. Azurite Granite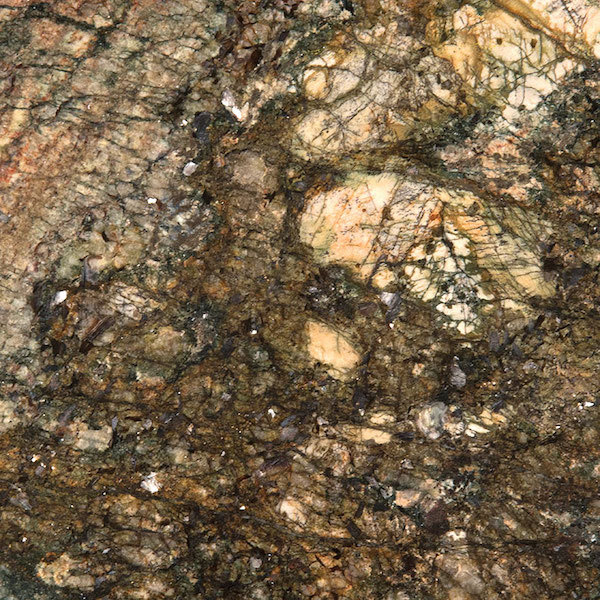 Out of all our granite countertop colors, Azurite Granite is one of the most gorgeous options. With rich gray, silver, cream, and blue patterns, with the rich veins that make it such a popular option, even your countertop edges will have a sense of style.
This option is also versatile for all of your interior and exterior needs. It's a lovely addition to any landscaping projects you have going. But if you prefer more traditional uses, backsplashes and countertops are also fantastic options of Azurite Granite.
3. Lemurian Blue Granite
Obsessed with different shades of blue? There's no better option for your kitchen countertops than Lemurian Blue granite.
As our granite visualizer indicates, multiple shades of deep, showstopping blue come together in a lovely shade that's reminiscent of the ocean, waterfalls, and shades of peacock blue only truly represented in nature.
If you're looking to turn your kitchen countertops into the main centerpiece of your home, go with Lemurian Blue Granite. You can use it as a dedicated centerpiece with a kitchen island or enhance your entire kitchen with it.
One of the perks of using Lemurian Blue Granite is how low-maintenance it is. Since it's easy to clean, you won't spend much time taking care of your countertops. Instead, you can kick back and appreciate how great they look.
4. Eclipse Granite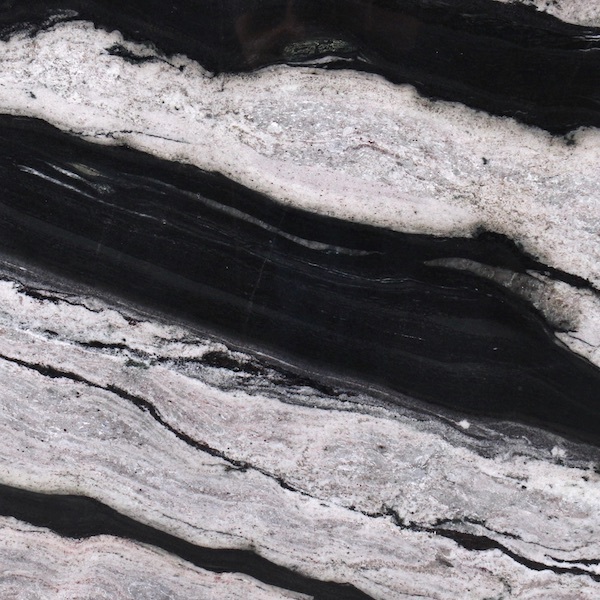 Showy granite countertop colors might not be your style. If you prefer a natural stone look—while still making a statement—Eclipse Granite is a great choice.
There's plenty of drama in nature. And that's exactly what these kitchen countertops provide—a zebra stripe look that maintains the facade of natural stone while still attracting the eye.
With jet black streaks that add a little drama to your countertops, Eclipse Granite is a statement piece. This polished granite from Brazil fits right into a formal room or your workhorse kitchen.
5. Silver Creek Granite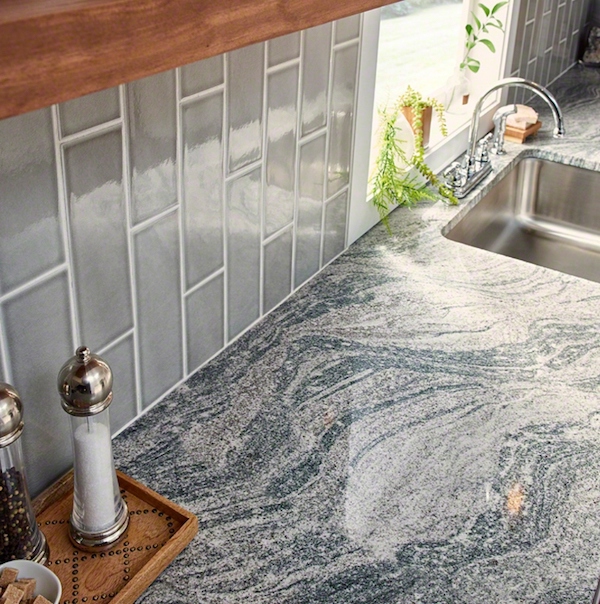 You might want your countertops to blend in. After all, who needs the flair of high-drama patterns and bold colors when the quality of a granite countertop speaks for itself?
If that's your approach to home decor, try Silver Creek Granite, a slab that's reminiscent of nature itself. With shades that may remind you of a shallow creek bed, a beautiful canyon, or a bouldering expedition, this low-profile gray granite may be the perfect option for you. With soft countertop edges and a handsome color palette, it's the perfect addition.
6. Solarius Granite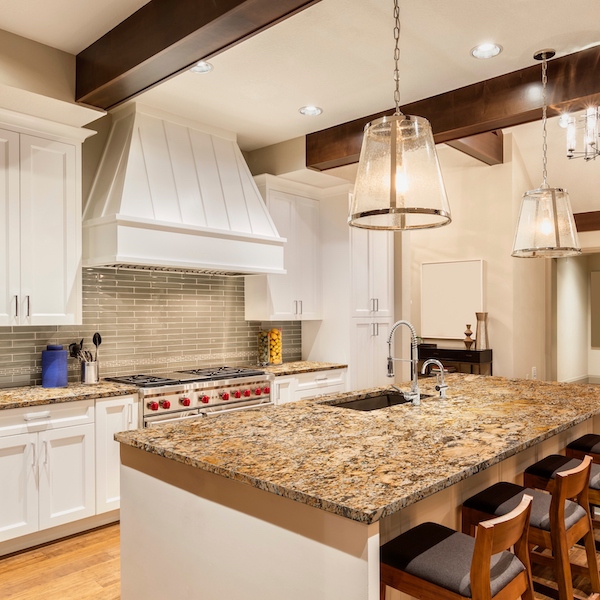 You'll want your kitchen countertops to complement the overall color scheme of your home. With a sandstone-style color scheme, Solarius Granite will fit into a home with a warm, welcoming style.
With brown-gray veins running through a gorgeous gold background, this polished granite makes fantastic kitchen countertops. As a durable, low-maintenance choice, there are many versatile applications for Solarius Granite.
Whether you want high-quality granite flooring or a statement backsplash, Solarius is the way to go.
7. Blue Pearl Granite Granite countertop colors come in so many shades. But if you're looking for something that adds some celestial flair to your home, Blue Pearl Granite is the way to go. It's so much more than just black granite.
With crushed stone sparkle, deep shades of black, blue, and creamy beige sparkle create a gorgeous pattern for any home. Imported from Norway, this polished granite option works for residential, commercial, outdoor, or indoor projects. Whether you want something for exterior walls or your kitchen countertops, Blue Pearl Granite has you covered.
8. Volga Blue Granite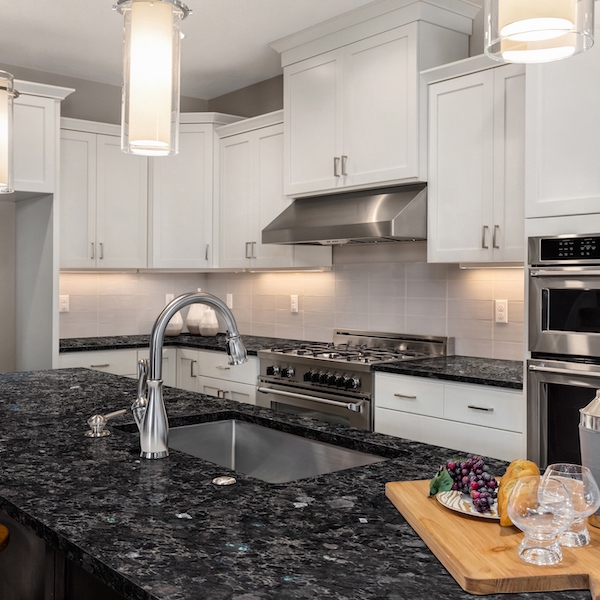 If you're a free spirit when it comes to home decor, black granite may seem a little passe. But what about black granite with gorgeous flecks of blue and gray?
Volga Blue granite comes in both tiles and slabs for optimal versatility. With a unique outer space twist, with visible blue sparks throughout the black granite, everyone will be asking where you got it!
Volga Blue works whether your project is indoors or outdoors. It's even durable under freezing temperatures, which makes it a great choice for any outdoor project.
Picking Granite Countertop Colors
When selecting granite countertop colors, there are tons of benefits. Consider the added value, durability, and natural stone look. If you are ever interested in reselling your home, granite countertops will contribute to the resale value.
Granite is also one of the most durable countertop materials available. It lasts forever and is easy to clean since it isn't porous. This makes it easy to maintain and repair if it ever chips, too. This makes it a safe investment for decades to come.
If you're interested in checking out the latest countertop design trends, check us out here! We'd be happy to partner with you on your newest project.
READ MORE ABOUT GRANITE COUNTERTOPS
Granite Vs. Quartz Vs. Quartzite — How to Choose the Right Countertop
Choose the Perfect Granite Countertop with MSI's Slab Selection Process
Our Most Popular Natural Stone Countertop Choices: Marble, Quartzite, And Granite