Inspired Stacked Stone Walls From Our Featured Collections
March 13, 2020
Trends come and go. What was considered hot and stylish 20 years ago — or five years ago, for that matter — could now look dated. Not so with stacked stone ledger panels! Stacked stone ledger panels will always be in style, decade after decade, and here's why: They're made from real stone.
The rustic, homespun look is all the rage now, and stacked stone is a natural fit for that aesthetic, both indoors and out. It can do so much more, though! The color and textures can elevate a room's entire ambiance and mood, adding visual interest to even the most elegant, refined, or contemporary settings. Here are a few of MSI's most popular stacked stone panel colors and textures, used in applications that demonstrate just how versatile stone panels can be.
Versatile Colors and Textures
Arctic White
If a dark, earthy look is what you think of when you consider stone veneer panels, think again — and take a look at MSI's Arctic White ledger panels. Crafted with natural split-face marble, this snowy-white stone adds a texture you can't get with any other wall treatment. Stone wall tile, particularly in a monochrome scheme such as this one, can easily be matched with other stone surfaces without looking too "country" or rustic. Equally, stacked stone pairs well with faux materials such as vinyl plank flooring. Shown here, it's a perfect complement for wood-look porcelain tile flooring.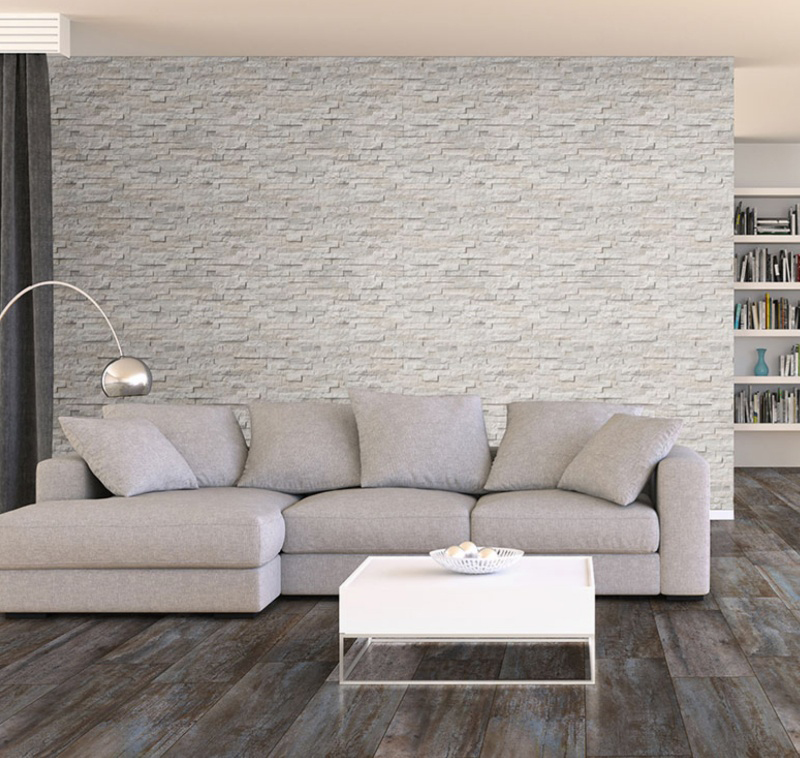 Glacial Grey
One creative use for stacked stone is to break up the room into different sections. Adding Glacial Grey as an accent wall surrounding a built-in fireplace helps to set aside a separate, cozy sitting area with a mood all its own. This is best accomplished with stacked stone that contrasts sharply with the colors in the rest of the room, such as this combination of clean white and mid-tone gray. The linear structure of the stacked stone along with contemporary shelving also creates a lively look with lots of movement.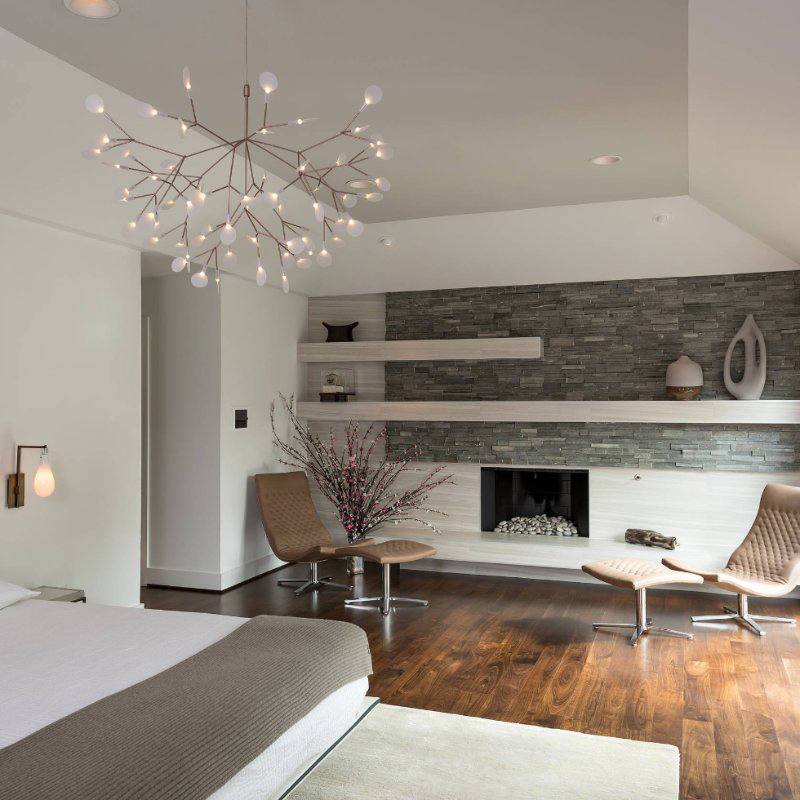 Coal Canyon
Although MSI's stone ledger panels are made from real, natural stone — not an imitation — they are surprisingly affordable. Because of this, you can cover an entire wall with textured gorgeousness. Or, you can just cover a section, such as this cozy fireplace surround created using Coal Canyon ledger panels. This split-face quartzite is an elegant dark-gray, which may be a bit too much for an entire room but is ideal for this limited application. If your room has lots of windows and is naturally light and airy, however, the effect of an entire Coal Canyon wall could be stunning!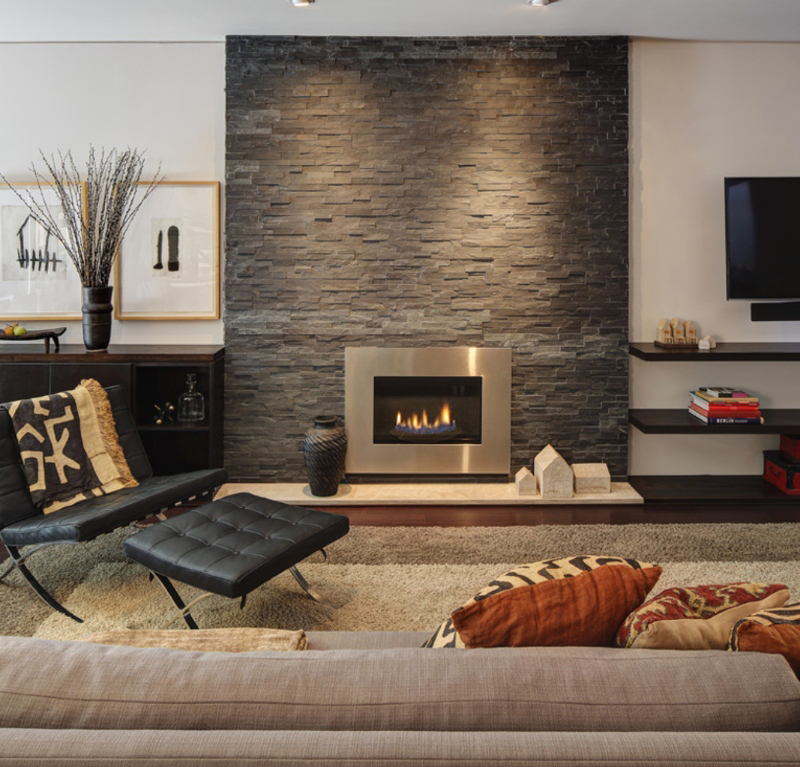 Sage Green
We're all familiar with the stacked stone fireplace surround, right? Think beyond the fireplace — way beyond! Consider using it for the bathroom or a single accent wall in the dining room. Stacked stone panels create eye-catching backsplashes, but in bathrooms they are also used often for covering entire walls or even shower surrounds. Sage Green ledger panels feature split-face quartzite that contains a hint of sparkling mica, which brightens its natural hue and looks spectacular alongside mirrors and metallic bathroom fixtures.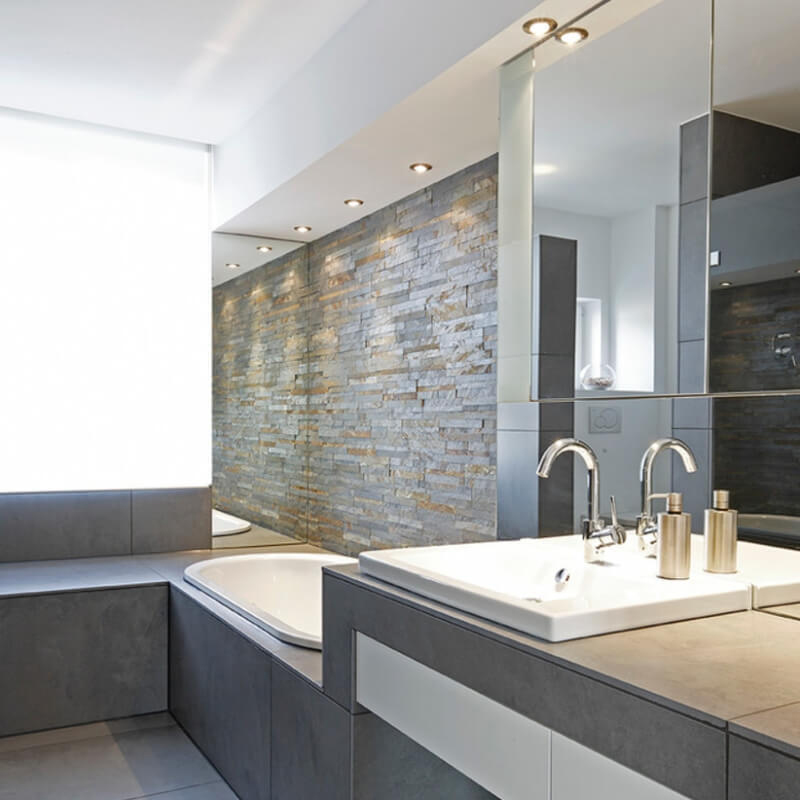 Golden White
Although MSI offers a huge variety of stacked stone colors and combinations, natural shades are among the most popular. Although black, gray, white, and other dramatic shades are considered neutral, earthy tones such as Golden White are perhaps the truest neutral, and the easiest to match with just about any type of home décor you can dream up. That's an important consideration, since stacked stone panels are going to last for decades! Golden White natural quartzite features shades of gray, gold, and cream — colors you'd see on a nature walk. This stone backsplash pairs well with an all-white kitchen as well as this polished oak flooring. However, if next year you decide to paint your kitchen green, or put up bright blue curtains, your Golden White backsplash will look just as complementary.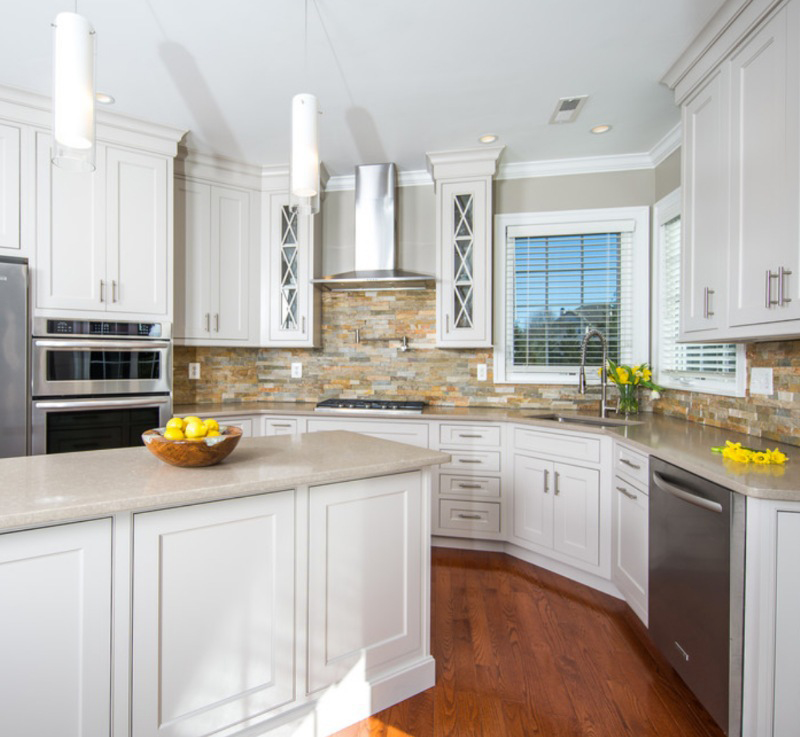 Professional designers love stacked stone ledger panels for their versatility, character, and ability to elevate any room. We all love to show our own unique, personal style, and stacked stone is ideal for that purpose. Since it's not the "usual" wall covering — like paint or wallpaper — it not only suggests creativity but affluence as well.
When considering stacked stone for your home's interior décor, it's important to study the whole range of options MSI has to offer:
Stunning Stacked Stone Collections
Rockmount
The five stacked stone options discussed above — Arctic White, Glacial Grey, Coal Canyon, Sage Green, and Golden White — are part of MSI's Rockmount Collection. In addition to the split-face stones featured here, this collection also includes smooth honed stones in a 3D arrangement for a more refined, contemporary look.
M Series
Rockmount full-size ledger panels are 6" x 24", an ideal size for covering a large expanse with a minimum of fuss. The Rockmount M Series, however, is a more petite 4.5" x 16", which is much better for creating smaller features such as wall niches, accent strips, or areas with cutouts for fixtures or electric plugs. These smaller-size panels are available in 13 of the most popular full-sized Rockmount colors.
Dekora
MSI's Dekora collection offers all the beauty and versatility of our other collections, but makes stacked stone even easier to install and care for. They are durable, easy to clean, and require little ongoing maintenance. Despite this simplicity, they're ideal for use both indoors and out.
There's a lot to love about MSI's stacked stone panels. With a huge variety of colors and textures, matching corner pieces for a flawless finish, and lots of design inspiration, you'll love bringing your next-level home decorating ideas to life. MSI's stacked stone visualizer lets you see how each ledger panel option will look in your own room, as well as in combination with other design elements such as flooring or tile. To get the full experience, however, you need to visit MSI's web galleries and see it all!