Love White Looks? Check Out These White Hot Wall Tiles!
March 20, 2022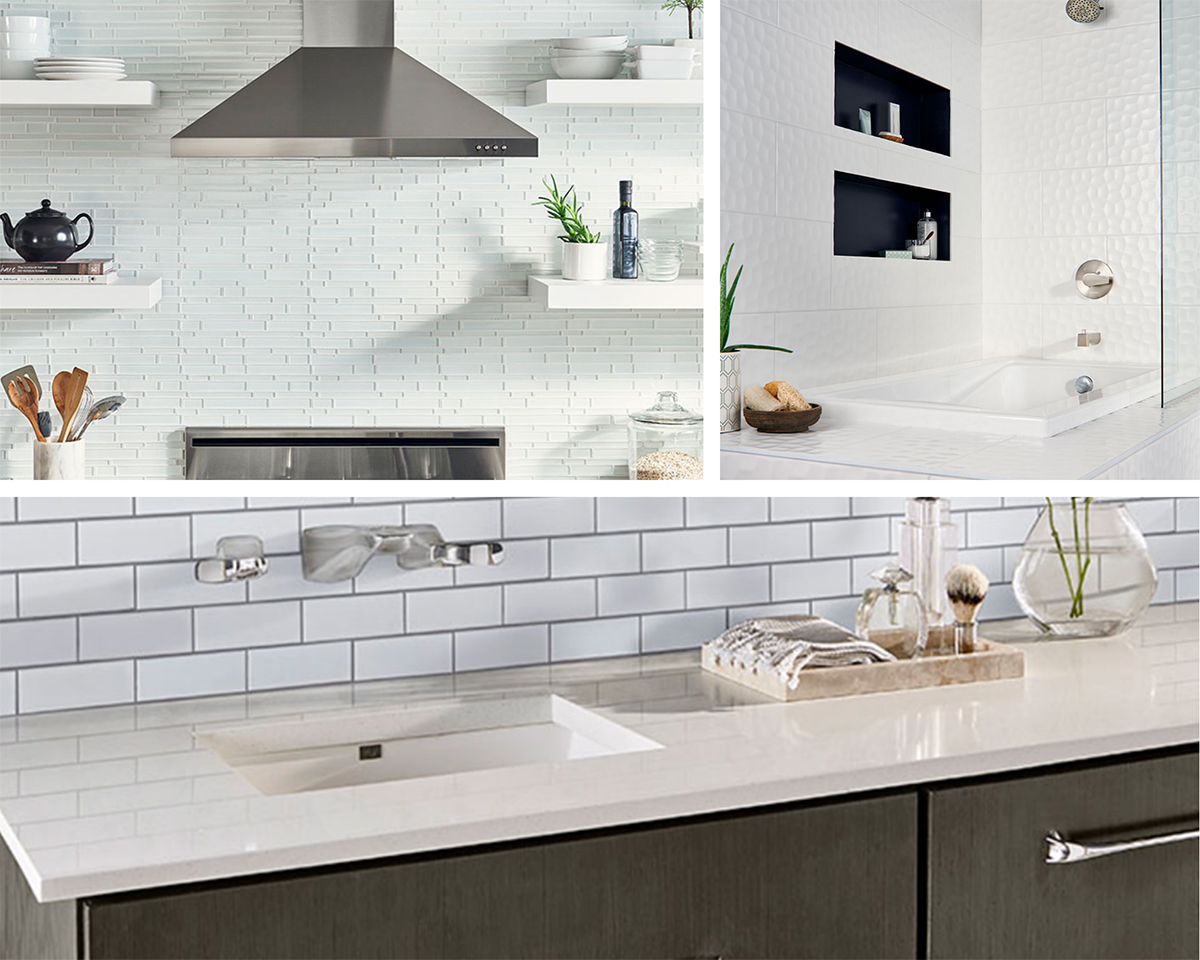 The right wall tiles can transform the look of your kitchen or bathroom backsplash. They can also turn a plain shower or wall into a stunning interior feature.
As you search for the perfect ones, it's important to keep your overall design aesthetic top of mind. The tiles you choose should complement the look of your home and allow the different elements to flow seamlessly together.
Do you tend to gravitate toward whites, light grays, and other airy neutrals? If so, then you'll be glad to know we offer plenty of wall tiles that fit into this category. Today, we're taking a closer look at some of our white-hot wall tiles that the modern minimalist can't afford to miss!
Retro Bianco Matte Subway Tile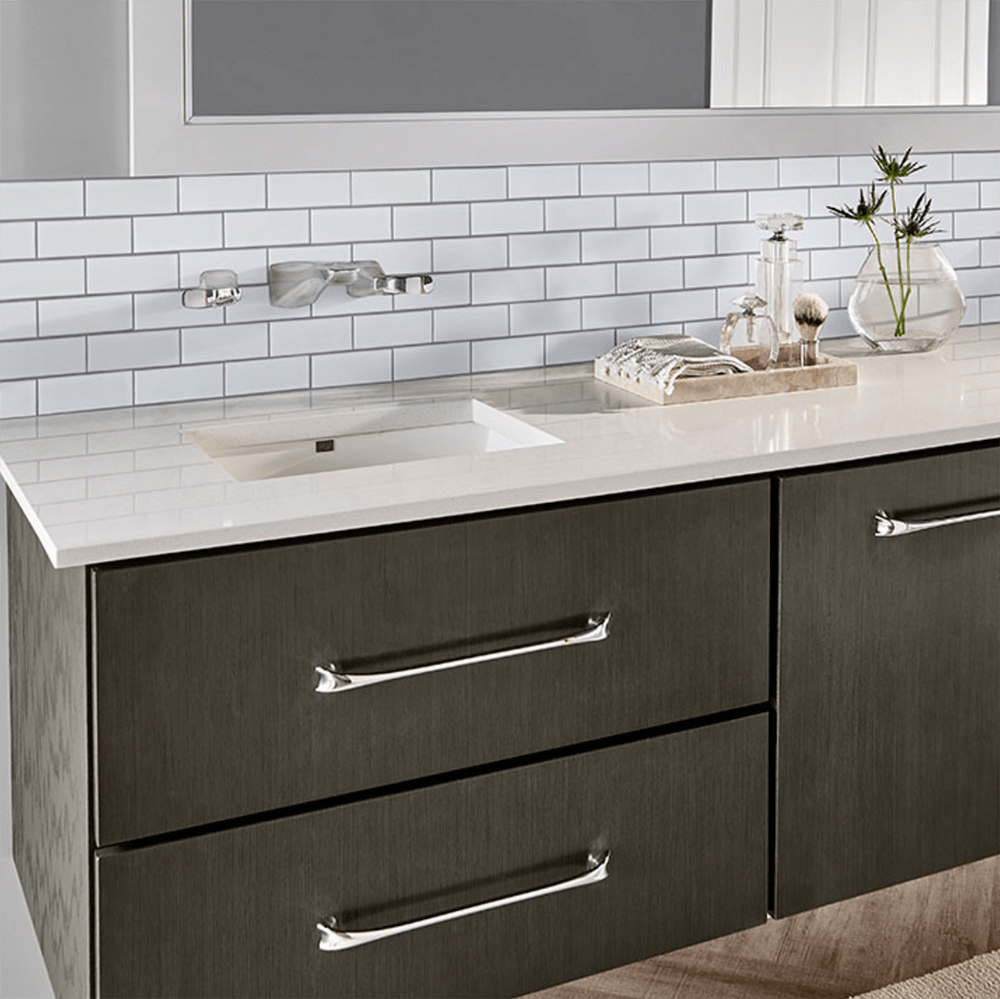 Design trends may come and go, but classic white subway tile will never go out of style. The beauty of this tile is that it's effortlessly agile. It looks gorgeous in an ultra-contemporary home, a sweet vintage cottage, and every style in between.
If you're looking for the perfect tiles to help your kitchen or bathroom stand out, then start your search with our Retro Bianco Matte Subway Tiles.
These porcelain tiles measure 2x6, which makes them the ideal size for a variety of applications. They're traditional without being stuffy, and modern without being cold.
In other words, they're the do-all subway tiles you'll reach for when you're ready to tackle any home project! From vanities and mirrors to ranges and countertops, there's arguably nothing that these tiles can't beautifully offset.
Calacatta Verona Quartz Slab On Wall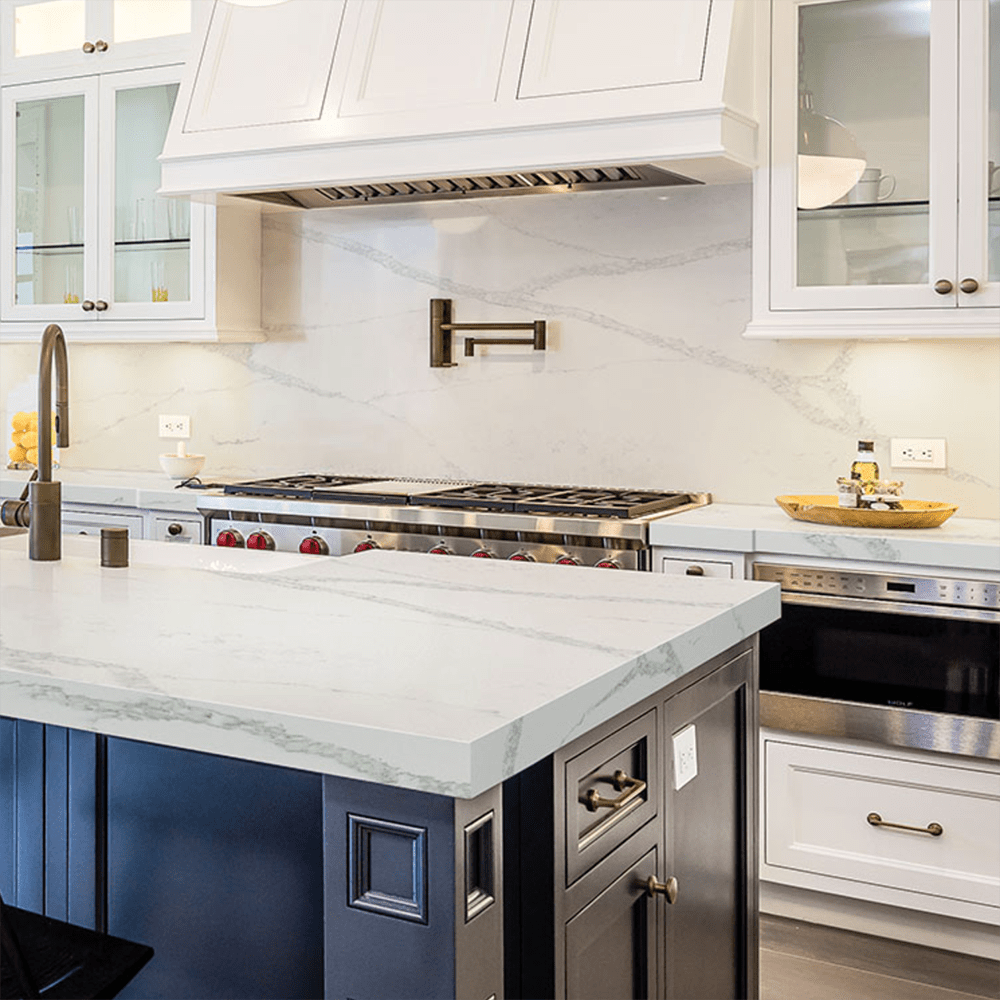 Are you looking for a wall tile that makes an elegant, immediate statement? If so, then look no further than our Calacatta Verona Quartz Slab.
A striking alternative to grouted tile, each slab is designed to fit your sizing specifications, with 2mm and 3mm options available.
This polished slab gives you the soft white background and subtle grey veins that you're used to seeing on classic white marble. However, it's much more durable, easier to clean, and maintenance-free.
Wherever you place it, this quartz slab is a work of art, and it's sure to turn plenty of heads.
Install it over your range as a conversation-starting accent piece. Or, use it to create exquisite white quartz countertops or waterfall islands. You can even install Calacatta Verona as a luxurious flooring surface!
Ice Interlocking Glass Backsplash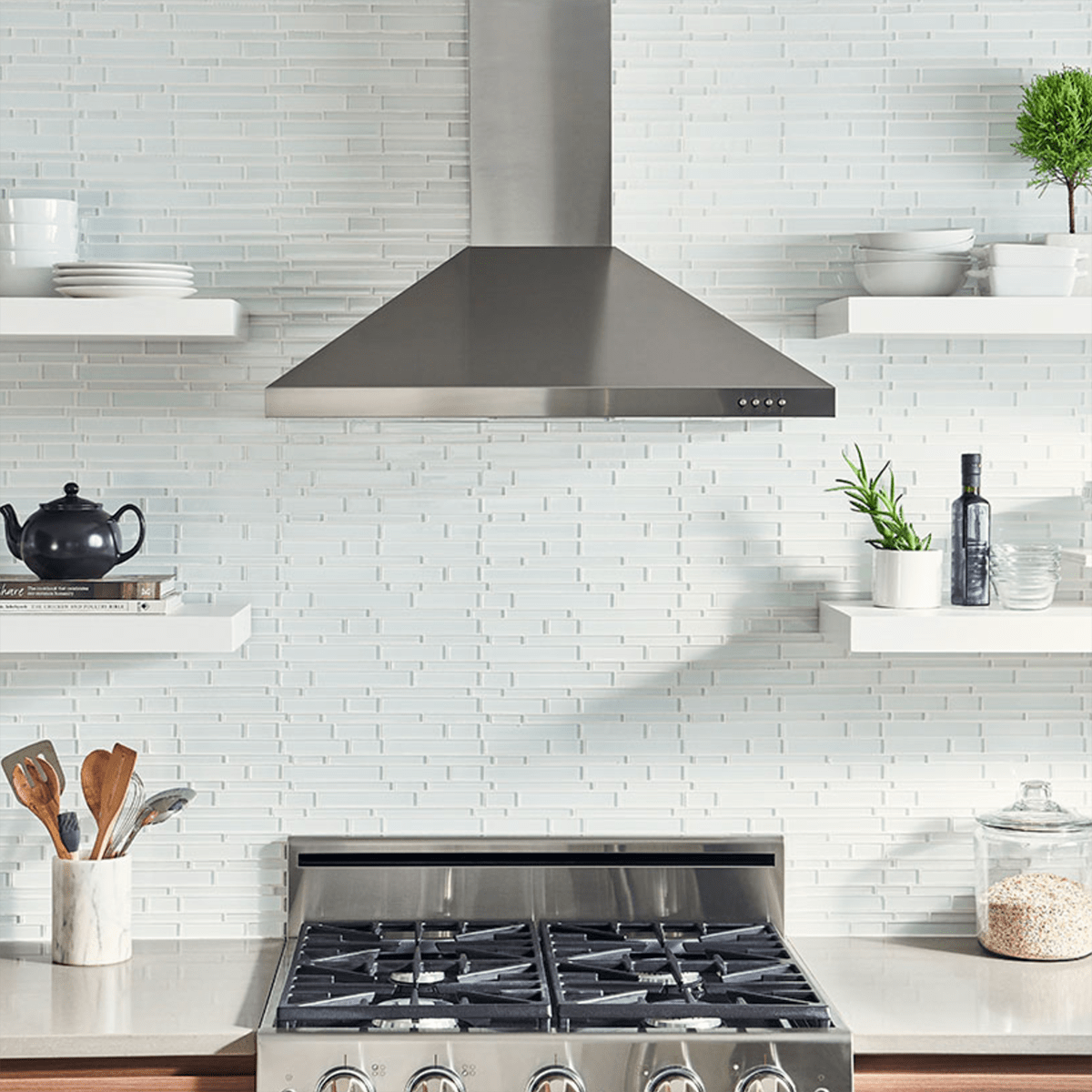 Who says backsplashes have to be boring to be practical? If you love the look of a conventional mosaic wall tile but want something a little different, then check out our Ice Interlocking Glass Backsplash Tile.
Made of pure, transparent crystallized glass, it features both wide and narrow tiles in a variety of different lengths. These glass backsplash tiles interlock together to form one monochromatic surface you'll love walking past every day.
Though this backsplash incorporates a range of sizes, it never feels busy. That's because the soothing white tones evoke a feeling of simplicity and refreshment. In addition to using our Ice Interlocking Glass tiles on your kitchen backsplash, you may also consider installing them on your floors and countertops!
Adella VISO 3D Wall Tile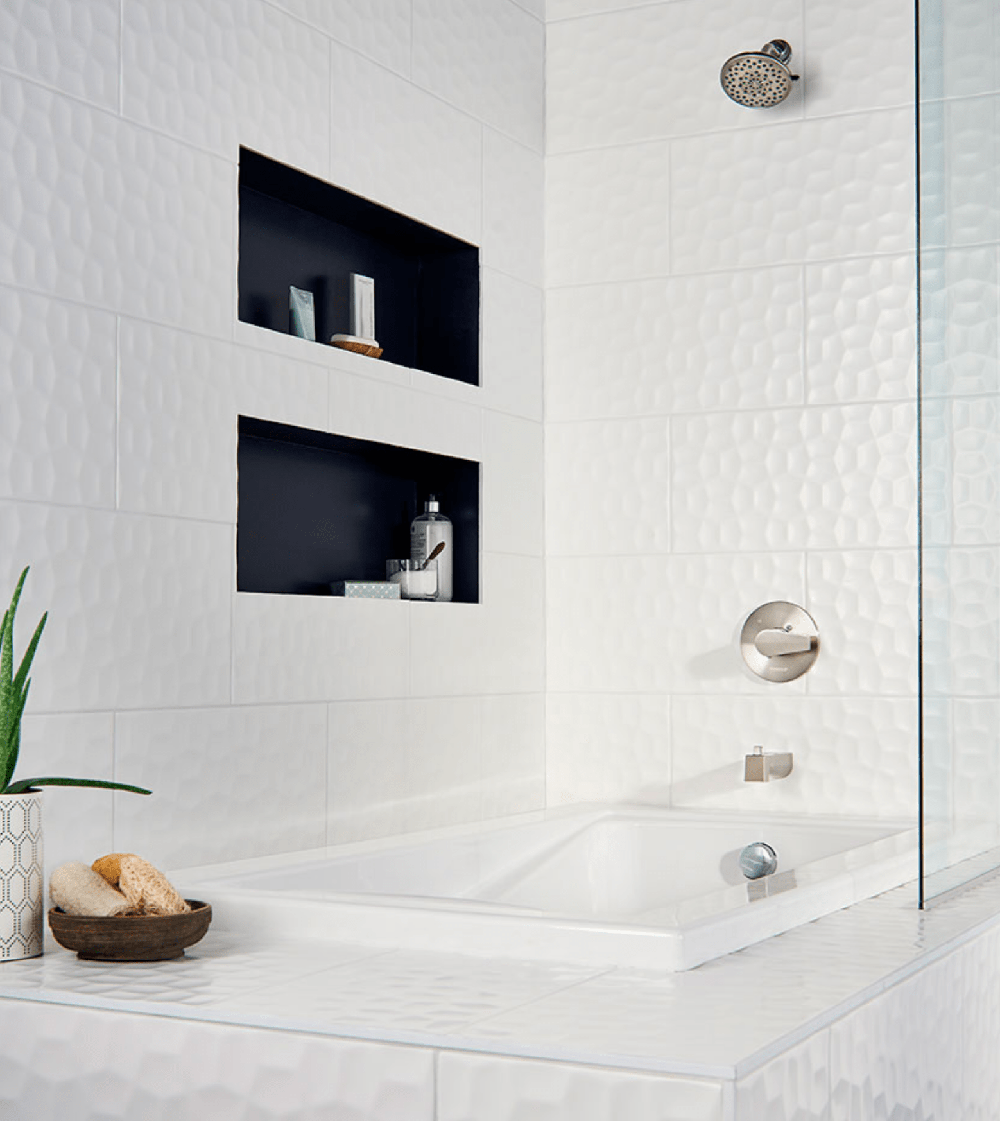 Want to breathe new life into a bedroom, home office, or dining space, but don't want to commit to painting the entire room?
An accent wall allows you to express your personality and incorporate some visual interest in a creative and cost-effective way. Yet, for this approach to work, you have to use the right materials.
Our Adella VISO 3D Wall Tile definitely fits the bill. These ceramic tiles aren't just lovely to look at and admire. They're also slightly textured, which can add a ton of depth and dimension to any room.
Featuring a creamy white background, these tiles also showcase the iconic gold and gray veins you'd expect to find in fine, natural Calacatta marble.
Install it in your primary bedroom, and you won't even need a headboard or wall art! In addition, Adella VISO 3D Wall Tile is also spectacular on shower walls. Not only is it bright, fresh, and easy to clean but the generous 12x24 tile size instantly makes any room feel bigger.
Arabescato Carrara Picket Honed Tile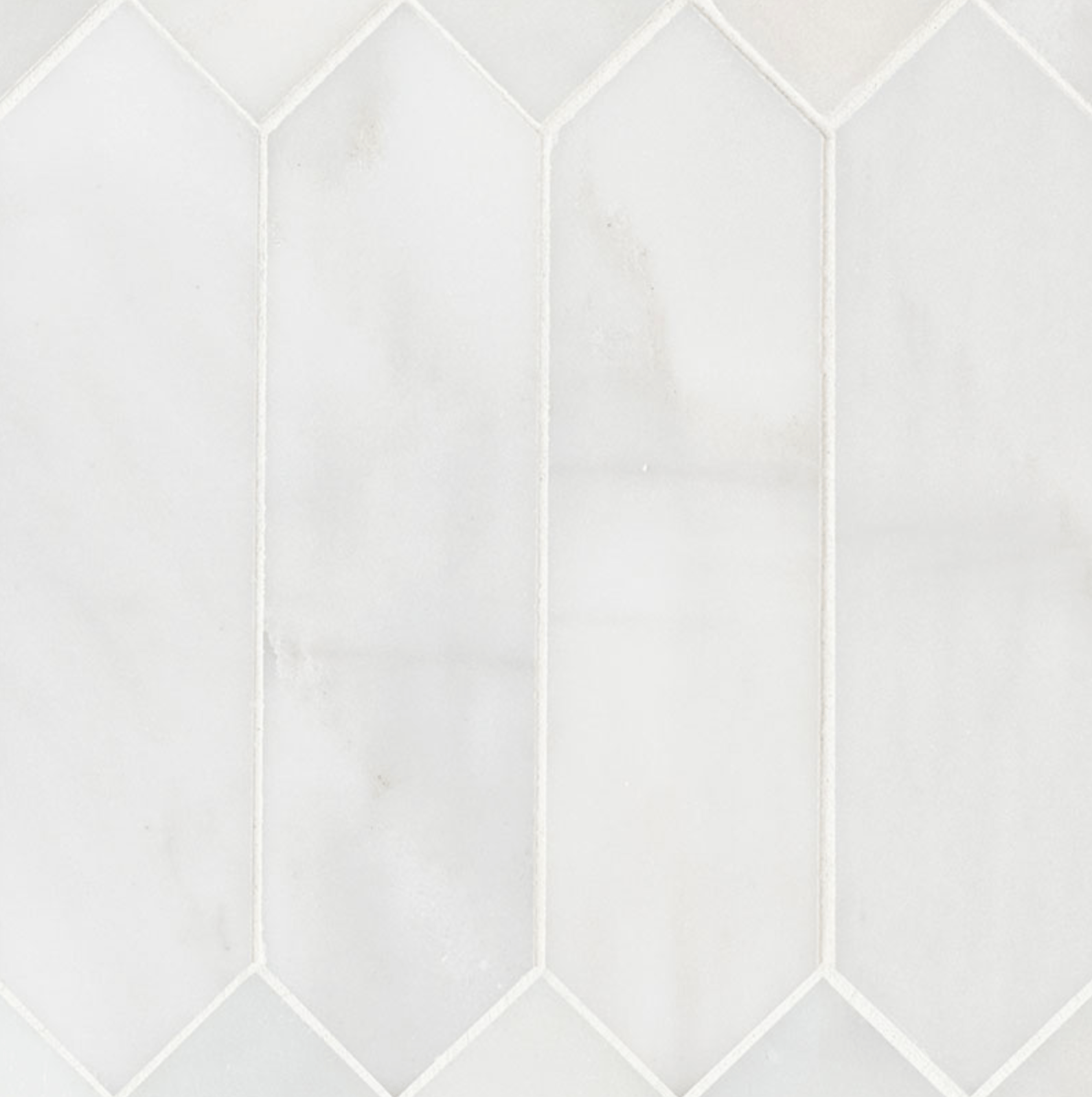 There's just something about honed marble that looks decidedly sophisticated. Our Arabescato Carrara Picket Honed Tile is no exception.
Featuring soft white and dove gray tones, it's the genuine marble tile that design dreams are made of. It's a showstopper when used as a kitchen backsplash, and also makes a statement on a vanity wall or shower surround.
You can run these tiles horizontally or vertically depending on your application. Either way, it's an easy and affordable way to add glamorous style to any space. Plus, the natural hues easily complement any decor scheme or interior wall color.
Another reason to love Arabescato Carrara? It only looks precious. This marble is durable, upscale, and refreshingly easy to maintain.
Dymo Statuary Stripe White Backsplash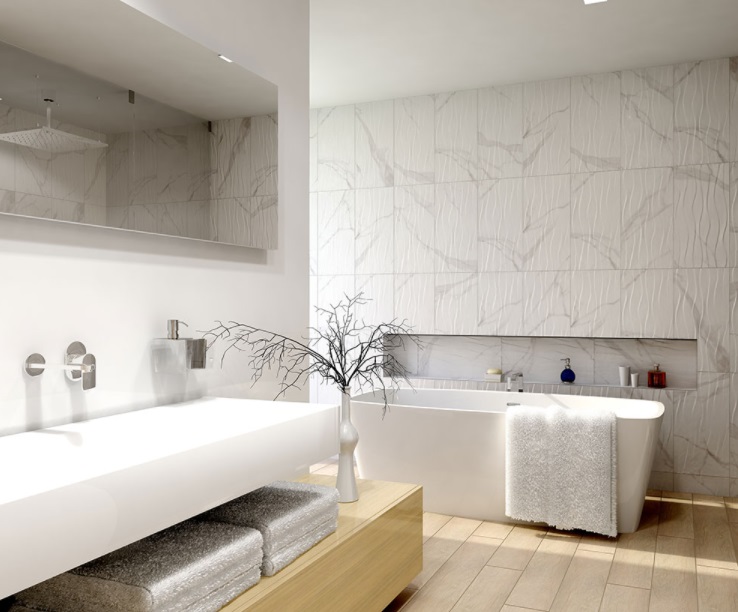 Your kitchen backsplash tile is the perfect space to reveal your personal decorating style. If you love a bold look, then our Dymo Statuary Stripe White Backsplash is perfect.
These 12x24 tiles feature a glossy finish with a trendy striped pattern overlaid on a milky white and grey veined background. Install it anywhere you need a pop of interest, from kitchen nooks to accent walls and shower surrounds!
Shop Our Collection Of White-Hot Wall Tiles
It's no secret that light-colored interiors are having a major moment. Whether you fully embrace the look or only prefer it in spurts, it helps to know what materials look best in each space.
We offer a wide range of white wall tiles that look beautiful with this style. In addition to the above selections, you can also find plenty more on our website!
Feel free to browse our full online tile collection, and contact our team if you have any questions.