Gorgeous Granite Countertop Islands
January 30, 2020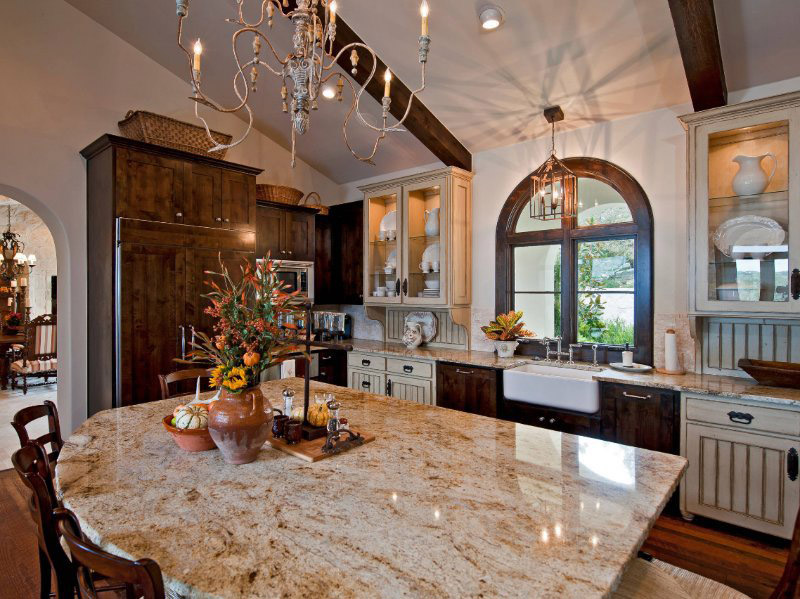 What's durable, natural, and exquisitely beautiful? A granite countertop island, of course! Kitchen islands are perfect for rolling out cookies, doing homework, prepping meals, having a casual meal, and for entertaining. Islands need a durable and easy-to-clean surface that resists stains, chips, and can handle the heat. That describes granite to a T.
Once, kitchens were small, closed-off spaces that were all about function. Thankfully, that's all changed. Today's kitchens are high-design havens planned for efficient daily use and entertaining friends and family. Sky-high ceilings, sun-soaked eating nooks, contrasting cabinetry, and conversation-boosting islands make the kitchen the heart of the modern home.
Let's explore some of our favorite granite islands.
White and Black Kitchens: Always en' vogue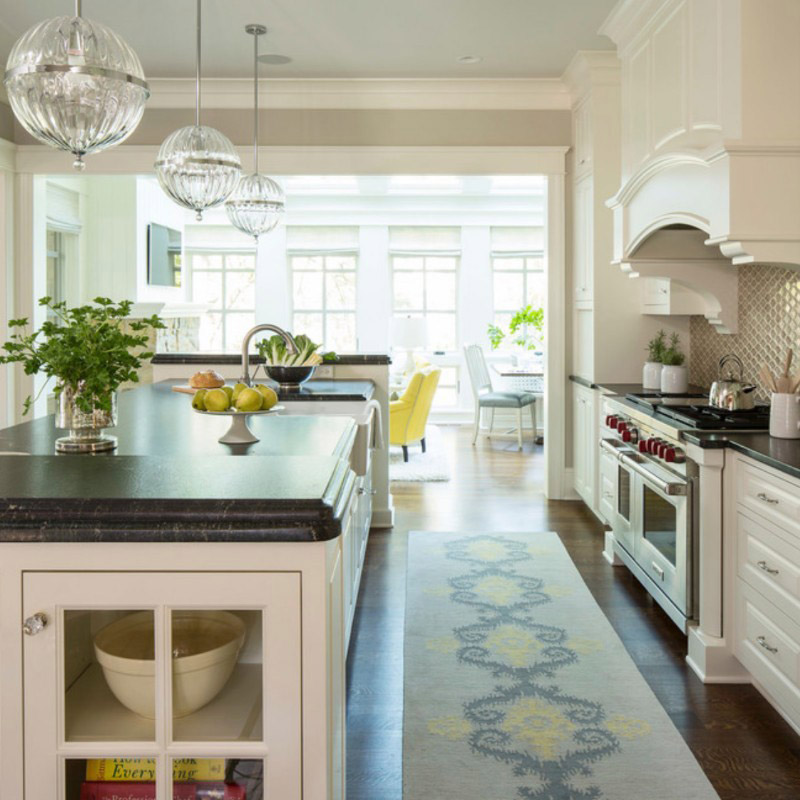 Silver Waves
Black and white are true timeless neutrals that are never dull. If you want a design scheme to carry through into the next decade— black granite is it. In this chef-inspired kitchen, our black granite Silver Waves island is home to a classic farmhouse sink to make meal prep a breeze. Perhaps, more importantly, are the subtle silvery veins that tie the granite to other elements in the design. The choice for an artful edge on the island shows attention to detail and allows the natural veining of this countertop to be the star.
Sophisticated Drama: Dare to be bold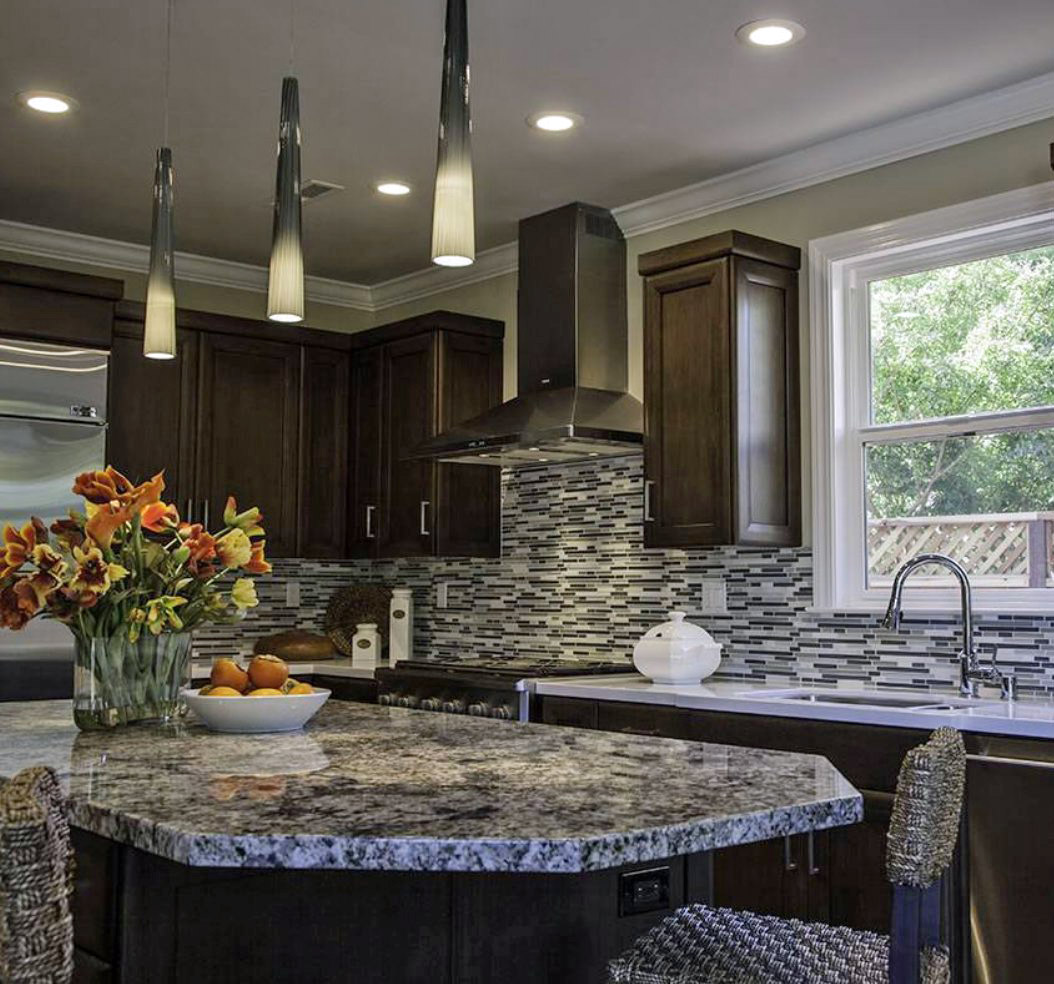 Blue Flower
Dark cabinets are often paired with light countertops and backsplashes. And while that is a look we love, this kitchen that partners dark cabinets with dark granite is sublime. Our Blue Flower granite partners beautifully with the backsplash, white countertop, and dark cabinets creating a sophisticated yet welcoming vibe. This kitchen's design also echoes the growing trend of islands free from sinks and range tops. Appliance-free islands keep you an uninterrupted surface for meal prep and entertaining.
Contemporary Allure: High-style meets high-function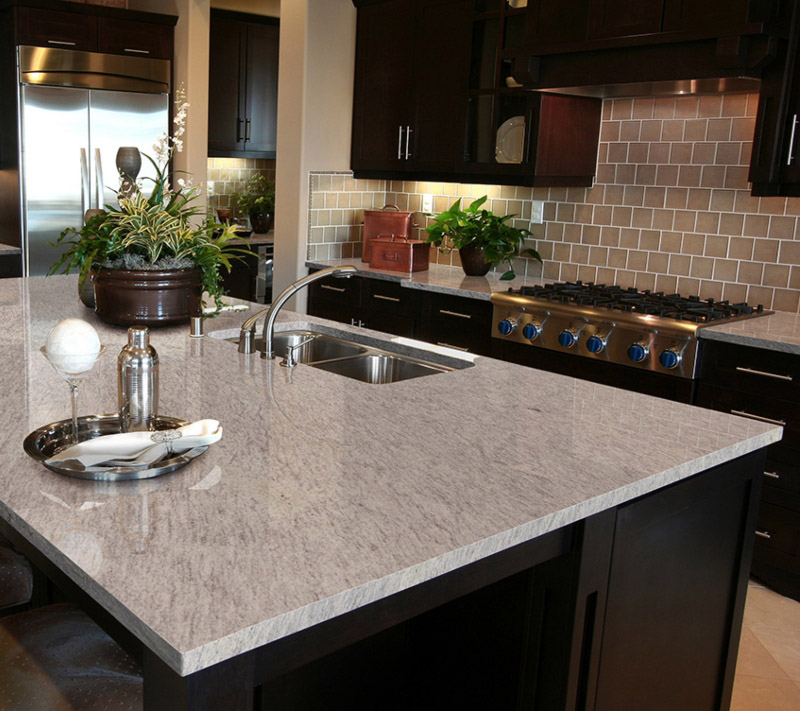 Arctic Valley
White granite countertops are on-trend and in-demand. Why? Unlike other white stone countertops, granite requires minimal maintenance. Granite is one of the best choices for multi-tasking kitchen islands where finger painting and science projects are encouraged. Go ahead—be fearless—don't worry about water stains or chips with a granite-topped island. Our Arctic Valley granite partners handsomely with the dark cabinetry and neutral backsplash and walls in this contemporary space. Together, these elements create a warm and inviting kitchen ready for your next event.
Efficient and Eclectic: Great things do come in small packages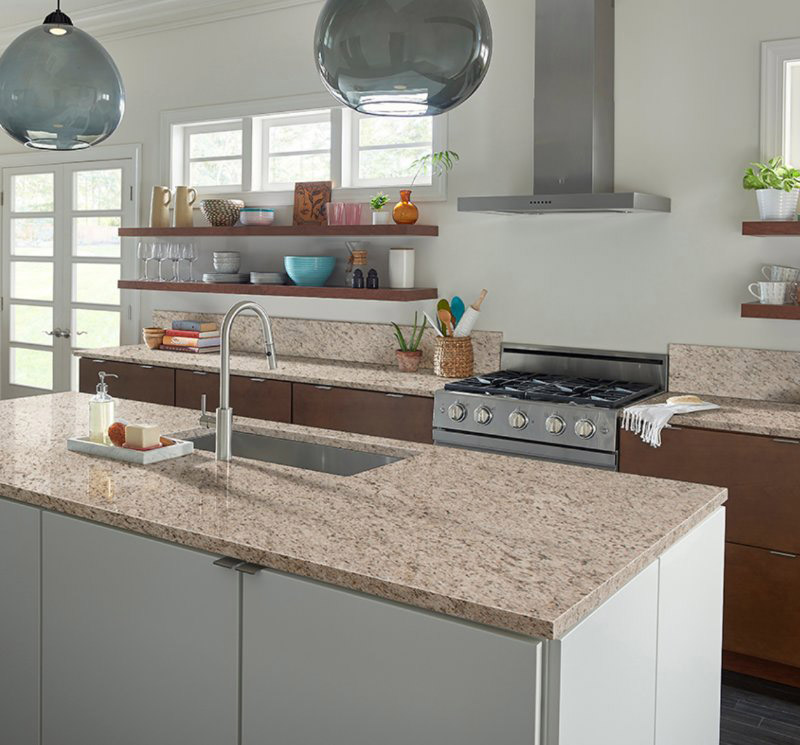 Giallo Ornamental
If you have a small, efficient kitchen, don't give up on your dream of a kitchen island. In this eclectic kitchen, the island's contrasting color makes the space feel more expansive. This inspired design works because of the Giallo Ornamental countertops. The shades of each cabinetry color are echoed in the granite, unifying the look and feel of the kitchen. If you are debating quartz vs. granite for your countertops, it really all comes down to which surface best compliments your style.
Granite is available in hundreds of colors and patterns, ensuring that there is a choice that matches your personality. No longer do you have to choose function or style. With granite countertops, you can have both!
Read More about Granite Countertops
Favorite Natural Granite Counters to Top Cherry Wood Cabinetry
What Is the Perfect Height for Your Granite Countertop Install?
Debunking Myths: How Much Do You Really Know About Granite Counters?
Perfect Pairings for Granite Countertops and Tile Backsplashes
READ MORE ABOUT GRANITE COUNTERTOPS
Going Green with MSI Granite Countertops
Gold Granite Countertops Sparkle And Shine!
Granite Countertops - Get the Right Start with the Right Finish
Granite Countertops 101: All Of Your Everyday Use Questions Answered