What Are The Advantages Of Vinyl Plank Flooring?
May 05, 2021

Luxury vinyl plank flooring has all the natural beauty of hardwood flooring — but why would you choose it instead of the real thing? Real hardwood flooring is lovely and adds so much warmth and character to a room. However, it also adds a lot of worry. Read on to find out the advantages of LVT flooring.
Resistant to Moisture
You wouldn't install real wood flooring in a bathroom, because no matter how careful you are, that floor will get wet. Water, or other liquids, and wood flooring don't go together very well. Exposure to moisture can cause staining, warping, and other damage that reduces a hardwood floor's lifespan and spoils your investment.

Other tile flooring types are called water resistant, but LVT is totally waterproof. So, when the kids splash water out of the bathtub, when someone walks into your entryway with wet, muddy boots, or when you spill something in the kitchen, there's no need to worry. Just wipe it up and go on with your day! The moisture resistance makes a luxury vinyl tile floor a perfect choice for bathrooms, mud rooms, laundry rooms, kitchens, and more. We think you'll agree — this is one of the very best luxury vinyl tile benefits.
Resistant to Scratches
When you're selecting flooring for entryways and other high-traffic areas in your home, durability and scratch resistance is vital. Compared to hardwood floors, as well as many other types of flooring, LVT is much better at resisting damage from scratches and scuffs.
LVT is more resistant to scratches than hardwood floors are, which it great for entryways and other high traffic areas. Its CrystaLux wear layer protects the flooring from damage from kids, pets, furniture, and everyday living.
Easy to Maintain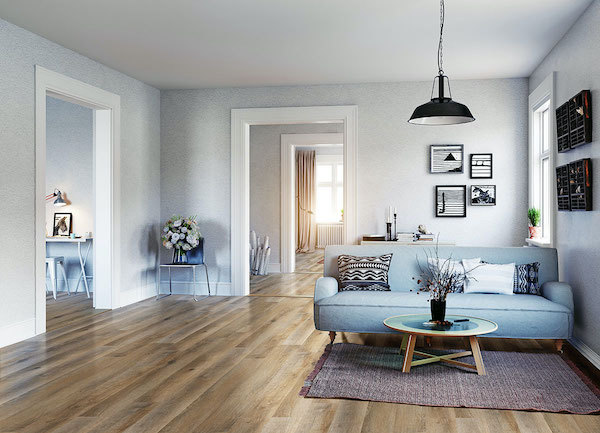 LVT flooring is perfect for anyone who would rather enjoy their flooring than work hard to maintain it. Vinyl flooring care and maintenance is a breeze! Other than sweeping to remove dust, hair, and other debris, it doesn't need any more daily care. When messes happen, simply use a damp mop. You'll never need to wax it, polish it, buff it, seal it, or do any of the other chores that fussy flooring requires.
Comfortable Underfoot
Family homes should be comfortable, and LVT contributes to this cozy feeling because it's has a softer feel than many other types of flooring. LVT has an under-layer attached, and this absorbs some of the impact of your footsteps. Some LVT also comes with extra sound-barrier backing to muffle footsteps. Extra underlayment can also be added to further enhance the soft, quiet character of LVT floors.
Environmentally Friendly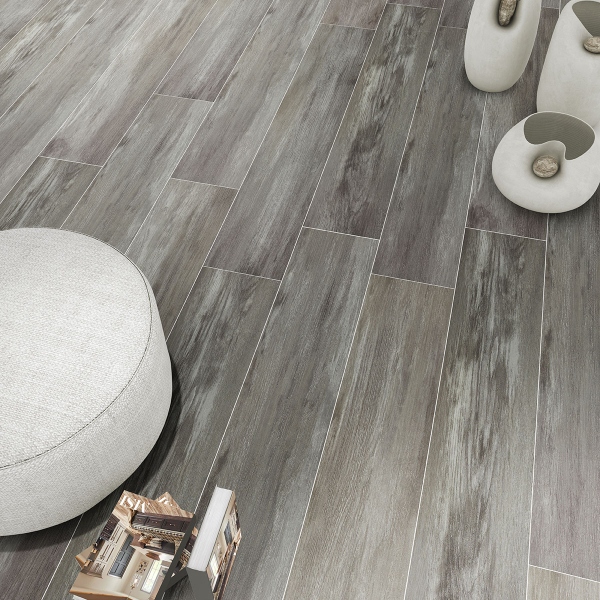 There are many qualities that make LVT an environmentally-friendly choice. For one thing, there's no need to cut down trees to put a wood-look LVT floor in your home. LVT is extremely durable, so it lasts a long time with no need for replacement; that saves resources, too.
But, what about the environment inside your home? MSI luxury vinyl tile is certified with FloorScore, GreenGuard Gold, and LEED. That means it's passed rigorous testing to ensure that our LVT produces a very low level of volatile organic compounds (VOCs) and other chemicals that affect indoor air quality. Not only does it contribute to beautiful homes, it helps create healthy homes as well.
Check out this video to find out more about MSI's dedication to environmentally friendly LVT flooring, along with many of its other benefits:
Affordable
LVT can save you a lot of money without sacrificing beauty, durability, and comfort. Its cost per square foot is much lessthan natural wood flooring — especially higher-end, more exotic wood types. You can even choose LVT that resembles weathered, reclaimed wood for a cozy rustic look. LVT is manufactured to replicate many different species and shades of hardwood flooring, without the high cost.
Easy to Install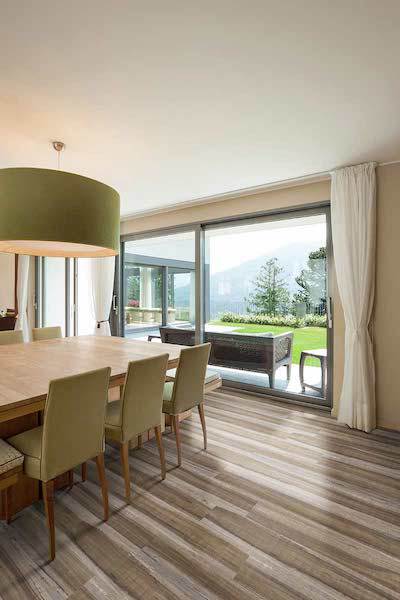 When you compare LVT to many other popular flooring options, it's much easier to install. Many of MSI's vinyl tile options simply click into place, creating a "floating" floor that requires very little preparation of the subfloor. That means if you're a do-it-yourself type of person, you can tackle the job on your own. Depending on the size of your project, luxury vinyl tile installation can be completed in one or two days. Specialized equipment is not required. If you'd prefer to have a contractor install your flooring, the easy installation helps to keep labor costs low, which makes LVT an even more affordable option!
Has the Look of Hardwood Flooring
After considering the pros and cons of luxury vinyl tile, are you still wondering if LVT truly has the look and texture of natural wood without the high cost and maintenance? Only you can decide for sure, but it comes very close. Advanced printing technologies have captured the authentic character of hardwood flooring, complete with shading, wood grain, and knots. The colors and patterns of each plank have just enough variation to look real, but since they are more consistent than natural products, your floor will have a more uniform appearance.
Another feature that enhances the authenticity of LVT is the beveled edge found on some LVT types. This subtle shaping of each edge defines each plank, instead of creating a perfectly flat surface.
Before making a final decision, we've provided some resources so you can learn more about the benefits of luxury vinyl tile and planks. These are just a few of the reasons more homeowners than ever are choosing to install LVT in their homes!
More on Vinyl Flooring
5 Luxury Vinyl Tile Trends for 2021
Different Types of Vinyl Flooring
Is Luxury Vinyl Flooring in The Bathroom a Good Idea?
Signature Wood Look Luxury Vinyl Flooring Without the Worry