5 Luxury Vinyl Tile Trends For 2021
May 10, 2021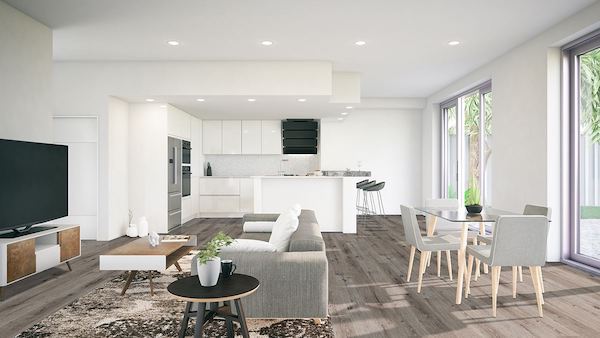 When it comes to selecting the best flooring option for your home improvement project, vinyl flooring is a no-brainer. From its affordable price point and durability to its ease of maintenance and installation, there are countless benefits for homeowners to enjoy. But with so many color varieties to choose from, it can be hard narrowing down which is right for your home aesthetic. Here are our five favorite luxury vinyl tile trends for you to recreate in your home.
Rustic Farmhouse Vinyl Flooring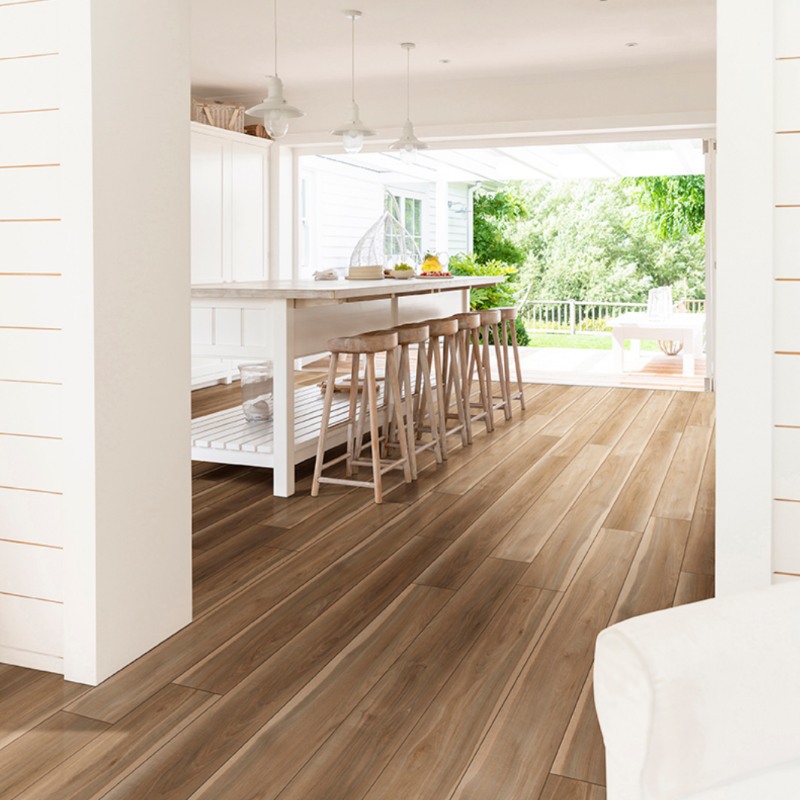 When stepping foot into a home full of rustic farmhouse decor, you immediately feel at home. There's something so welcoming about the classic touches paired with a modern and open and airy layout. But creating a warm and welcoming farmhouse-inspired home isn't as simple as heading out to HomeGoods and picking up a few home decor items. Your home decor needs to go from the ground up — starting with your home's flooring!
When you think farmhouse floors, the first thing that probably comes to mind is hardwood. But did you know you can get the wood-look without the headache or price tag of natural wood? Luxury vinyl tile offers a wood-look option that is available in a multitude of color palettes so you can select the type that best matches your home decor. Whether you're looking for dark and moody wood-look vinyl flooring or you're searching for lighter brown shades and subtle knots and grains, there's a luxury vinyl tile option for everyone.
To make your home feel extra cozy, opt for a neutral-colored floor tile that pairs seamlessly with trendy farmhouse kitchen hardware and light fixture — helping to tie together every design element in your home!
Monochromatic Color Palette LVT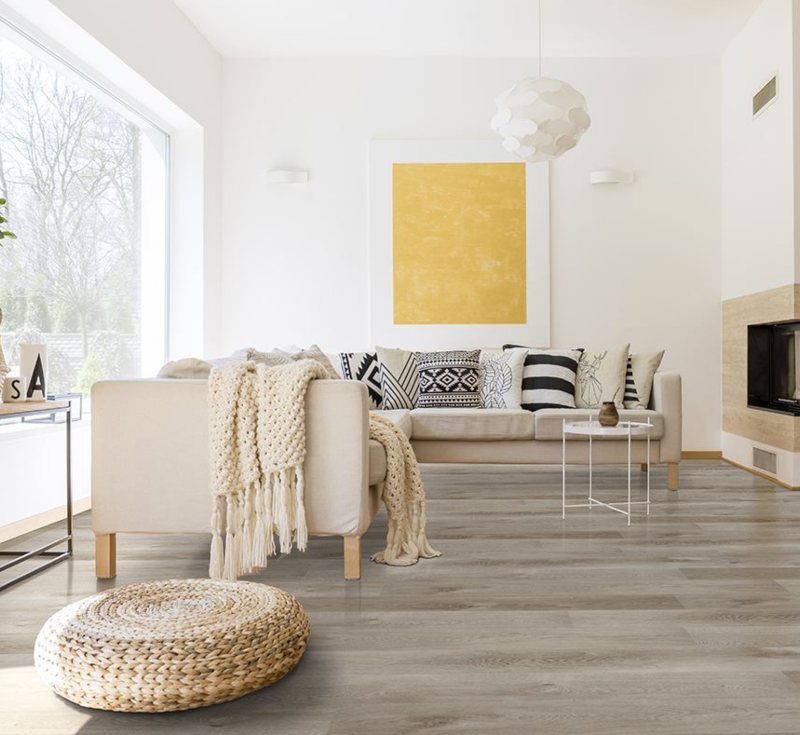 Why make your floors fit in when they were made to stand out? Your home should be anything but boring, and that's where a monochromatic color scheme can take any space from drab to fab in the blink of an eye. Although monochromic luxury vinyl tile may seem like it's going to make a space appear blander, it will set you apart!
With wood-look LVT flooring, you often see a lot of variation from plank to plank. While this can add a sense of movement and direction to the room it can also detract from other design elements that you're trying to highlight. If you're worried about a monochromatic floor being too bland in your space, opt for a collection with knots and grains. These elements will add texture and interest to the floors without taking away from the monochromatic look.
Choosing a monochromatic color scheme for your vinyl tile flooring allows you to select the ideal backdrop for your kitchen and living area. If you're looking to create a moody space with a contrasting color scheme, install LVT in dark greys to contrast against furniture with natural wood tones. When you're hoping for a monochromatic that's a bit more subtle, consider a color palette of greys, whites, or light beiges that will pair beautifully with a variety of design styles.
Weathered Luxury Vinyl Tile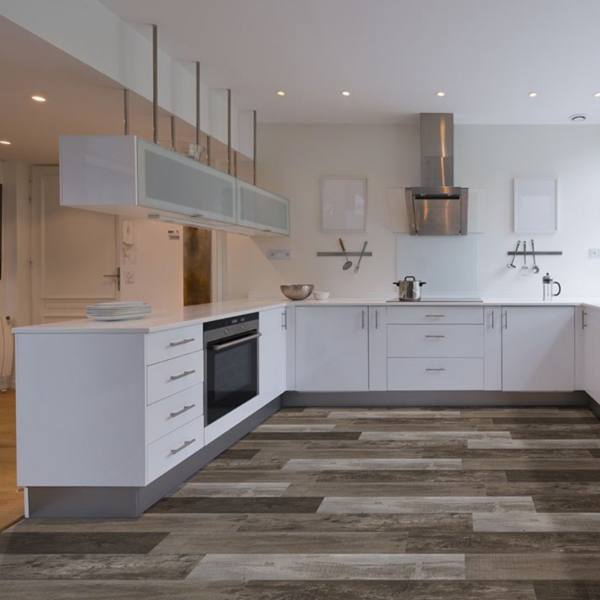 Your floors see a lot of action. From your child's first steps to hosting neighborhood functions, you need flooring that can hold up to its fair share of foot traffic. But because of your flooring's location — everywhere throughout your home! — it's easy for it to begin showing its age. One of our favorite ways to combat this problem is by installing weathered luxury vinyl tile due to the ease of vinyl flooring care and maintenance.
Vinyl plank floor is extremely durable, ensuring that it will be able to withstand furniture being pushed around, toys being dropped on it, and the steady flow of people entering your home. Because of the many luxury vinyl tile benefits, including durability, it's an ideal choice for your home's flooring, especially weathered LVT. When you install weather wood-look luxury vinyl tile, you'll have peace of mind knowing your floors can withstand regular wear and tear, but if damage does occur it will be hidden within the weathered pattern.
It's also the perfect way to incorporate a more lived-in feel into your home. The weathered charm helps create a cozy and relaxed atmosphere for your friends and family, making them feel right at home. From weathered whites to greys, there's a color to match any style preference. Choose from a variation of knot and grain patterns to create your dream home with luxury vinyl flooring.
Oversized Vinyl Planks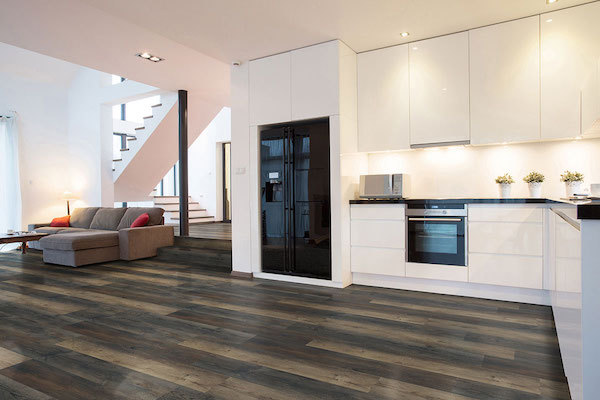 You've heard the phrase "bigger is better," and the same goes for luxury vinyl tile! Years ago thin hardwood planks were all the rage. Nowadays, homeowners are opting for oversized vinyl planks — and for a few good reasons!
If you're working with larger square footage, you need to be mindful of how open the space is, especially if your home has an open layout. While smaller planks can make the room appear larger, it can also be extremely overwhelming because of all the variety in grain and knot patterns. Instead, consider oversized vinyl planks that help to fill and balance out the space more effectively.
Another reason why oversized LVT has become popular as of late is because of the reduced installed time. The larger the vinyl tiles, the fewer there are to install — meaning that you can install your new floors much more quickly and efficiently! The faster you get your project done, the sooner you can sit back and enjoy their beautiful appearance.
Calming Greys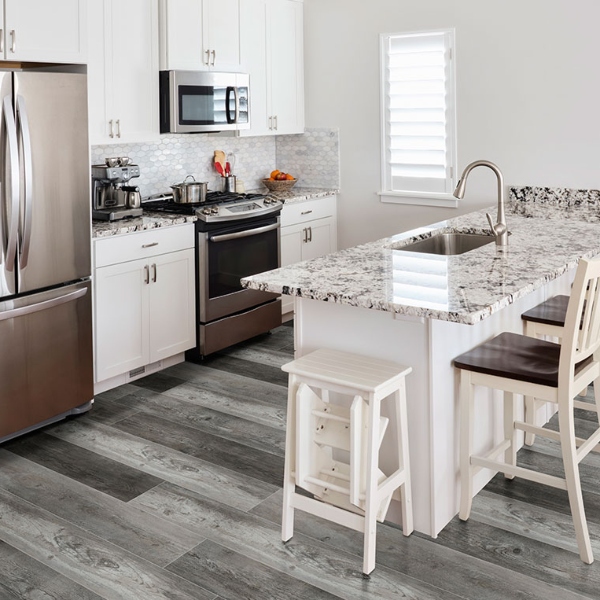 After a long day at work, the last thing you want is to come home to a chaotic household. You crave a calming and relaxing environment where you can wind down, enjoy a glass of wine, and admire the house that you've transformed into a home. An easy way to accentuate the calming nature of your home is by incorporating wood-look vinyl floors in a neutral grey tone throughout the living area.
Grey is a very agreeable color that pairs with many design styles and textures. Ranging from light to dark and bold to subtle, there are a variety of hues to choose from that will help you create your desired aesthetic. Plus, grey is sophisticated enough to elevate a space without being a boring option that becomes background noise. Instead of opting for a neutral wood-look beige or brown flooring option, rely on grey vinyl flooring to take your home to the next level.
Looking for a guide to luxury vinyl tile installation? Check out our luxury vinyl tile videos to help you select which trend is best suited for your home.
More on Vinyl Flooring
What are the Advantages of Vinyl Plank Flooring?
Different Types of Vinyl Flooring
Is Luxury Vinyl Flooring in The Bathroom a Good Idea?
Signature Wood Look Luxury Vinyl Flooring Without the Worry