Signature Wood Look LVT Without The Worry
August 13, 2019
Many homeowners and business owners are turning to luxury vinyl tile to get the signature wood look they desire but without all the worry of real wood. MSI's Dryback Flexible Glue Down LVT is a popular line of products that offers extreme durability for high traffic areas, easily handles moisture-rich rooms, and provides exceptional noise reduction.
Because it is attached to the subfloor using glue or an adhesive tape, it requires professional installation, as it is harder to work with. While you can purchase glue-down tile for a more affordable price than floating vinyl, with costs falling in the $1.70 per square foot range, you do have to factor in the installation costs. We think this line is a cost-effective solution for so many places, so take a look at some of MSI's most popular glue-down vinyl plank flooring.
Reclaimed Oak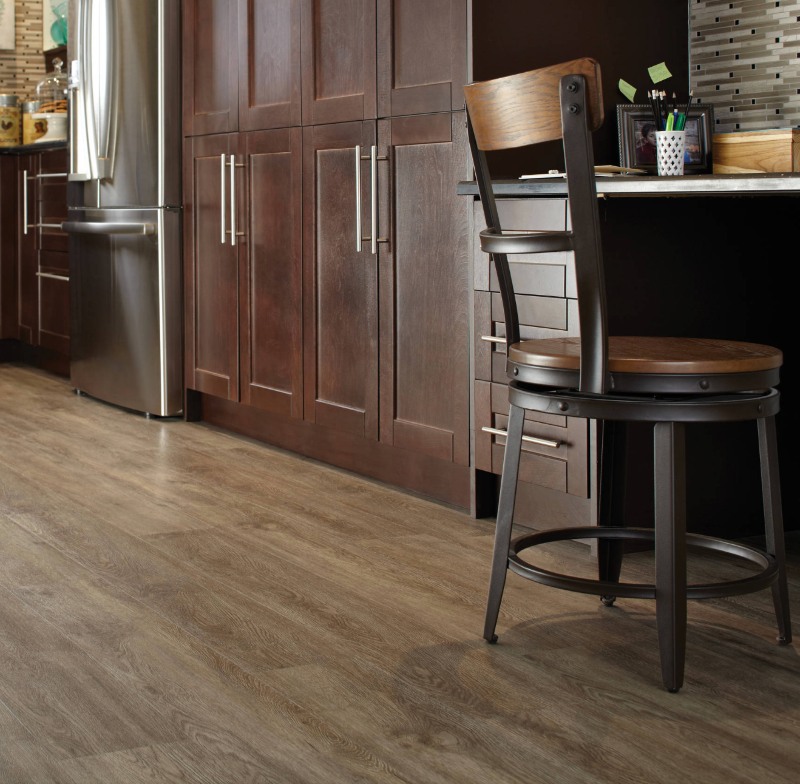 Create a similar look with MSI's Reclaimed Oak (Photo Credit: Houzz)
Envision this classic wood look in your home with its neutral brown background and darker knots and grains that come in Reclaimed Oak from MSI's DryBack Katavia Series. The 6"x48" glue-down vinyl planks provide practicality and style for busy families. Its 2mm thickness and 6mil wear layer keep the floor protected, while a 15-year residential warranty offers homeowners peace of mind. This water-resistant flooring is a fine choice for kitchens, and the brown coloring is perfectly suited for transitional spaces.
Elmwood Ash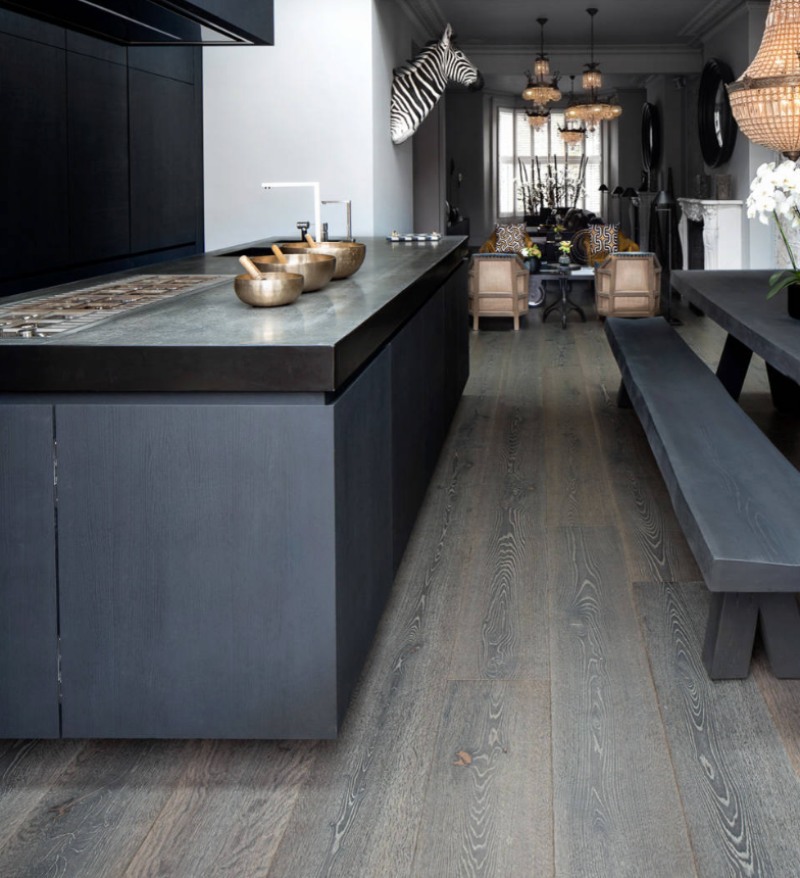 Recreate this look with MSI's Elmwood Ash (Photo Credit: Houzz)
Go gaga over the gorgeous grays and understated blues found in Elmwood Ash from MSI's DryBack Katavia Series! The authentic wood look LVT with subtle knots and grains give this neutral glue-down flooring a fabulous look for any room or level of the house. It also comes with a 2mm thickness, 6mil wear layer, and 15-year residential warranty. The artisan-inspired kitchen, dining, and living spaces showcase the dark wood LVT beautifully. The coloring works nicely with the dark grayish-blue wood tones, while the pops of light wood furniture and lighting tie in with the softer undertones.
Saddle Oak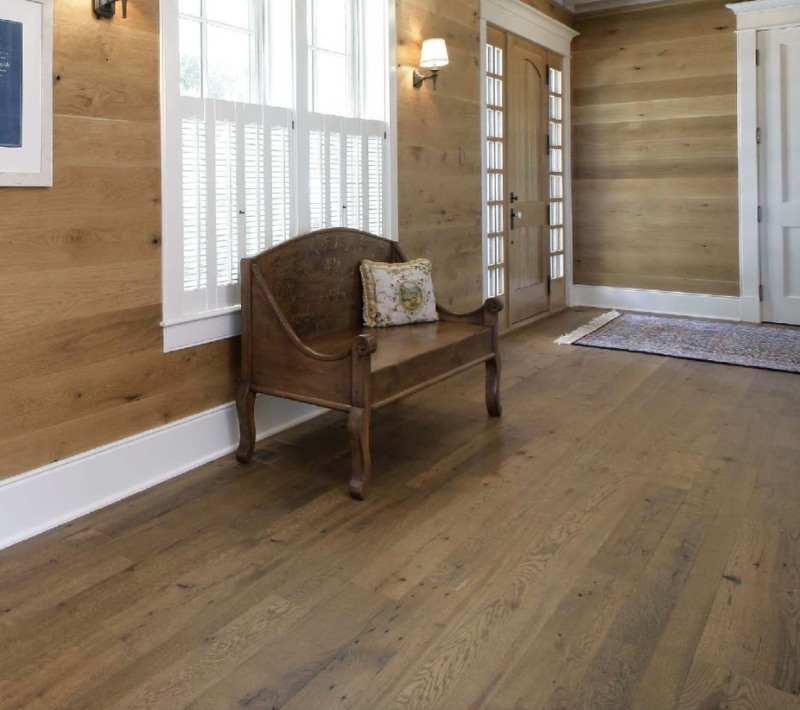 Get a similar look with MSI's Saddle Oak (Photo Credit: Houzz)
Get a reclaimed wood look with Saddle Oak from MSI's DryBack Glenridge Series. The 6"x48" glue-down vinyl planks feature some of the most realistic knots and grains available in a traditional oak design. It comes with a 2mm thickness and a 12mil wear layer for even more protection, and a 25-year residential warranty and 6-year light commercial warranty back up its durability. The luxury vinyl tile that looks like wood makes a great first impression and can withstand the daily needs of a busy entryway.
Burnished Acacia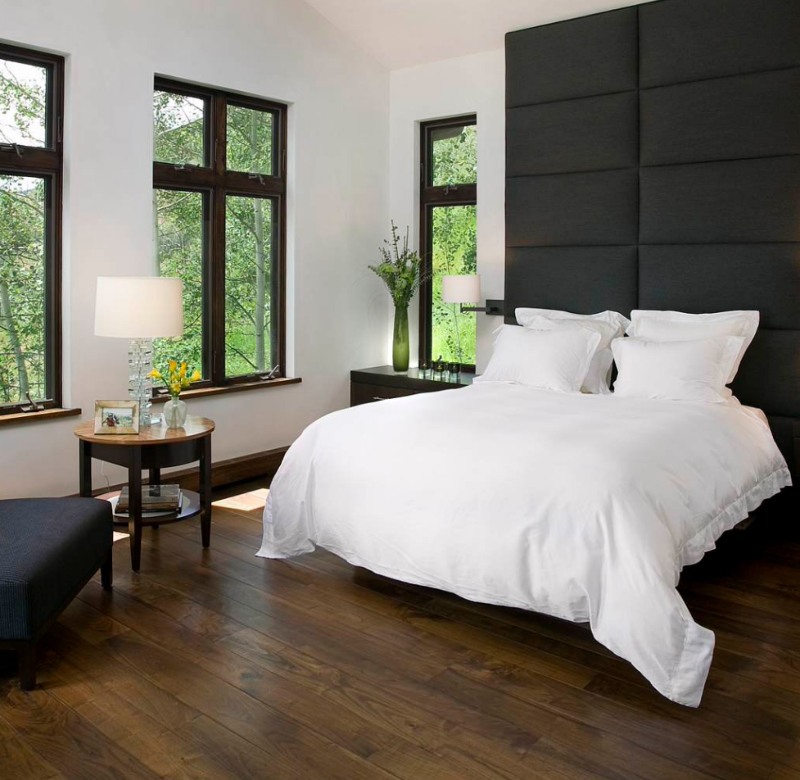 Recreate this look with MSI's Burnished Acacia (Photo Credit: Houzz)
Create a peaceful interior with Burnished Acacia from MSI's DryBack Wilmont Series. The beauty inspired by this rich, exotic wood highlights the deep, dark browns and glorious grains. It includes a 2.5mm thickness and a 20mil wear layer, one of the toughest products featured. Its lifetime residential warranty, 10-year light commercial warranty, and 5-year commercial warranty mean it can be installed in so many places! It provides a clean, low-maintenance space for this contemporary bedroom, and the modern tile allows the white walls and white bedding to pop against the richer tones.
More Information on LVT Flooring
Does Luxury Vinyl Flooring Go Well with a Granite Countertop?
What Most People Don't Realize About Luxury Vinyl Flooring
How to Clean Your Luxury Vinyl Flooring to Keep It Looking New
Is Luxury Vinyl Flooring in the Bathroom a Good Idea?
Considering Installing Luxury Vinyl Flooring? Read This First!
Wood Look Game Changers: Introducing Everlife Luxury Vinyl Flooring
READ MORE ABOUT WOOD LOOK TILE:
Country River Collection: Naturally Elegant Wood Look Porcelain Tile
Genuine Wood Looks In Luxury Vinyl Tile
Insider Tips For Laying Plank Wood Look Tile Flooring