Current Obsessions: Which Quartz Counters Have The Best Veining?
May 13, 2018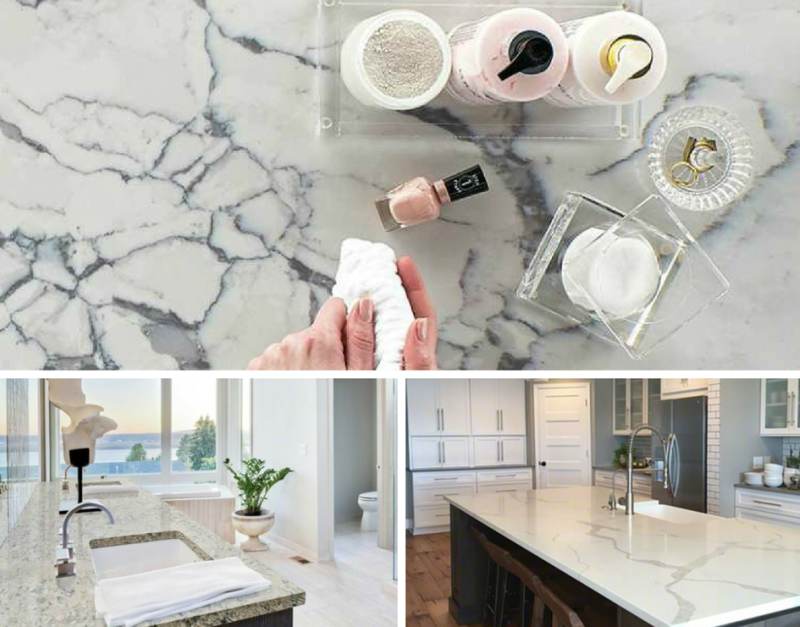 When it comes to marble countertops, the first feature usually noticed is the veining. While some homeowners and designers prefer a nearly white appearance with minimal variation, others adore the characteristic veining that marble is beloved for. Despite its beautiful appearance, natural veining on marble does have some downsides. Marble choices like Calacatta may be out of the budget due to its somewhat limited supply.
Plus, with a natural product, the veining also won't be uniform. This means that your slab might not look like the sample you fell in love with since every quarry is different. The obvious solution is a marble-look countertop, and that's where quartz counters shine!
Not only does modern quartz perfectly mimic precious marble down to the type of veining, but it also enhances it because the veining is balanced. It's not the only reason why kitchen designers love quartz countertops.
What's more, the homeowner doesn't have to worry about the availability of their slab of choice or the additional care that marble requires. Let's take a look at some of the marble-look counters we're currently obsessing over!
Glacier White Quartz
If you love Carrara marble, one of the most commonly used types of natural stone from Italy, then you'll fall for Glacier White Quartz. This sparkling, milk-white quartz features feathery grays that are a little softer than the veining found in the timeless marble. The low-variation surface will add an airiness and elegance to any kitchen.
Calacatta Classique Quartz
To get the styling of Calacatta marble, select Calacatta Classique Quartz. This exquisite and unique countertop features clean whites and large through-body veining. Since natural Calacatta is more rare than Carrara marble, you'll get the same look of this luxury stone with this low-variation quartz.
The sizable veining will make the most impact when installed on a large island or finished as a waterfall edge. It adds a striking look to this kitchen with its white cabinetry, gray walls, and stainless steel appliances, faucet, and cabinet handles. The contrasting island cabinetry, wooden barstools, and medium-tone wood floors add warmth and a bit of rustic flair to the design.
Calacatta Lago Quartz
For another Calacatta-like countertop, opt for Calacatta Lago Quartz. This stunning, medium-variation quartz that looks like marble mimics the luxurious stone even more with its dark veining. Quartz is perfect for bathrooms because you don't have to worry about products spilling and etching the natural stone or water splashes leaving spots. The various veins in this counter will give any space a high-end look!
Blanca Arabescato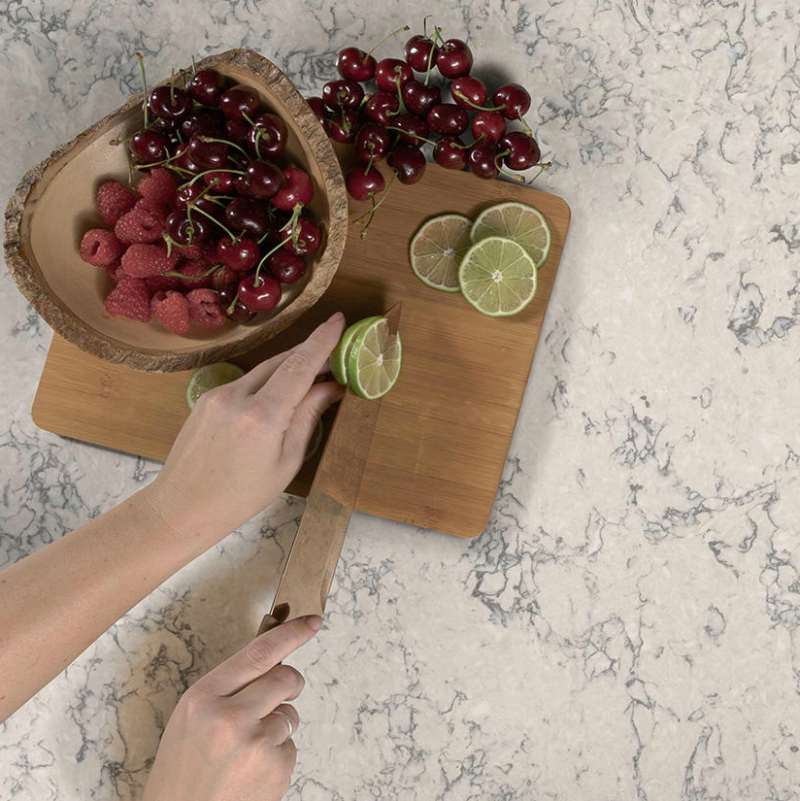 Featured: Blanca Arabescato Quartz
While many think of timeless marble as being white, there are many colors to choose from. Blanca Arabescato Quartz is a pale gray quartz with deep brown veining that looks similar to Grigio Adriatico, a beautiful tonal gray marble from Italy. The medium-finish quartz features the same long dark veins as real marble, but it's better suited for kitchens since this solid surface won't harbor bacteria or get stained.
Pacific Salt Quartz
For versatile quartz counters that can be installed in a beach cottage to an urban loft, you can't go wrong with Pacific Salt Quartz. This surface looks similar to Tundra Gray marble with its soft creamy background and swirls of dark gray and tan veins. However, the pattern in this low-variation quartz is much more prominent than the natural stone from Turkey. The low-maintenance countertop featured in the exquisite master bathroom of this waterfront property is a perfect compliment to the dark vanity cabinets and light coloring throughout.
These are just a few of our top choices for marble-look counters. MSI offers a wide range of patterns and quartz colors to choose from.
More About Quartz Countertops
Create A Bold Look With 5 Dramatic-Veining Marble Look Quartz Countertop Colors
Modern Quartz Countertops Offer a Sophisticated Limestone Look Without the Worry
7 Reasons Why Homeowners Are Choosing Quartz Countertops
Are There Different Finishes Available for Quartz Counters?