Tile Style: Which Size Porcelain Tile Is Best For Small Bathrooms
July 18, 2018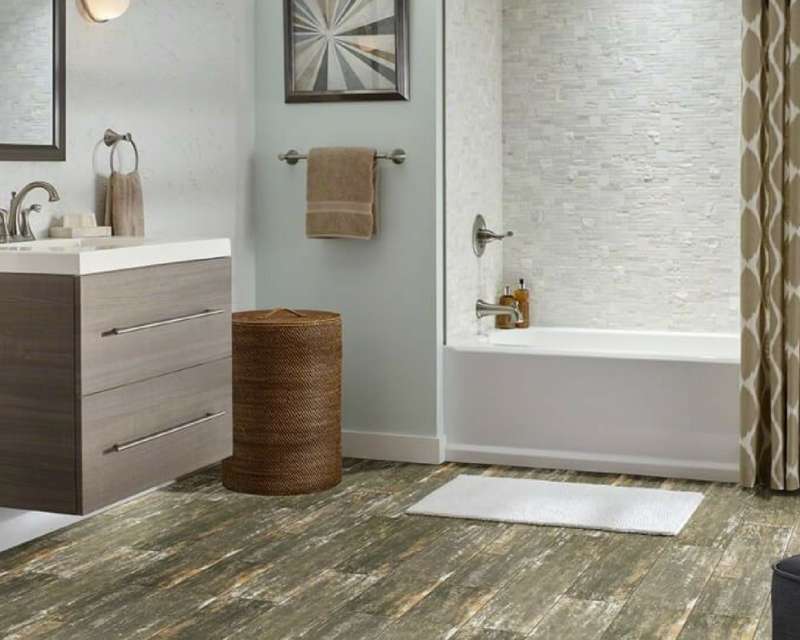 Decorating a small bathroom can be tricky, but when done right, they can be just as chic and luxurious as large bathrooms. Your secret weapon? Tile!
Porcelain tile can be used strategically to trick the eye into seeing a larger space. Here are a few ways that chic bathroom tile ideas can help you make the most of any size space.
Dove Gray Diamond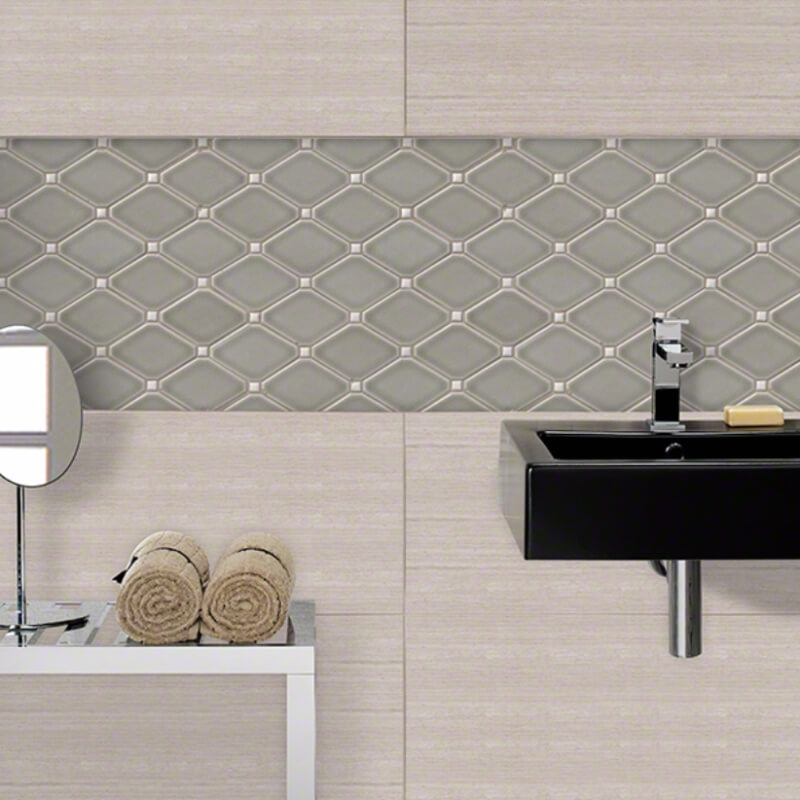 Featured: Dove Gray Diamond
Tile mosaics are a great way to give any room color, elegance, and personality. However, in a small bathroom they can easily take over the space and make it feel even smaller. Choosing a light, monochromatic mosaic such as Dove Gray Diamond is a good compromise, and will only complement the other design elements.
Your choice of porcelain vs. ceramic tile depends upon where you plan to install it — ceramics are better for walls than flooring. You can make a big impact by restricting it to a feature wall or a narrow backsplash rather than using it to cover the entire walls or floor area.
Crystal Cove Blend
If you love mosaics, though (and who wouldn't?) don't feel left out of the fun because your space is small. In this image, Crystal Cove Blend is installed on the bottom half of the wall, leaving the upper half free to visually open the space. It also helps that this is a glass mosaic, which adds plenty of sparkle, depth, and dimension.
Plus, it's pre-assembled on a mesh background, which makes installation a breeze. Of course, one of MSI's many porcelain mosaic tile options work just as well.
White Domino
Recreate this look with MSI's White Domino Porcelain (Photo Credit: Houzz)
In a small area you may think of using small tiles, but using wide-format tile such as 12" x 24" White Domino Porcelain tile can make the space look wider. Arranging the tiles horizontally creates the illusion that the room is wider than it is, and this is even more true when it's used consistently throughout the entire room. Large tiles mean fewer lines to break up the space. For best effect, use grout that matches the color of the tile.
Calacatta Pietra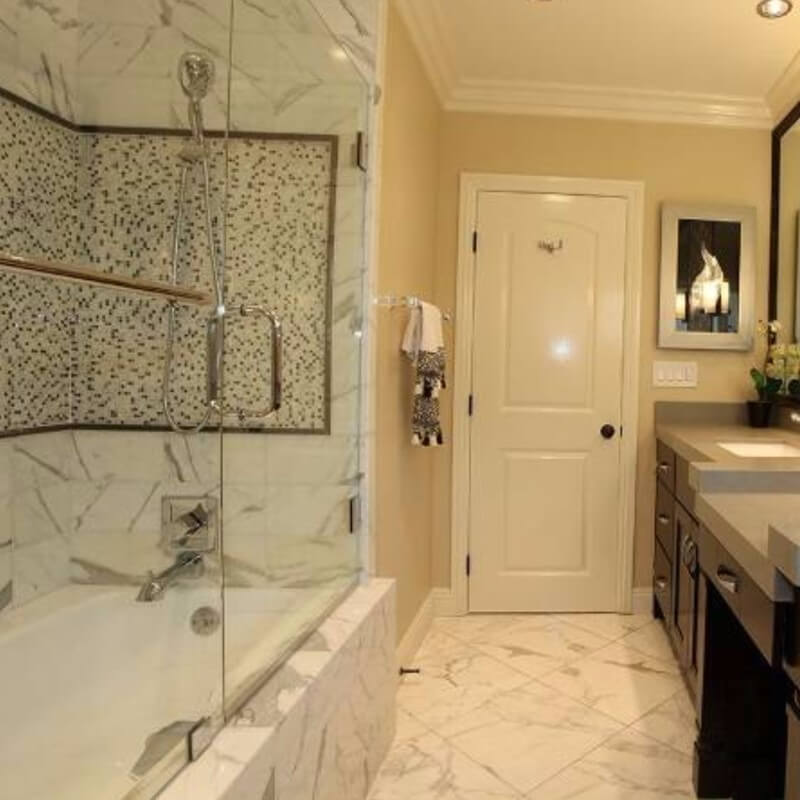 Featured: Calacatta Pietra Porcelain
In small bathrooms, the conventional wisdom is to use lighter colors to make the space look brighter. That doesn't mean you need plain white walls. Calacatta Pietra Porcelain is a realistically marble-look porcelain tile that delivers all the elegance and style you can possibly fit into the room. Even better, this porcelain tile that looks like marble is super-easy to keep clean and bright.
Black Domino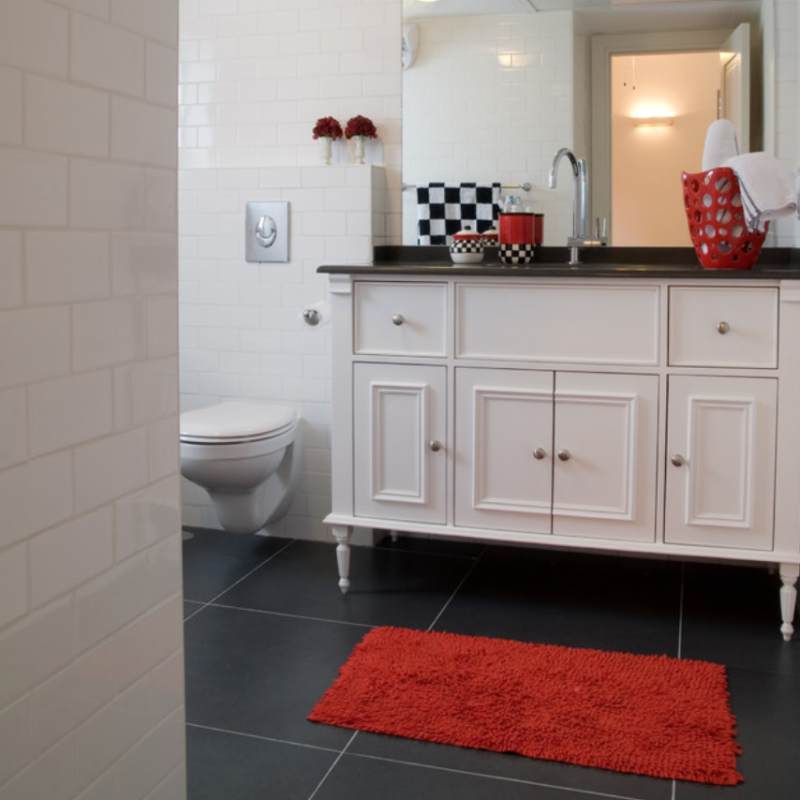 Get this look with MSI's Black Domino Porcelain (Photo Credit: Houzz)
On the other hand, a porcelain floor tile should give you all the permission you need to use dark colors in a small room. The trick is to use large tile such as the 24" x 24" tile shown here in this bathroom featuring Black Domino Porcelain.
If you'd prefer to emphasize the width of one dimension, use 12" x 24" rectangular tile. Contrasting dark flooring with white walls, cabinetry, and fixtures will make the light colors appear even lighter and the room will appear spacious.
If you're not blessed with a large bathroom, that doesn't mean you can't give it big personality and style. Just keep in mind a few of these visual tricks with porcelain tile, glass mosaics, or even wood look tile that can enhance your space and make it seem even larger.
Want more ideas? MSI's Inspiration Gallery and Bathroom Visualizer Tool can help.
MORE BATHROOM IDEAS
Tile Style: Beautiful Bathroom Designs Featuring Ceramic Tile
Tips From The Trade: Should You Use Stacked Stone In The Bathroom?
The Truth About Marble In The Bathroom
Perk Up Your Bathroom With Fresh Ceramic Tile
7 Bathrooms Featuring Show-Stopping Travertine Tile
Why We're Seeing More Quartz Countertops In The Bathroom