Popular
Holistic Havens: Creating Your Indoor/Outdoor Sanctuary
March 14, 2022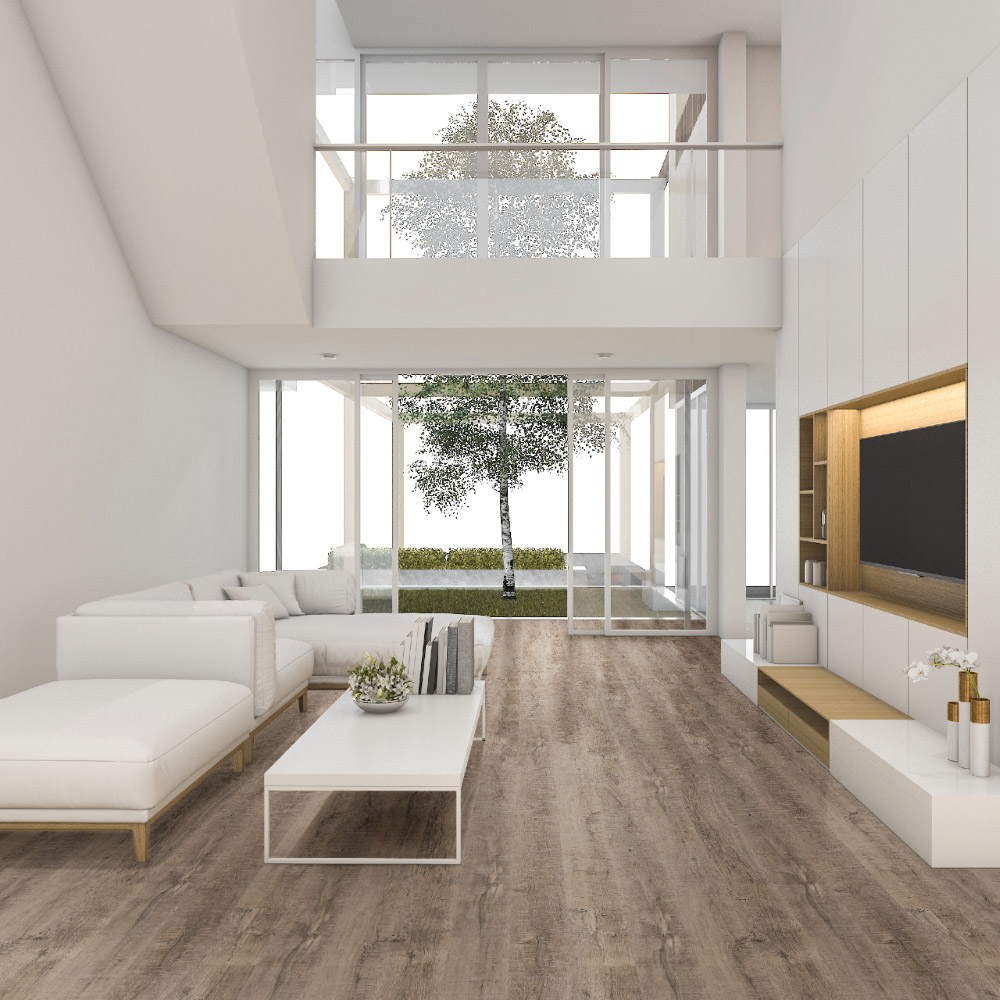 Author Deepak Chopra said, "The most creative act you will ever undertake is the act of creating yourself."
This year is the year of self-invention or re-invention. It's a time when many of us are looking inward and focusing on enhancing our wellbeing. Self-care can look different for everybody. Whether it's stepping outside to work in the garden, practicing yoga on the patio, or unwinding in a space doing something we enjoy, 2022 is about refreshing our minds and bodies and working toward letting the stress of daily life slip away, if only for a few moments.
Holistic Havens, one of our Top 5 Design Trends, is all about creating your perfect sanctuary for relaxation, self-reflection, or simply spending time with friends and family. It's about connecting with our natural surroundings to embrace calm, soak up the sunshine, and discover what you need and enjoy. From luxurious backyard lounges to spacious outdoor kitchens and dining areas to streamlined indoor/outdoor retreats, we are seeing designers and homeowners take unique and beautiful approaches to create the ideal outdoor oasis.
THE PLAYBOOK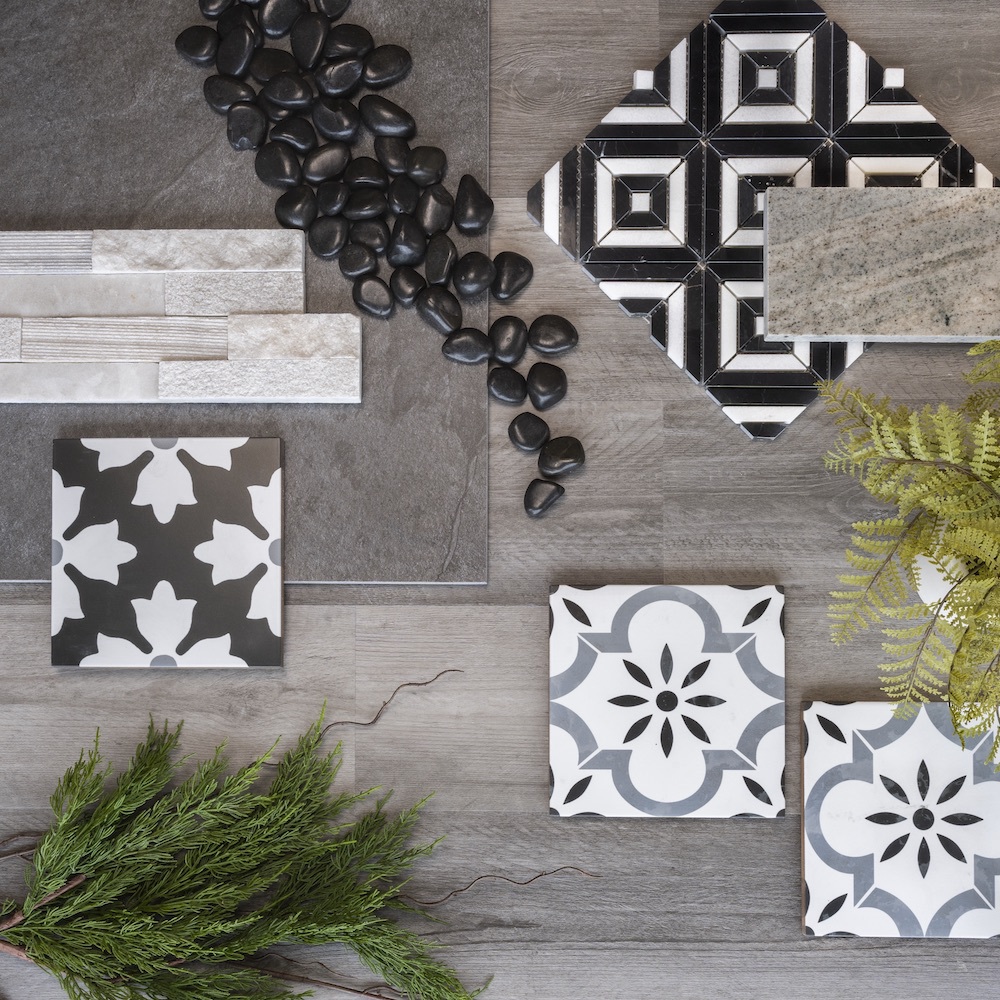 Embrace the color and texture of nature. Stone and wood-look materials balance the beauty of your surroundings and help carry natural elements inside.
Flowers often represent life and add visual interest to a space. It's easy to add floral patterns to a space with stunning, patterned tile like Kenzzi Azila for a fresh and vibrant aesthetic.
Stacked stone adds texture and draws the eye up a space. It's the perfect addition to outdoor showers, fireplace surrounds, and accent walls for a striking style.
Polished pebbles add a professional touch to gardens, walkways, patios, and more. Though they are a smaller design element, they make a big statement.
For a seamless sanctuary, pavers help carry the look of a room beyond the interior walls and out into the backyard for consistent style and flow.
LAND THE LOOK: ONE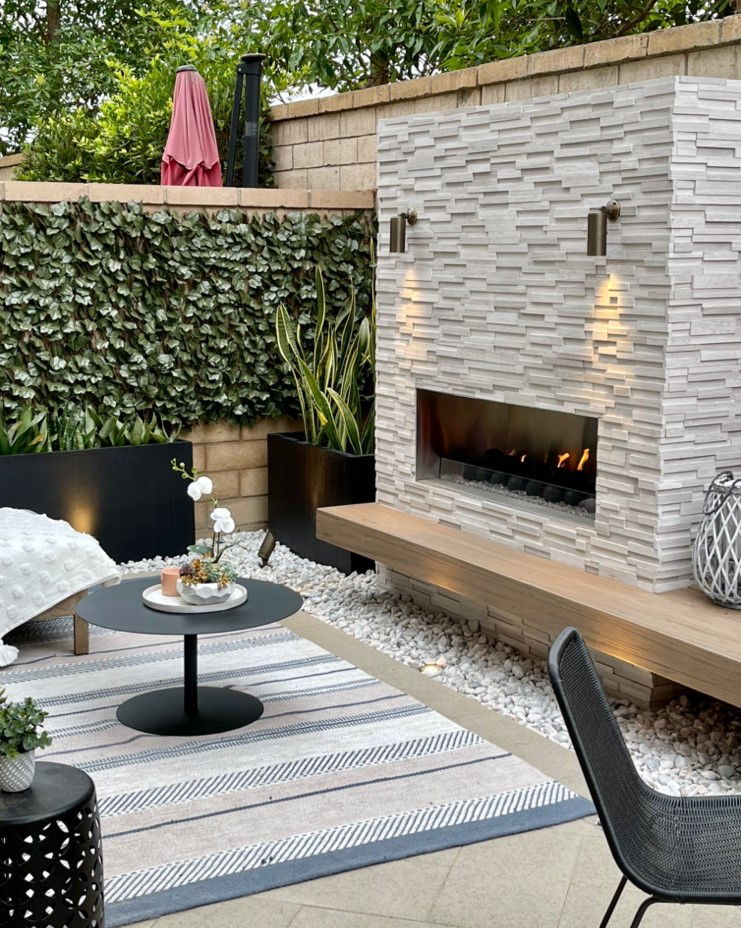 Designed by Aldia Outdoor Design and installed by Aldia Landscape
When designing and executing your perfect retreat, size should never limit creativity. Huntington Beach, California homeowner Casey, worked with Alesha at Aldia Outdoor Design to remodel her small backyard. To create Casey's "slice of paradise," Alesha worked to maximize every inch of the space. A stunning outdoor fireplace is accentuated by white stacked stone, which adds texture and lengthens the wall. Cream-colored pavers on the ground and white polished stones around the perimeter add calming elements and a brightness that expands the feel of the backyard.
Take a closer look at Casey's holistic haven:
Get the look with our favorite surface solutions:
Fireplace Surround: RockMount™ Arctic White Multi Finish Stacked Stone; RockMount™ Cosmic White Stacked Stone; Dekora™ Carrara White Porcelain Panels
Pebbles: Himalaya White Pebbles; White Polished Pebbles; White Pea Gravel
Pavers: Arterra® Livingstyle Cream Pavers; Arterra® Myra Ivory™ Pavers; Arterra® Tierra Ivory Pavers
LAND THE LOOK: TWO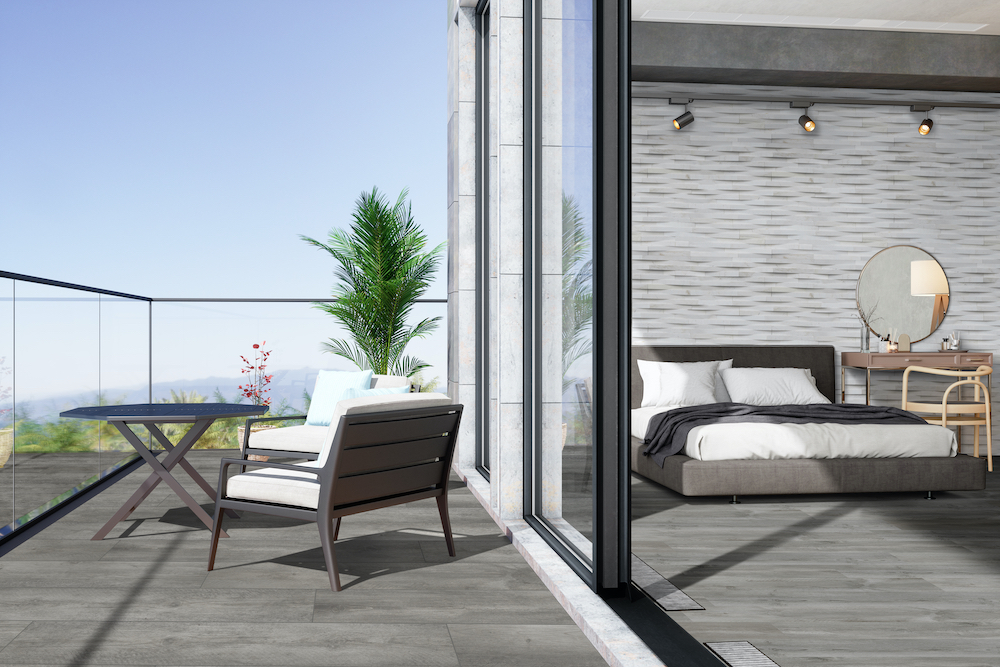 Cyrus Katella Ash LVT and Prescott Katella Ash Pavers in calm, serene and contemporary shades of gray carry a gorgeous indoor oasis to the outdoors. And wow, what a statement Cosmic White 3D Stacked Stone makes on the walls!
We've talked before about bringing the indoors out, and this year, we are seeing more homeowners continue this trend when designing their holistic havens. When creating spaces for wellness, access to fresh air and natural light is critical. We spend a great deal of time constructing the perfect, attention-grabbing kitchen, bedrooms, and living areas. Rooms allow us to relax, entertain and enjoy the things we love. Take those sanctuaries alfresco. Wake up in the morning and step outside for a cup of coffee with a view. Come home from a day at the office and unwind on your balcony with a good book. Select flooring, tile, or other surface materials that make the transition from inside to out seamless. Here matching luxury vinyl tile and pavers carry the tranquility of the bedroom outdoors, inviting calm and respite.
Get the look with our favorite surface solutions:
Flooring: Antoni Gris Porcelain Wood Tile; Brixstyle Glacier Porcelain Tile; Cyrus® Dunite Oak Luxury Vinyl Tile
Accent Wall: Calacatta Cressa Interlocking 3D Peel & Stick; Dymo Wavy White 3D Wall Tile; Copen Snow® Stacked Stone
Pavers: Arterra® Quarzo Gray Pavers; Cosmic Black Pavers; Vulkon Nero™ Arterra Pavers
LAND THE LOOK: THREE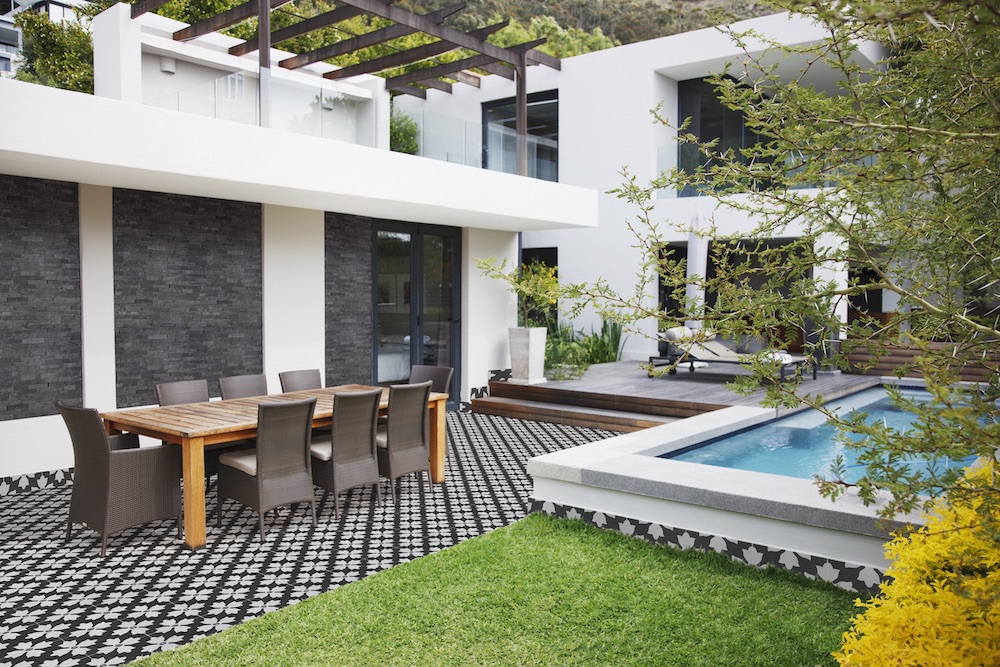 When it comes to creating a space for wellness, it's okay to embrace bold patterns. Kenzzi Kasbah Encaustic Tile takes this outdoor retreat to a new level with its striking back and white floral pattern.
The most critical component of designing a backyard retreat that puts you at ease is finding materials that work for you – that make you feel calm, relaxed, healthy, and happy. Don't be afraid to introduce patterns in your planning. Nature is filled with stunning and inspiring shapes and designs. Build on those to create your outdoor oasis. Black and white are timeless neutrals that elevate a space with classic elegance and enhance the color of the natural surroundings. Floral designs, geometric arrangements, and strong linear configurations bring visual interest and energy to a space. Self-care never looked so good.
Get the look with our favorite surface solutions:
Tile: Kenzzi Brina; Kenzzi Tanzania; Anya Charcoal Porcelain Wall Tile
Accent Wall: Dekora™ Ardesia Black; RockMount™ Coal Canyon Stacked Stone; RockMount™ Glacial Black Stacked Stone
LAND THE LOOK: FOUR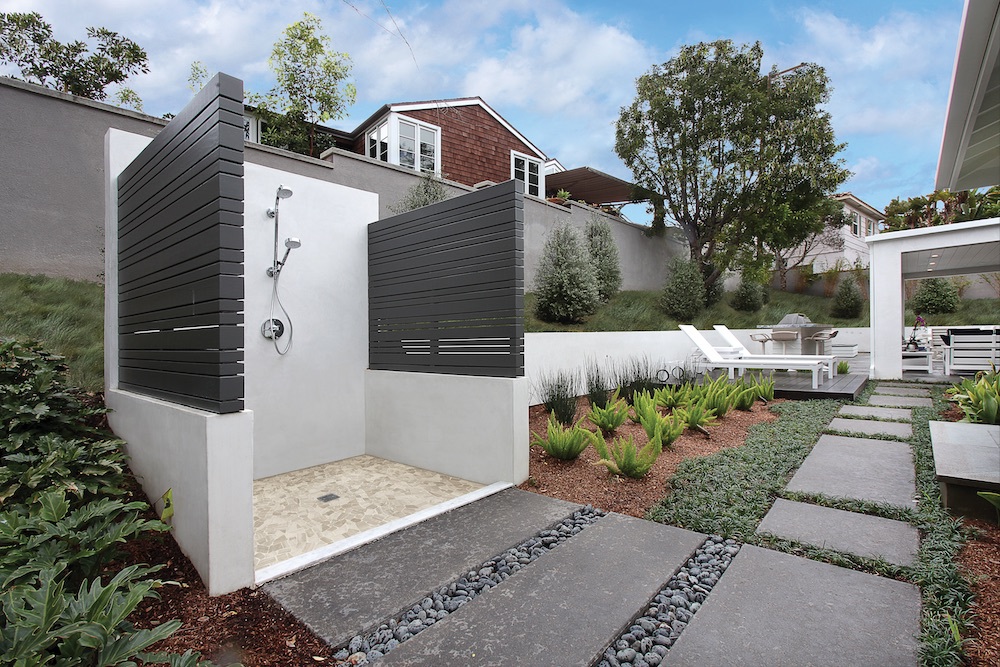 Black Polished Pebbles add a gorgeous detail that make an outdoor oasis feel composed and complete.
How many of us love a long shower? Imagine combining the relaxation of a shower with the calm surroundings of nature. As people build their outdoor oasis, many opt to include the outdoor shower as a part of their retreat. Beautiful tile in calming neutrals helps carve out a space to luxuriate and reflect. Cool, gray pavers make for calming pathways, while polished stone and pebbles add a professional finish. Finding your bliss is easier than ever before.
Get the look with our favorite surface solutions:
Pebbles: Ash Beach Pebbles; Black Super Polished Pebbles; Mixed Polished Pebbles
Pavers: Arterra® Vulkon Nero Pavers; Gray Mist Granite Pavers; Arterra® Concerto Grigio
DESIGNING WITH WELLNESS IN MIND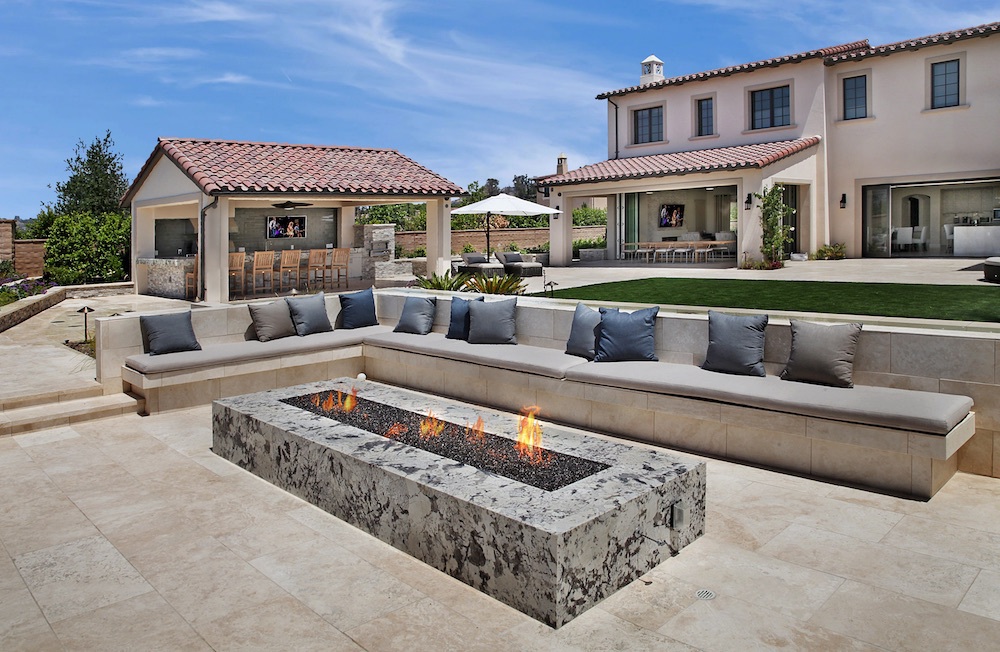 The warm, creamy tones of Tuscany Platinum Travertine Tiles and Copenhagen Granite fireplace serve as an extension of the home, bringing continuity to the outdoor living space.
Effective self-care is proven to have many benefits for physical and mental health. After two years of stress and uncertainty, it's time to step back and focus on connecting with ourselves and others. The home often serves as our retreat, and it's never been easier to transform that retreat into a refuge – indoors and out. Regardless of architectural style, the size of your outdoor space, or budget, creating a haven that allows you to better care for yourself is within reach.
If you are inspired to create your own Holistic Haven, tag us on Instagram - #msisurfaces. Your creativity inspires us, and we love to see your designs on our feed.
Learn More About Pavers And Alfresco Flooring
Coordinate Your Indoor & Outdoor Spaces With Matching Porcelain Tile & Pavers
Holistic Havens: Creating Your Indoor/Outdoor Sanctuary
Stylish Soreno Porcelain Pavers And Tiles With Zero-Slip Technology
3 Flooring Tile Styles That Create A Seamless Indoor And Outdoor Space
Living Alfresco With Arterra Porcelain Pavers