Choosing Granite Countertops For White Cabinets
June 22, 2021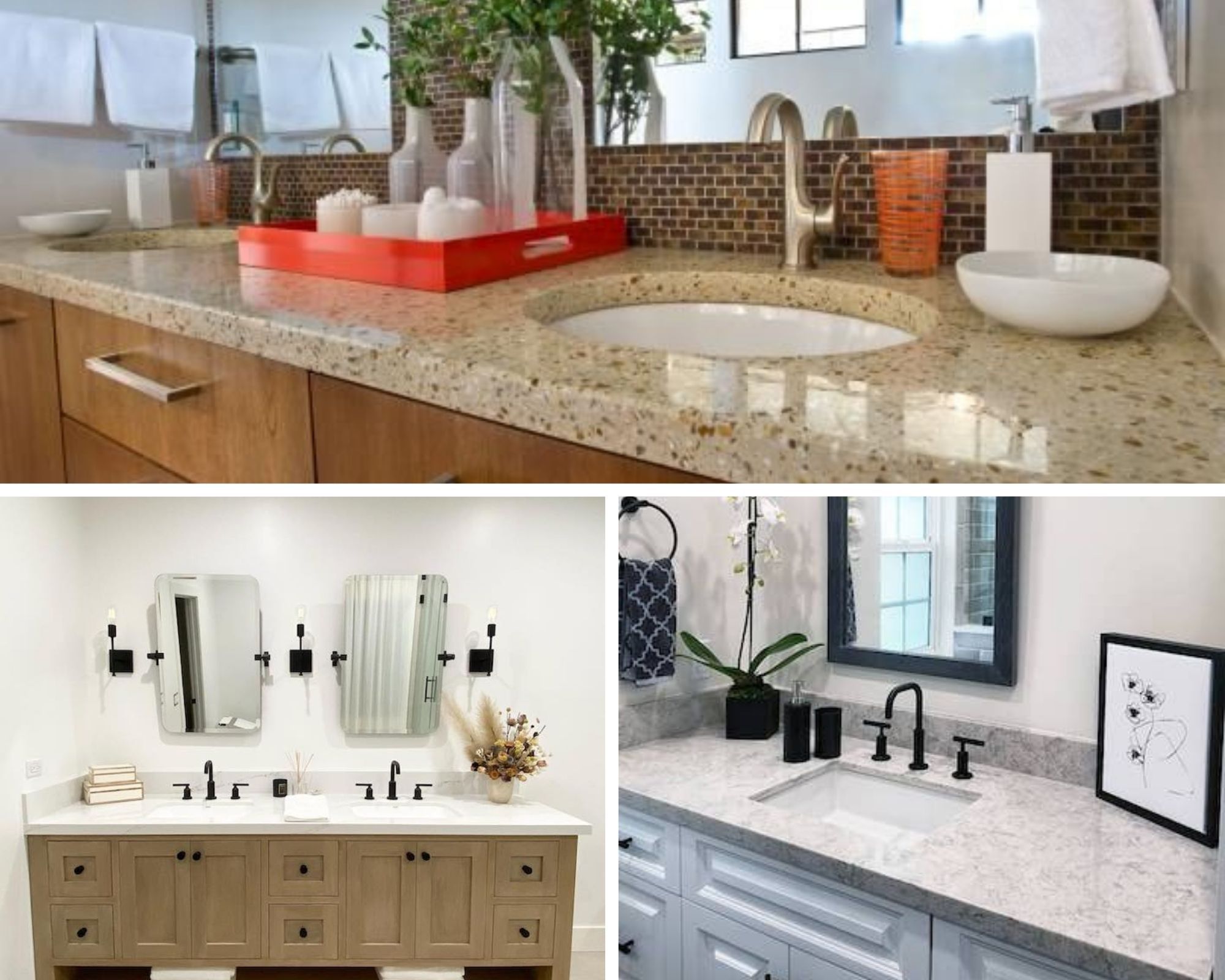 All-white kitchens have become a hot decorating trend in recent years. But, even if you're not ready for that monochromatic, pure snowy white in your kitchen, white cabinets can still become an integral part of your design. Either way, granite countertops are an ideal, luxury complement. With so many gorgeous granite colors to choose from, the only problem you'll have is picking one.
Here's your mini guide to choosing which color of granite countertop to pair with your white kitchen cabinets! Consider the following factors in your decision, and have fun with the process of generating home improvement ideas.
Design Aesthetic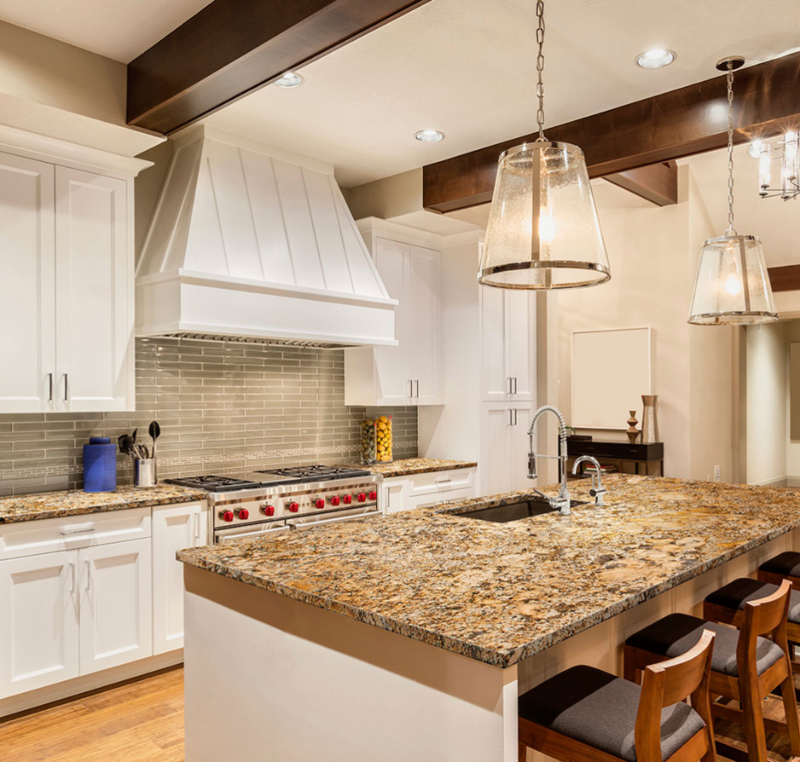 The first factor to consider is your desired design aesthetic. After all, there are many different kinds of white cabinetry, and many directions to go with your decor. For example:
• Traditional kitchens with white cabinetry should include neutral granite colors with subtle patterns. Shades of beige, gray, or even a pinkish hue are good choices. Black granite can work well in a traditional-style kitchen, too. The most popular granite countertop finish for traditional kitchens is polished.
• Farmhouse-style kitchens embrace simplicity, so the natural stone countertops should be fairly simple in color and pattern as well. Any neutral will do, although light colors are more appropriate. Choose a polished finish or a honed, matte finish. Instead of prefabricated countertops, you may want a custom counter to fit a farmhouse-style sink.
• Clean and Classic kitchens are typically the all-white, airy rooms featuring white ceramic subway tiles. Like farmhouse kitchens, a light-colored stone countertop with subtle patterning works well, but you can also choose a bolder pattern in a neutral hue to add character and warmth to what might otherwise be a stark, plain space.
• Contemporary kitchens are anything-goes spaces. Choose an exotic, boldly patterned granite in any shade or hue, including green, blue, or salmon-pink. Solid-colored countertops are popular choices for contemporary kitchens as well, and there are granite colors that come very close to being all-black or all-white with just a touch of depth and character.
Light and Space
A huge factor in choosing whether you want a light or dark shade of granite is how much space you have — how big is the kitchen? Traditional wisdom states that small rooms need light colored everything or they will feel cramped. However, if you have white cabinets, you can afford to choose dark colors for a kitchen countertops. We suggest sticking with subtle patterns with low movement.
The amount of light in your kitchen matters, too. If you have huge, sunny windows or plenty of ceiling-mounted light fixtures, dark colored counters or boldly patterned granite colors will look terrific. Conversely, if your kitchen is not brightly lit, keep your countertops on the pale side.
Which Shade of White?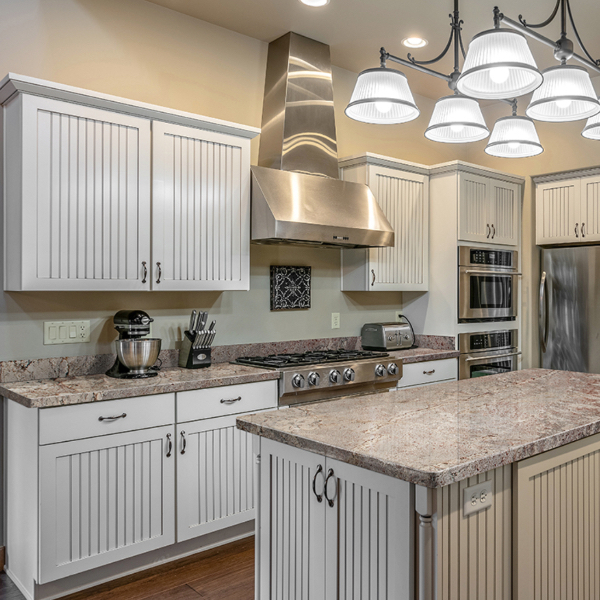 Many people are surprised to discover that there are several different shades of white. These range from pure white to cool or warm tints; some have a touch of color such as blue or pink. If you're not sure whether your white cabinets are cool or warm white, the best way to determine this is to get a few paint chips in cool and warm white shades and compare them. You can also get granite countertop samples to view alongside your cabinets to see which works best.
Many types of granite have white in their patterning. If your cabinets are pure white, you'll want a granite with pure white coloration, no matter white its other colors are. If your cabinets are warm white, your granite color should also have a warm tint to it — shades of taupe or earth-toned neutrals, for example. Cool white cabinets pair well with cool blue-gray shades of granite.
Colors of Surrounding Elements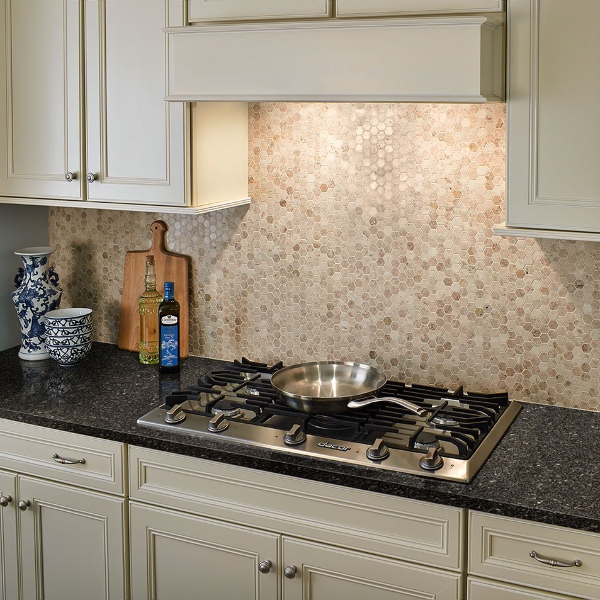 Your white cabinets are only one part of your kitchen design. You will also need to consider other elements, including the flooring, window trims, appliances, light fixtures, and any wall art or accessories you plan to use. Just about any granite color looks great alongside wood-look flooring, but even that type of flooring may be a cool gray or a warm rust-orange shade.
Ordering samples of granite countertops before making a final choice is a crucial step. We suggest using MSI's Virtual Kitchen Designer, along with our other visualizer tools, to help narrow down your choices first.
Standing the Test of Time
The good news is that white cabinets and granite counters are known to stand the test of time. They will always be on-trend and up-to-date, no matter what other decorative and design changes you make over the years. Even if you decide to convert your farmhouse-style kitchen into a more modern, contemporary style down the line, there's a good chance your granite countertops will suit the new style as well, especially if you've chosen a neutral shade.
This is also an important point to keep in mind if you decide to sell your home one day. It's a well-known fact that granite countertops can boost a house's resale value, and although there are other premium surfaces, that may be a factor when you choose marble or quartz vs. granite. The home's new owners may have design ideas of their own, and granite counters are versatile.
If the process of choosing a granite countertop sounds complicated, don't worry — knowing these factors to consider while narrowing down your choices will help a lot. Also, one of the best things about granite countertops is that their natural patterning, speckling, and graining helps them fit in with a wide variety of styles and alongside many different elements. Especially if you choose a neutral shade, it's hard to go wrong, although there are certainly better choices than others. It's up to you, and we hope you enjoy the process of designing your new kitchen!
READ MORE ABOUT GRANITE COUNTERTOPS
Brazil's Unique Ubatuba Granite
Can I Install Granite Countertops Outside?
Caring For Granite Countertops: Cleaning, Sealing, And Polishing
Choosing Your Bathroom Countertop: Quartzite, Granite, Marble, And Quartz Countertops