Outdoor Oasis: How Durable Is Stacked Stone Outdoors?
March 26, 2018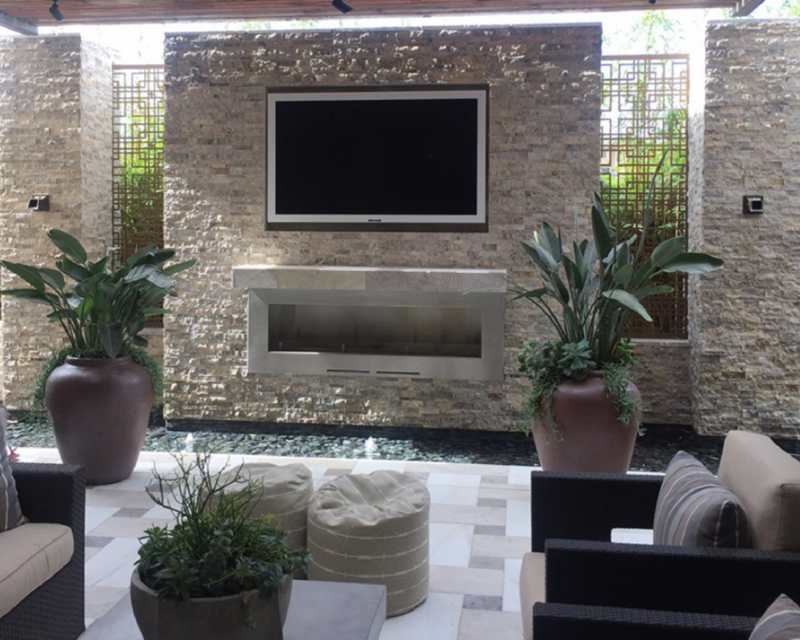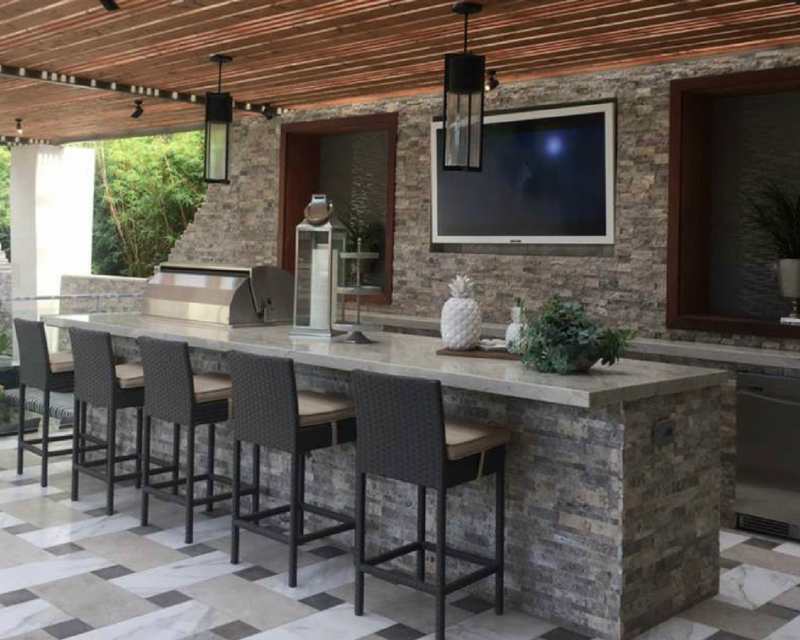 Stacked stone is popular because it has the potential to quickly add appealing architectural detail and character to any home. And when it comes to stacked stone panels, MSI's wide selection is composed of real natural stone. This means that unlike most "faux panels" you'll find on the market, these natural beauties are extremely durable.
Homeowners love this material because of its natural beauty, but it's also easy to care for and requires little maintenance. To keep your ledger panels looking pristine, simply rinse the stone twice a year with a high-pressure sprayer or a regular hose with a spray attachment. If you're particular about your spring cleaning, you could also use a soft-bristle brush to thoroughly brush the panels. However, harsh cleansers like bleach, ammonia, or anything acidic are not recommended.
In order to maintain your stacked stone's luster, it's recommended that you seal it every year or so. Before sealing, get rid of any excess dirt or debris by giving the stone a quick brushing. Next, scrub the stone with a mixture of warm water and natural stone cleaner. Rinse, wipe away excess water, and allow the surface to air dry for a minimum of two hours before applying the sealant.
Note: Before you apply sealant, be sure to check the manufacturer's recommendations to ensure that the sealant you've chosen won't alter the stone's color or look.
Now that you're armed with these easy-care tips, you'll want to check out some of our favorite outdoor ideas for home design with natural elements featuring durable stacked stone. We dare you to not get inspired!
Gray Oak 3D Honed Stacked Stone

Featured: Gray Oak 3D Honed Stacked Stone
An outdoor fireplace becomes a gorgeous centerpiece when clad in stacked stone! Gray Oak 3D Honed is a ledger panel made from fine natural marble. The mid-tone gray coloring and clean lines create a contemporary look and feel in this stacked stone fireplace. Modern it may be, but accompanied by the natural woods of the mantel, chair frames, and coffee table, this outdoor space is infused with warmth and welcome.
Golden Honey Stacked Stone

Featured: Golden Honey Stacked Stone
Even a traditional fireplace is made more fabulous with the addition of stacked stone veneer! Golden Honey is a ledger panel composed of naturally occuring quartzite. The popular color palette of warm whites, golds, and grays creates a calm and inviting environment. This fireplace is set poolside and right next to the outdoor kitchen, so there's plenty of reason to snuggle up near the wood-burning fire and enjoy an evening outdoors.
Durango Cream Stacked Stone

Featured: Durango Cream Stacked Stone
A stacked stone backsplash or feature wall will take your outdoor kitchen to the next level! Durango Cream is a classic travertine stacked stone panel with a contemporary twist. Here, it's featured on the back wall of a gorgeous outdoor cooking and entertaining area. The three-dimensional pattern creates interest without overpowering the overall design of the space. These beige hues play well with the rest of the neutral stone flooring, island base, and countertops.
Golden White Stacked Stone

Featured: Golden White Stacked Stone
To add major curb appeal to your home, look no further than stacked stone! Golden White is a natural quartzite split-face panel with a number of beautiful tones. Featuring hues ranging from rich red to soft gray, warm gold to light cream, this stacked beauty complements both traditional and modern designs. Add an entire stacked stone wall to the exterior of your home to up the street cred and value of your home!
Amber Falls Stacked Stone

Featured: Amber Falls Stacked Stone
Why limit yourself to stucco or shingles for your home's exterior when you can add stacked stone into the mix? Amber Falls is an amazing ledger panel crafted from quartzite, and it even contains mica, which makes the stone glitter when hit by the sunlight. The gray, copper, and rust colors beautifully tie the ledger panels in with the shingle siding without being matchy-matchy.
Overall, MSI's RockMount Stacked Stone Panels are is a durable and low maintenance enhancement that will add both beauty and value to any home. Now that you know stacked stone will stand up to the elements when installed outdoors, what are you waiting for?
Explore even more looks with MSI's Stacked Stone Visualizer tool.