Tile Style: Best Ideas For Modern Stacked Stone Accent Walls
April 05, 2018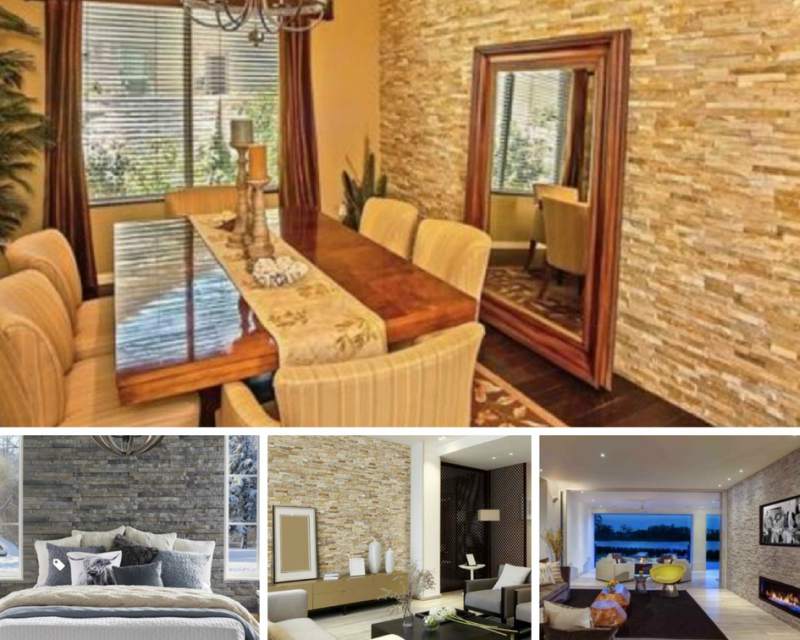 What design element spans the gamut from rustic to modern? Stacked stone. Once only found in older properties, today, anyone can install beautiful natural stone walls in their home with mesh-backed ledger panels. Why the resurgence in popularity?

Stacked stone walls are a great way to add warmth and character to any room in the home. If you are wondering where to use stacked stone, there really is no "wrong" place.
From kitchens and baths to living and dining spaces, and even the bedroom, stacked stone veneer walls are right at home.
Cordoba Noche Stacked Stone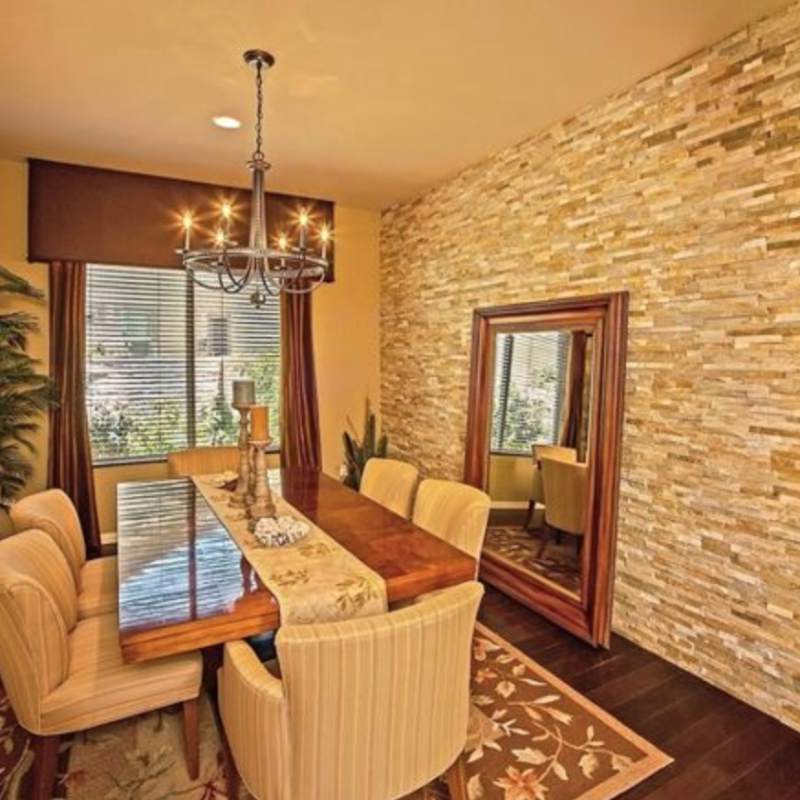 Create a similar look with MSI's Cordoba Noche Stacked Stone (Photo Credit: Houzz)
How do you take a small dining space and turn it into a warm, romantic and inviting space? You do a stacked stone installation with Cordoba Noche. In this beautiful dining room, the color palette is limited, focusing just on hues found in the natural travertine. Here, extracting the warm cream tone from stone and applying it to the ceiling and walls gives the room its warmth. The chocolate brown draperies and natural hardwood floor drawn the darker tones in the stone, unifying this elegant space.
Sparkling Autumn Stacked Stone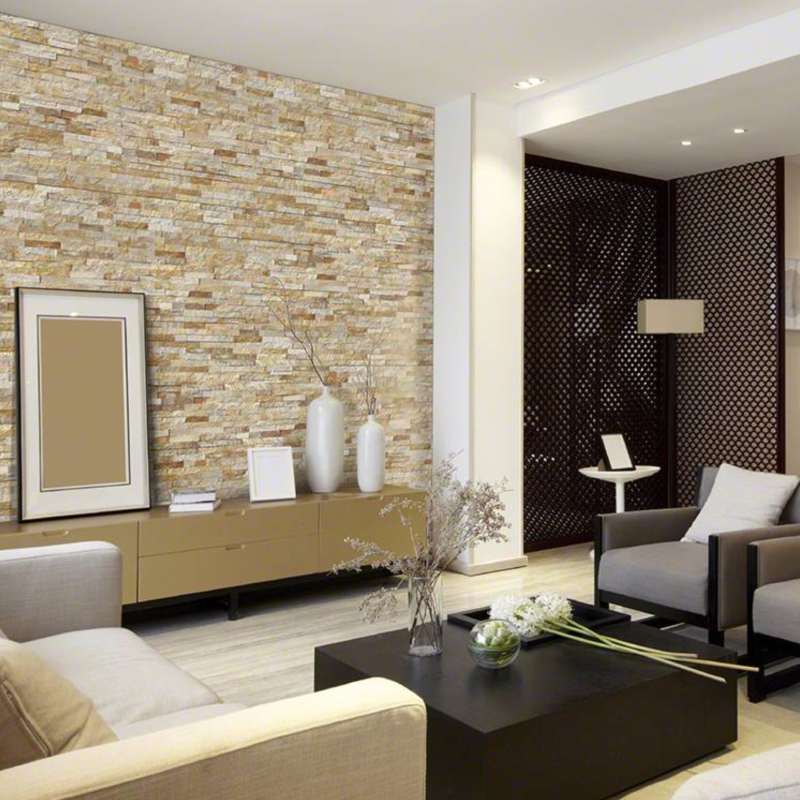 Featured: Sparkling Autumn Stacked Stone
With just a touch of luminescent sheen, our Sparkling Autumn stacked stone wall adds much-needed texture to this contemporary space. A simple painted wall here would have left the room feeling flat, minimalistic and frankly, uninspired. Instead, setting this gorgeous natural quartzite against a white ceiling and walls and a light-toned tile flooring, makes it the star of the room.
Durango Cream Stacked Stone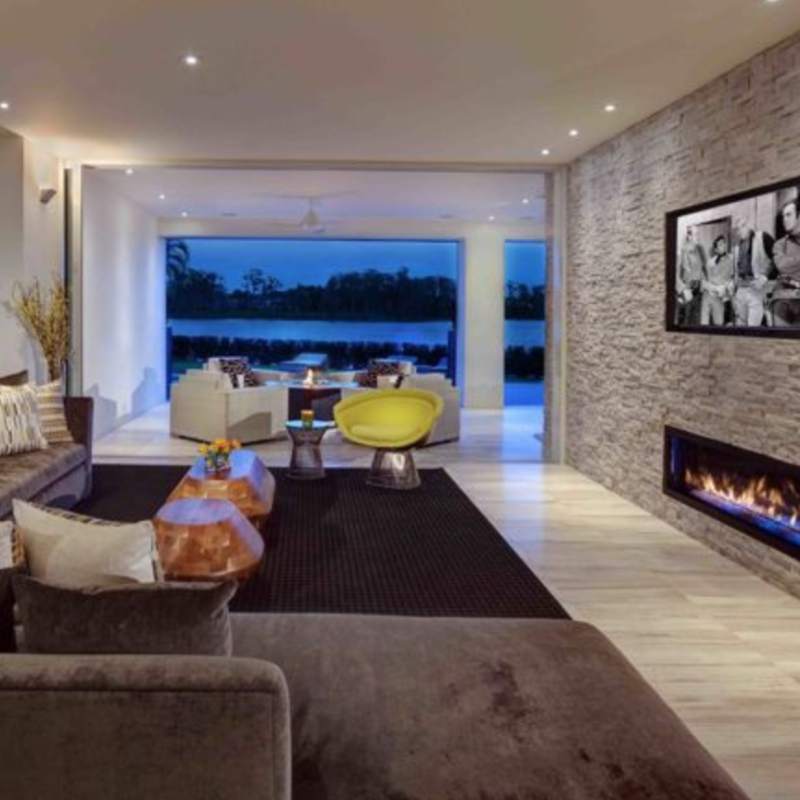 Featured: Durango Cream Stacked Stone
The natural travertine in our Durango Cream has a rustic, yet refined personality. Here, it is used to create a central wall of interest that while adding character, doesn't distract from the real star of the space – the view. And as a bonus, the accent wall it is the perfect home for both a television and a fireplace. This inviting space is the epitome of indoor/outdoor living, opening out onto a covered patio. To continue the look to the outdoors, stacked stone veneer can be used as cladding, for fireplaces, and for outdoor kitchens.
Charcoal Pencil Stacked Stone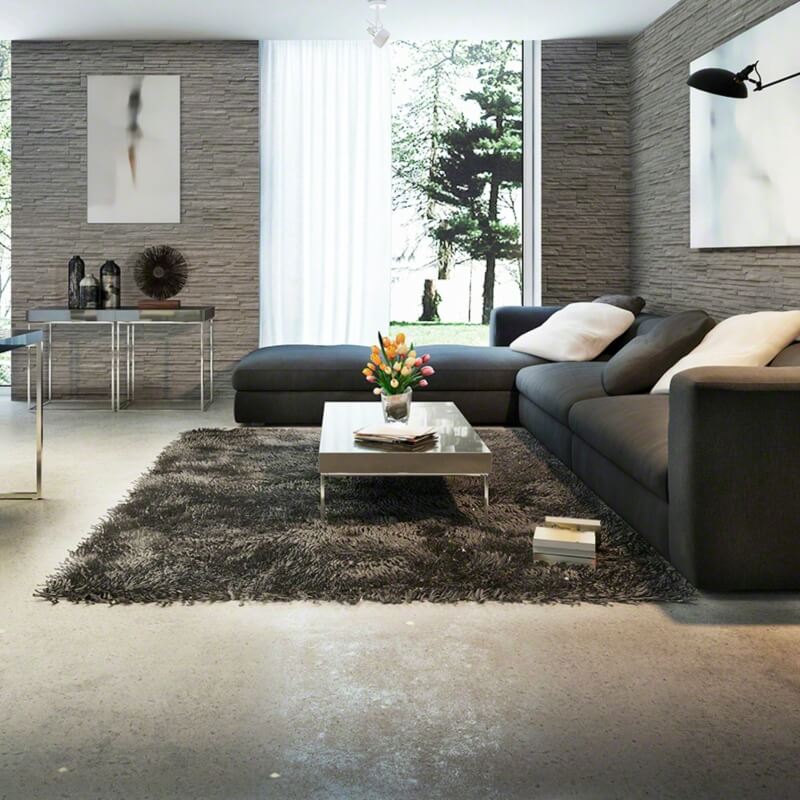 Featured: Charcoal Pencil Stacked Stone
Narrow stones and on-trend silvery gray tones of our Charcoal Pencil ledger panels can transform any room into a modern haven. This uncluttered space with its low furniture and lack of pattern could very easily become cold and unwelcoming. But, with the addition of not just 1 but 2 stacked stone installations, it becomes the perfect space to curl up with your favorite novel or binge-watch your favorite shows.
Sierra Blue Stacked Stone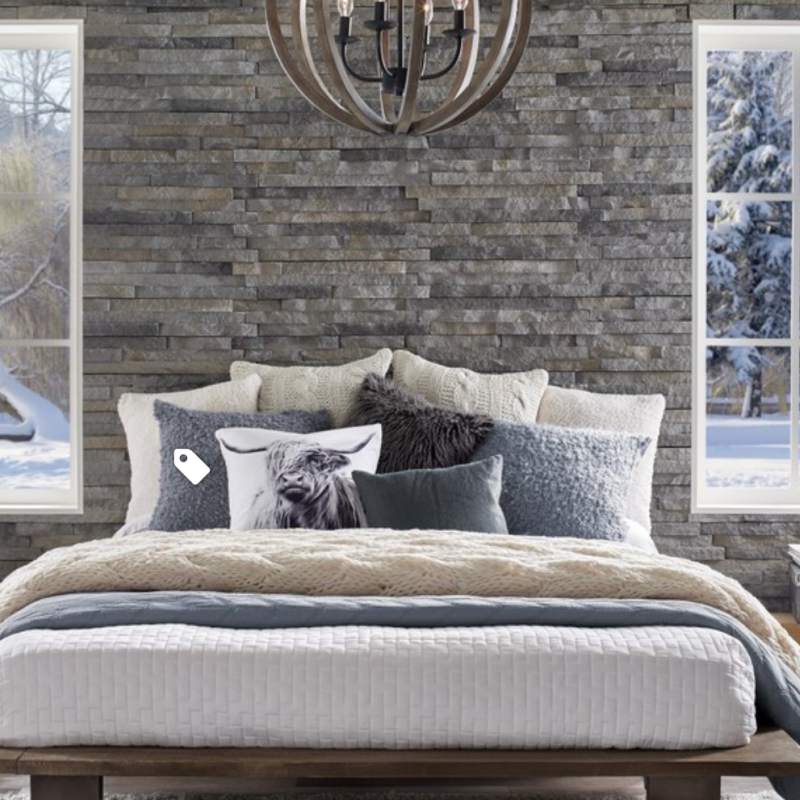 Recreate this look with MSI's Sierra Blue Stacked Stone (Photo Credit: Houzz)
In addition to common living spaces, bedrooms are a great place to add the character and beauty of natural stacked stone walls. Here, our Sierra Blue's hues lend a modern tone to this space. The natural quartzite provides hints of sheen that makes this accent wall the perfect headboard. The play here between the softness of the pillows and bedding and the hardness of the stone, is a perfect modern design statement that is sure to please for decades.
Charcoal Rust Stacked Stone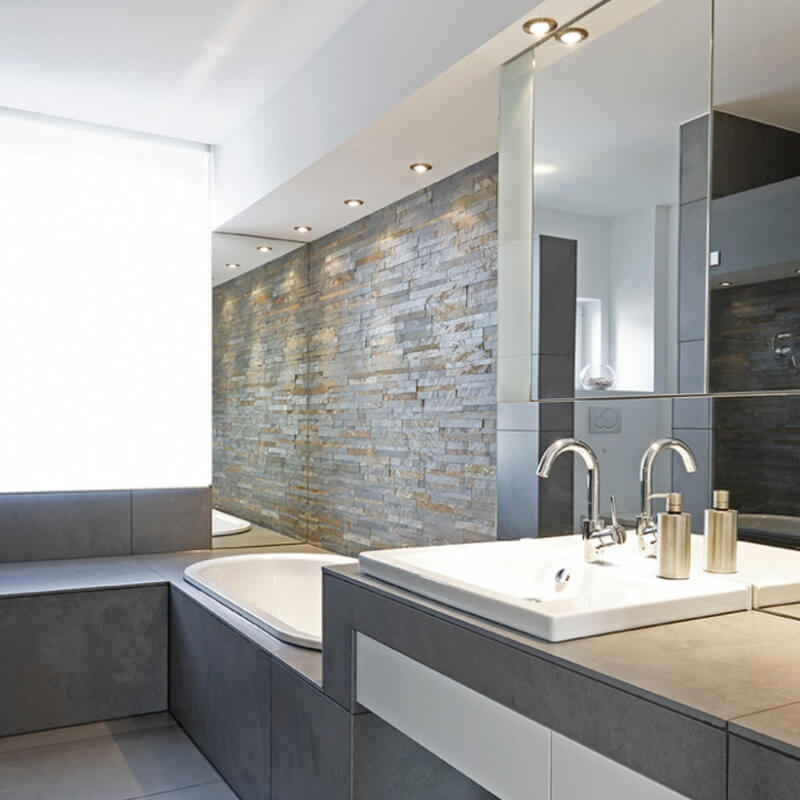 Create a similar look with MSI's Charcoal Rust Stacked Stone (Photo Credit: Houzz)
And, let's not forget that stacked stone is a perfect material for bathrooms. This decidedly modern bathroom would have a feeling of a commercial bathroom with its flat front cabinetry and cement look countertops and floors, if not for the character of the accent wall over the bathtub. Made from natural slate, Charcoal Rust features stunning rusty gold accents that play with the coolness of the charcoal tone simply perfectly.
Style comes in cycles; what is on-trend today may be off-trend next year. But, there are some design elements that can stand the test of time and a change in design styles. And, one of the most timeless surfaces you can add to any room is natural stone. All of the rooms highlighted above would embrace traditional or contemporary furnishings to change up the look as your design style evolves. Check out our Inspiration Gallery for more ways to incorporate stacked stone into your project.