Popular
Porcelain Paver Myths Debunked
July 26, 2017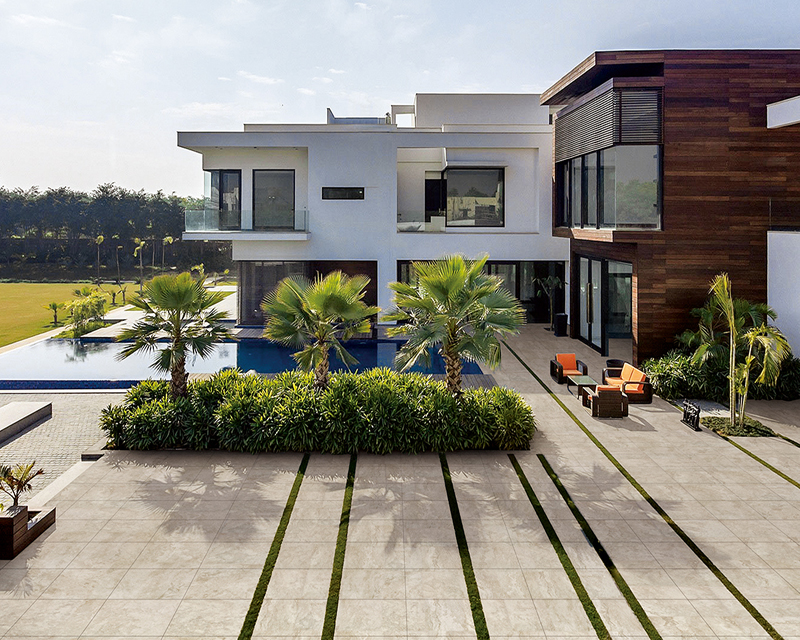 Featured: Tierra Ivory Arterra Porcelain Pavers
The cool to the core alfresco living trend is only getting hotter. And with head-turning products like Arterra Porcelain Pavers shaking up the design world, there's never been a more inspired time to create the backyard of your dreams.
A fast-lane favorite since its debut last year, it's one of the most innovative low-maintenance outdoor collections on the market. Combining designer-worthy stone and wood looks with the durability of porcelain, this ultra-versatile lineup has serious clout with homeowners near and far.
It features over a dozen unique styles, three sizes, and coordinating copings. Add its flair for increasing property values, and what's not to like?
But let's face it: there's a juggernaut of hardscape options available today, and scads of misinformation crowding the digisphere. To separate fact from fiction and clarify the oft-misunderstood world of porcelain pavers, we enlisted the help of our product team.
And since not all pavers are created equally, we're debunking popular misconceptions by zooming in on the gold standard: Arterra Porcelain Pavers (of course!).
MYTH #1. Porcelain surfaces are too hot underfoot for high temp climates like Tempe, AZ.
FACT: Colors—more than material—determine ground surface temperature. Testing indicates that porcelain pavers are comparable to natural stone pavers of the same color. (Dark-hued natural stone pavers generate higher surface temperatures than paler counterparts.)
Porcelain pavers are also generally cooler to the touch than concrete pavers. In other words, if you live in a hot sunny place, light-colored pavers will be more comfortable underfoot. Synthetic grass is an anomaly: it's 36% hotter than our lightest porcelain paver, Tierra Ivory.
MYTH # 2. Porcelain pavers are slippery when wet.
FACT: Untrue. The surface texture of Arterra Porcelain Pavers is designed to be slip-resistant, even when wet. They are recommended for use by the pool, around the hot tub, and in other wet zones.
MYTH # 3. Porcelain pavers are not as durable as natural stone.
FACT: Due to extremely high temperatures during the manufacturing process, porcelain pavers are oftentimes stronger, more durable and denser than natural stones. Because of their superior strength, they're ideal for commercial areas with high foot traffic, and in driveways.
MYTH # 4. Porcelain pavers require sealing.
FACT: That's false. Sealing is unnecessary because unlike natural stone and concrete, porcelain pavers are non-porous and virtually impenetrable.
MYTH # 5. Porcelain pavers aren't suitable for cold climates.
FACT: On the contrary, Arterra Porcelain Pavers are frost-tolerant. No matter how cold your winters are, freezing and thawing cycles won't crack the surface. (Extreme temperature fluctuations like the Northeast call for dense tiles.)
MYTH # 6. Porcelain Pavers require maintenance.
FACT: Arterra Porcelain Pavers have a non-porous surface so they're nearly maintenance-free. Because they're stain-resistant, you don't need to worry about discoloration due to water, mold, or mildew. They also resist chipping, scratches, and furniture marks. In contrast to wood, there's no need to worry about staining, sealing, termites, or splinters. Just hose them off with water occasionally, and that's it.
MYTH # 7. Porcelain pavers with wood and stone looks have an unnatural appearance.
FACT: Arterra Porcelain Pavers use a high definition inkjet technology that produces vastly different results than the options that were available years ago – and that are still evident in entry-level products on the market right now.
Because our designs are a high-concept mix of art and technology, we're able to replicate the authentic characteristics of natural stone and wood down to the smallest detail. The result is an upscale high-style look that's both transformative and high-functioning.
MYTH # 8. Porcelain pavers fade in the sun.
FACT: Our glazed surface is both UV and fade-resistant. Because the glaze is baked on, the color will remain intact through many years of sun exposure.
MYTH #9. Porcelain pavers are unsuitable for high-traffic areas.
FACT: Arterra Porcelain Pavers possess a high wear rating so they're ideal for areas with heavy foot traffic – including commercial properties. The glazed surface is fired at 1200º F, ensuring a hard surface resistant to wear.
MYTH #10. Porcelain pavers require grout for installation.
FACT: Arterra Porcelain Pavers are easy to install because they don't require grout. They can be placed directly on grass or sand or installed over a concrete bed with mortar. To maximize versatility in both design and application, the collection is offered in three sizes (24" x 24"; 12" x 48"; 12" x 24").
MYTH #11. Porcelain pavers are costly.
FACT: Arterra Porcelain Pavers are competitively priced, and frequently more affordable than natural stone.
Testimonials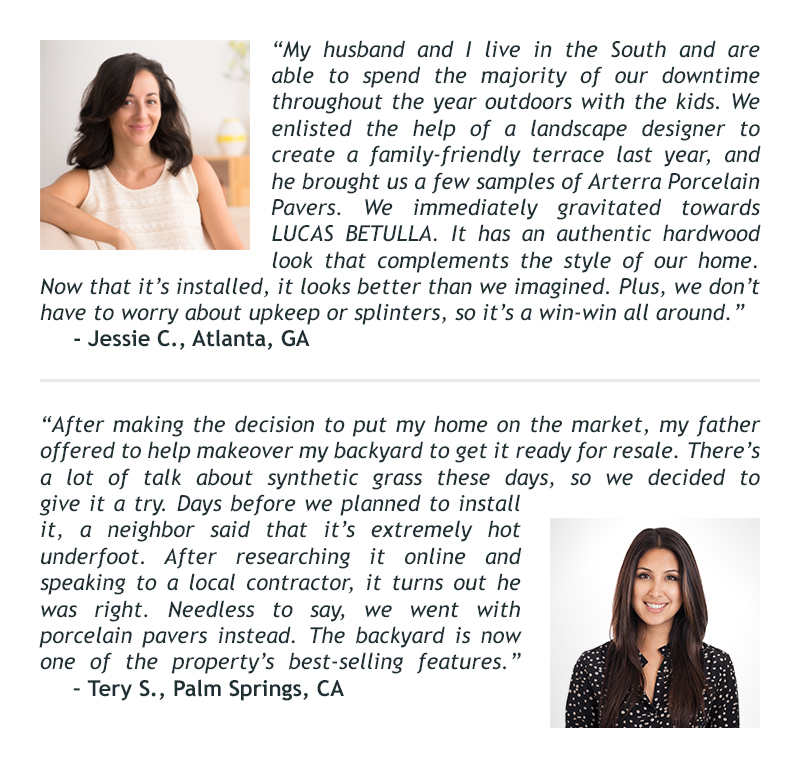 Now that you're clued in, take a look at our favorite looks from the Arterra Porcelain Pavers Collection.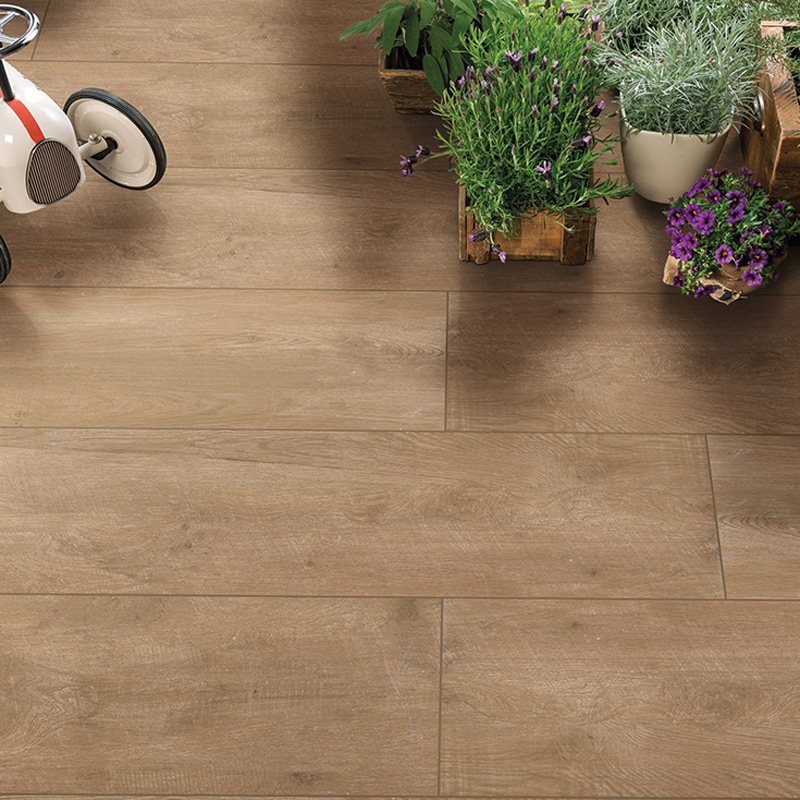 Featured: Lucas Betulla Porcelain Pavers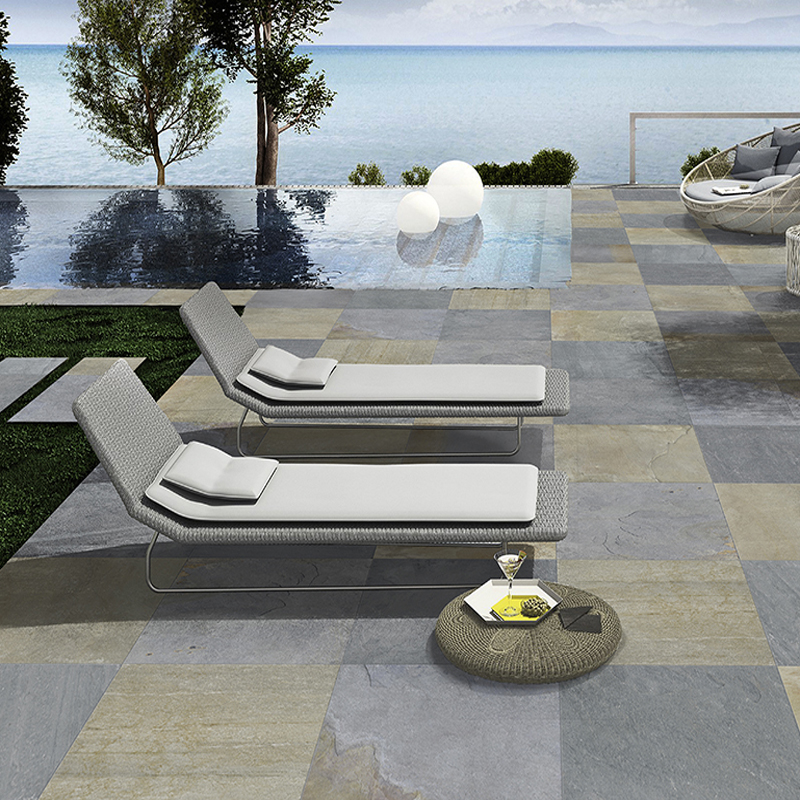 Featured: Pedra Azul Porcelain Pavers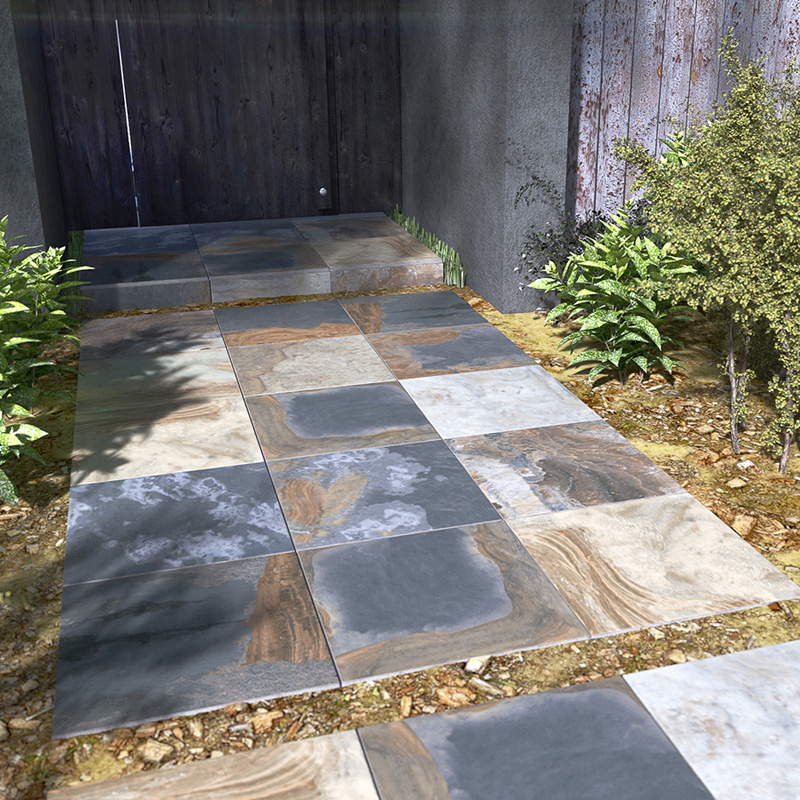 Featured: Mystique Multicolor Porcelain Pavers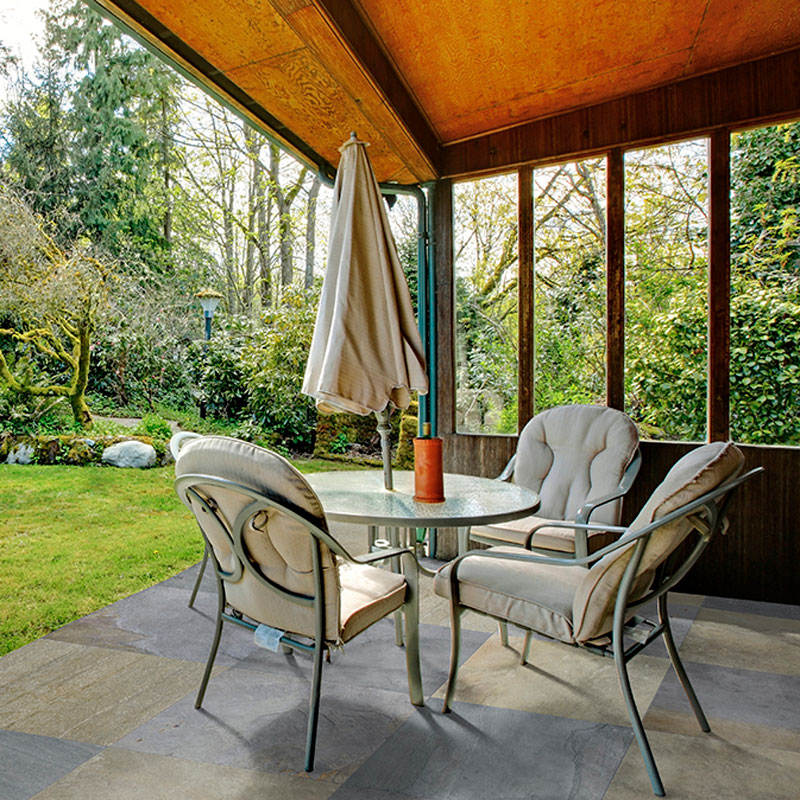 Featured: Pedra Azul Porcelain Pavers
READ MORE ABOUT THE BENEFITS OF PORCELAIN TILE
Popular Porcelain Tile Trends For Bathrooms
Porcelain Brings Purpose & Design Home
Porcelain Countertops Pros & Cons Review 2021