6 Unique Hardscaping Projects Featuring Stacked Stone
August 19, 2022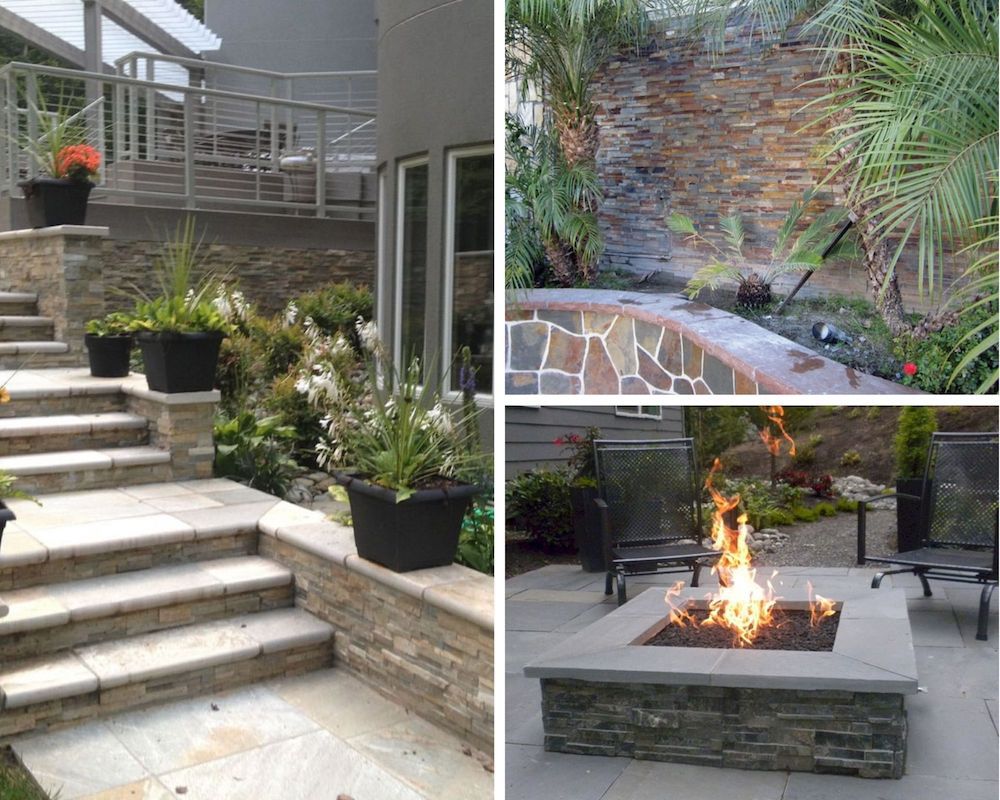 When it comes to the benefits of landscaped stacked stone, you begin to wonder why everyone doesn't implement this onto their property.
At its heart, dry stacked wall or stone is an outdoor stone that is built without mortar to bind stones together. Many use this type of stone for accented walls or even retaining walls. This is ideal for outdoors because the flexibility of these stacked stone walls compliment and work with the natural movement of the land. They are able to withstand severe weather temperatures and offer a variety of decorative options that delight and intrigue onlookers.
Freely stacked stone is created to facilitate natural expansion and contraction, so it's less likely to crack and shift versus a traditional retaining wall. Its structural integrity can be maintained for years to come upon completion of construction. You can imagine why this durability is valuable for outdoor installations, particularly those that reflect your aesthetic sensibility, style, and preferences!
The natural permeability of these stone panels allows water to freely pass through the mortar-less joints. This is crucial for outdoor hardscaping fixtures, as that permeability alleviates the dire need from having to invest in an additional drainage system.
Third, the variety in stone wall tile is immense. You can truly transform an outdoor space with all different kinds of stones—whether round or flat—that suit any aesthetic. You can pull a 180 on your backyard in a matter of months with a thoughtful ledger panels situated throughout your property.
Let's explore some top ways you can use stacked stone for hardscaping purposes. These are just a few possible options and perhaps some of the more common. More than likely, it will light the spark of inspiration and you will begin looking at the optimal design that's just right for you!
Stacked stone planter walls are an incredible way to separate various parts of your landscape from others in a stylish and poignant way. The multi-level design can be built to your ankle, knee, or waist. These natural stone planters are durable and will protect your plants and other foliage. How perfect are these for backyards or even urban outdoor areas?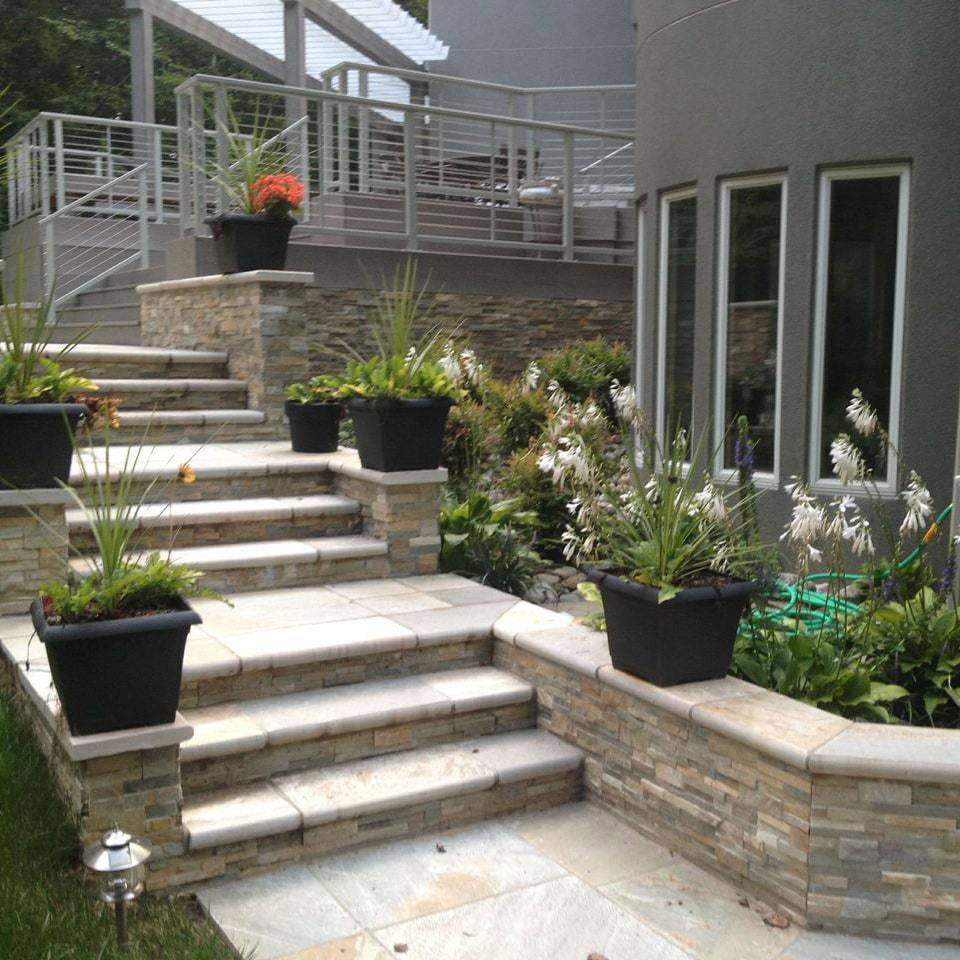 Golden Honey Stacked Stone ledger panels are ideal for planters with the organic nature of real stone mixed in with gold and grays. This color palette can complement a variety aesthetics and outdoor products and even come with matching corners to finish off all projects.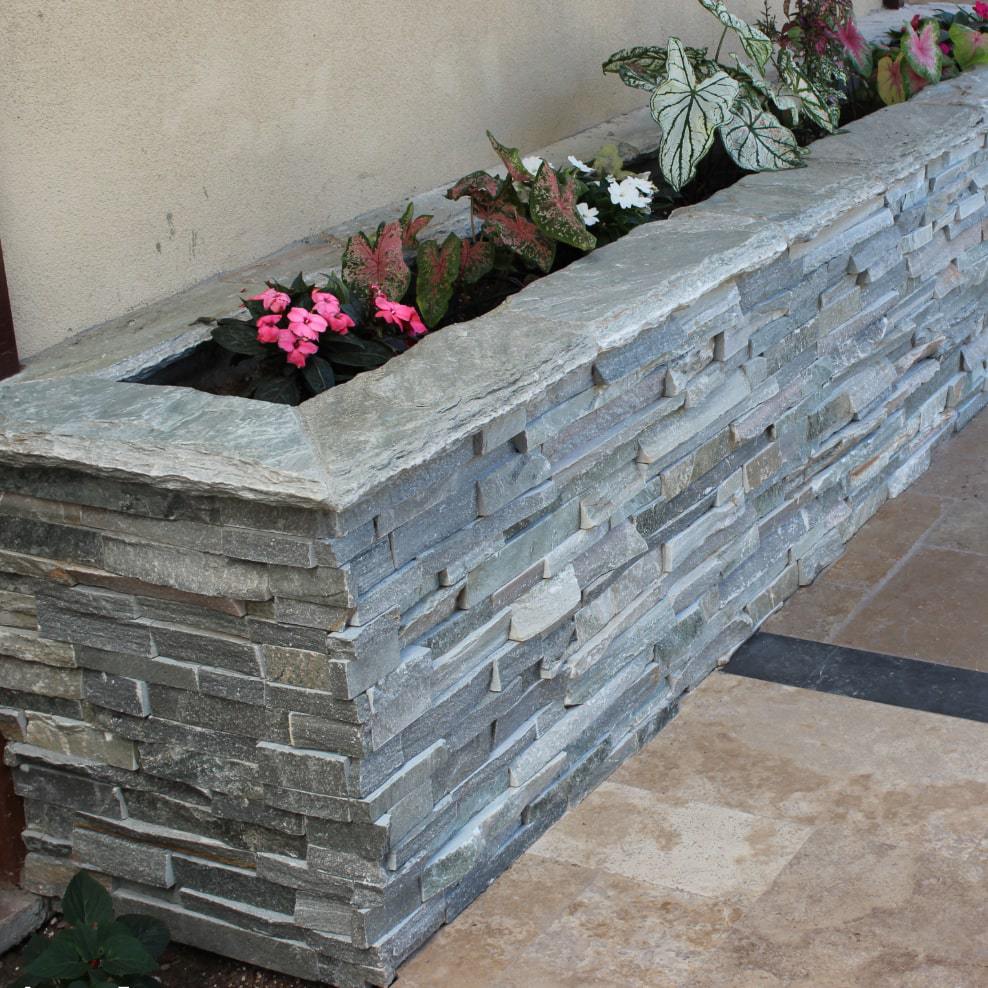 Sierra Blue Stacked Stone feature darker colors than the aforementioned design—blues, grays, whites, and even shades of rust. A planter wall would be ideal with Sierra Blue with its dark, natural colors. Can't you just imagine this in your backyard, front yard, or roof garden?
Another amazing use for hardscape is stone wall tile, specifically in a retaining wall.
Retaining walls are basically used to separate out two various elevation levels and create a crucial visual component of a landscape project. Some can lead from an upper yard to a lower yard or different part of your property. The variety of uses for retaining walls are endless! Often, the heavy stones do the work of keeping elevation held back, conveying strength and durability.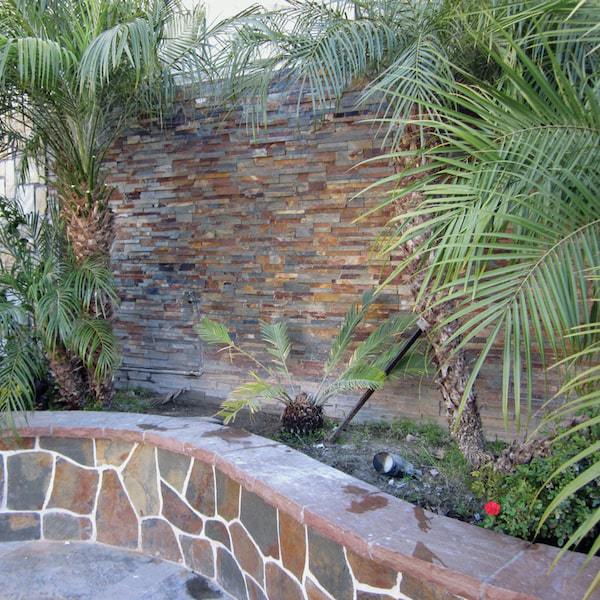 California Gold Stacked Stone is an ideal pick for your new retaining wall. This rugged design consisting of deep browns, shades of rust, and grays are perfect for hardscaping. How easy is it to imagine these ledgers in your backyard? Amazing!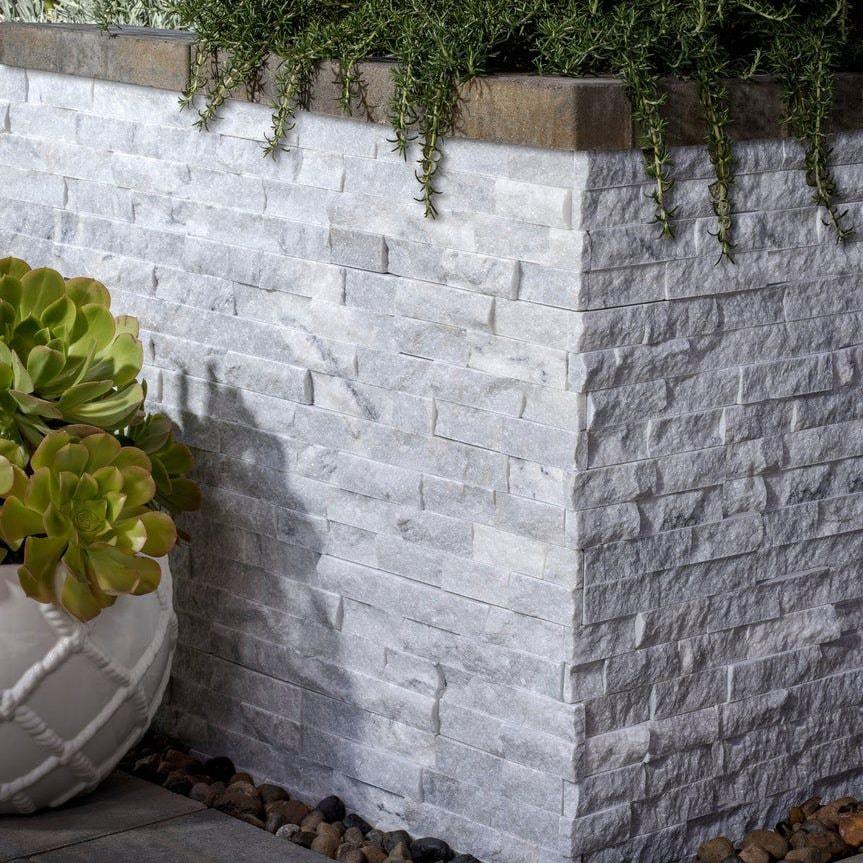 Photo Credit: @rocksinstock on Pinterest
Alaska Gray Stacked Stone is a wonderful choice of fine split face marble with soft gray tones that please the eye. Filled with the veining of elegant marble, Alaska Gray is a wonderful pick for exterior structures, especially your next spellbinding retaining wall!
A Fire pit as well as a stacked stone fireplace is a top tier ambition for and outdoor hardscaping plans. Square and rectangular-shaped fire pits do well with stacked stone, especially when they are skinny in shape. It's important to install your stacked stone fireplace knee-height and away from other plantings and vegetation. Many install lava rock or colored glass inside the pit to enhance the ambiance.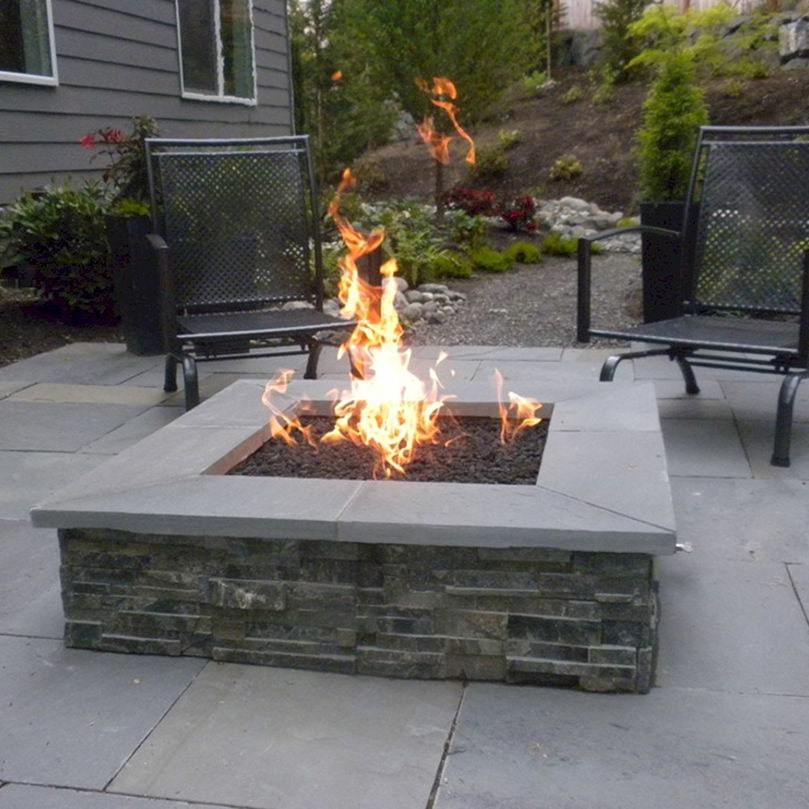 Photo Credit: @gopavers on Pinterest
Coal Canyon Stacked Stone is a charcoal grey quartzite ledger panel that is ideal for a contemporary outdoor fire pit or fireplace. Just imagine long nights roasting marshmallows with your family, sitting around the hearth telling jokes and stories—the scenes write themselves when you have an exterior application like this one in this design!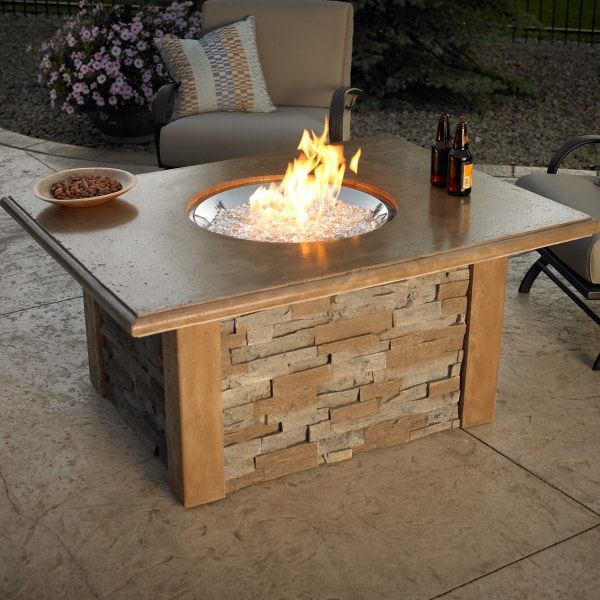 Photo Credit: @familyleisure on Pinterest
Casa Blend 3D Honed Stacked Stone feature soft creams and warm beige tones that add character, class, and depth. This is clearly a lighter choice for hardscaping varieties like fire pits, yet one that is stylish in its offerings.
When exploring the world of stacked stone for outside applications and hardscaping, the world is truly your oyster with so many varieties, styles, and designs. In fact, some of these choices can be overwhelming when creating the home of your dreams, which is why we have MSI Ledger Panel Visualizer. By using this incredible tool, you can see for yourself how a particular design would fare in your outdoor area. Are you looking for a darker color of stone—lighter—more varied in terms of shade and nuance? The choice is up to you and is no doubt an exciting one!
Using stacked stone and stone ledgers in your hardscaping projects really allows you to think outside the box. You can use these in a variety of ways, whether a fire pit, retaining wall, or planter. Each offers its own unique imprint to your home, property, and outdoor area. However, natural stacked stone can truly transform an area for the better, enhancing your property value and how much time you may spend outdoors.
Regardless of your stacked stone decision, rest assured this is a reliable design option for hardscaping that you won't regret season after season!
MSI is a committed innovator in the world of interior design and hardscaping décor. We are your top source for all related questions, and we would love to be of assistance. Contact us and let us know if we can answer questions and concerns. We're here to help you create the home of your dreams.
For immediate assistance, chat with us in the box below!