Tile Style: Proof That Travertine Tile Works Well For Every Room Of The House
September 30, 2017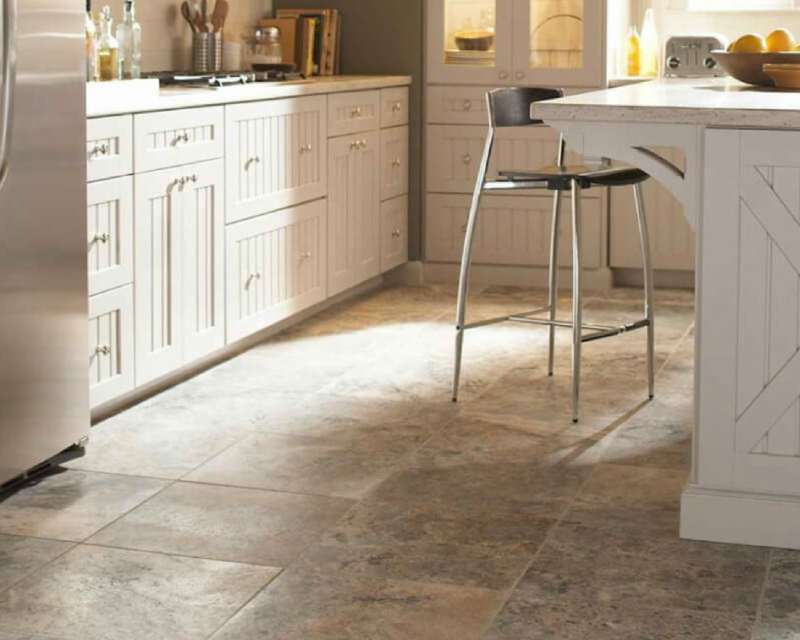 Natural stone products such as travertine tile are a natural choice for your outdoor hardscape – patios, pool decks, entry steps, walkways, etc. But if you thought travertine was too rough, tough, and rugged to be used in an elegant indoor design, nothing could be further from the truth.
Travertine tile offers many benefits when it comes to interior use, not the least of which is its incredible versatility. Today's travertine tile can be rustic, but it can also be romantic, stylish, and refined.
Travertine is a sedimentary stone formed over millennia at the edges of hot springs. You may want to consult a natural stone flooring guide for details, especially if you're interested in geology. But you don't have to be a rock hound to love these examples of indoor travertine tile installations.
Durango Cream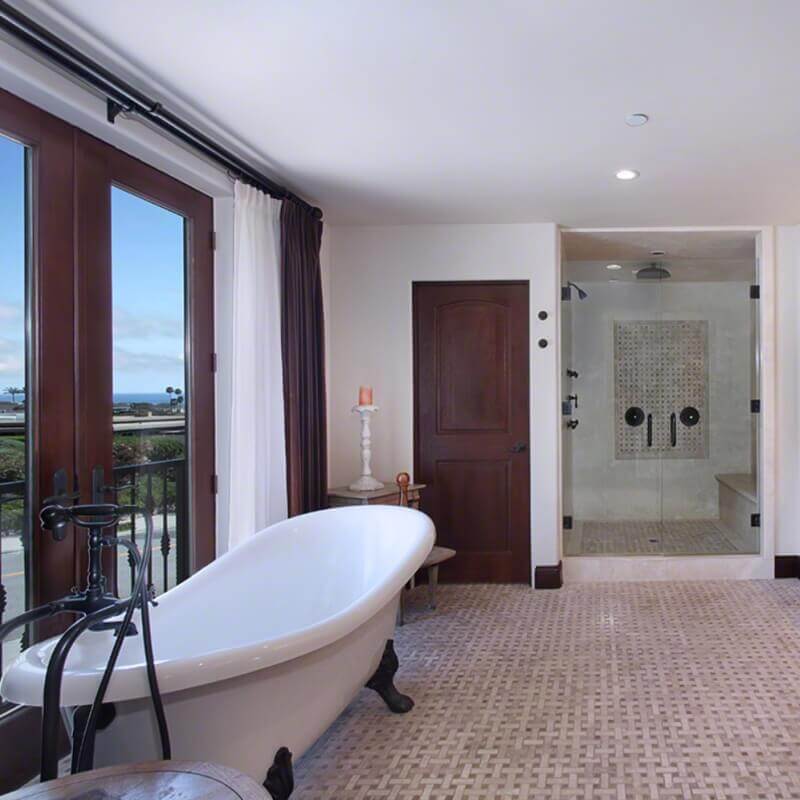 Featured: Durango Cream Basketweave Travertine
If you picture plain brown squares when you think of travertine floor tile, this intricate mosaic featuring Durango Cream Basketweave Travertine will change that. When properly sealed – a simple process – travertine tile flooring is water resistant and can hold up to traffic in the wettest places, like this luxurious bathroom. This mosaic combines Durango Cream with Caramel travertine in a basketweave pattern that's bursting with old-world charm.
Sparkling Autumn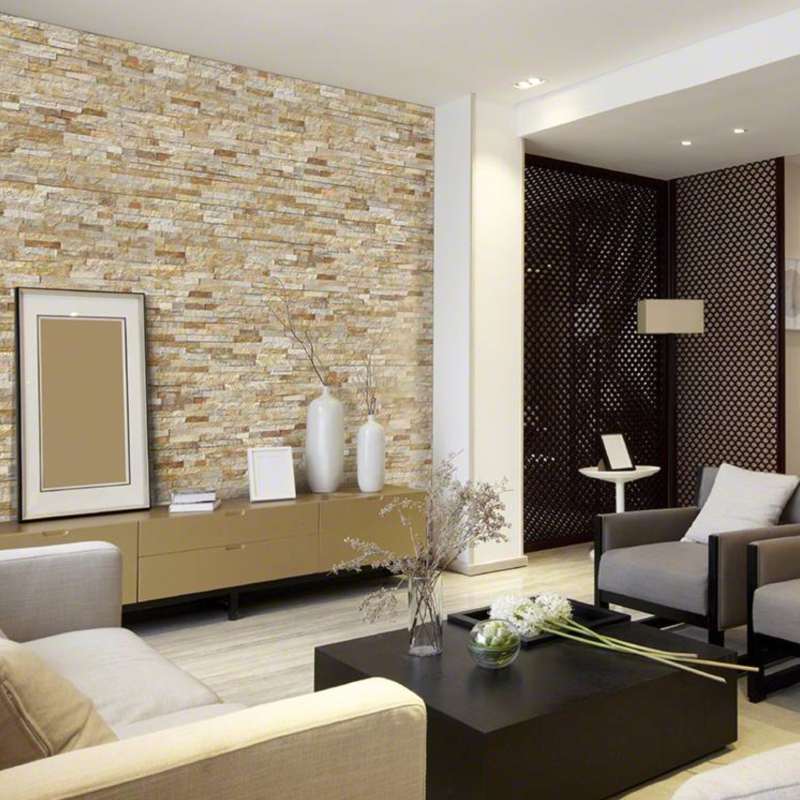 Featured: Sparkling Autumn Stacked Stone
Stacked stone is commonly used in outdoor hardscapes, or inside the home surrounding a fireplace. Today's designers are embracing these ledger panels for accent wall installations as well, and the result is quite elegant. Here, the multi-colored neutrals in Sparkling Autumn Stacked Stone wall tile are complementary to the furnishings and other design elements, featuring shades of beige, cream, and gray.
Tuscany Platinum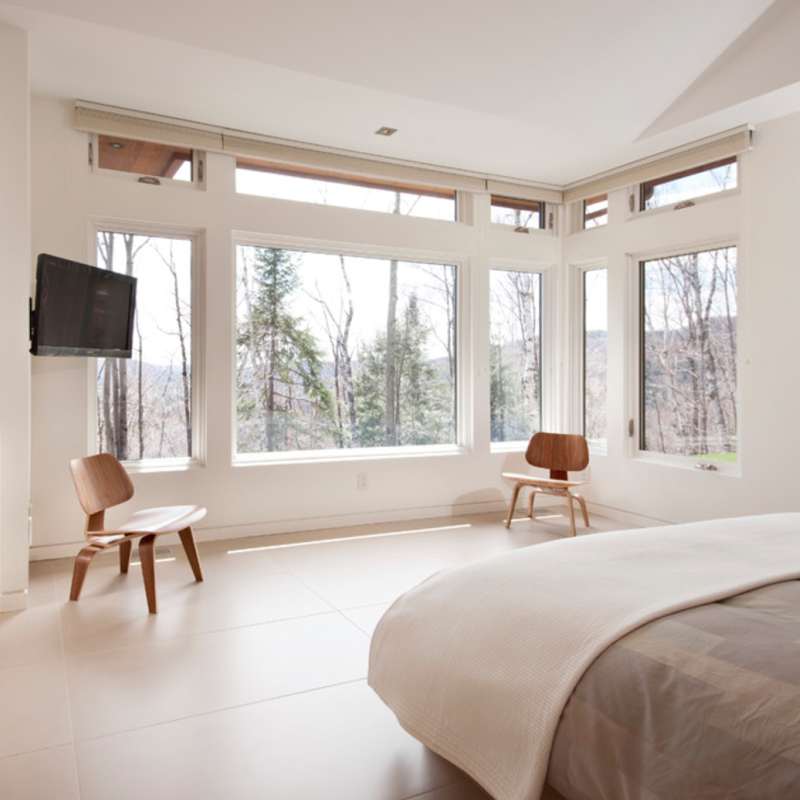 Create a similar look with MSI's Tuscany Platinum Travertine (Photo Credit: Houzz)
If you love the look of modern minimalism, Tuscany Platinum Travertine tile is right up your alley. These tiles are available in several large sizes both square and rectangular, and the low-variation pale beige color is peaceful and soothing. You'll also rest easy knowing it's an environmentally friendly material and easy to keep pristine and clean.
Tuscany Chateaux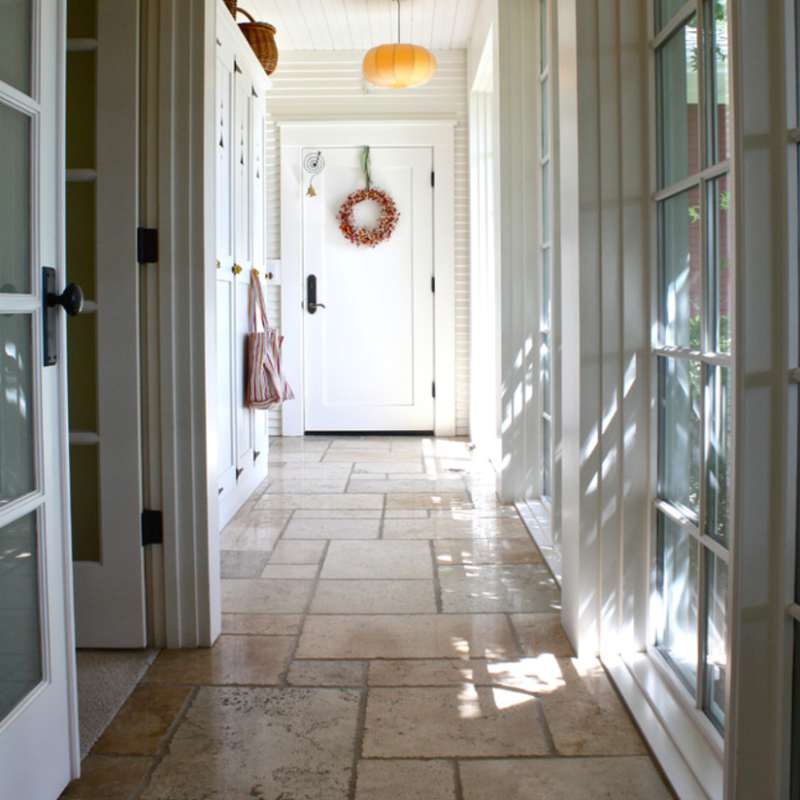 Create a similar look with MSI's Tuscany Chateaux Travertine (Photo Credit: Houzz)
Mud rooms, laundry rooms, hallways and other informal spaces are excellent spots to install travertine tiles such as Tuscany Chateaux Travertine. The honed, chiseled texture adds plenty of rustic character. Once sealed properly, it's easy to keep clean and is not typically slippery when wet – which means no worries about running in the door with wet shoes or muddy paws.
Silver Shadow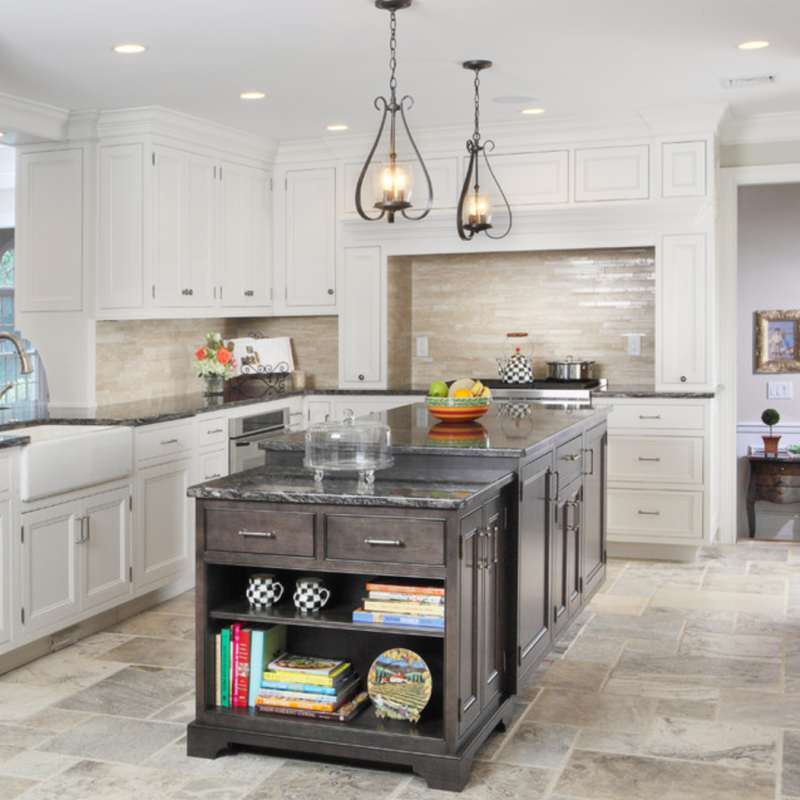 Create a similar look with MSI's Silver Shadow Travertine (Photo Credit: Houzz)
The kitchen is an area that gets a lot of foot traffic – think how many steps you take just preparing dinner! It also has to deal with spills, dropped pots and pans, and other hazards. While it's true that travertine tiles require some maintenance with sealing and quick cleanup to prevent stains, the tile's durability is unmatched. If you should drop that heavy cast-iron pot and crack a tile, just replace it, no problem at all.
Every day, more homeowners are discovering that travertine tiles are just the right intersection between natural, rustic character and stylish elegance. There are thousands of ways to use travertine in your home; what will you come up with?
Visit MSI's Visualizer Tools to experiment with travertine and other surface materials, and see what works best for your own unique space.