Trecento Luxury Vinyl Tile: Affordable And Durable Natural Stone Look
October 02, 2021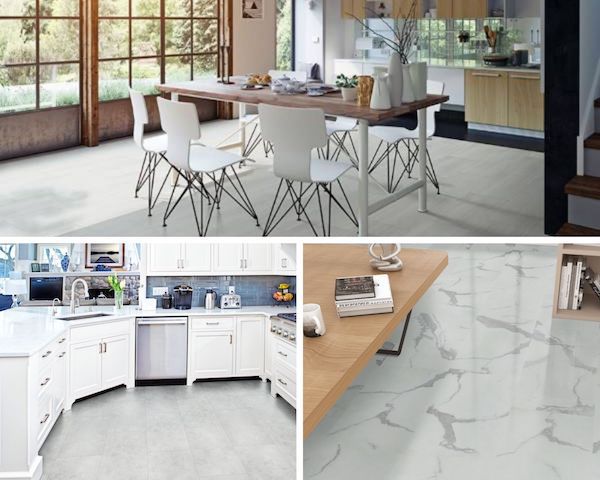 You have a lot of choices for your home's flooring, from fuzzy carpet to rustic wood, industrial concrete, or crisp ceramic tile. But, you can't beat hardwood or natural stone flooring for its versatility and timeless appeal — unless you choose luxury vinyl tile.
Real wood flooring has long been desirable for its character and beauty, but as families became busier, it became impractical to spend all that time polishing and waxing real wood. Plus, it's just not appropriate for every room in the home, such as bathrooms and kitchens.
Natural stone flooring has been another popular choice — marble, especially, has been treasured as the ultimate in opulence and elegance. Again, however, it takes a lot of labor to seal it, polish it, and protect it against moisture and stains. It's also very expensive, and therefore impractical for many homeowners.
Water-resistant luxury vinyl tile flooring allows you to enjoy flooring that would normally take extra effort to maintain without the added work and worry. There are many other luxury vinyl tile benefits as well, such as return on investment, ease of installation, versatility, and, of course, beauty.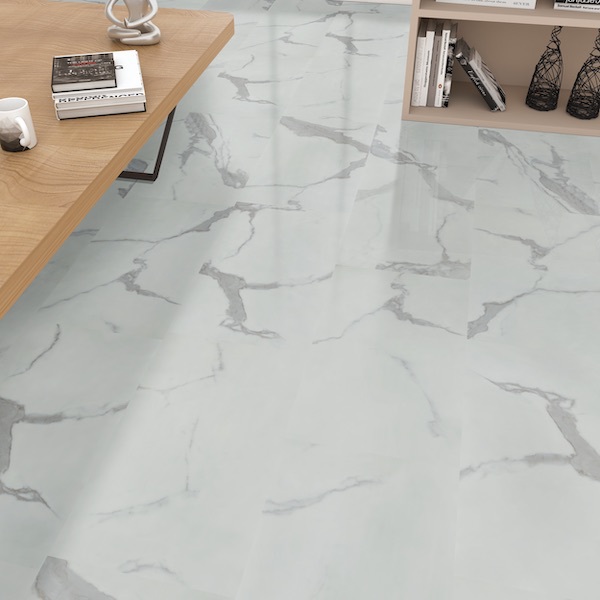 There are two basic types of LVT on the market today: Luxury Vinyl Planks, which resemble natural hardwood flooring, and Luxury Vinyl Tile that replicates the look of natural stone. The main difference is, aside from the materials they reproduce, that wood-look LVT is shaped in planks like real wood, and stone-look tile flooring comes in a variety of shapes: planks, squares, and rectangles of varying sizes.
The Trecento Collection from MSI is one of our most popular types of stone-look LVT. It's available in a variety of patterns, each with an elegant, neutral palette that's easy to coordinate with any style of decor. It is a rigid-core tile in a convenient 12" x 24" size, which makes it easy to install. It's a "floating" type of flooring, which installs by simply clicking one tile into the one beside it. This easy installation makes it an appropriate choice for DIY projects and reduces the amount of labor expense for professional installation.
If you've admired the look of natural marble, stone and tile in high-end homes, fancy hotels, or in the pages of decorating magazines but thought it was impossible to have in your own home, think again. Marble-look LVT patterns such as Calacatta Marbello in the Trecento Collection offer bold, authentic marble veining against a white background. With real marble flooring, you'd always worry about staining and etching, and keeping it bright white would seem like an insurmountable task. However, vinyl flooring care and maintenance are a breeze. With this in mind, you can feel confident about installing it even in high-traffic areas such as entryways, hallways, and family rooms.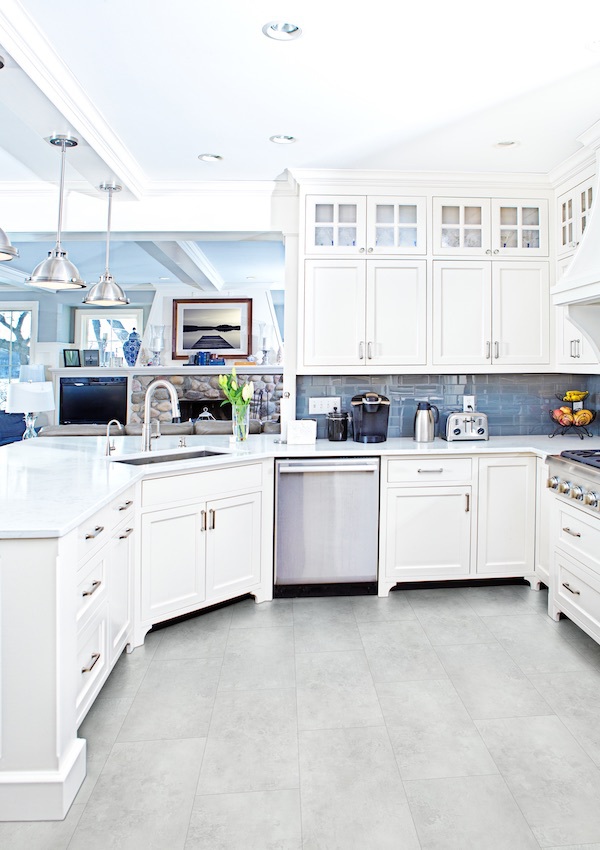 The bright-white kitchen trend is here to stay, although the latest versions have more color and character than the ultra-minimalist kitchens in previous years. A natural stone-look floor, with shades of pale gray, offers a sophisticated contrast to white or pale-wood cabinetry. For example, Mountains Gray LVT flooring not only looks like natural stone, it even replicates the texture, so it isn't as slippery when it gets wet — a great feature for kitchens and bathrooms. Plus, LVT is 100% waterproof, so there's no need to worry about water damage from the spills that inevitably happen.
Contemporary homes call for flooring that's simple yet elegant, easy-care yet full of character. Natural-stone-look LVT is well-suited for the job. One way to achieve this is by incorporating the subtle patterns and neutral shades found in natural stone — travertine, marble, limestone, and so on. Real stone tiles have veining, swirls, specks, and striations, and MSI's stone-look LVT does, also. Consider, for example, White Ocean vinyl flooring. It features long, linear striations in shades of gray, white, and taupe, a soothing combination that will make any room into a soothing, comfortable haven.
Although it's undeniably beautiful, one of the issues many homeowners have with natural stone tile is the hard, cold feeling it can have underfoot. This is especially an issue in bedrooms, family rooms, or any other room where you're likely to have bare feet! Here's where LVT has a distinct advantage. Due to its construction, it feels warmer to the touch than real stone — you'll love that on cold winter mornings. LVT is also quieter than many other types of flooring because it absorbs sounds such as footsteps and ambient noise.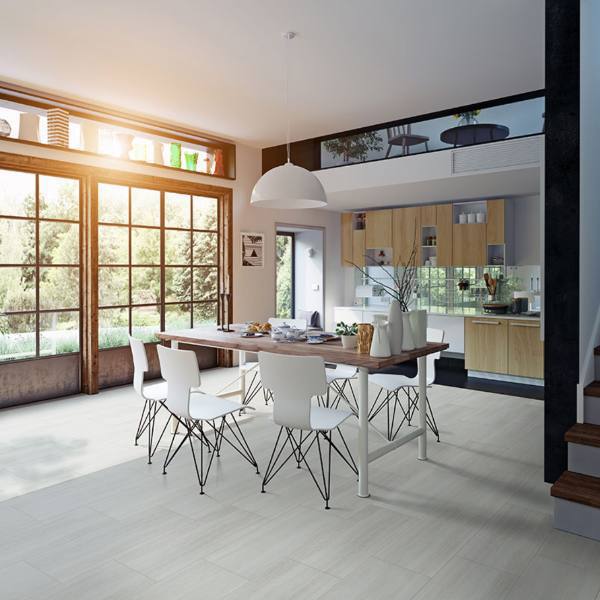 Finally, if all of these features weren't enough to convince you to check out stone-look LVT, there's the price tag. Compared to natural stone, LVT is one of the best bargains in flooring options. Marble-look LVT is a fraction of the price per square foot of real, natural marble, and the same can be said of other types as well. You can do it yourself if you desire — matching pieces such as end caps, stair-nose pieces, T-molding, and quarter-rounds are available to give your project a true professional polish, making the finished result even more authentic. Luxury vinyl flooring videos are available to teach you how to install it properly and give you tips to make the process go more smoothly.
Visit MSI's web gallery to explore the Trecento Collection as well as our other collections of wood-look and stone-look luxury vinyl tile, and try out our flooring visualizer tools to see how they'll look in your own home. When you consider all the pros and cons of luxury vinyl tile, you'll see that it's the perfect intersection of practicality, value, and style.
Read More on Natural Stone Look Flooring
Current Obsessions: Porcelain Tile That Looks Like Natural Stone Flooring
Natural Stone Looks In Porcelain Tile You Have To See To Believe
Achieve No-Fuss Natural Looking Stone Floors With Luxury Vinyl Tile