Outdoor Oasis: Best Travertine Tile For A Cool-To-Touch Floor
November 07, 2017
Choosing the right flooring for your carefully-planned outdoor living space is one of the most important decisions; it can make or break the entire design. Not only is outdoor flooring a visual experience, it's a sensory experience as well. Beauty is a consideration, but in outdoor spaces you also need to consider how well it holds up to the weather, its safety and slip resistance —and how it feels underneath your bare feet.
Although there are many great outdoor flooring options, travertine tile has all these important qualities in abundance. Travertine tile is recommended for outdoor use even in areas with freezing temperatures. Its natural, neutral coloration blends with any outdoor landscape. Its rough texture and slip-resistance make it perfect for pool decks. And even in the heat of the summer, travertine tile's pale color and porous texture keep it noticeably cooler than other outdoor flooring options. Kick off your shoes and relax while you browse this list of popular travertine tile ideas for the home.
Tuscany Walnut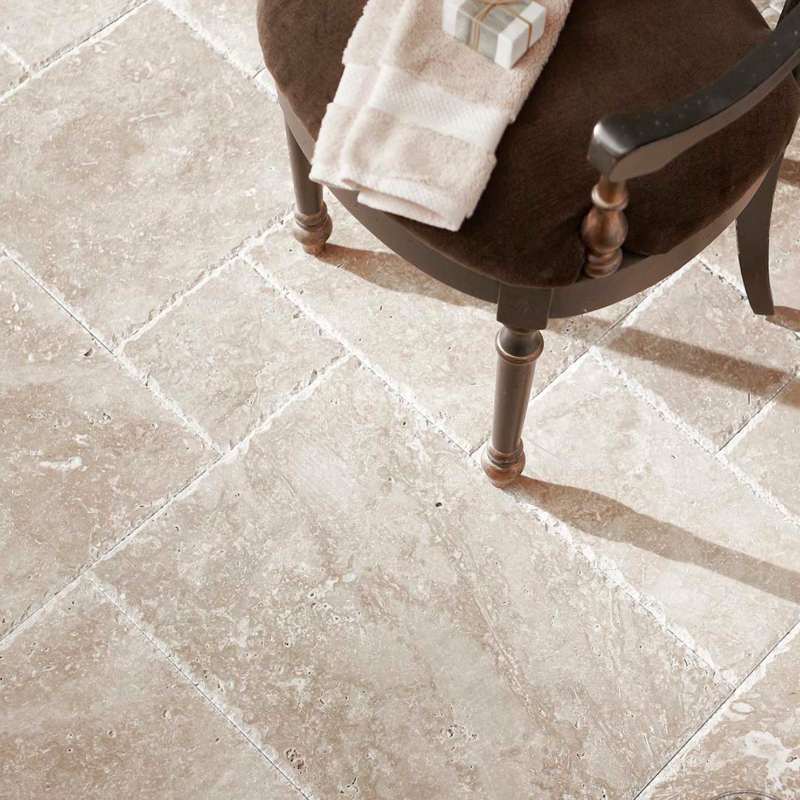 Featured: Tuscany Walnut Travertine
One of the reasons homeowners choose travertine tile is its natural, rustic appearance that blends in with the landscape with a timeless feel, like it's been there for ages. Tuscany Walnut Travertine helps to create this look. Its tumbled edges are rough and rugged, and it is available in a wide range of sizes so you can create various patterns and fit it into any design. This slip-resistant tile is also a great choice of floor tile for indoor wet areas, such as bathrooms or spas.
Golden Leaf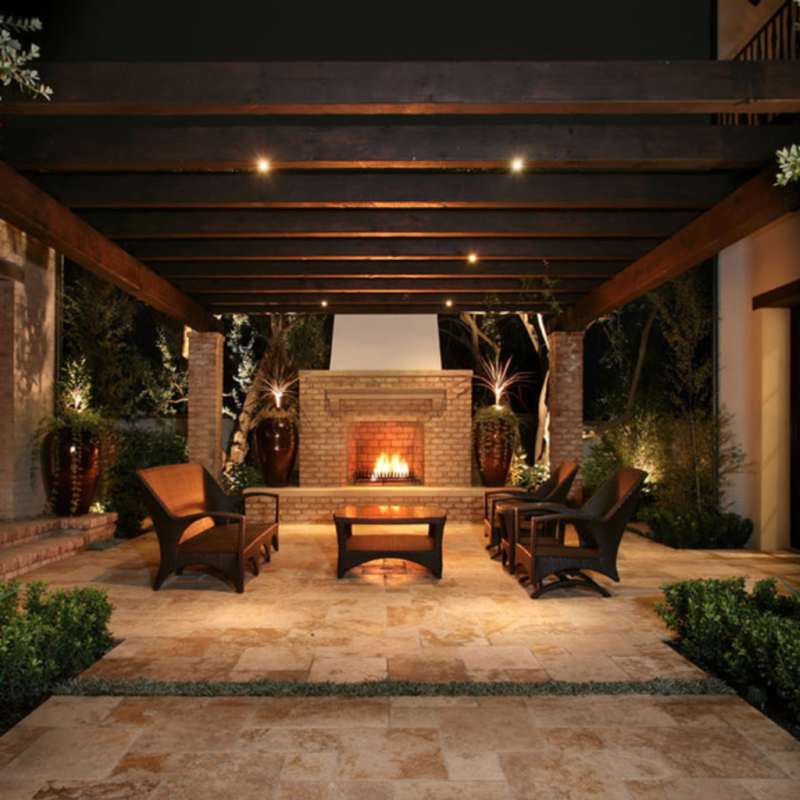 Recreate this look with MSI's Golden Leaf Travertine Pavers (Photo Credit: Houzz)
With its warm golden tones accented with swirls and veins, Golden Leaf Travertine Pavers are full of character. This travertine floor helps create a sophisticated look, no matter where it's installed, with colors that complement many other popular building products. It looks as good wet as it does dry, its pattern just as inviting in evening or bright sunshine.
Silver Travertine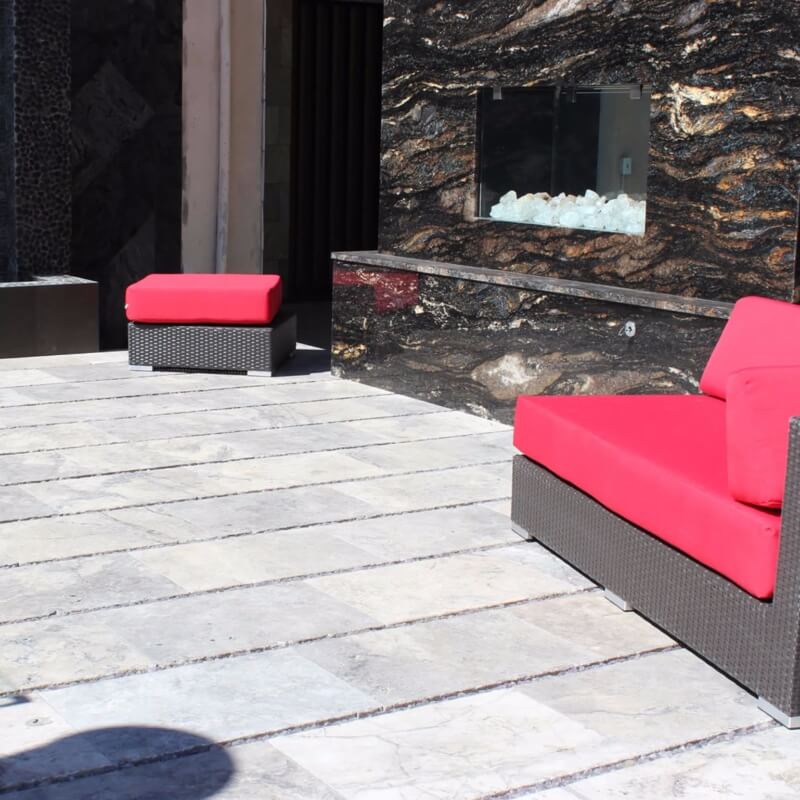 Featured: Silver Travertine
Most people think of travertine in shades of beige, but Silver Travertine travels to the gray side. Pale in hue, this paver reflects the sun instead of absorbing it, so even on the brightest summer day you won't burn your toes walking across it barefoot. You'll love all of the options available with this tile — honed, chiseled, or tumbled edges, smooth or split-face finish, and many different sizes.
Tuscany Beige
Featured: Tuscany Beige Travertine
Travertine tile has become a popular option for pool copings and decks, much more attractive than plain concrete. Tuscany Beige Travertine is available in specific shapes and sizes for pool copings, which match many other sizes of paver so you can create your own backyard oasis. Its slip resistance and durability, as well as foot-friendly coolness are just as important as its neutral, complementary coloration.
Tuscany Alabastrino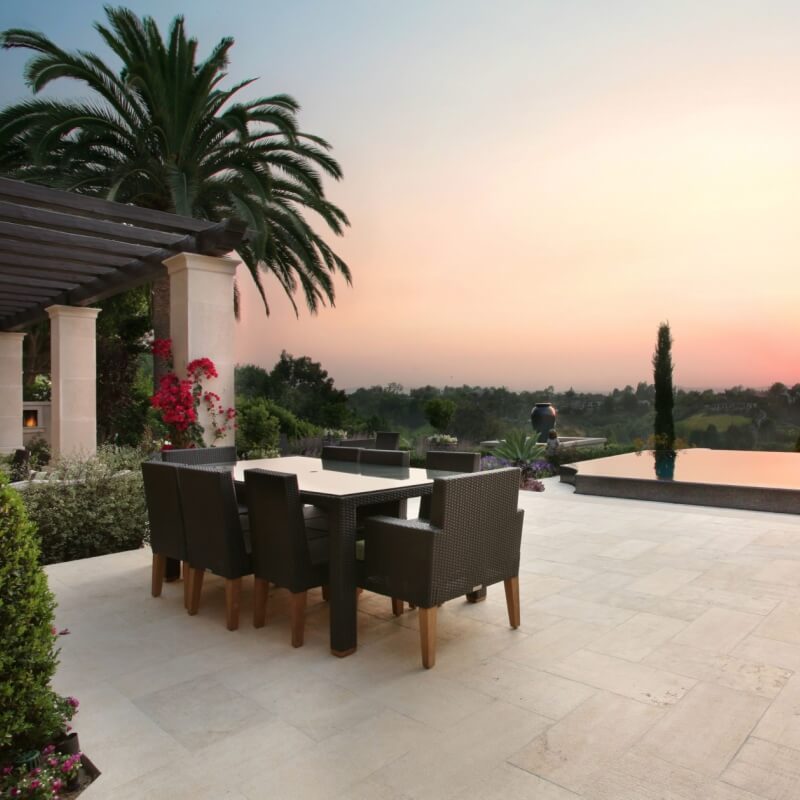 Get this look with MSI's Tuscany Alabastrino Travertine (Photo Credit: Houzz)
With a pale, creamy beige and veining that resembles marble, Tuscany Alabastrino Travertine is an elegant, refined choice, popular for flooring indoors as well as out. Like most of MSI's other travertine tiles and pavers, it is available in a pattern kit with the pre-selected shapes and sizes to create the attractive Versailles pattern.
It's hard to imagine a more foot-friendly flooring choice for outdoor spaces than travertine tile. Your toes won't burn as you walk across the patio in the summer sunshine, and you won't slip when it rains. Visit MSI's website to see the entire collection of travertine flooring as well as many other outdoor hardscape options.