Hotel Bathroom Renovation: One-Stop Source For Vanity Tops, Shower Surrounds, Flooring And More
September 04, 2023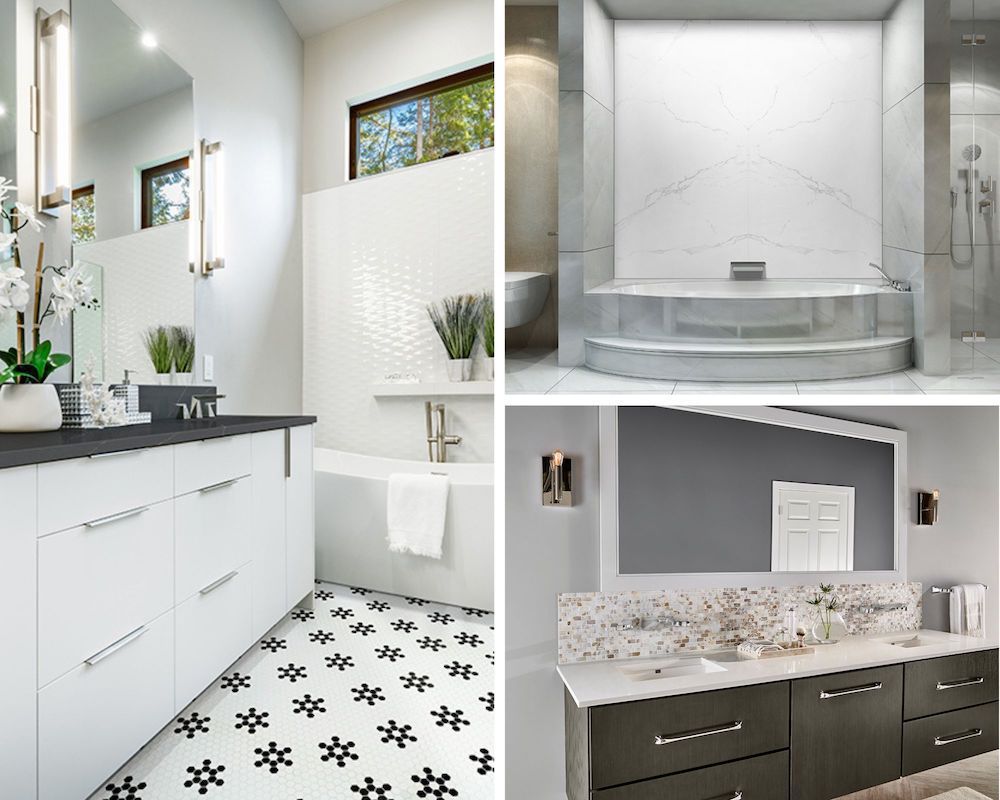 Welcome to MSI, your ultimate destination for all your hotel bathroom renovation needs. As your comprehensive one-stop source, we specialize in providing top-quality vanity tops, shower surrounds, flooring, and an array of other essential elements.
With an unwavering commitment to excellence, we cater to every aspect of your project, ensuring that your hotel's bathroom transformation is nothing short of extraordinary. Discover a seamless and hassle-free experience with MSI as we redefine elegance and functionality with our bathroom upgrade solutions.
Hotel Bathroom Vanity Tops
Choosing the right vanity top is a crucial decision in designing a hotel bathroom. Guests expect surfaces that look great and meet their needs throughout their stay. At MSI, we offer an impressive range of hotel vanity top materials that are visually stunning and built to withstand the demands of a high-traffic hotel environment. Here are just a few examples of our exceptional offerings:

Stellar White™ Quartz vanity tops combine the perfect blend of contemporary elegance and lasting durability. With its subdued white background and delicate gray flecks, this premium quartz adds dimension and character to any bathroom, while its low variation makes it perfect for urban chic or industrial design aesthetics. But what truly sets this countertop apart is its resilience, ease of cleaning, and virtually maintenance-free nature. Stellar White™ can also be used for accent walls, backsplashes, and countertops, expanding the possibilities for a cohesive hotel suite.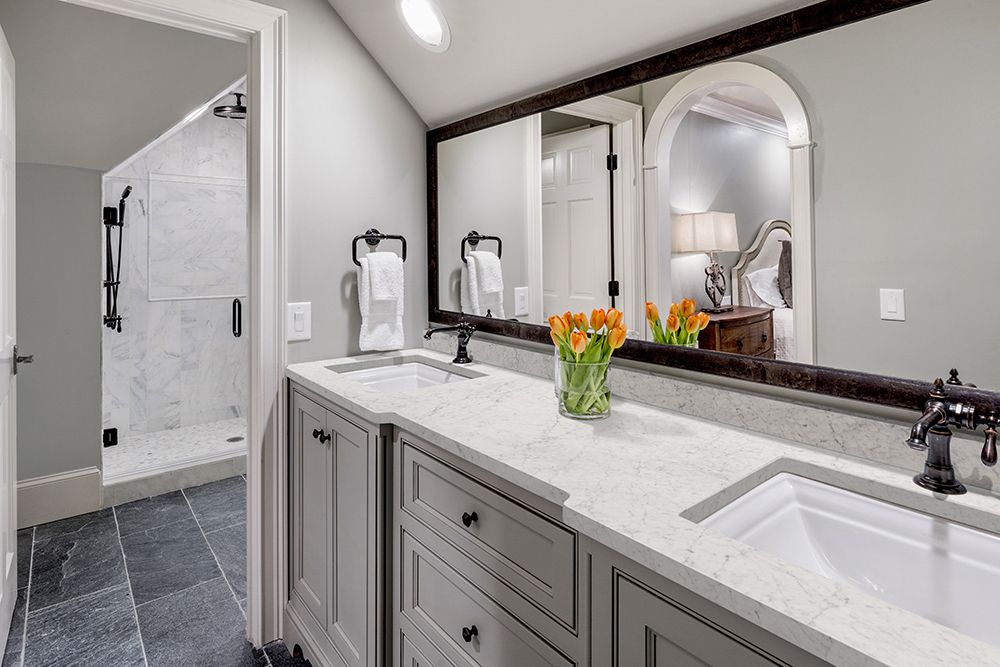 Add a touch of timeless luxury to your bathroom with White Carrara Marble countertops. This iconic Italian marble features a blend of gray and white shades to create a classic and sophisticated look. Available in various finishes and formats, White Carrara Marble is perfect for creating stunning vanities, floors, and accent walls. Its versatility and enduring beauty make it a popular choice among designers and hoteliers alike.


Hotel Bathroom Flooring
Hotel bathroom floors should be visually appealing, durable, and easy to maintain. Our range of flooring options meets these requirements seamlessly for beautiful, long-lasting floors that hold up to moisture and heavy foot traffic. From versatile Luxury Vinyl Flooring to creative porcelain tile, we have a wide variety of bathroom flooring solutions for every hotel.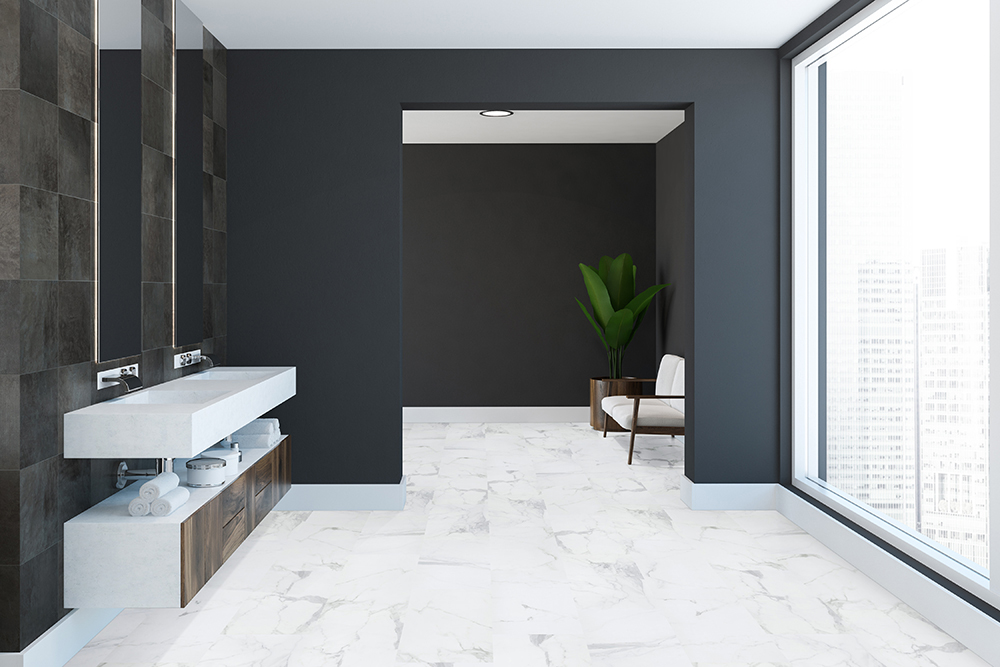 Calacatta Legend™ Luxury Vinyl Tile combines the classic beauty of natural stone with modern convenience. This LVT's white background and smoky gray veins provide a sophisticated look that is always in style. These vinyl floor tiles are 100% waterproof and feature CrystaLux™ protection for durability against everyday wear and tear. The innovative 1MM pre-attached backing provides sound protection and comfort underfoot, and PietraTech™ polish adds a smooth marble-like finish. This flooring also boasts a patented locking system and "no acclimation" technology for hassle-free installation.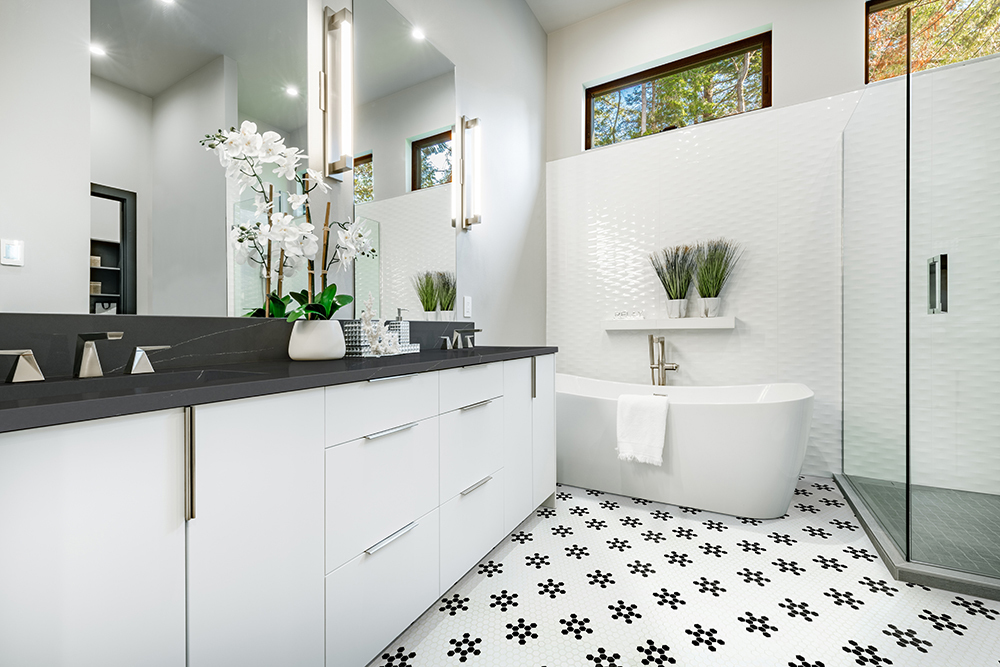 Elevate your hotel bathroom's design with the enchanting appeal of Domino White & Black Mod Petal Pattern Tile. This matte porcelain tile features a captivating 1" hexagon petal pattern with a white backdrop and elegant black accents. Thanks to the practical mesh backing, this tile is easy to install while adding interest and dimension. This unique tile blends classic and modern design elements, creating a captivating ambiance ideal for sophisticated hotel bathrooms.


Hotel Bathroom Shower and Tub Surrounds
Tub and shower surrounds play a crucial role in hotel bathroom aesthetics. Our top-quality surfaces combine the beauty of marble with the durability of porcelain for the ultimate guest experience. Check out a couple of our outstanding selections: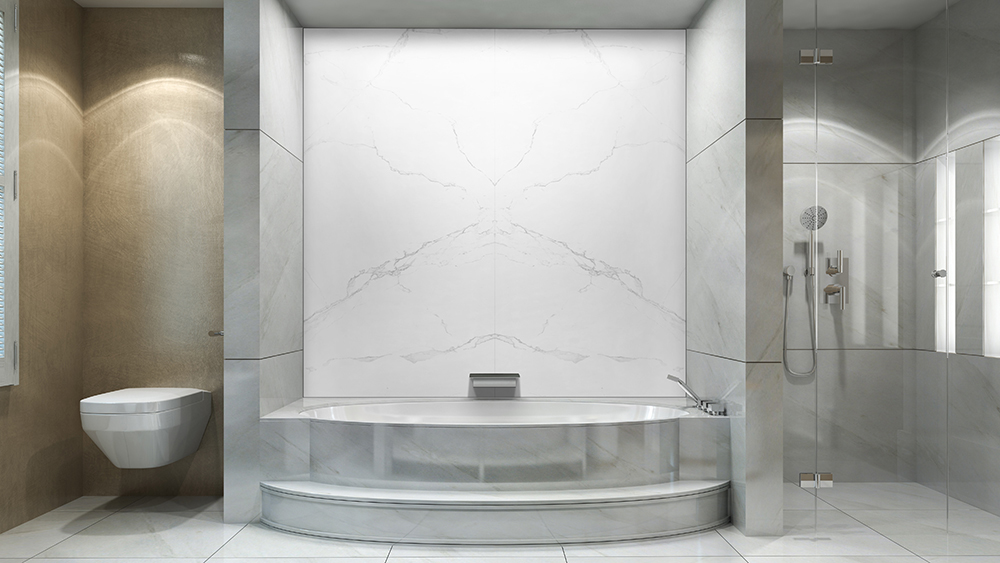 Transform your hotel shower or bath into an oasis of elegance with Glacier Pearl Porcelain Panels. This shower panel pack features a white backdrop with subtle gray veining for a vibrant and luxurious look. It also has a polished finish, further enhancing the sought-after marble appearance with the longevity and affordability of porcelain. Highly water, scratch, and stain-resistant, it is perfect for indoor or outdoor use and can hold up to the demands of busy hotels.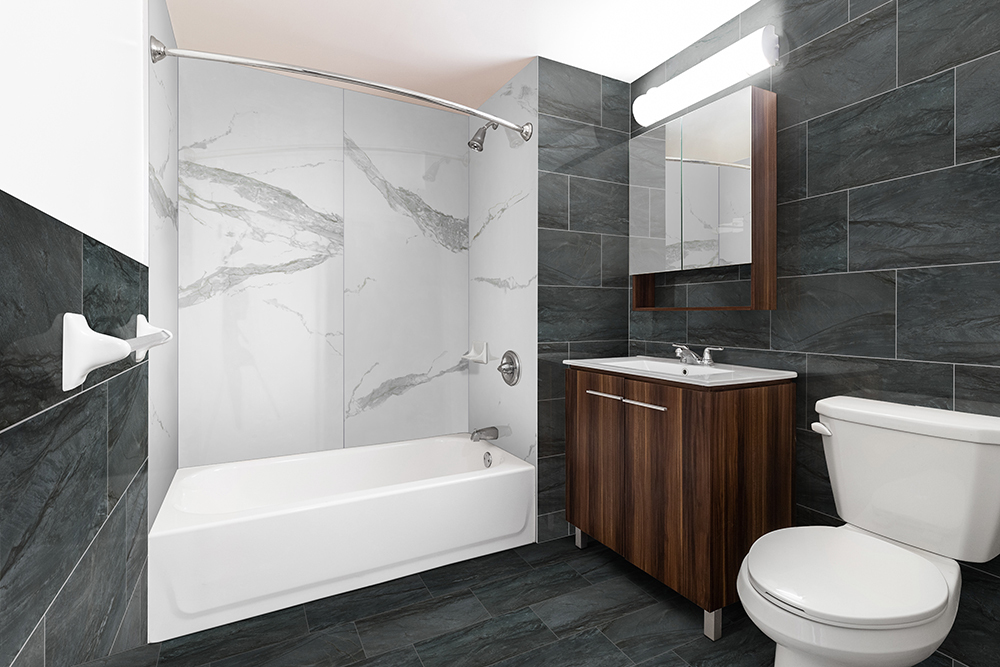 Consider Glacier Statuary Porcelain Panels for a classic yet contemporary hotel bathroom. This 4-piece panel pack mimics the appearance of marble with a white background, shadowy gray veining, and a polished finish. Like the Glacier Pearl panels, it is durable, water-resistant, and capable of withstanding scratches and stains, making it suitable for a wide range of applications. Upgrade your hotel's shower or tub areas with the refined and modern look of Glacier Statuary porcelain panels.


Hotel Bathroom Renovation with MSI
At MSI, we are proud to be your one-stop source for hotel bathroom renovation products. We offer a comprehensive range of bathroom vanity tops, flooring, and shower surrounds designed to elevate bathroom renovations to new heights of style and functionality. Our commitment to quality and durability ensures that your hotel bathrooms look stunning and can withstand the rigors of daily use.
But that's not all. Besides these surfaces, we also offer shower doors, shower pans, tubs, vanity bases, and accessories to complete your hotel bathroom project. Whether you're looking for a complete overhaul or just a few upgrades, MSI has the expertise and products to help you achieve your vision and incorporate the latest hospitality design trends.
Let us help you transform your hotel's bathrooms into spaces that leave a lasting impression on your guests. Chat with us online, visit one of our showrooms, or contact an MSI authorized dealer to explore our extensive product range and receive expert guidance for your project.