Popular
Down To Earth: Trends Inspired By Mother Nature
February 18, 2022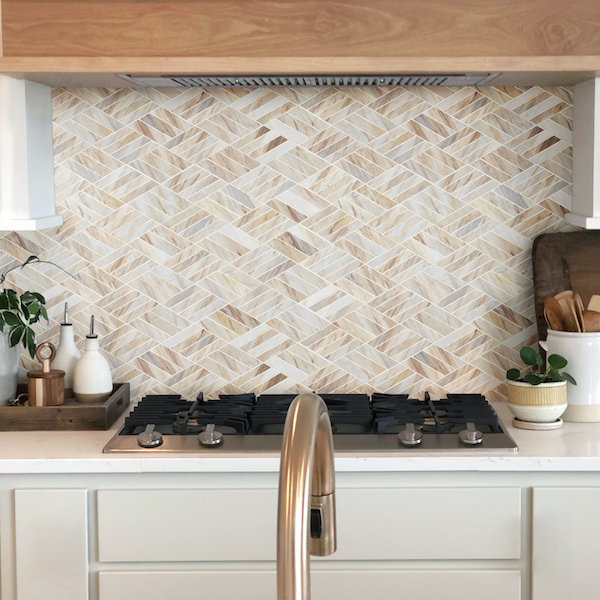 There's something about nature's enduring beauty and stunning colors that artlessly elevate a space. Maybe it's the rich, warm hues of earth tones that create inviting interiors. Or the way the grain of wood and composition of stone adds depth and character. Or possibly it's how color, shape, texture, and materials combine to form something vibrant and distinctive. For years, Mother Nature has served as an inspiration for interior design. This year, we are seeing designers and homeowners get Down to Earth in residential and commercial projects more than ever before.
From clean, minimalist monochromatic designs that can enlarge a space to bold, layered materials to integrating warm-tone foundation elements, this Top 5 Design Trend suits any style – from classic to contemporary to boho and beyond.
THE PLAYBOOK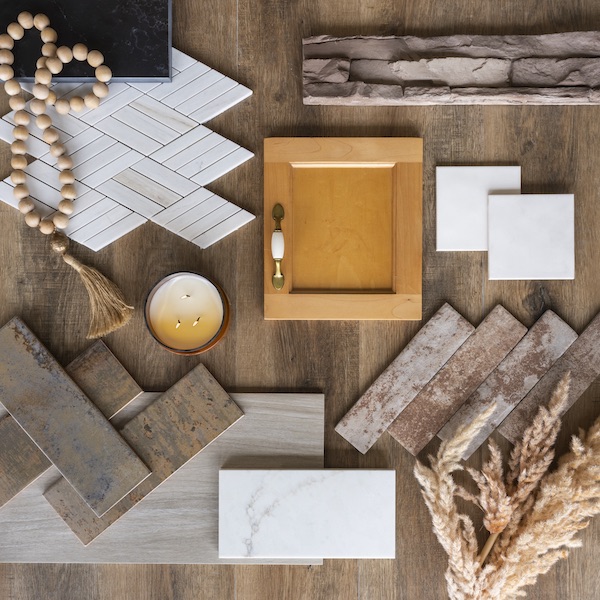 1. Dynamic shapes and patterns are everywhere you look in nature. Bring those inside with gorgeous marble tile like Angora Rhombus Polished, which adds a chic element to a space.
2. The floor-to-ceiling wood look is back. Today it's easy to layer your wood tones and wood-look materials to create a welcoming, attractive, and on-trend room.
3. The spice is right. Colors in shades of cinnamon, turmeric, cayenne, vanilla, nutmeg, and black pepper evoke warmth and comfort.
4. Be bold with black or charcoal. Add a stone or quartzite ledger to a surface to create exciting contours and add depth.
5. Get glam. Gold, silver, and copper are metals found in nature that can be used as subtle accents or daring focal points in design to bring luxury and sophistication to a space.
LAND THE LOOK: ONE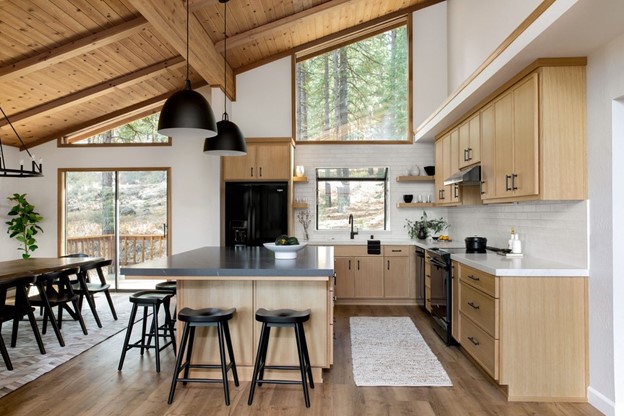 Soapstone Metropolis Concrete and Calacatta Monaco quartz countertops offer style, durability, and the look of natural stone to this sleek kitchen. Image by @nicolediannephoto.
California-based interior designer Alison Haltom combined warm, neutral tones, gorgeous wood textures, streamlined shapes, and sleek stone-look countertops to create a Scandinavian-inspired vacation home in Lake Tahoe. Wood on the floor, cabinets, and ceiling draws the eye up, while the white walls and backsplash tile accentuate the different tones and textures, making each element a unique focal point. Dark appliances, fixtures, and hardware bring a bold, modern look to the space balancing the warmth of the wood and the coolness of the white. Read more about how Alison created this stunning space here.
Achieve the look with our favorite surface solutions:
Countertops: Calacatta Prado™; Nero Mist; Calacatta Valentin™
Flooring: Brockton™ Hybrid Rigid Core Flooring; Sandino® Luxury Vinyl Planks; Bali Bluff™ Wood Flooring
LAND THE LOOK: TWO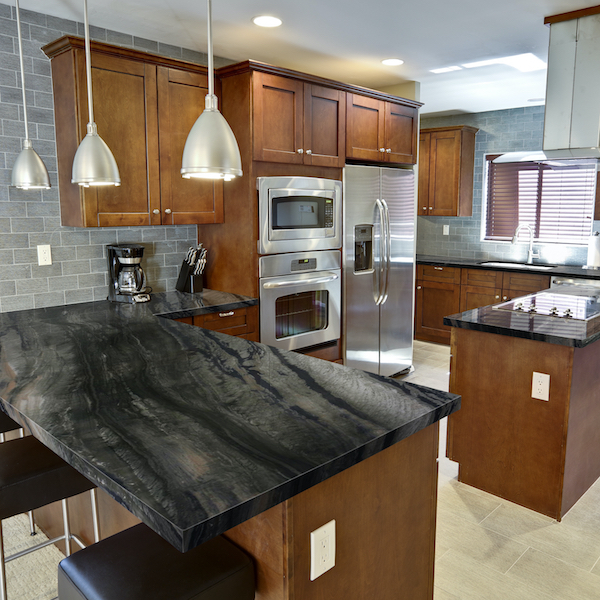 Shades of black, gray, silver, and brown ripple through the Galapagos Quartzite countertops mimicking movement in nature and adding an arresting focal point.
Everywhere you look in nature, there is movement. Whether it's light creating movement in colors, the wind gently rustling leaves, or water flowing through a river, the world around us is never still. It's that movement that draws the eye and captures attention. By incorporating materials in varying colors, textures, shapes, and patterns, you can create flow in a room, leading the eye and building excitement. The differing shades of light and dark colors bring balance to this kitchen. At the same time, the horizontal and vertical lines and different levels attract the eye to the beautiful design elements throughout the room.
Achieve the look with our favorite surface solutions:
Countertops: Cirrus Gray Quartzite; Taj Mahal Quartzite; Midnight Corvo
Tile: Myra Ivory; Renzo Dove 5x5; Marza Pearl
Flooring: Livingstyle Beige; Veneto Sand; Caldera Blanca Paver
LAND THE LOOK: THREE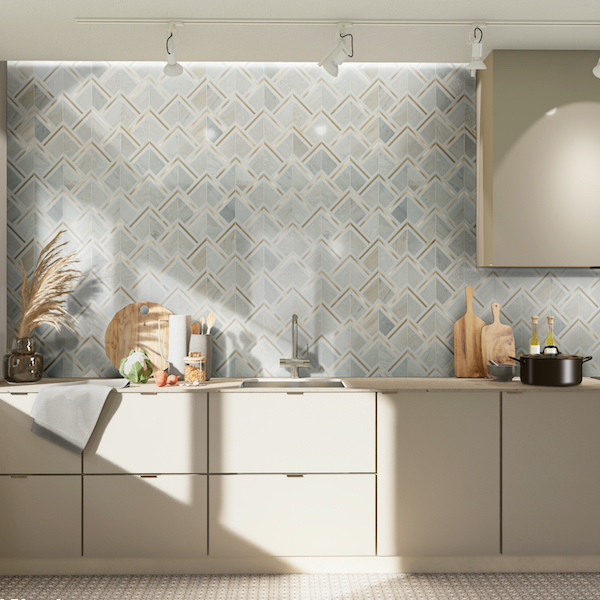 Add visual interest and a touch of glamor to a space by incorporating unique patterns on the wall, floor, and more. Luxor Kona Gold Pattern Tile features a dynamic geometric design that draws the eye and inserts dimension.
Patterns are everywhere around us. The arrangements of shapes and colors that surround us every time we step outside are some of the things that make Earth a beautiful and wondrous place. Today, more designers and homeowners elect to incorporate unique patterns into their spaces. Often, we will see these on walls and floors, though many people are bringing the trend to countertops and ceilings. Geometric patterned tile complements any design style, defining surfaces and creating visual interest. Here the smaller, tighter pattern on floor draws the eye to the intricate angular pattern in soft, subtle hues on the wall, which then brings the look upward, elongating the room. No matter the size of a space, shapes, lines, and color will enhance the overall aesthetic.
Achieve the look with our favorite surface solutions:
Tile: Metro Gold Pattern; Urban Wave Greige; Verona Gold Pattern
Flooring: Arabescato Carrara 1" Hexagon; Bianco Dolomite Crema Dotty; Cecily Pattern
LAND THE LOOK: FOUR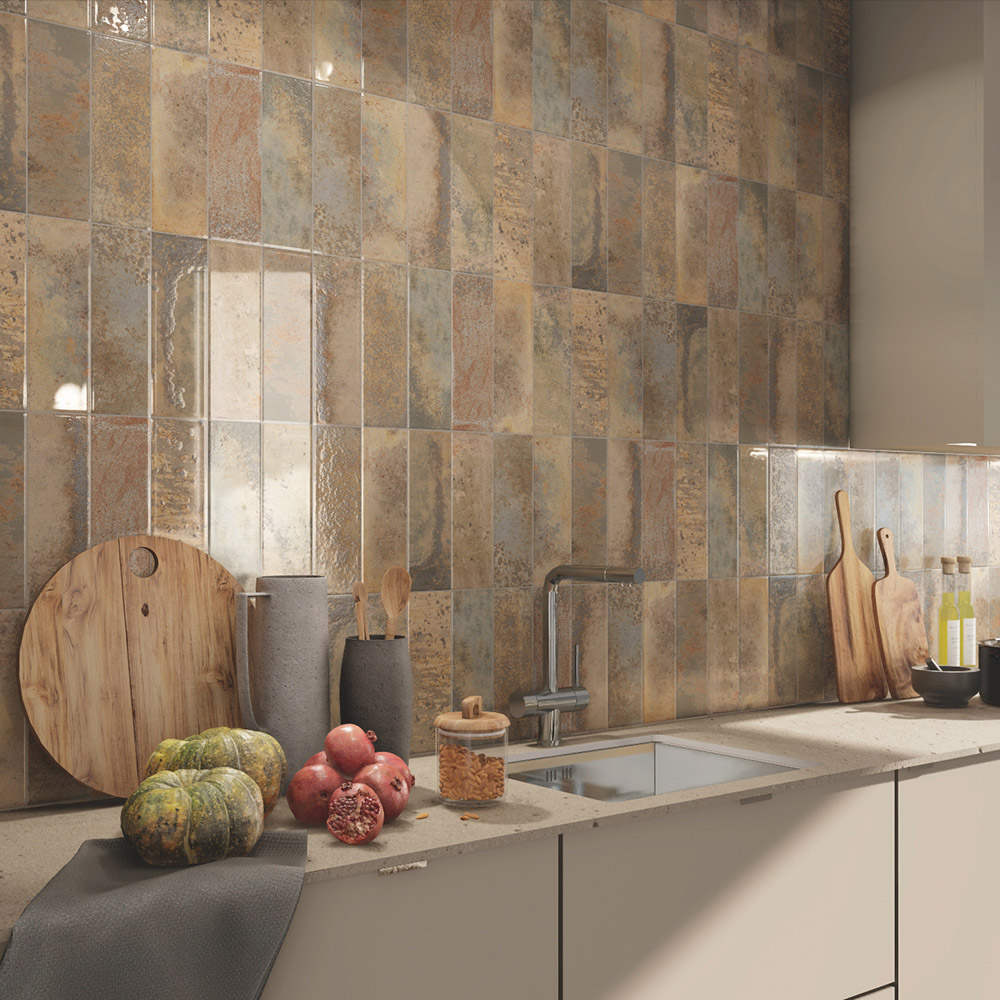 Bring balance to a space using materials that combine several earth tones, like Marza™ Rust Subway Tiles. The stunning gold, copper, bronze, and gray hues complement brighter, natural tones like cream, sage and mint. A classic pairing in nature.
When entering a Down to Earth room, the use of rich colors is often most evident. However, like in nature, balancing those lush hues with soft pastels or cool colors is becoming more prevalent in interior design. Tiles or countertops that feature a mix of colors and finishes provide a strong foundation for solid color cabinets, gorgeous paints, or furniture in shades of sage, blue, or gray that tone down the deep earth tones and highlight the beauty of the space. This fresh approach can update a room, making it brighter while still evoking a cozy feeling.
Achieve this look with our favorite surface solutions:
Tiles: Rustic Gold; Brickstone Red; Marza Pearl
Countertops: Fusion Quartzite; Pacific Salt Quartz; Mystic Gray Quartz
LAND THE LOOK: FIVE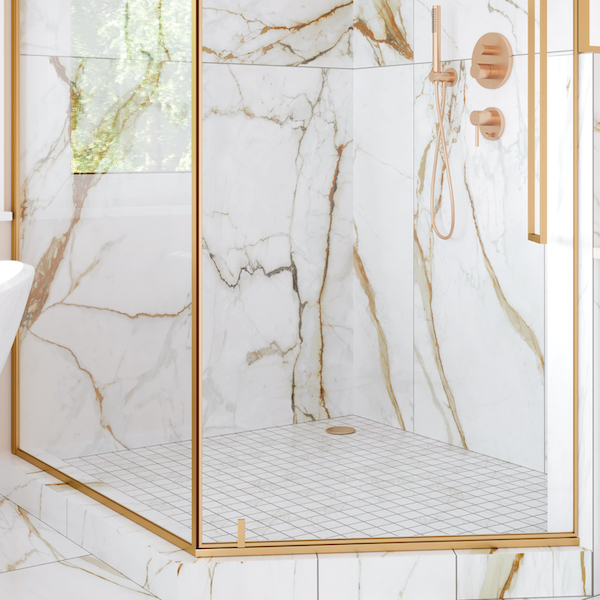 All that glitters… Gold accents, even in a minimal form create an atmosphere of luxury. It's easy to achieve this look through hardware, mirror frames, and even gold veining in a surface material, like Calacatta Marbella Porcelain Tile from MSI's Regallo Collection.
Gold has been used in architecture and interior design for centuries. Not only is this metallic color consistently beautiful, but it also creates a feeling of elegance and luxury. However, too much gold in a space can be overkill, which is why this year, we are seeing designers and homeowners go minimal with the always on-trend color. Gold is finding its way onto floors, walls, and countertops through the veining in quartz and marble. This delicate accent grabs attention without being overpowering. Versatile and chic, gold works with any color palette and in any room.
Achieve this look with our favorite surface solutions:
Tile: Savoy Crema; Adella Calacatta; Statuario Gold
Countertops: Calacatta Miraggio Gold™; Calacatta Laza Gold™; Calacatta Gold Marble
DESIGN FOR ALL SEASONS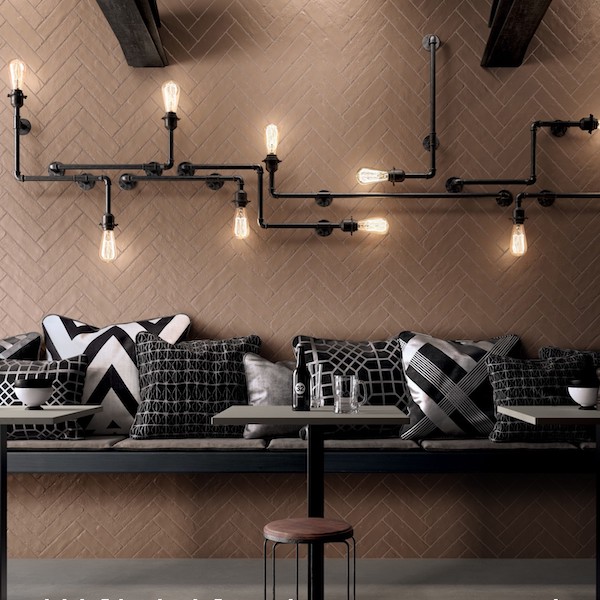 Commercial and residential projects are integrating warm earth tones to create vibrant, inviting spaces. Brickstone Putty Brick Wall Tile makes it easy to bring shades of taupe and cream into a space adding texture and movement.
The phrase "the world is your oyster" is never more apt when it comes to design inspired by the natural beauty of our world. Inviting warm, neutral tones into the home is nothing new. Still, in 2022 we see this trend taken to new heights, with designers and homeowners incorporating it on multiple surfaces and exploring even more ways to bring it to a range of architectural styles. Designing Down to Earth offers a versatility that will always be in demand.
If you try this surface trend in a project, tag us on Instagram - #msisurfaces. You are a source of our inspiration, and we love seeing your designs pop up on our feed.