How To Freshen Up Your Outdoor Spaces Using Piedra Pebbles
July 19, 2021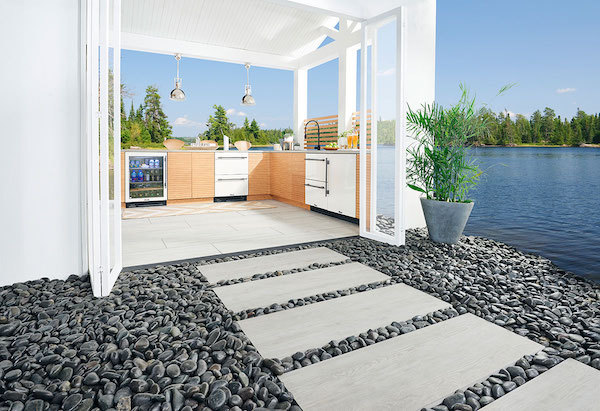 Is your garden looking tired, but you're not sure how to liven it up? Adding pebbles is a great way to elevate the space and breathe new life into your garden design.
Pebbles keep things natural and add a touch of charming sophistication. Because of their size, they fit into whatever area or shape you want to fill and bring beautiful order to your outdoor spaces. This makes them one of the most flexible options for reinventing your outside areas.
If you're wondering whether pebbles can create the effect you're looking for in your garden, read on for inspiring outdoor ideas.
Pebbles and Pavers for Patios
For a breezy beach-inspired patio, create patterns by laying natural stone pavers and framing them with pebbles. When choosing your pebbles, remember that darker pebbles absorb heat and will affect the temperature of the soil below. Light-colored pebbles deflect heat and light and will have less effect.
Natural Patios with Dorado Beach Pebbles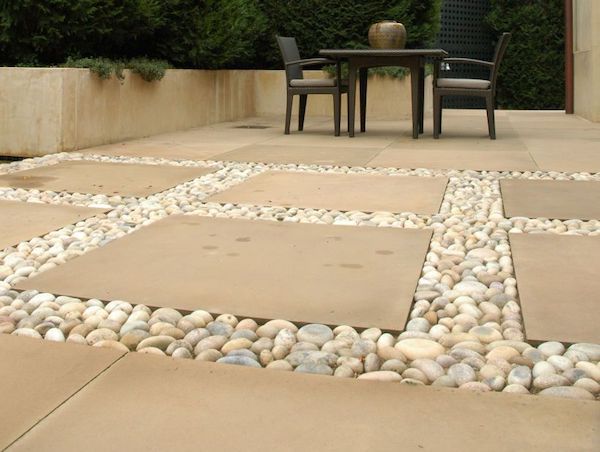 Photo Credit: @ecooutdoor on Pinterest
The neutral brown tones of Dorado beach pebbles lend a fresh brightness to your outdoor area while keeping plant growth under control. Made from finely polished quartzite rocks, Dorado beach pebbles are versatile and long-lasting. Use them to create patterned outdoor areas that are welcoming in an understated, relaxed fashion.
A pebbled patio will absorb rainwater, allowing it to seep into the ground instead of running off. This prevents damage from soil erosion and benefits the environment.
Bold Contrast with Ash Beach Pebbles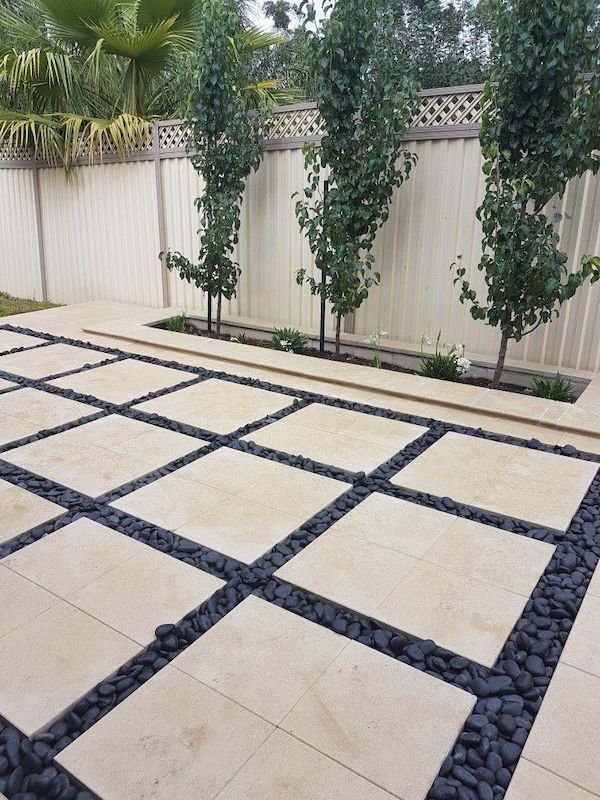 Photo Credit: @ruemagazine on Pinterest
For a bold, dramatic space that is utterly sophisticated and modern, choose dark Ash beach pebbles. These shiny black and gray stones spark sharp contrast that adds visual interest to outdoor flooring. Pair with pale, natural slab stones or a light-colored outdoor patio tile for a fresh take on the humble patio.
Ash beach pebbles can also be used for walkways, at the base of trees to control weed growth, and to add visual interest and contrast at the base of landscape features such as fountains.
Sophisticated Succulent Beds

Photo Credit: @ruemagazine on Pinterest
Pairing exquisite Himalaya White Pebbles with patterned succulents creates show-stopping feature beds. The delicate white and beige pebbles provide a clean background that shows off the contrasting colors of the succulents to perfection.
Himalaya White Pebbles are made of marble that is polished or tumbled to achieve a roughened surface. Using garden rock in flower beds will help keep weeds at bay. Pebbles help deter animals from messing up the beds.
Water Feature Focal Points
Create a statement piece of aquatic art to fill your garden with the gentle sounds of rippling water. River rock is a go-to for all types of water features. The true beauty of this shines through under wet conditions.
Pair river rock with fireglass in the color of your choice for a perfect marriage of glisten and sparkle or use pebbles to create a water feature as part of your pool surroundings.
There are two ways to think about positioning a water feature. The first is to place it in a central point where it will be highly visible and accessible. The second is to conceal it as a surprise in a hidden treasure corner of the garden as a reward for those who go exploring.
Fire Pit Flooring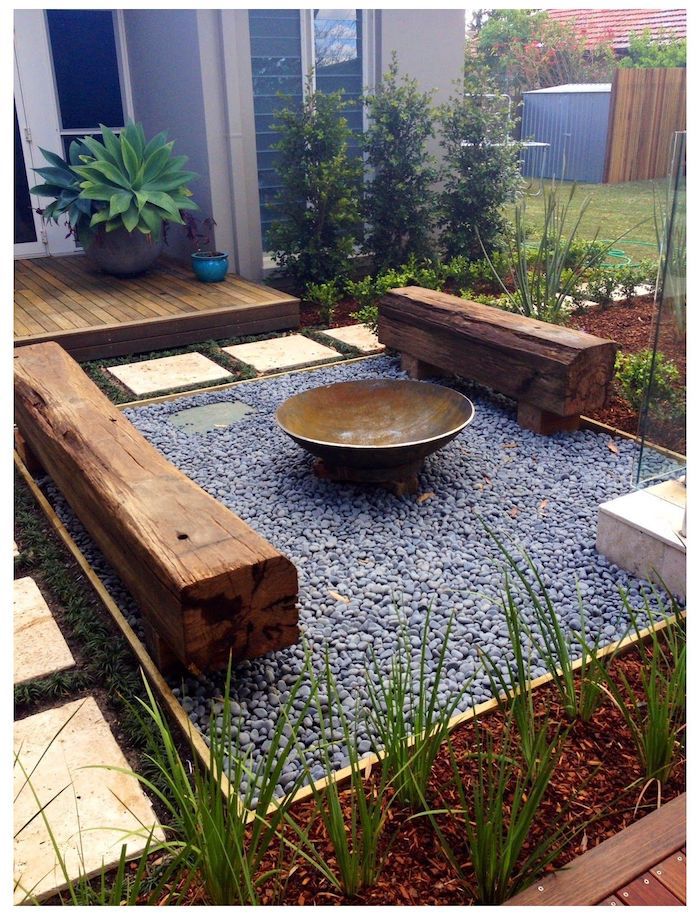 Photo Credit: @amazon on Pinterest
Surround your free-standing fire pit with Mexican Beach Black Pebbles for a natural surface that is safe, doesn't easily show dirt, and is comfortable to walk on. Mexican Beach Black Pebbles look as if they've just been plucked off the beach. They bring the relaxed vibe of sun, surf, and lazy summer days to your home.
Enhancing Awkward Spaces
Most homes have an area that is tricky to work with. For some, it's the narrow gap between the building and an external wall. Other homeowners may struggle to separate the edges of the flower beds from the lawn. Hardscaping with pebbles can evolve awkward spaces into pockets of creative beauty.
Footpaths, Walkways, and Meandering Trails
Pathways can be practical, such as the regular one that leads from the gate to your front door. When you're creating a garden of wonder, let the trails form part of the whimsical wonder of the magic you're creating.
Landscape rock can be installed with very little preparation or labor. They can be placed anywhere, so let your path meander between trees, around flower beds, and toward your design focal points. Choose stones that will provide a smooth, comfortable surface for walking on and you'll have a path that stands the test of time.
Pebbles for Every Part of Your Garden
Defining your garden with pebbles opens up endless possibilities. Every aspect of your outdoor space can be enhanced and improved. If you need some inspiration, feast your eyes on these possibilities.
Create Your Own Paradise With Pebbles
Your home is your kingdom and your garden should reflect that. With so many options to choose from at MSI, you can fashion your dream space to be both practical to use and gorgeous to look at.
Pebbles offer a no-fuss solution that checks all the aesthetic boxes too. For information on how pebbles can enhance your garden, contact us today.