4 New Brick-Inspired Porcelain Tile Colors Create Endless Possibilities
September 02, 2021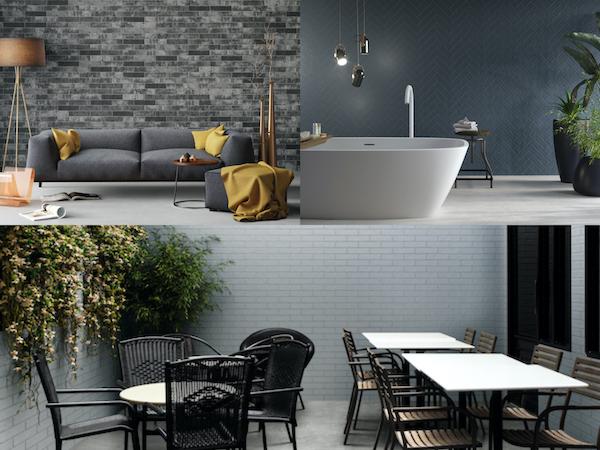 Brick walls add a special touch of weathered charm to a room, but they're a handful to maintain. Ordinary bricks are porous and soft, easily chipped and stained. To preserve the appearance of brick, regular resealing is essential – unless they are brick-look porcelain tile!
Imagine combining the rustic charisma of naked brick with the low-maintenance qualities of porcelain tile? That dream has become reality with the MSI Brickstone Collection.
Let's take a look at all the reasons why these tiles are a brilliant solution for those areas where bricks would look best.
Why Choose Brick Look Porcelain Tile?
When it comes to the authentic rugged beauty of a rough brick installation, can a porcelain tile come anywhere close to that texture? MSI's Brickstone Porcelain Tile Collection captures the weathered essence of brick with all the scuffs and imperfections.
One of the distinguishing features of a brick installation is the rectangle of grouting surrounding each brick. Brick look porcelain tile mimics that feature flawlessly. Even though both authentic bricks and Brickstone offer a rich variety of colors to complement and contrast a room's design - that's where the similarity ends!
Easy Installation
Unlike traditional brickwork, no masonry skills are needed to install Brickstone. You can apply this gorgeous finish to any surface where traditional wall tile can be installed, such as a kitchen backsplash, shower cubicles, and feature walls.
Low Maintenance
The rough surface of traditional brick tends to collect dust and dirt. This course finish is also what makes bricks so hard to clean, especially when used as a backsplash or accent wall.
On the other hand, porcelain tiles wipe clean with ease due to the smooth, crevice-free surface. For heavy-use areas such as bathrooms and kitchens porcelain tile is germ-resistant and won't get scratched or stained.
The surface of porcelain tiles is non-porous and won't absorb liquids which can lead to tile damage and discoloration. They are safe to use in splash zones and other wet areas.
Patterning
When it comes to tile patterns, brick porcelain wall tile is versatile and can be installed in many ways. The most popular tile patterns are:
• Running bond
• Stack bond
• Basketweave
• Diagonal basket weave
• Herringbone
• Spanish bond
These are the same patterns used for traditional bricks and can be applied when installing porcelain tile and stone.
Resistant to Fading
The carefully created flow of color and texture in a room can be thrown off by wall colors that fade due to exposure to sunlight. Unlike a painted surface, porcelain tiles are resistant to light and won't fade over time. Porcelain tiles are suitable for outdoor use.
Versatile Color Range
It's a known fact that wall color sets the tone of a room. MSI Brickstone Tile comes in a range of neutrals that embrace the space in the mood you want to create.
Whether you're reaching for dark and dramatic, light and airy, warm and welcoming, or anything in-between, there's a neutral Brickstone tile to create a wall-canvas to suit your vision.
4 New Brickstone Colors To Romance Your Senses
Four new colors have been added to the MSI Brickstone collection. While adding to the range does make choosing a color scheme a tiny bit harder, fear not, there is a plan.
For imagining what the colors and textures would look like combined in a kitchen, make use of our backsplash visualizer.
1. Charcoal
For a dappled wall in stormy shades of gray, MSI's Charcoal Brickstone sets a deliciously moody tone that exudes elegance. The monochrome patterns form a perfect contrast for pops of bright color, such as mustard yellow cushions and throws.
Paired with the gleam of brass and a neutral lampshade, the Charcoal wall becomes a focal point that holds its own in a room.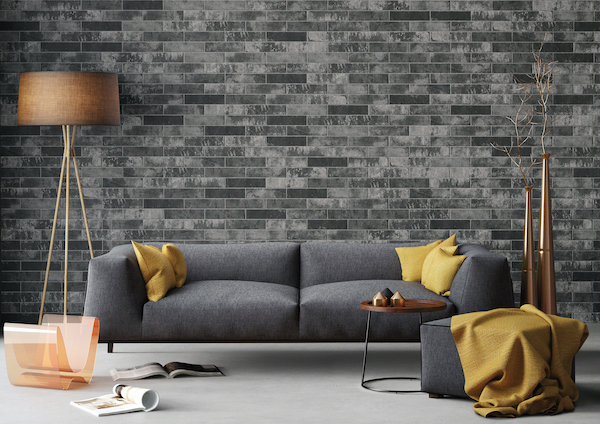 2. Fog
This smooth gray tile imbues a sense of calm to this outdoor commercial space. Imparting tranquility, the grouting detail adds interest and creates a geometric background to the greenery and stark black door and window frames.
Natural light plays across the surface of the tiles, highlighting the rich textural intricacies that are part of the charm of this tile.
Whether used in a home or business setting, Fog Brickstone is a delightfully demure wall treatment, understated and elegant.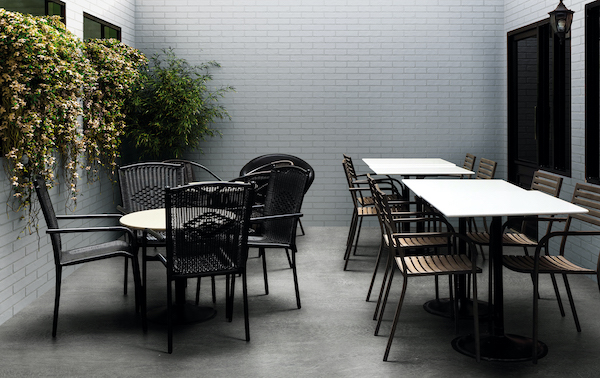 3. Cobble
In a uniform shade of blue-gray, Cobble Brickstone's texture creates a rich backdrop to support the stylistic elements of the room. Cobble is a soothing, matte shade that responds to light and shadow. The seamless flow of color between the rectangular brick shapes and the grout in between offers a blank canvas for the styling of the room.
Paired here with a royal blue couch, delicate wall art, and a dull silvery-grey lamp, cobble brings a soothing presence to a room.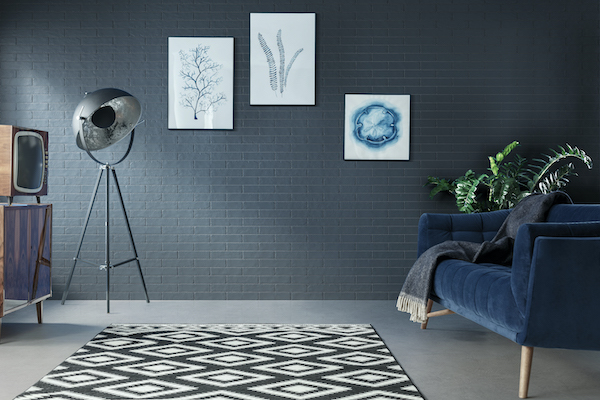 4. Putty
On the warmer side of the scale, Putty Brickstone gives a biscuit-colored glow to a room. With all the texture of authentic bricks, this backsplash perfectly complements the golden gleam of the fixtures and the mirror edging.
Putty comes alive under the glow of warm lighting by night or bright sunlight by day.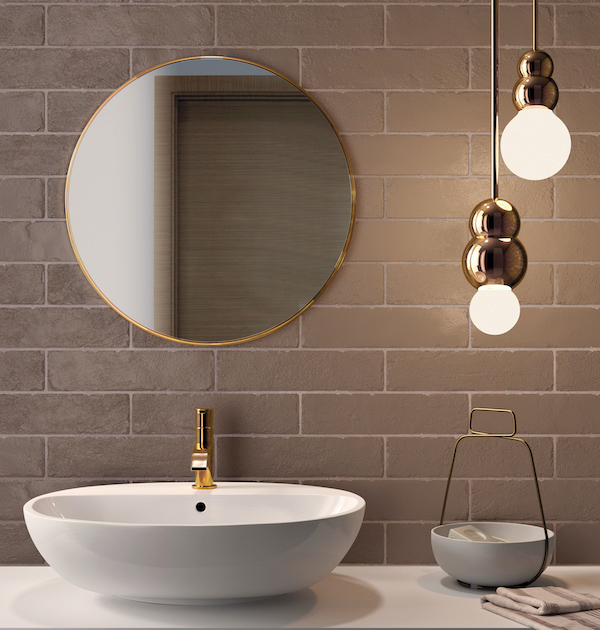 Embrace The Beauty of Brick Look Porcelain Tile
If you're still wondering whether to go for regular bricks or take a chance on brick look porcelain tile, pop into our showroom and run your fingers across a Brickstone tile. The luxurious smoothness will speak for itself and your decision will suddenly become simple. For a sneak peek of these four gorgeous new colors in action, take a look at the video below:
For help selecting, figuring out quantities, or for a list of public suppliers for purchasing MSI Brickstone tiles, contact us today.
READ MORE ABOUT CREATING BRICK LOOK FLOORS OR WALLS with PORCELAIN TILE
Create an Urban Loft Look with Brick Porcelain Tile
Get the Look of Reclaimed Brick with Porcelain Tile
Style Statement: Porcelain Brick Tile
The Brickstone Porcelain Tile Collection: Bring Warmth and Richness to Your Space
Brick Look with Porcelain Tile