Popular
Style Statement: Porcelain Brick Tile
March 09, 2016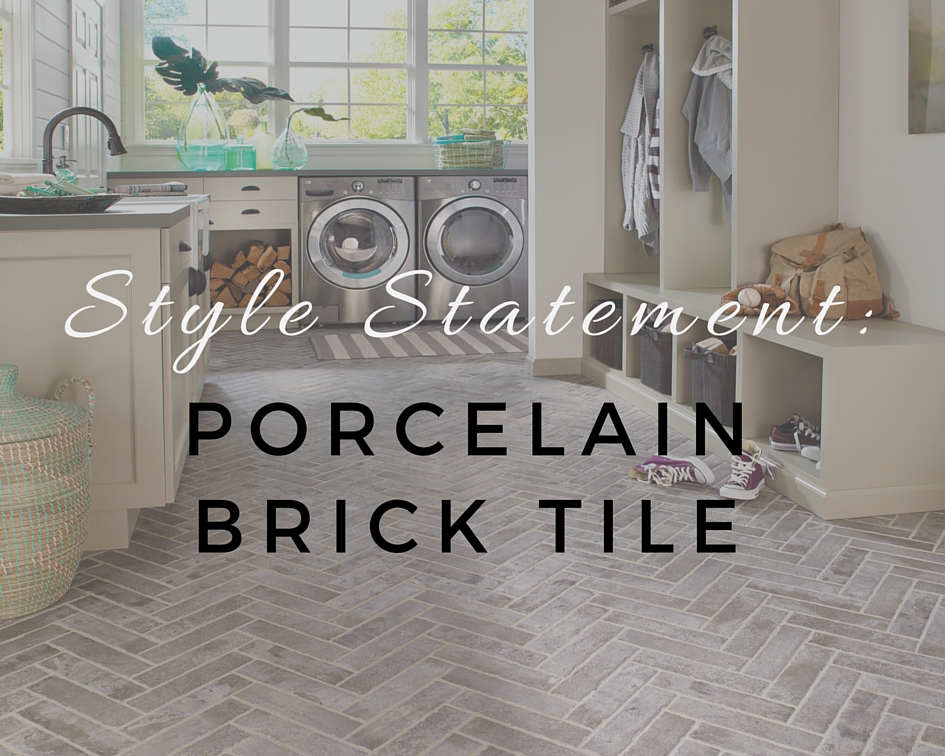 A longtime favorite of the design community, vintage brick pavers have dressed farmhouse kitchen floors, trendy mudrooms, and killer accent walls in warehouse district lofts for years. As recent design tides ebb and flow, new porcelain brick tile has emerged on the home décor scene – and we're hooked. We've fallen head-over-heels with the uber realistic look and texture of porcelain bricks. A modern twist on an old-time favorite, this renewed tile look is stylish, timeless, and affordable – a triple threat that ensures this trend has legs to last for years to come.
Perfect for interior and exterior floors and walls, these bricks are available in a wide variety of looks in the marketplace. Choose from mini to large format sizes and rustic-textured to contemporary-painted options. There's a perfect style to suit any design preference. Learn more about the new debut and why you should take notice.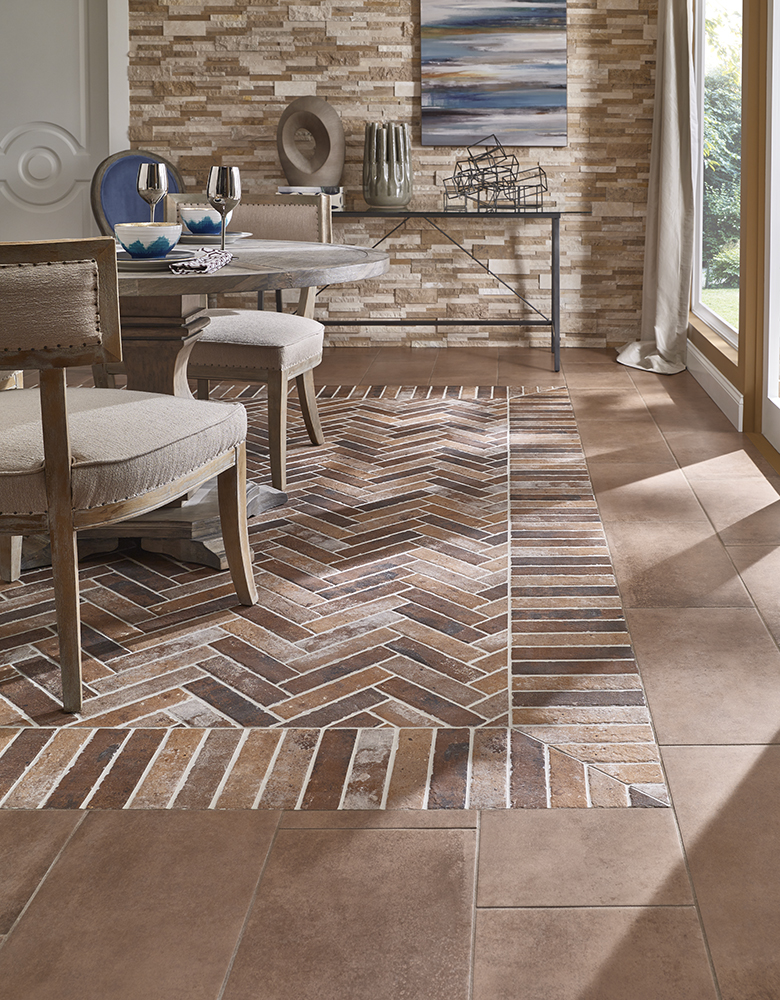 Featured: Capella Red Brick
Up Against a Brick Wall
Oftentimes during renovation, homeowners and designers hope to uncover a surprise brick wall behind the sheetrock. Imagine it: The construction team's working on your kitchen remodel – and surprise! – they expose a dramatic accent wall and an opportunity for architectural detail you never expected. But let's face it, a historic brick wall isn't always realistic… but it's totally attainable. You can easily recreate the look with porcelain brick tile!
Dress up a wall in your home with porcelain bricks to achieve that stumbled-upon, vintage look. This open and airy dining room showcases an accent wall featuring Capella Ivory Brick that brings a little extra oomph to the space – modern, trendy, stylish.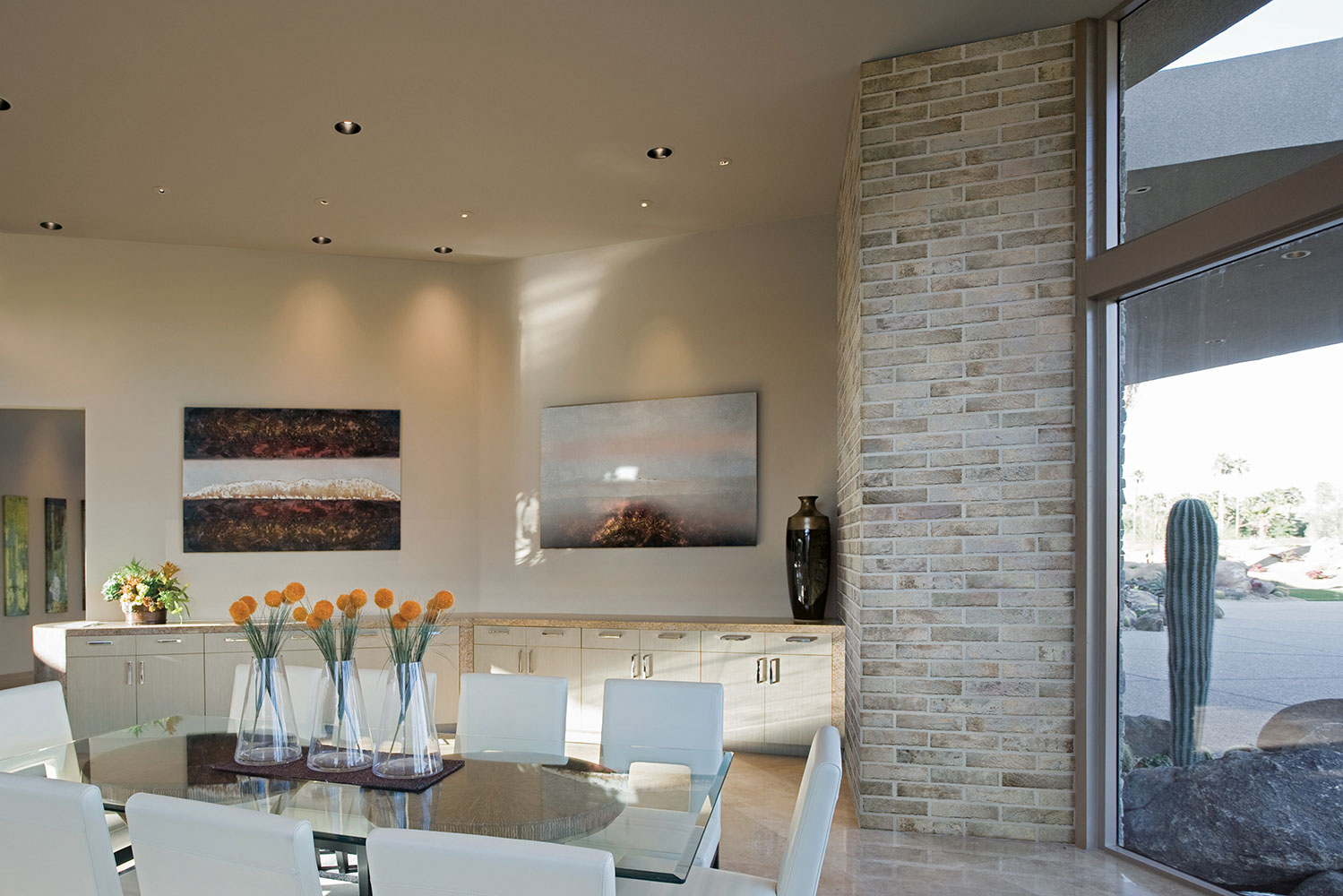 Featured: Capella Ivory Brick
Fine Lines
When new tile style is introduced, there are always a few tricks of the trade that can help take your design scheme to the next level. In this case, you'll need to pay attention to the size and color of the grout lines.
If you're considering a rustic-look brick like Capella Red or Capella Taupe, choose a grout color similar to actual brick mortar. Our favorite grout colors are Custom Building Products' Oyster Gray #386 and Bleached Wood #545. Usually, it's recommended to match grout color with the base color of the tile; however, sticking to true mortar colors will give the brick install a more realistic look. Also, make sure your installer uses a ½" to ¾" grout joint size to play up that mortared look.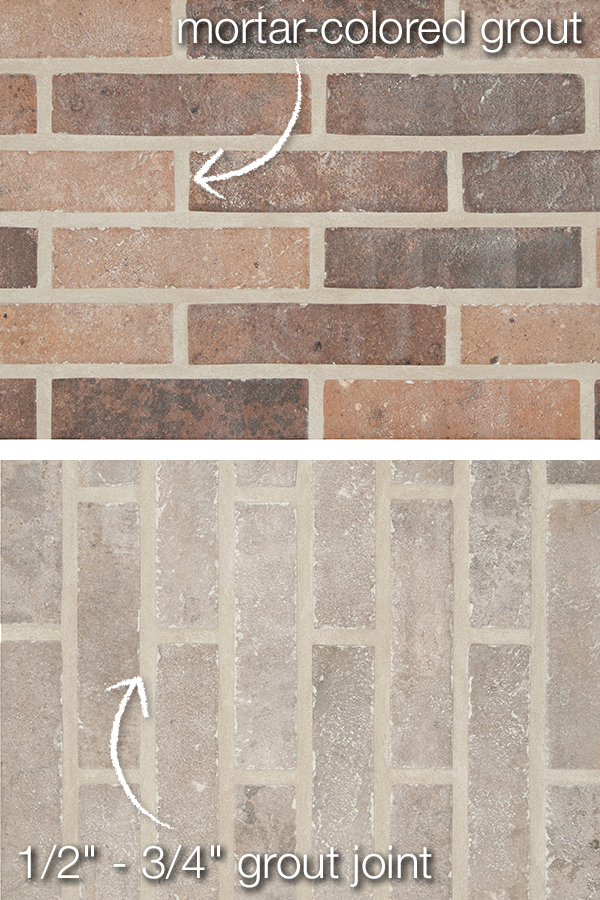 Step Up Your Style
Just like discovering that surprise brick wall, ripping out your carpet and finding an incredible, aged brick floor probably isn't going to happen. But don't fret. Porcelain bricks fashion gorgeous and unforgettable floors too. One of our favorite brick floor installs gets a little creative by installing the tiles in a herringbone pattern.

Herringbone designs deliver high style with a familiar pattern that works in both traditional and ultra-modern spaces. Wouldn't you want to fold laundry in this mudroom? Houzz users voted an overwhelming "Yes!" One of the most popular images on the site, this stunning laundry room helped MSI win a 2016 Best of Design Award.
Featured: Capella Taupe Brick
Take a look at our new Top 5 Design Trends for 2016 Lookbook to stay up-to-date on the latest home décor trends. Be sure to check out Trend #2 – you might find more ways to fall in love, brick by brick!
READ MORE ABOUT CREATING BRICK LOOK FLOORS OR WALLS with PORCELAIN TILE
4 New Brick-Inspired Porcelain Tile Colors Create Endless Possibilities
Create an Urban Loft Look with Brick Porcelain Tile
Get the Look of Reclaimed Brick with Porcelain Tile
The Brickstone Porcelain Tile Collection: Bring Warmth and Richness to Your Space
Brick Look with Porcelain Tile