HANDCRAFTED AND HIGHLY VERSATILE BRICK LOOKS
Brickstone and BrickStaks® are in-demand products that add character and style to any project. BrickStaks® offers easy installation of clay bricks for a reclaimed look while Brickstone is a porcelain tile inspired by real brick suitable for indoor and outdoor use. Both brick materials offer a variety of shapes, sizes, colors and patterns to choose from. What will you create?
Brick Styles Are Offered In Mesh Back And Single Tiles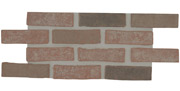 Mesh-back Staggered Pattern*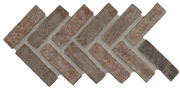 Mesh-back Herringbone Pattern*

Single Tiles
(Select styles offered in 2x10 and 5x10)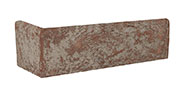 *Corner Pieces Available For All Mesh Back Styles
BRICKSTONE —DURABLE PORCELAIN BRICK TILE COLLECTION
Featuring Reclaimed Brick Looks, These Porcelain Tiles Range From Traditional Red To Elevated White And Modish Grays. This Lineup Is Sure To Fit Into A Wide Array Of Décor Styles.
BRICKSTAKS® CLAY BRICK COLLECTION
Elevate Your Space With Clay Bricks - Where Tradition Meets Modern. Choose From Elegant Whites To Classic Reds In Staggered Or Herringbone Designs For Timeless Sophistication.
WHY BRICK LOOKS ARE THE RIGHT CHOICE FOR YOU
Aesthetic Appeal
Bricks are style neutral, meaning they adapt to the style of the space! Classic, modern, boho, farmhouse - all design vibes that bricks will fit right in.

Versatility
Bricks can be installed horizontally, vertically, in herringbone or staggered patterns, on floors and walls in a wide array of space from backsplashes and mudroom floors, to floor to ceiling accent walls.

Durability
Unlike real brick, which can chip or wear over time, brick look tile and clay brick looks are extremely durable and can withstand heavy foot traffic and wear and tear.

Cost-effective
Clay bricks and brick look tiles are often more cost-effective than real brick, especially when factoring in the cost of installation and maintenance over time.