New On Trend Looks In White Granite Countertops
December 13, 2022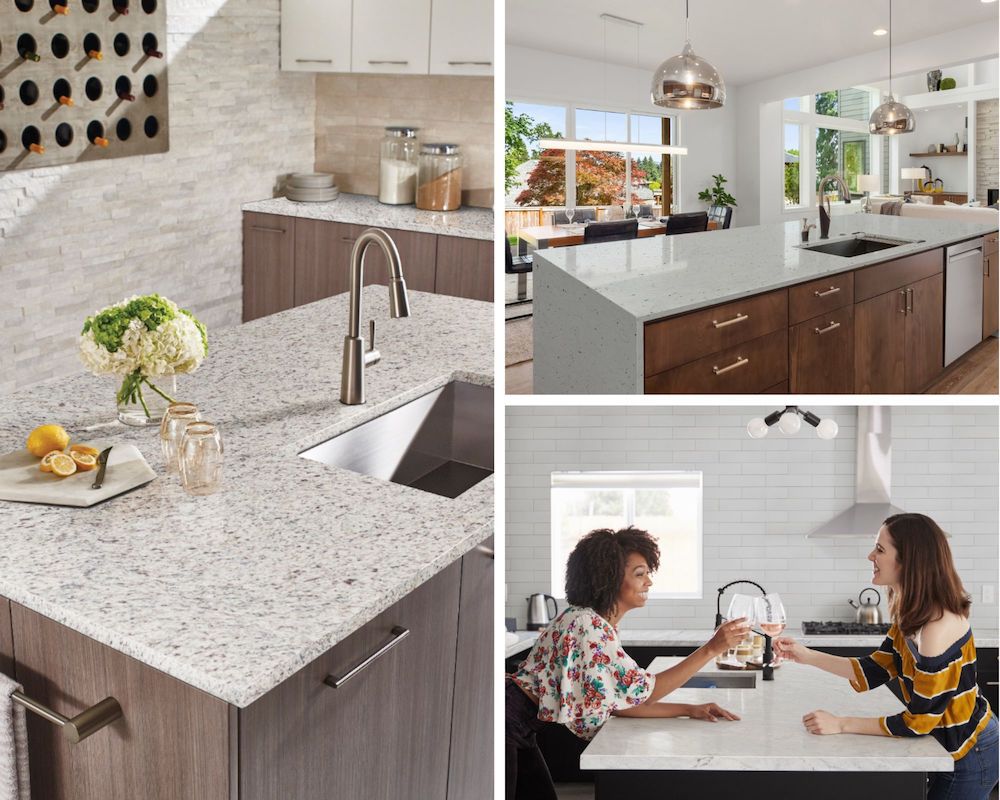 There are so many reasons to have a white kitchen countertop. It can make small kitchens look and feel larger, add brightness and cheer, and create a more elegant design. Many homeowners are reluctant to do so, however, because they're afraid a white countertop is more prone to staining and needs more upkeep to stay looking bright and clean. Those fears are not unfounded, but don't be so quick to dismiss the idea! White granite countertops offer the durability and easy care you're looking for – and lots of panache.
A white granite countertop is never pure white, which makes it versatile and helps it fit into any design scheme. With various patterns that include veining, flecks of lighter and darker crystals, swirls and streaks, there are many different looks to choose from.
As a bonus, no two granite slabs will be exactly alike. So if you're ready to start designing your own one-of-a-kind kitchen, here are a few of MSI's popular white granite varieties to inspire you.
ANDINO WHITE GRANITE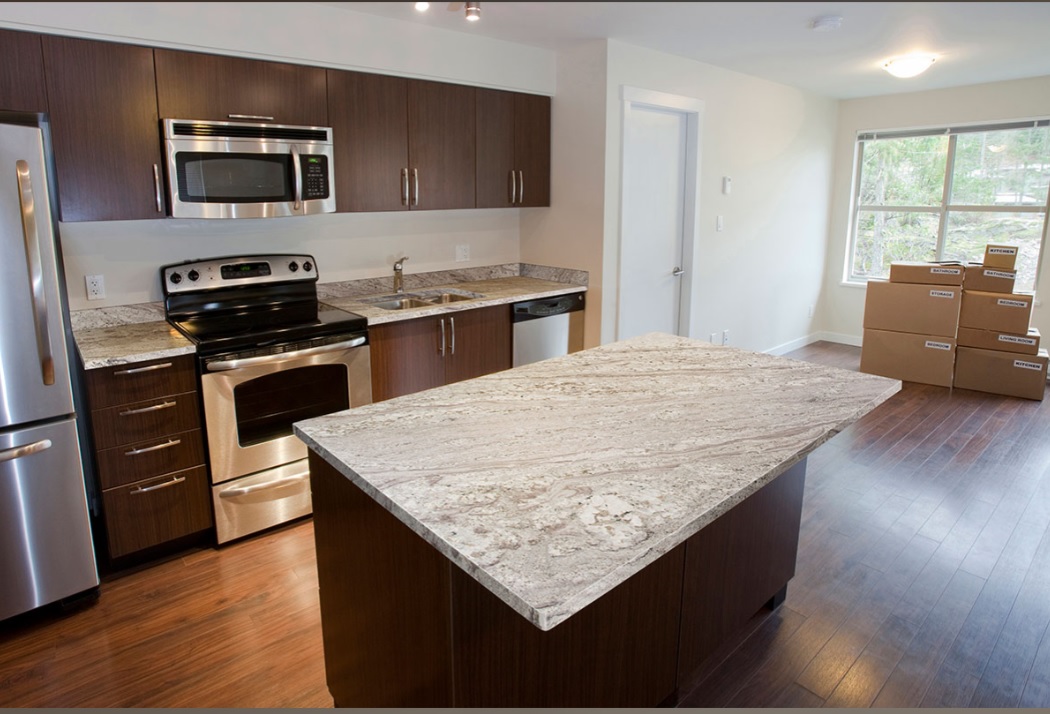 If you're fortunate enough to have a large central kitchen island, don't waste that opportunity – deck it out with a super-stylish countertop. Andino White is white and gray, with minor accents of dark charcoal gray and pale beige. Its bold patterning and bright polished finish will become the focal point of your kitchen, and it's also an ideal choice for side counters. In fact, you might also decide to use it for a matching backsplash. Bold patterns such as Andino allow homeowners and designers to create spectacular combinations by fitting together two slabs from the same block.
STREAM WHITE GRANITE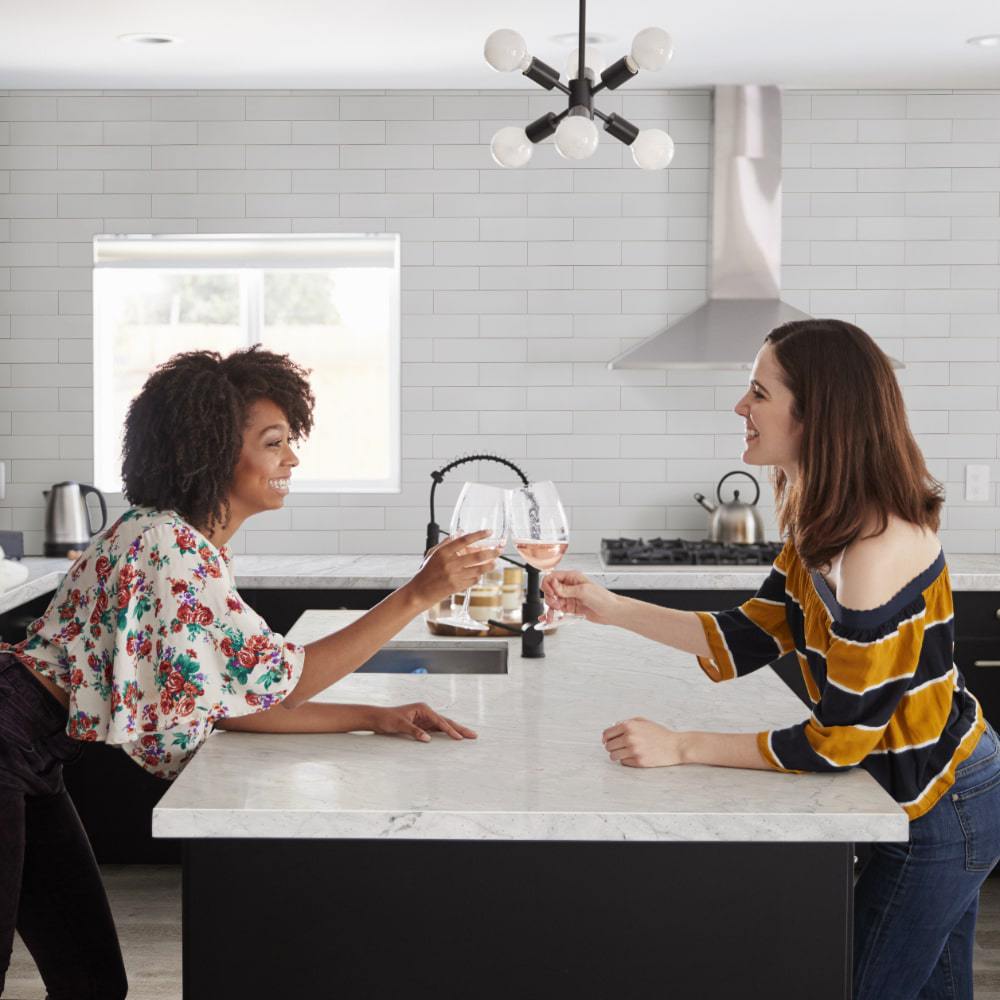 Not every homeowner wants a granite countertop with a bold pattern; a more subtle amount of movement can help create a soothing, calming space. After all, you can always add accessories, such as window curtains or wall décor, to express your individuality. Stream White granite features elegant gray veining and reddish beige "freckles" against a warm white shade. A pattern like this is an excellent alternative to choosing natural marble for a kitchen countertop, as marble can be difficult to maintain – it's more porous than granite, even when sealed frequently. Natural marble is also susceptible to staining and etching, while granite holds up much better to what most families would consider everyday use! You might consider pairing a pale white granite countertop with real marble elsewhere, where it's less likely to be stained or scratched, such as in a marble tile backsplash.
PITAYA WHITE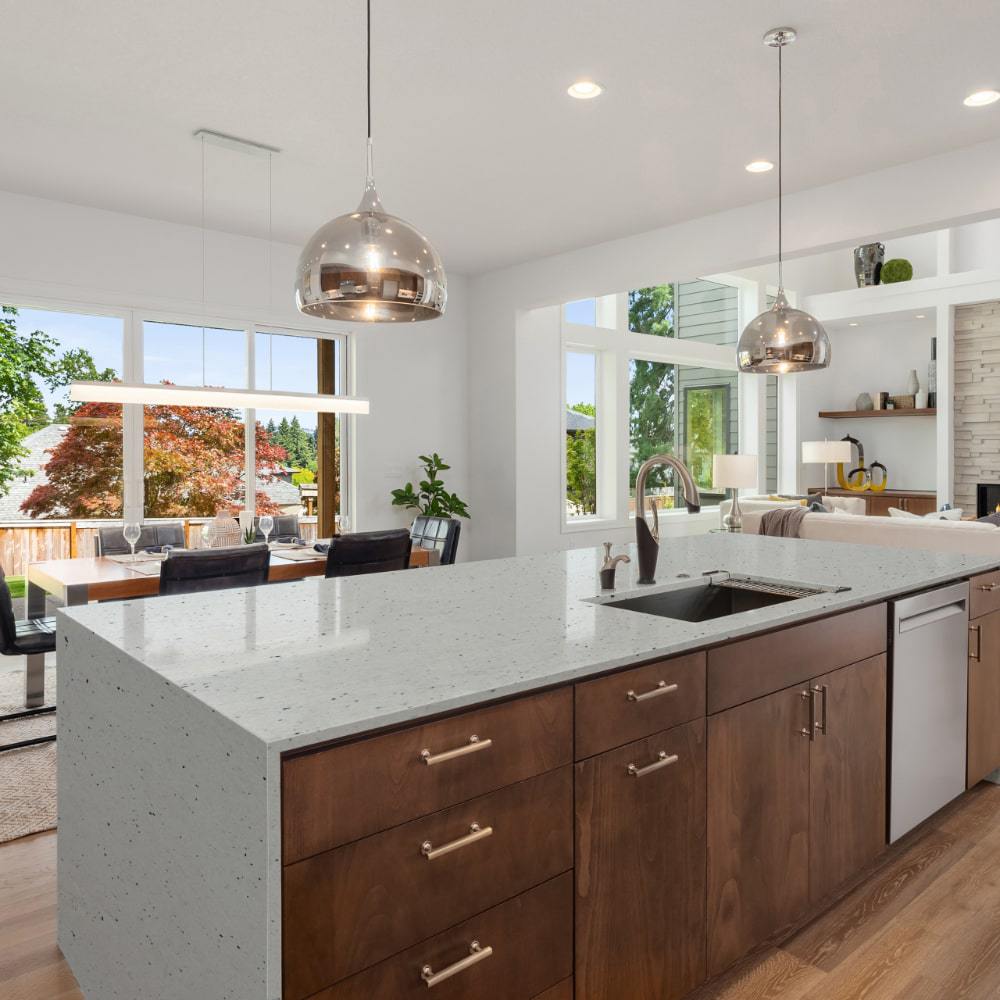 Pale white kitchen countertops, particularly when accented with black dots, as with Pitaya White granite, do go with anything. Trying to match colors can be tricky, even with neutrals such as gray and beige. This elegant combo of black and white complements any other elements you might choose for your kitchen or bathroom, such as wood cabinetry and hardwood flooring. If your tastes range toward a contemporary aesthetic, such as the kitchen shown here, you'll love incorporating this natural stone countertop in your design. Whether you choose it for your busy kitchen or a bathroom countertop, when properly maintained with an occasional application of natural stone sealer, granite is tough and stain resistant.
WHITE ORNAMENTAL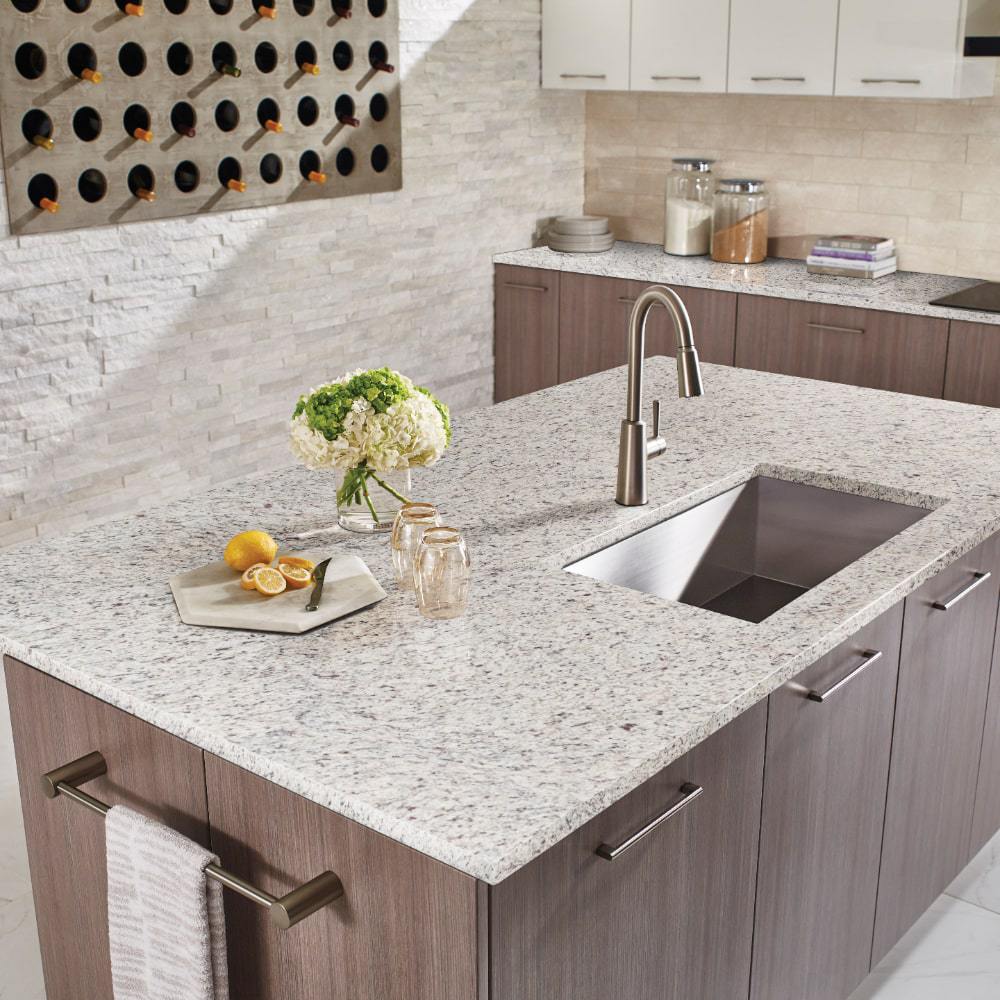 When choosing a countertop, even with a neutral color scheme, it's crucial to know whether it's a "cool" or "warm" shade – and yes, there are many shades of white. For example, white Ornamental has a warm white background with cream and taupe accents. So when matching it with your other decorative elements, such as a backsplash, cabinetry, or flooring, that knowledge will make it easier to get the perfect match. But why stop there? Granite is also an ideal outdoor countertop to get the look of luxury indoors and out. You can customize it further with countertop edges such as ogee, beveled, rounded, and more.
WHITE NAPOLI
If your home décor is a modern, contemporary style, granite countertops might not be what immediately comes to mind. But it's not just for traditional décor, especially when you choose a stylish salt-and-pepper granite slab like White Napoli. Cool white, jet black, and neutral gray combine to create an easygoing countertop that can stand the test of time. That means if you ever sell your home, prospective owners will be just as confident that it will complement their décor as well.
Whatever color of granite you choose, we highly suggest visiting a slab yard in person so you can select the exact slab you desire for your kitchen or bathroom. That's because every single slab will be unique, which is part of the charm of choosing natural stone – one of the reasons people select granite vs. quartz, which is manmade. It's probably the quickest way to give your home that luxurious, upscale ambiance, and at the same time, you know you're making an investment that may last for decades.
Are you ready to get started on your next kitchen remodeling project? We at MSI are industry experts and would love the opportunity to help you create the home you've been dreaming about. Contact us at MSI by email, in person at one of our showrooms, or in real-time through our MSI website chat feature – which you can find at the bottom right of your screen.