Porcelain Wood Tile Ideas For Every Room In Your House
November 11, 2019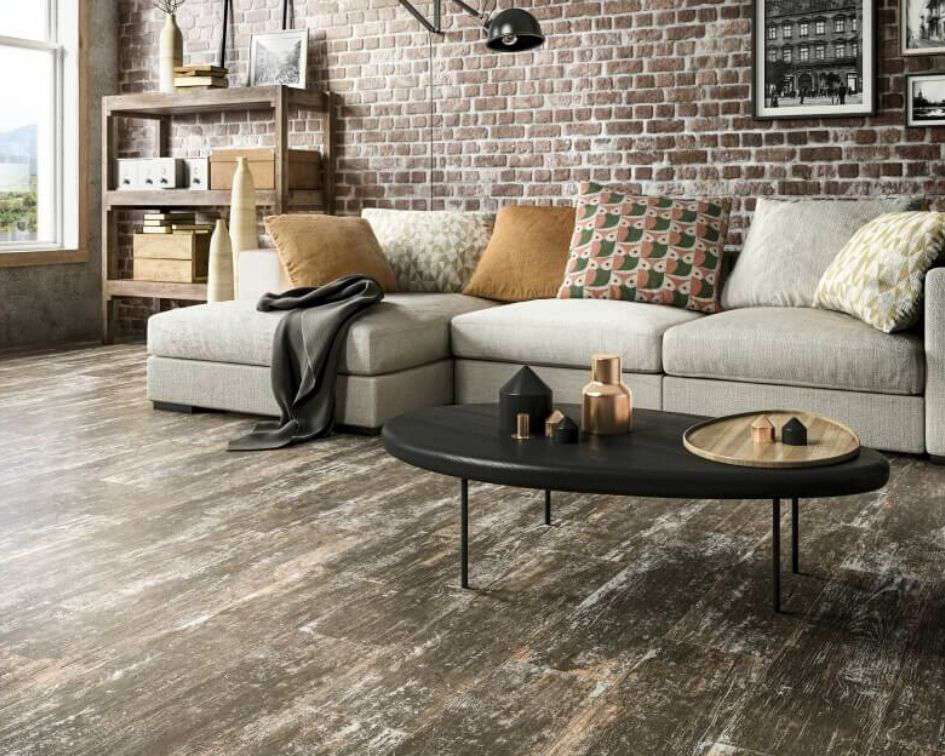 Wood flooring is a charming, elegant choice for bedrooms, family rooms, and entryways — but in the bathroom? Not the best choice. That is, unless it's porcelain wood tile flooring! Today's modern porcelain tile closely replicates the look of natural hardwood, and eliminates wood flooring's drawbacks. Now you really can have the look of wood flooring in every room of your house.
Porcelain wood tile has many advantages over real hardwood:
• Natural wood is vulnerable to water damage. Spills and splatters in the kitchen, splashes and drips in the bathroom — not to mention the humidity — can stain, discolor, or warp those lovely hardwood floors in no time. Porcelain wood tile, however, is waterproof!
• Wood flooring is expensive, so you may need to restrict it to a few small areas. Wood-look porcelain tile is much less expensive, so you can install it throughout your whole house and create a consistent, unified look.
• Wood flooring needs special care to stay looking its best. It scratches easily and requires a wood-floor cleaner when it's mopped. Also, every few years you may need to refinish the entire floor. That's another reason to keep it only in a few small spaces, but with a porcelain floor that's not an issue.
• Refinishing varnishes and polishes are bad for your indoor air quality and the environment, which is a big concern for parents and pet owners. However, MSI porcelain tile is GREENGUARD Indoor Air Quality Certified, which means it has met rigorous standards for low emissions of volatile organic compounds (VOCs) which may cause health problems.
With this in mind, there's no reason not to install porcelain wood tile in every room! Here are a few popular tile patterns, and ideas for using it in your own home.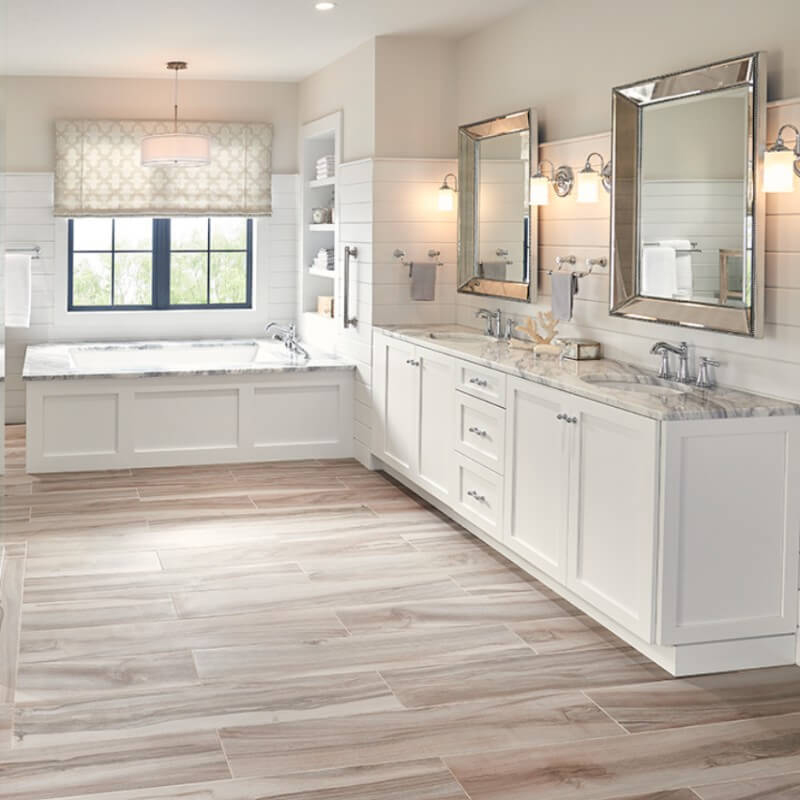 Aspenwood Ash
If you're lucky enough to have an airy, spacious bathroom like the one in this photo, the look of wood flooring can help you make the most of it. Aspenwood Ash tile features soothing shades of beige in a realistic wood-grain pattern, and you won't have to worry about dripping water on your way out.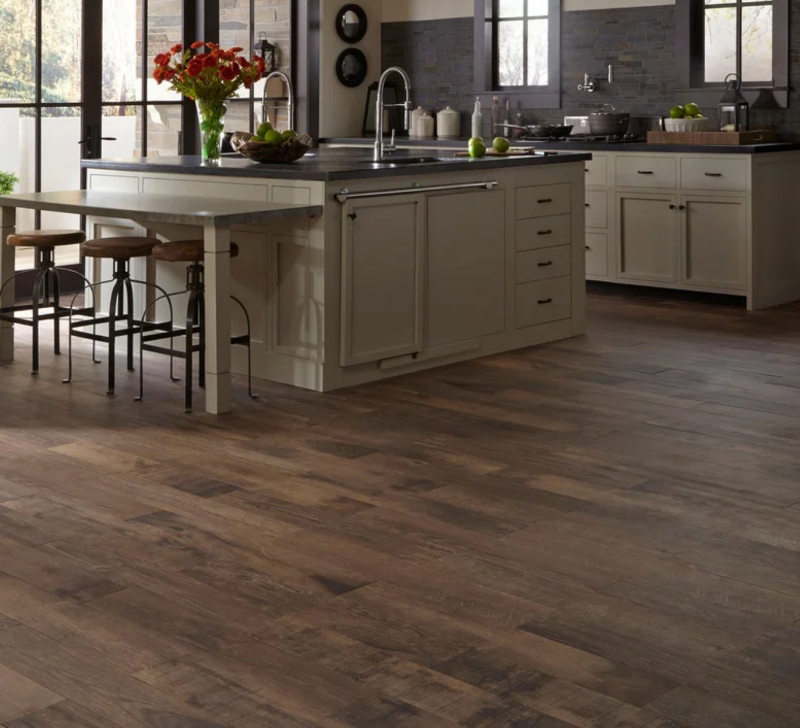 Antoni Nero (Photo Credit: Houzz)
Today's kitchens are much more than just a room where food is prepared; it's a family gathering space. The cozy look of Antoni Nero wood-look flooring is a perfect match for that type of space, but the original purpose still applies — along with spilled juice, splattered sauce, and lots of crumbs. Easy-care porcelain tile can handle it all and still keep your happy place looking its best.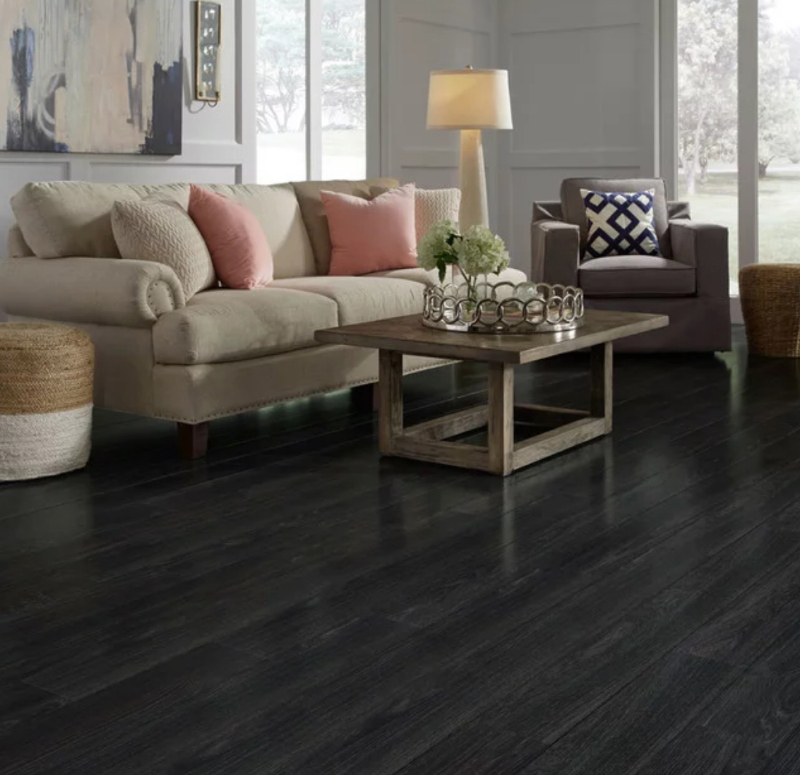 Sygma Ebony (Photo Credit: Houzz)
Elegant rooms call for dramatic, polished flooring, and Sygma Ebony porcelain tile delivers. It's a deep, rich brown that is nearly black, and features a subtle, linear wood grain pattern. Whether your decorating style is traditional or contemporary, this dark wood-look floor will make your furnishings and accessories pop.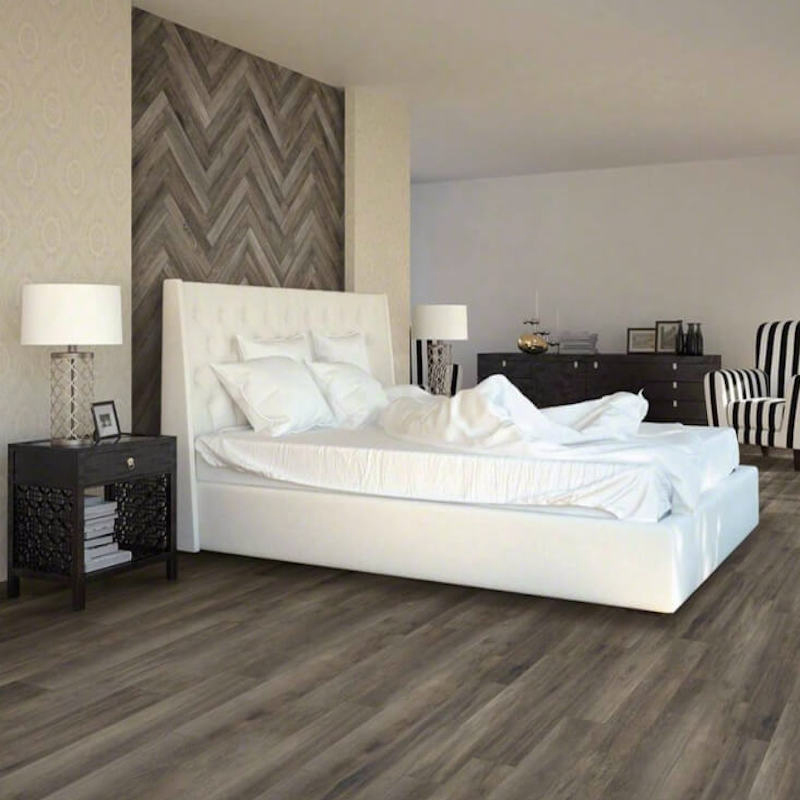 Upscape Greige
Although carpet is still the traditional flooring for many bedrooms, there are so many reasons to choose wood-look tile instead, like the rustic-looking Greige Upscape. It's easy to clean, and great for people with allergies. The wood look wall tile is a creative touch, too.
We're big fans of having the best of both worlds, and there's no better example than porcelain wood-look tile from MSI. Thanks to technology, every pattern we offer is more authentic-looking than ever. Check out these tiles along with many others on MSI's website.
READ MORE ABOUT WOOD LOOK TILE:
Surprise – It's Wood Look Tile!
Help For Deciding Which Wood-Look Porcelain Tile to Use
Budget-Friendly Ceramic Wood Tile That Looks Expensive
Affordable Ceramic Wood Tile That Looks Expensive