Surprise – It'S Wood Look Tile!
May 31, 2018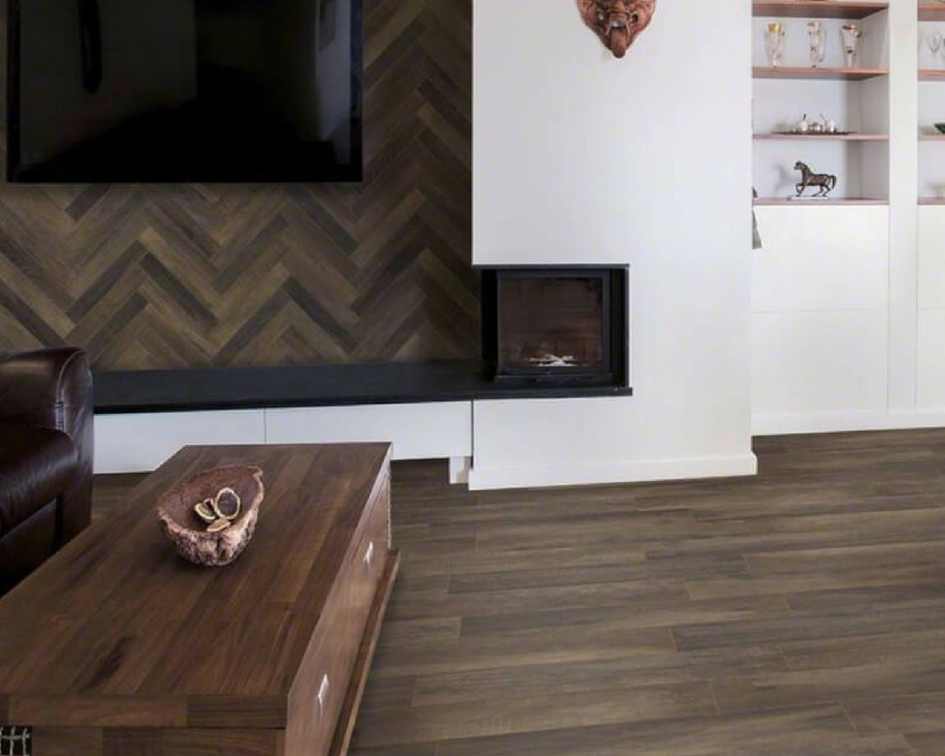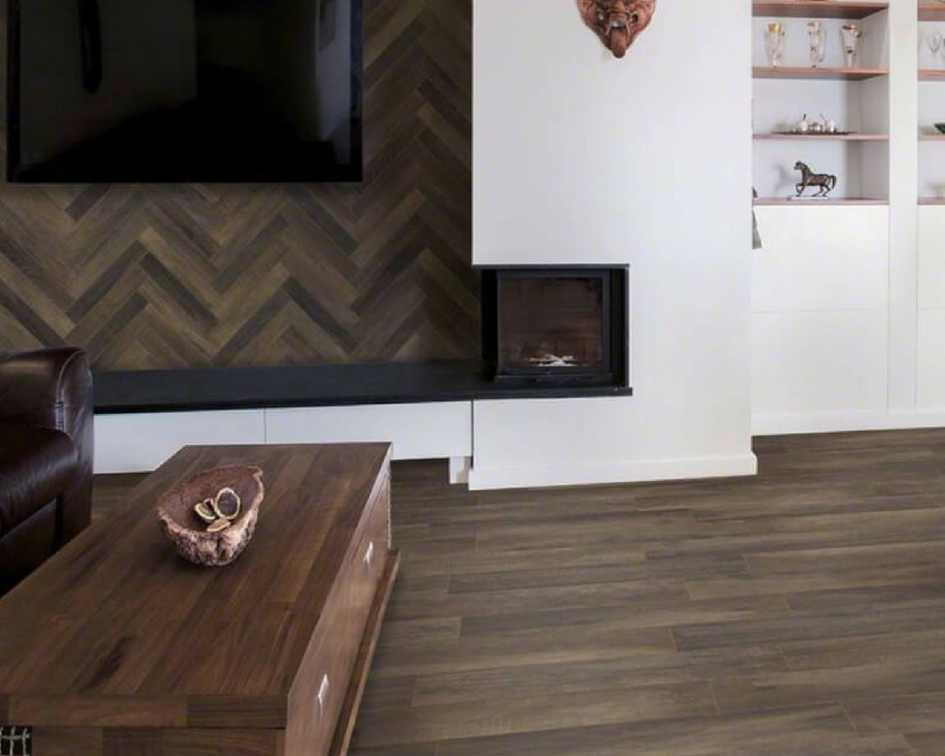 While wood look tile isn't new to the interior design market, it sure has come a long way since the beginning. Instead of grainy and obvious faux wood flooring, today's modern inkjet wood flooring features elegant, stylish, and oh so realistic finishes.
Everything from the texture to random knotting is making homeowners take a second look! And when they realize that gorgeous wood look porcelain tile is easy to care for, there's no more convincing needed for them to choose it over real hardwood flooring.
The Upscape Porcelain Tile Collection is a wood look porcelain tile collection from MSI. This modern wood look tile is just as timeless as it is trendy. It offers luxe flair with all the period details you'd find in Early American farmhouses. We think you'll be surprised by just how realistic these products look, so let's check out the collection!
Nero Upscape Porcelain

Featured: Nero Upscape Porcelain
Adding new flooring to your home is one of the easiest ways to update the living room. Nero is a wood look tile from the Upscape collection that offers a more contemporary feel with its dark tones of chocolates and charcoals.
This elegant living room features Nero Upscape Porcelain 6x40 tiles in a matte finish. The darker flooring grounds the space and blends in with things like the coffee table, chair and couch legs, and side table, while contrasting seaing and walls in light tones really stand out.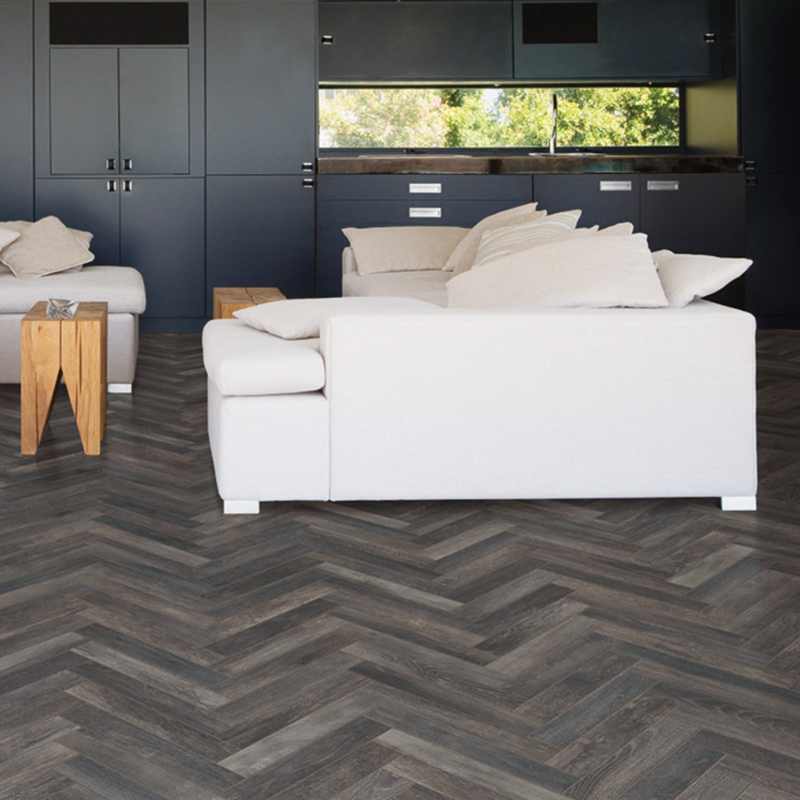 Featured: Nero Upscape Porcelain
Installing the same porcelain tile in a different size and pattern can make a huge difference in the overall look and feel. This great room area also includes Nero Upscape Porcelain, but in the smaller 3x18 planks. The herringbone pattern really brings out the tonal differences in the tile as well as the beautiful knots and grains.
Bruno Upscape Porcelain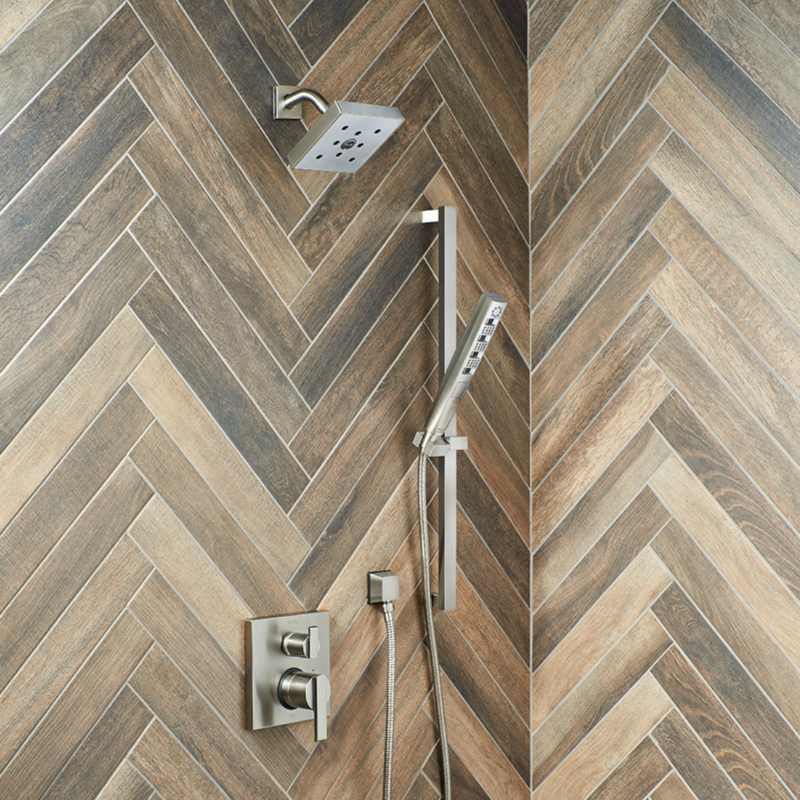 Featured: Bruno Upscape Porcelain
Not only is porcelain wood tile easy to clean and maintain, but it can also be used in wet areas like a bathroom since real hardwood would be harmed by moisture. Bruno from the Upscape Porcelain Tile Collection comes in rich brown tones for this wood-look finish. The matte tiles are also available in the 6x40 or 3x18 sizes.
This modern shower showcases the brown porcelain tile beautifully with the herringbone installation in the smaller wall tile. Because it's tile, you can play around with some options for grout color. The lighter grout lines in the shower make the tile and pattern pop even more!
Greige Upscape Porcelain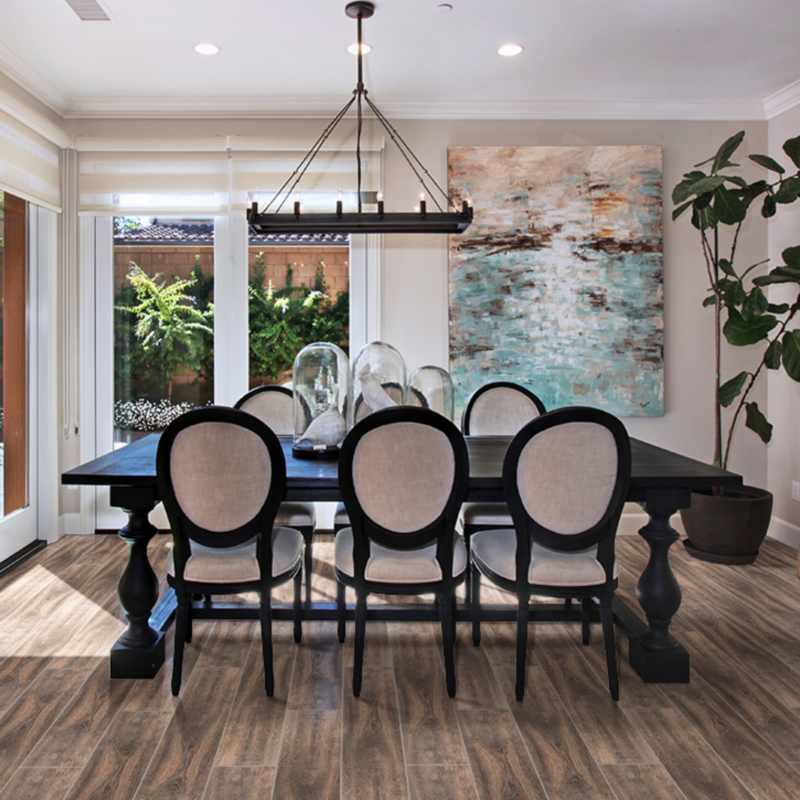 Featured: Greige Upscape Porcelain
Kitchens and dining rooms need materials with easy care, especially if you have pets or kids. Greige Upscape Porcelain is a warm brown and greige tone that has dramatic grain details that you'd only expect to find in real hardwood. The floors add a lot of warmth and character to this more traditional dining space.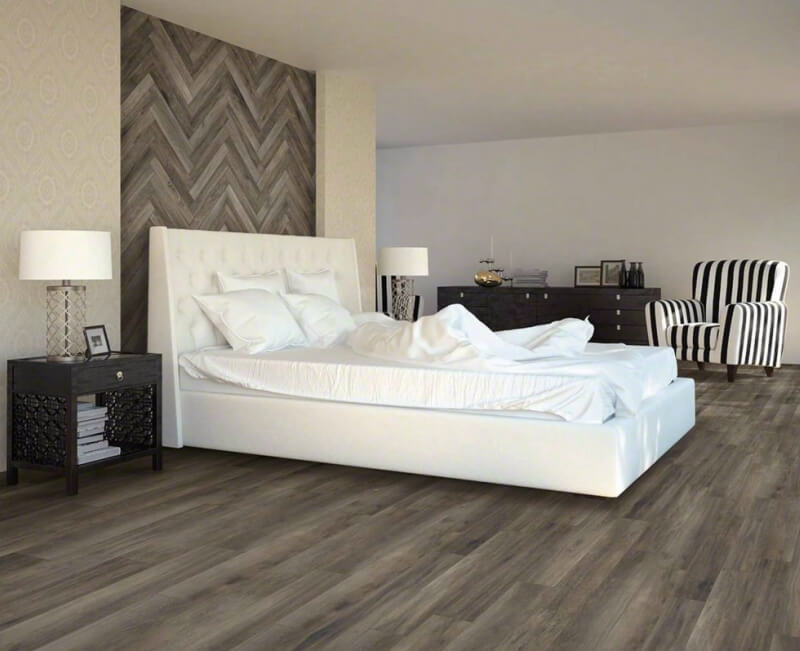 Featured: Greige Upscape Porcelain
Since this porcelain flooring comes in multiple sizes, it offers flexibility when it comes to creating a custom look for your space. These homeowners installed Greige Upscape Porcelain on both the floor and the wall of their master bedroom. The flooring includes the larger 6x40 tiles in a straight pattern, while the feature wall behind the bed includes the 3x19 tiles in the ever-so-popular herringbone pattern.
Whether you're deciding on new tiles for your personal residence or a commercial project, Upscape porcelain tile will give you the weathered look of wood floors without the worries of real hardwood.
You'll want to see these trendy, deep-hued planks for yourself, so check out the Upscape Porcelain Tile Collection from MSI by visiting your local showroom.
READ MORE ABOUT WOOD LOOK TILE:
Help For Deciding Which Wood-Look Porcelain Tile to Use
Budget-Friendly Ceramic Wood Tile That Looks Expensive
Affordable Ceramic Wood Tile That Looks Expensive
Nailing the Wood Tile Look In the Bathroom