The 10 Most Popular Quartz Countertop Colors For 2021
February 15, 2021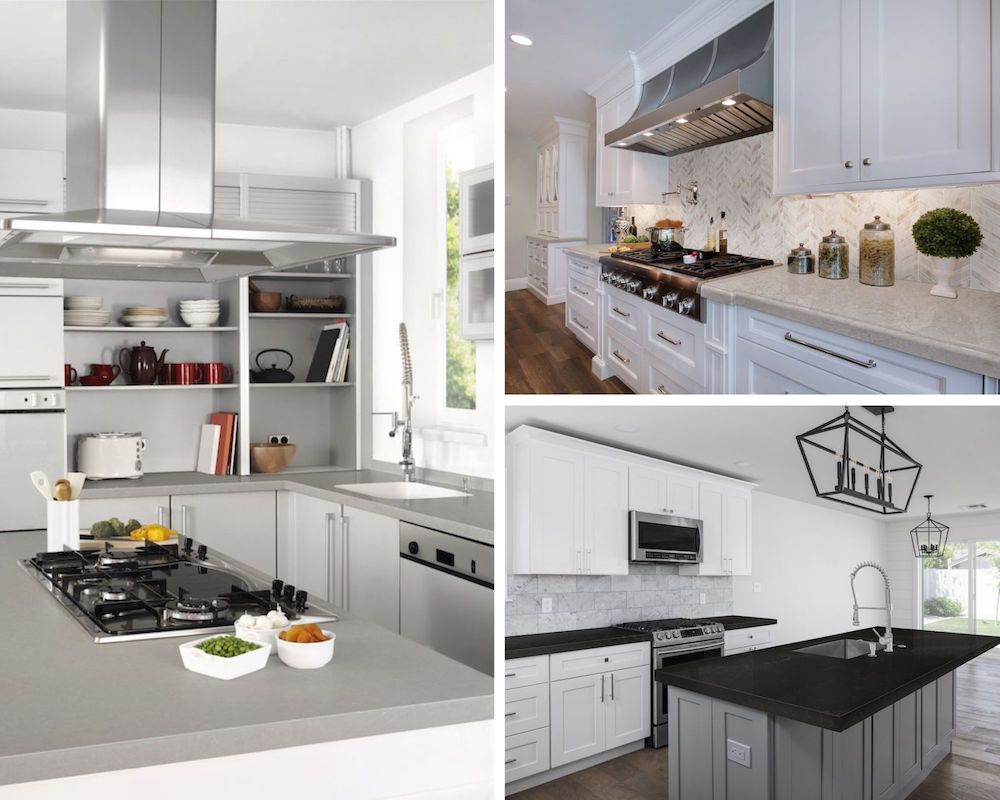 Your countertop is the focal point of your kitchen — and is the foundation of your design aesthetic. You need to select the right countertop options to set the right tone for your space. If you're still having the great quartz vs. granite debate, we're here to tell you that quartz countertops are the clear frontrunner in our eyes because of their durability, control of appearance, affordability, and ease of maintenance.
With so many reasons to love quartz countertops, installing them in your kitchen or bathroom is a no brainer — but first, you need to decide which color palette matches your desired aesthetic. To help you narrow down the options, we've compiled a list of the top quartz countertop colors available to you.
Calacatta Arno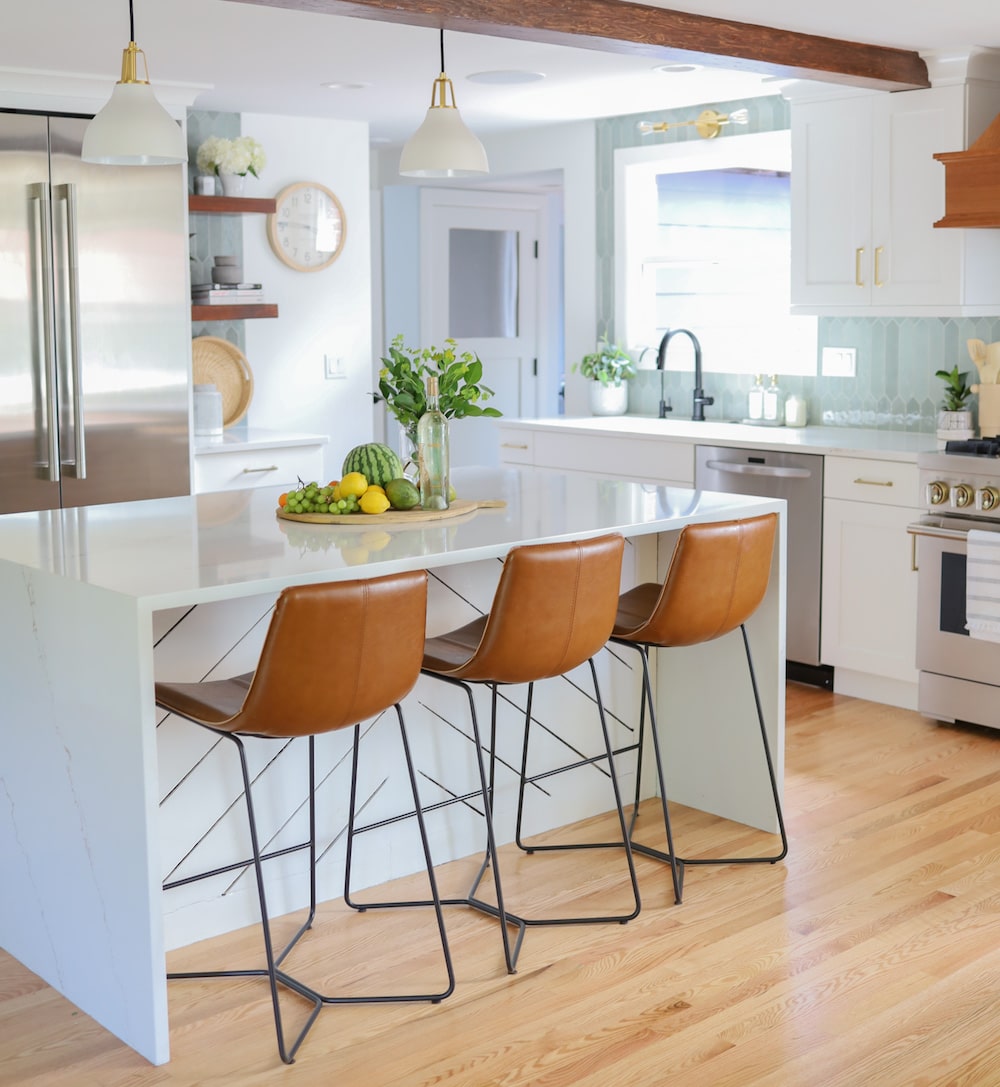 Calacatta Arno Quartz
There's something about Calacatta Arno Quartz that makes it stand out from the rest. From its warm white backdrop to the thin grey detailing throughout to its luxurious gold accents, this quartz option is sure to elevate any kitchen or bathroom. The gold accents are subtle yet pair perfectly with gold or brass hardware, fixtures, and other furnishings in your space, helping to create a cohesive and inviting design. With its elegant appearance, Calacatta Arno Quartz would make a great addition for kitchen and bathroom countertops, as well as an accent wall, shower surround, backsplash, or flooring. No matter how you choose to incorporate this beautiful slab into your space, you won't be disappointed.
Calacatta Laza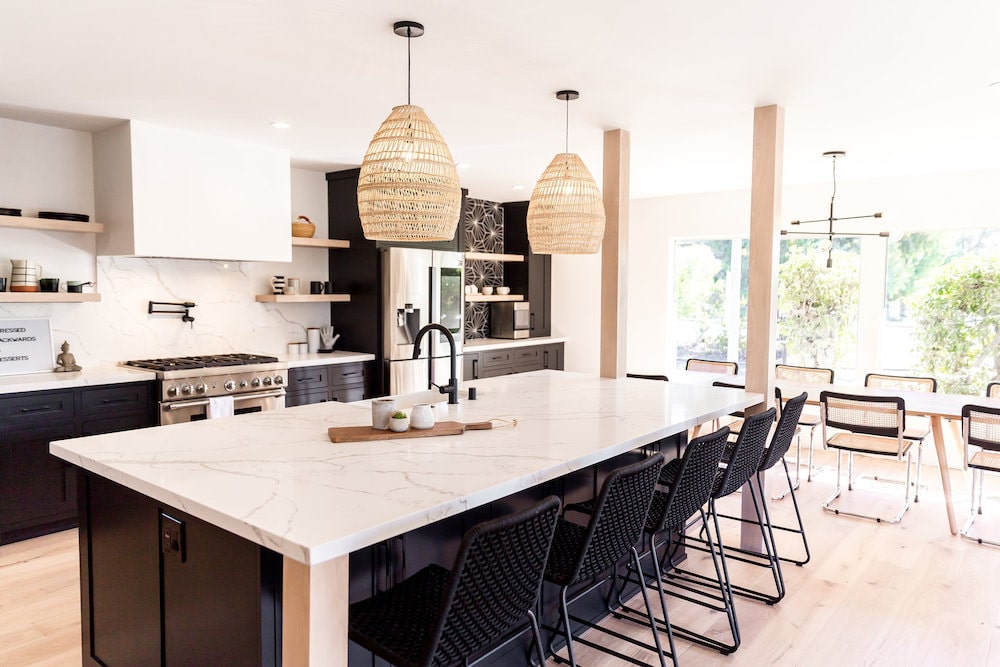 Calacatta Laza Quartz
Maybe you're looking for a quartz countertop that is timeless yet dramatic. Don't fret — Calacatta Laza Quartz provides just that! The beautiful milky white background offers a sense of timelessness that will pair beautifully with any decor as new elements are added over the years. The realistic soft brown veining adds subtle movement with a sense of drama to help liven up the space. While Calacatta Laza Quartz is showstopping as kitchen counters, it can really elevate a space when used for waterfall islands or accent walls.
Calacatta Valentin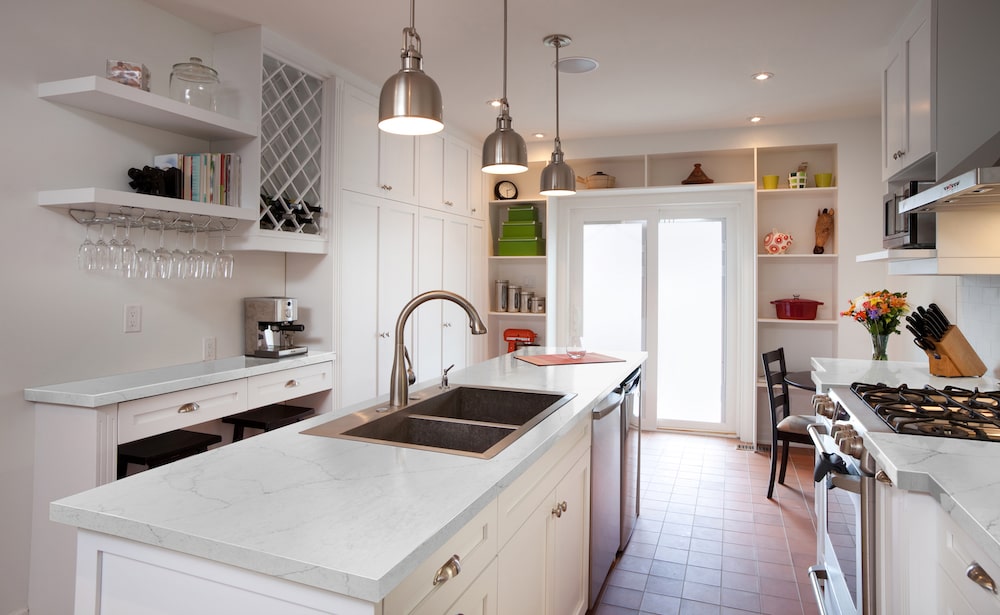 Calacatta Valentin Quartz
When you picture the color white, what do you see? With so many shades of white available to you, you don't have to stick to the classic cool whites you see time and time again. Calacatta Valentin Quartz provides a marble-look quartz with dramatic brown veining on a warm gray-white backdrop. This option provides warmth to the space to make it feel cozier without diminishing any of the beauty of quartz! Another perk of a slightly darker white color palette is that your counters are more forgiving — hiding any dirt or debris more successfully than its milky white counterparts.
Gray Lagoon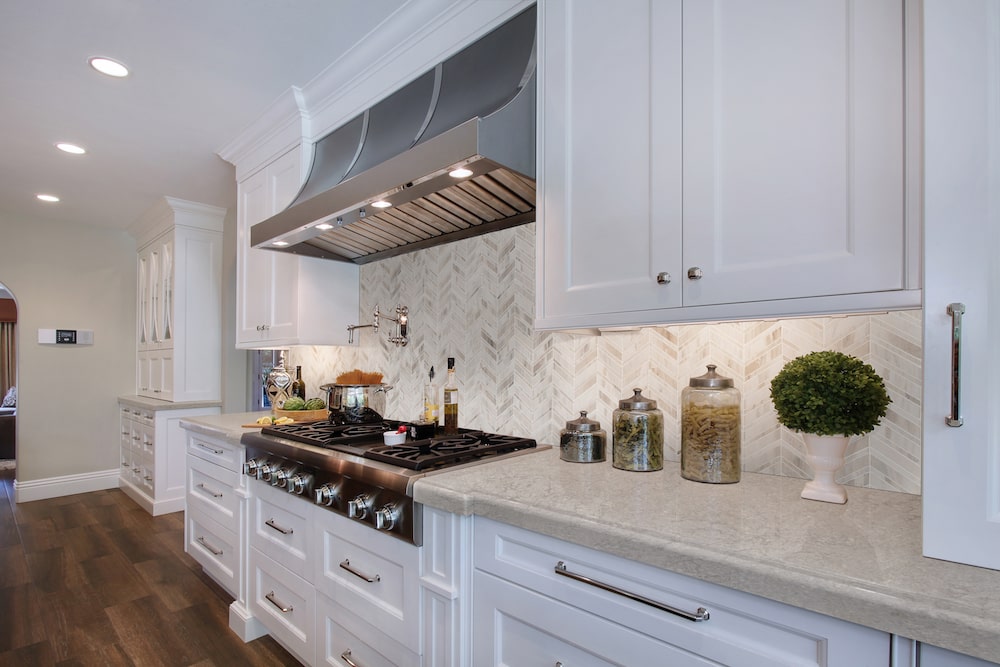 Gray Lagoon Quartz
Are you torn between choosing warm and cool-toned furnishings for your space? You can have the best of both worlds when you install Gray Lagoon Quartz in your kitchen or bathroom. Don't feel like you need to go all in one way or the other — choosing quartz that perfectly blends cool grays and warm golds will enable you to mix and match your furnishings to create your desired aesthetic. Gray Lagoon Quartz will easily take any space and make it one-of-a-kind.
Midnight Corvo Concrete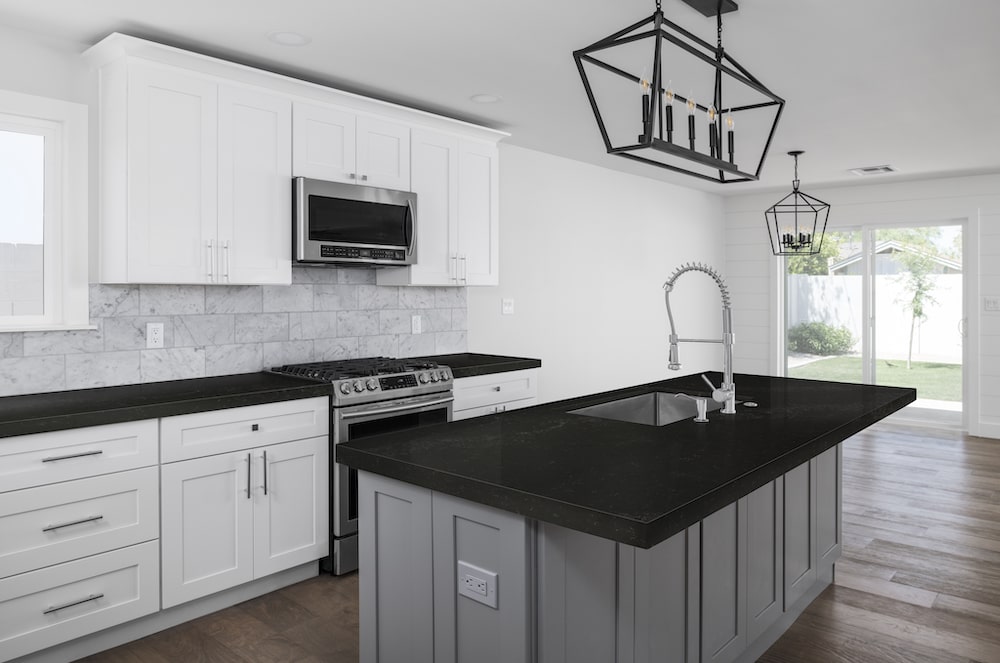 Midnight Corvo Quartz
Dark and dreamy quartz countertops offer a bold color palette that will wow your friends and family. With quartz that looks like concrete, such as Midnight Corvo Quartz, your kitchen or bathroom will project a bold, neutral-toned black backdrop with understated cool white veining. Apart from its marble-like complexion, Midnight Corvo Quartz offers a textured finish which makes it more unique than most polished quartz countertops you see. Create a one-of-a-kind space with this moody quartz backdrop.
Soapstone Mist Concrete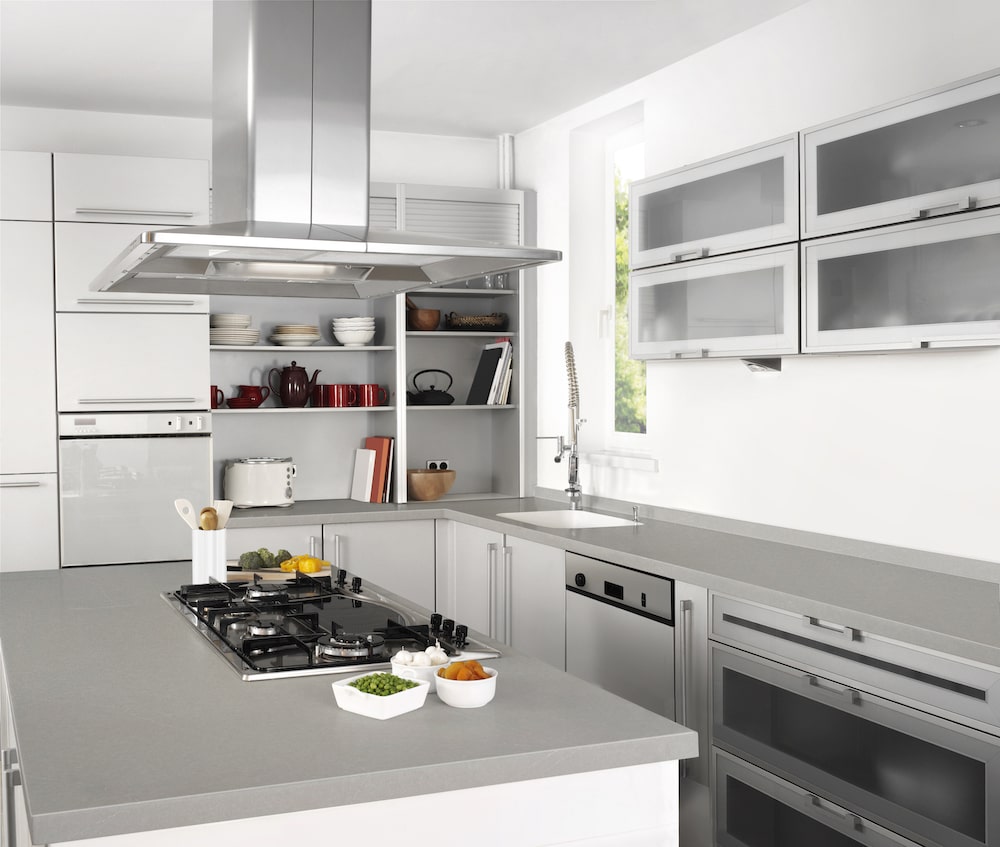 Soapstone Mist Concrete Quartz
If you're a fan of a sophisticated, contrasting color palette, you might be eyeing quartz countertops with black or white backdrops, but you shouldn't ignore the beauty of a gray-light background. With Soapstone Mist Concrete, you can create the same contrasting vibe but with a more subtle twist. The added texture to the countertops also provides your space with some additional depth and dimension that is unmatched with other premium surfaces.
Carrara Lumos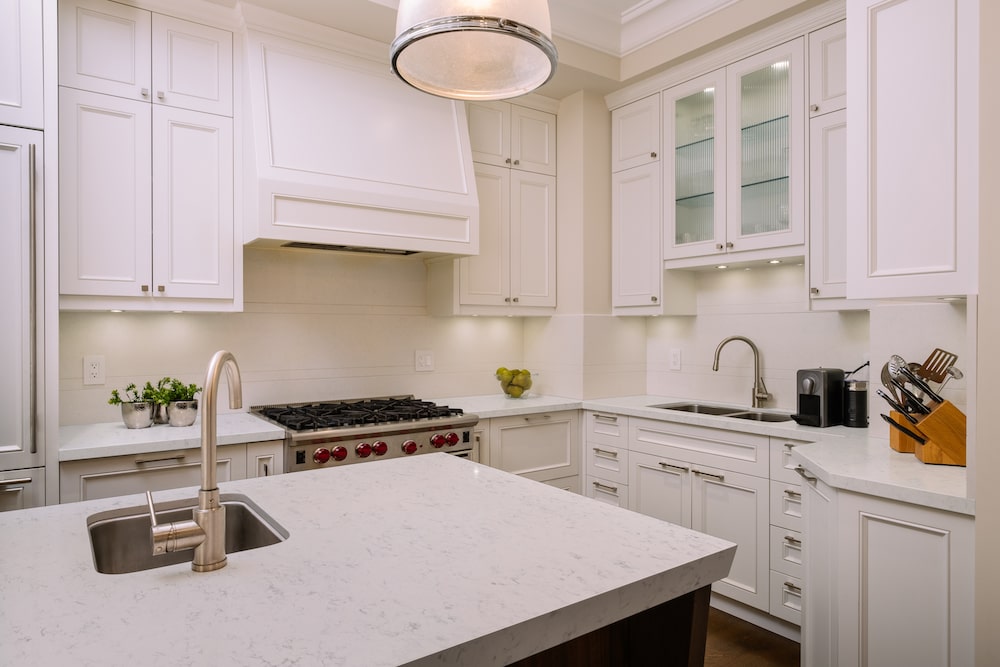 Carrara Lumos Quartz
Are you a fan of big and bold design? Or do you prefer more understated beauty? Carrara Lumos Quartz offers the marble-look at a more affordable price point with a cool white background that boasts wispy gray veining throughout. This luxurious color combination creates a dreamy, stone-inspired look that can soften up any kitchen or bathroom. If you're working on a space that lacks natural light, Carrara Lumos Quartz can help brighten up and energize the room to make it feel more inviting.
Calacatta Mirragio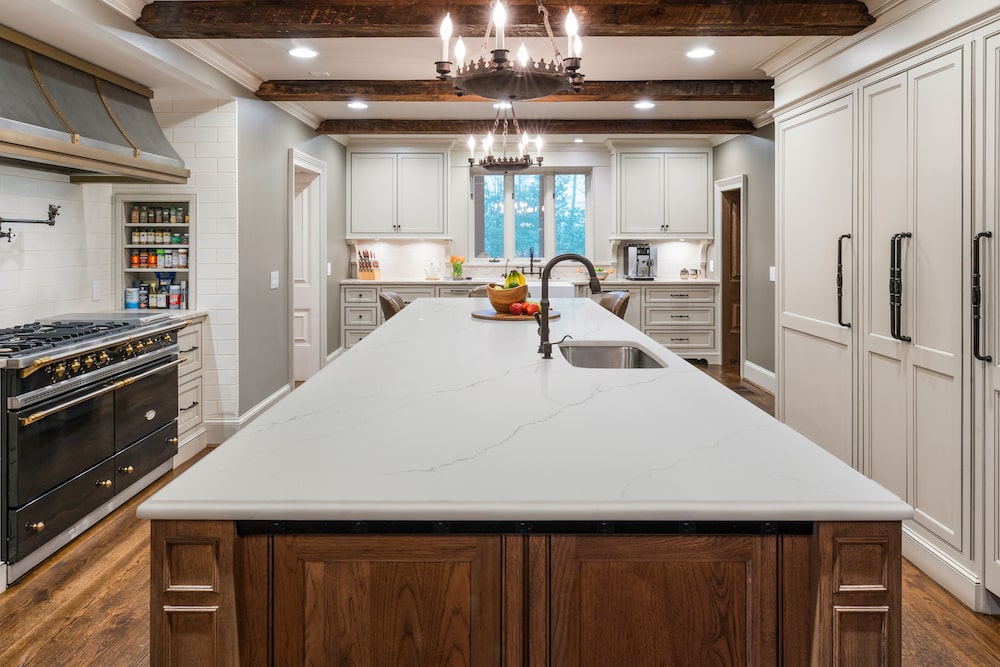 Calacatta Miraggio Quartz
When you want something calm, cool, and collected, look no further than Calacatta Mirragio Quartz. Its cool white marble with a glossy polished finish provides a truly sophisticated look and feel that adds class to any space. This quartz option creates undeniably gorgeous kitchen countertops, waterfall islands, backsplashes, shower surrounds, or accent walls that will be the focal point of your kitchen or bathroom.
Calacatta Sierra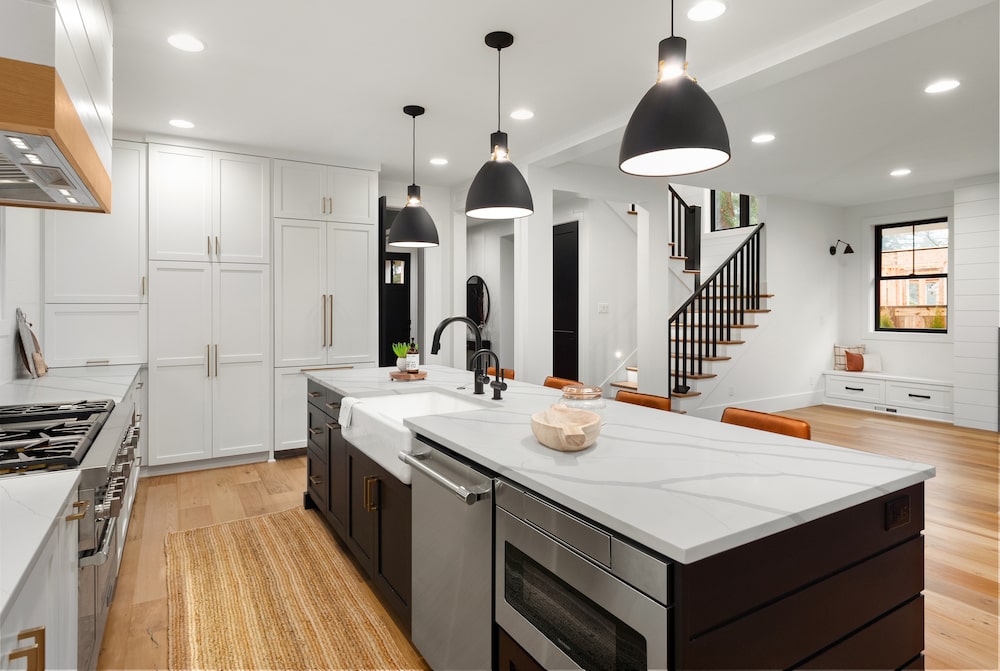 Calacatta Sierra Quartz
Sometimes we all want a little drama in our lives — so why not incorporate dramatic quartz into your kitchen or bathroom design! Calacatta Sierra Quartz features dark, dramatic veining on a cool white backdrop to create a marble-like aesthetic. The symmetry and combination of thin and thick gray veins offer an eye-catching design that will take your breath away every time you step into the room. Integrate Calacatta Sierra Quartz into your kitchen or bathroom aesthetic, and you'll quickly take your space from good to great.
Calacatta Leon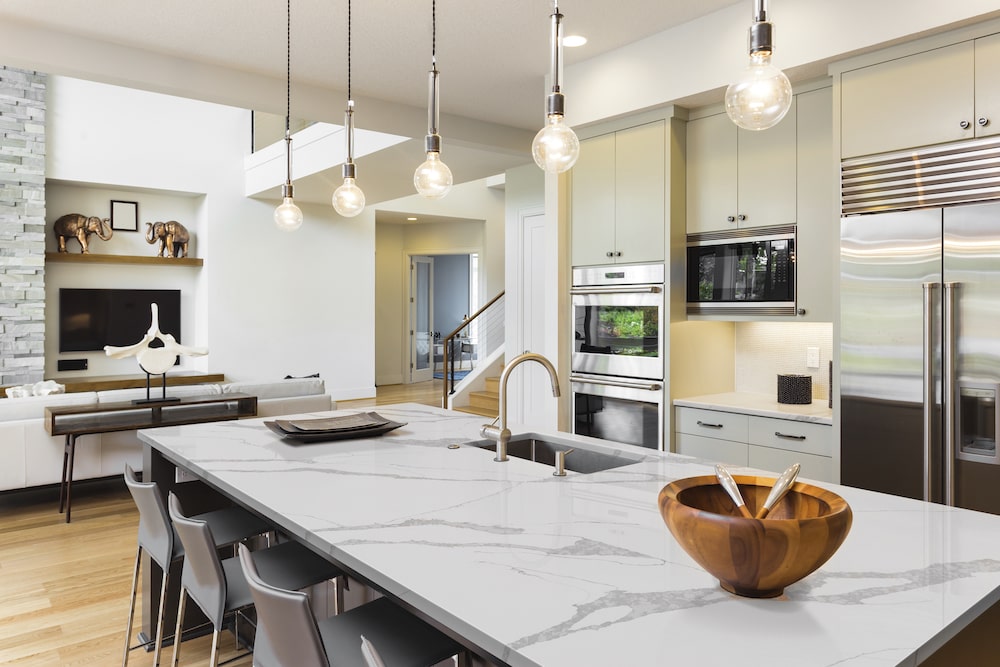 Calacatta Leon Quartz
Don't make your countertops simply fit in with your kitchen or bathroom design when you can make them stand out! Calacatta Leon Quartz is a statement-making option that is ideal for a variety of scenarios — countertops, flooring, accent walls, waterfall islands, and shower surrounds. With its dramatic gray veining contrasting against a soft white background, you'll create a jaw-dropping, sophisticated marble-look in your space for a much lower price point. Installing Calacatta Leon Quartz in your home is a no-brainer if you're ready to add beauty and flair to your design!
We have a lot more to offer in quartz colors and natural stone countertops. Chat with us now, visit an MSI showroom near you, or contact an authorized MSI retailer in your area for personalized assistance in picking your perfect surface.
More on Quartz Countertops
Warm Quartz Countertop Colors Create A Welcoming Space
The Best Quartz Countertop Edge Options For 2021
Why Quartz Countertops Are A Popular Choice for Reception Areas and Hotel Vanity Countertops
5 Reasons to Consider Quartz Countertops