5 Granite Colors To Match Any Bathroom Style
August 29, 2023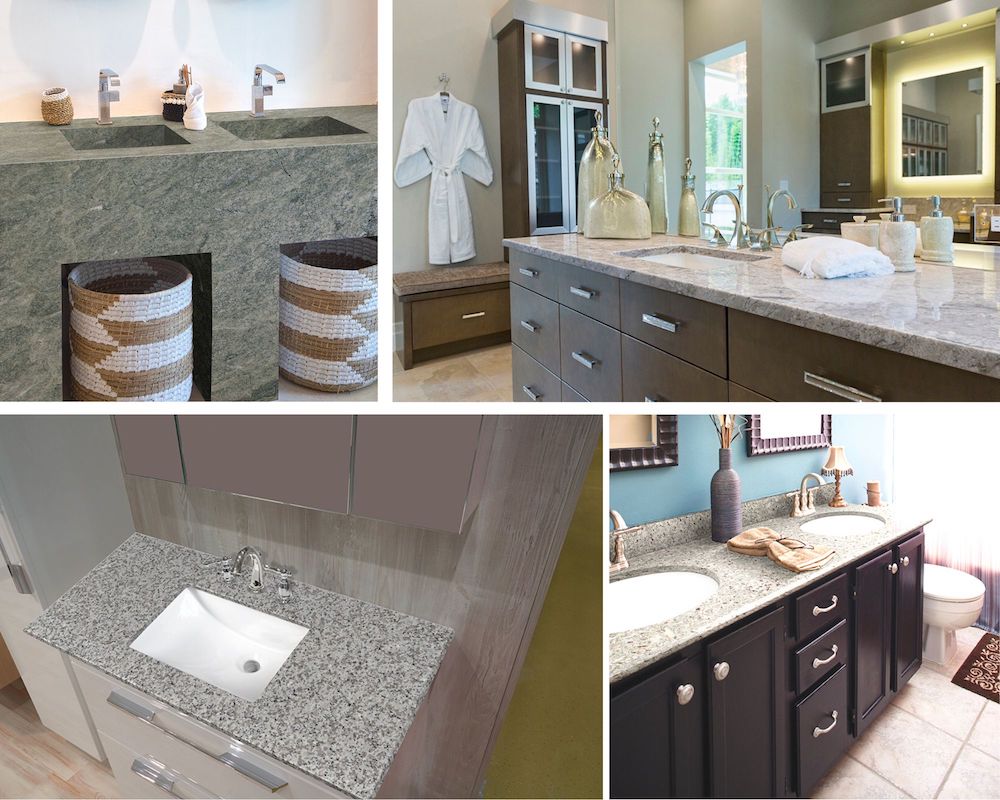 When designing or renovating your bathroom, the materials you choose are crucial. They help achieve the appearance and functionality you desire. Among the various options, granite offers the timeless appeal of natural beauty, durability, and versatility. Its exceptional qualities and the vast choice of granite colors make it popular for bathroom countertops and other surfaces, adding an element of luxury and a connection to the natural world.
Granite's popularity in bathroom design is not solely due to its longevity and resistance to wear and tear. It also offers a variety of intricate patterns, which allows it to fit seamlessly into different bathroom styles. Whether you prefer traditional designs, modern aesthetics, or both, granite can adapt and blend in harmoniously.
Here, we will explore bathroom transformations using five of our captivating granite colors. These varieties of granite are more than just materials; they provide opportunities to create spaces that reflect your personality, style, and aspirations. Each color tells a distinct story and encourages you to begin an adventure where your creativity is unlimited.
Sublime Simplicity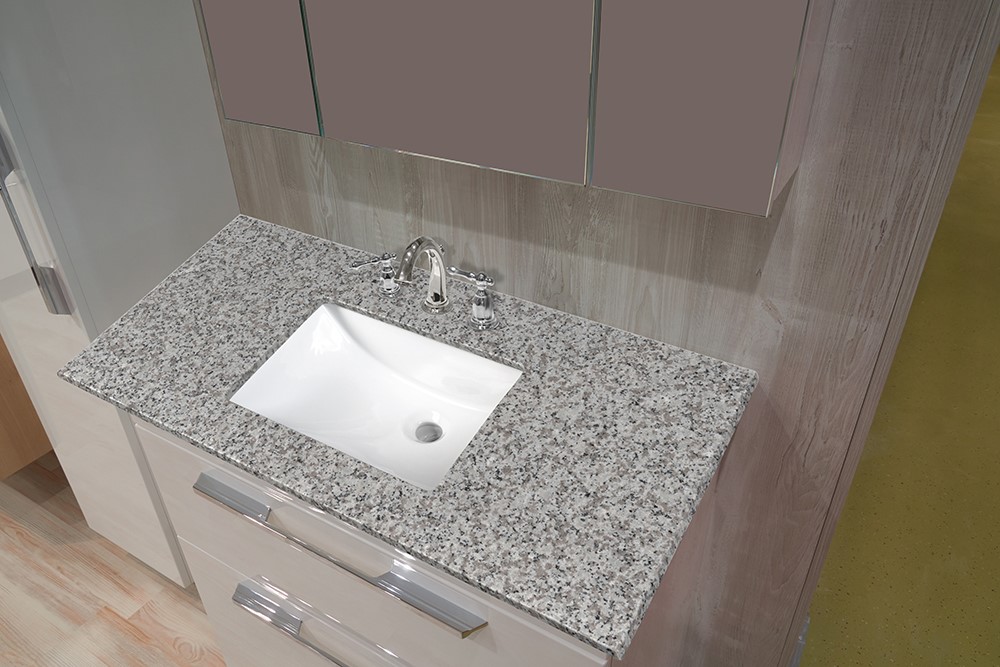 Argento Grigio Granite
Argento Grigio granite is an example of the beauty found in simplicity. This granite vanity top features a sandy backdrop gracefully accentuated by darker specks. Its durability and versatility make it an impeccable selection for any bathroom space, ensuring both aesthetics and long-lasting quality.
Pair Argento Grigio with sleek and modern fixtures, such as a polished chrome faucet and stainless-steel accents, to amplify its elegance. Whether your bathroom renovation boasts a monochromatic design or splashes of color, this granite effortlessly adapts, elevating the overall aesthetic.
Timeless Elegance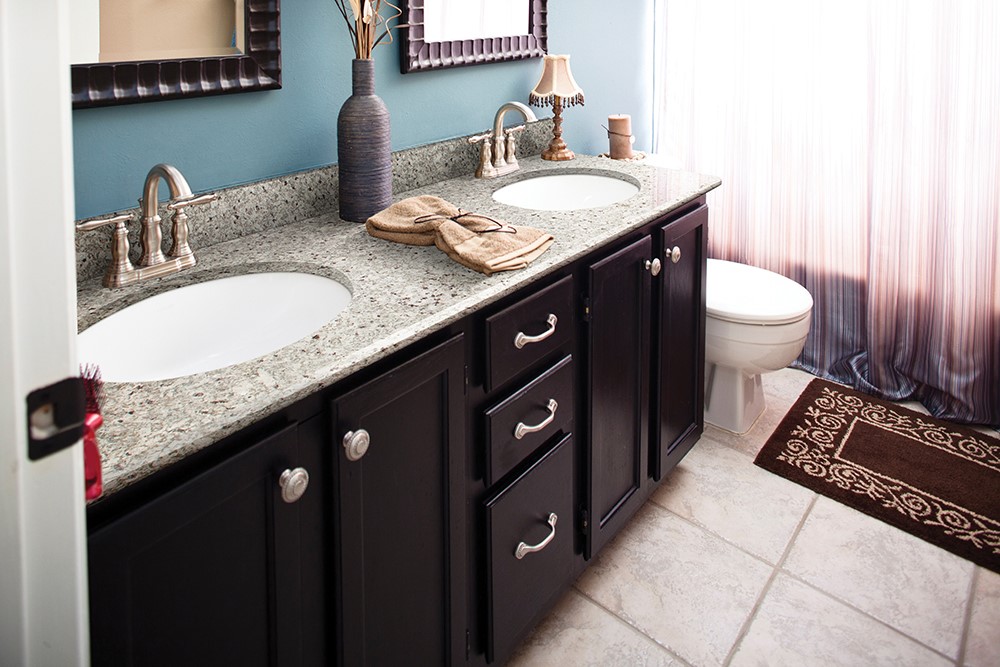 Moon White Granite
For those who appreciate the timeless appeal of marble but seek the durability of granite, Moon White granite is an ideal choice. This granite showcases a delicate blend of ivory, grays, and jet black, creating an intricate tapestry reminiscent of a moonlit night sky. The soft, flowing patterns create movement and elegance in any bathroom space.
Moon White bridges the gap between classic and contemporary design elements. Its neutral color palette complements dark and light cabinets and fixtures, allowing for versatile design choices. Pair it with darker tones for a bold and sophisticated contrast, or place it atop classic dark wood cabinetry for a luxurious and refined look.
Warm Modern Aesthetic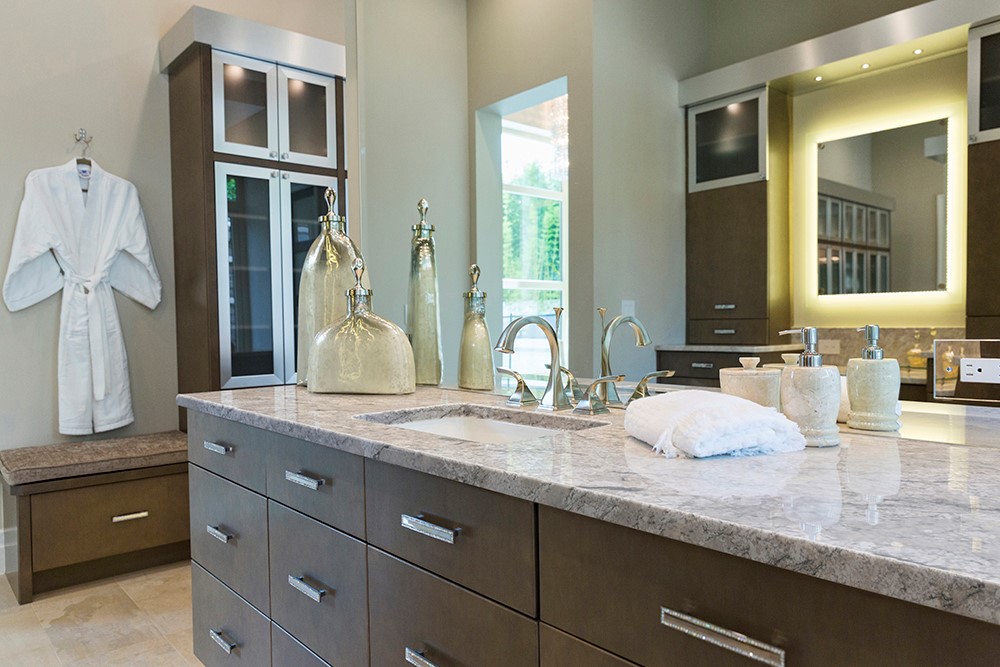 Sunset Canyon Granite
For a cozy and inviting bathroom with a modern aesthetic, Sunset Canyon granite is a remarkable option. This granite creates warmth with its rich earthy tones, ranging from calming beige with touches of white and taupe to accents of black veining. The dynamic patterns and colors make each slab a unique work of art, adding character to your bathroom design.
Sunset Canyon pairs well with natural materials like wood and stone. Consider incorporating wooden cabinetry to enhance the modern aesthetic. Earthy-colored accents and fixtures complete the cozy atmosphere, creating a bathroom that feels like a tranquil retreat.
Classic Sophistication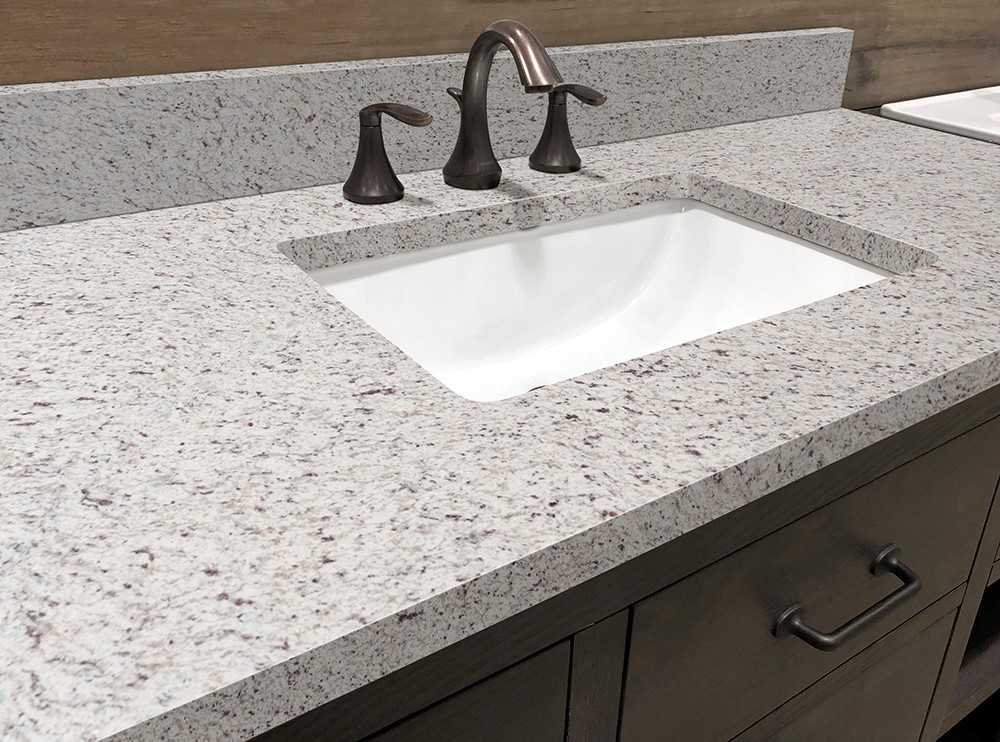 White Ornamental Granite
For those who admire white marble but desire the durability of granite, White Ornamental granite is a fantastic choice. This granite boasts a white background with intricate gray and taupe speckles, creating an elegant and refined appearance.
White Ornamental complements various bathroom styles, from traditional to contemporary and beyond. Its neutral tones provide a versatile canvas that can be paired with multiple colors and materials. Combine it with dark wood cabinetry and bronzed fixtures for a classic, opulent look, or contrast it with vibrant colors to create a contemporary and eclectic ambiance.
Vibrant Natural Beauty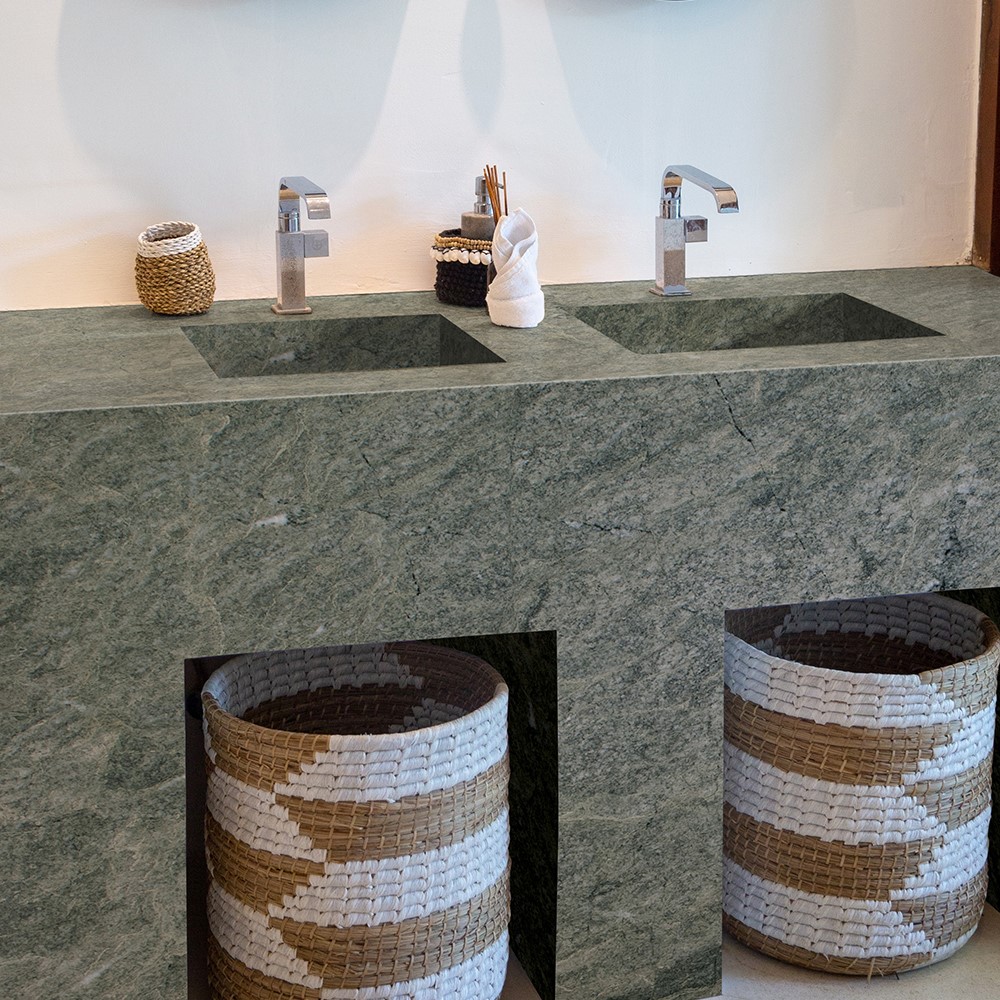 Costa Esmeralda Granite
For a vibrant and unique granite option, Costa Esmeralda granite is a captivating choice. This granite has a striking blend of green and gold veining, resembling the lush hues of a tropical paradise. The intricate patterns and colors create movement and energy, making it a focal point in any bathroom design.
Costa Esmeralda works well with natural materials and textures. Consider incorporating woven baskets, bamboo accents, and stone tiles to enhance the tropical vibe. This granite color can be the inspiration for a bathroom design that's lively and relaxing, evoking the feeling of being on vacation every day.
Find Your Perfect Granite Color
Granite is more than just a functional choice for bathroom surfaces—it's an opportunity to infuse your bathroom with style, personality, and elegance. These five stunning countertop colors showcase the versatility and beauty that granite can bring to your bathroom. Whether you desire a sleek modern look or a timeless classic design, these granite colors can transform your bathroom into a space that truly reflects your unique taste and style.
Ready to find your perfect granite color? Chat with us online, find an authorized MSI retailer near you, or visit one of the many MSI showrooms to view slabs and request samples.
Learn More About Granite Countertops
LUXURY AND ELEGANCE: OUR TOP 10 NATURAL STONE COUNTERTOPS
POPULAR HOTEL BATHROOM COUNTERTOP STYLES
BEST GRANITE COLORS FOR BATHROOM COUNTERTOPS