The Many Looks Of Porcelain Tile
August 24, 2020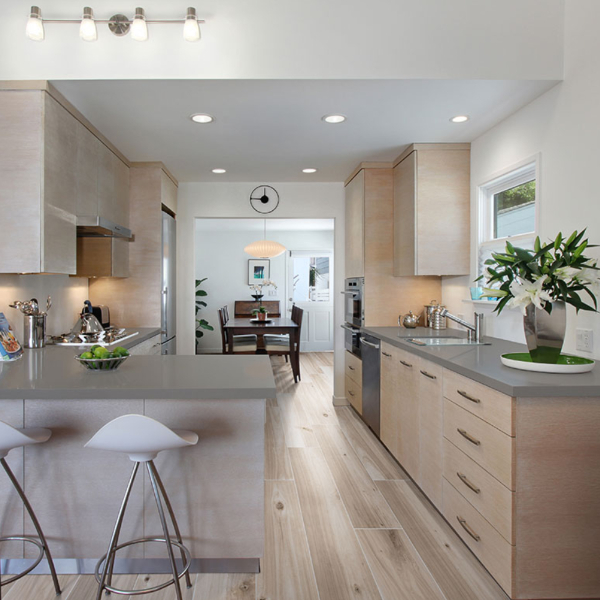 Utilized for centuries, porcelain tile has been a popular because of its beauty, durability, and versatility. With today's technology, porcelain tile is taken to new heights, as it realistically resembles a variety of alluring looks, from natural stone to wood and so much more. The options seem endless, but that makes it an excellent choice when desiring a specific style that doesn't require the same maintenance needs as the natural alternatives. Learn more about its bountiful benefits and take a look at some stunning styles.
Porcelain Tile Benefits
There are multiple reasons why porcelain flooring and tile is so popular among homeowners and design professionals alike. Oftentimes, it's more affordable than the material it actually mimics, especially when it comes to more expensive tiles like marble, wood, concrete, and travertine. Plus, porcelain's authentic looks certainly can be better than the real deal thanks to its uniform coloration and variation, unlike the randomness you get with natural stone and other materials.
This modern tile is extremely water- and stain-resistant as a result of the dense clay being baked at high temperatures. Because of porcelain's durability, it also offers a lot less maintenance required than natural materials, so there's no need to wax, seal, buff, or lacquer your new tiles.
Its versatility makes it a desirable material, too, since it can be used indoors and outdoors in both residential and commercial settings. And, it's not just for floors either; porcelain can be featured as a backsplash, wall application, or shower surround.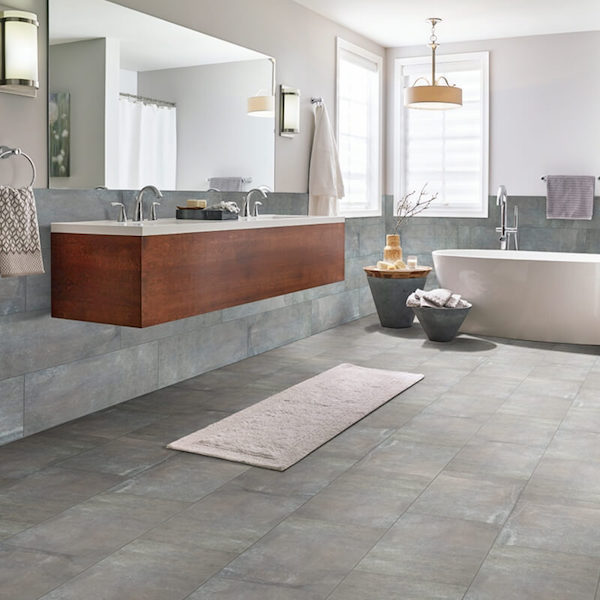 Porcelain Tile Looks
You may be surprised at the wide range of striking looks than can be achieved when incorporating porcelain tile patterns into your design. Thanks to modern printing techniques, any look and texture can be created on the blank canvas that is porcelain. Whether you're after something traditional, modern, or elegant, we think these many looks of porcelain will inspire you to elevate your décor. You can also utilize a flooring visualizer tool to help you dream up your perfect porcelain.
Wow-Worthy Wood Planks
From rich mahogany to coastal driftwood, porcelain tile comes in just about any wood-look style with smooth finishes to detailed textures for more realistic character and feel. Contrary to natural hardwood, porcelain wood planks can be featured throughout the entire home, while you'd never install real hardwood in wet spaces. However, porcelain is perfect for kitchen tile, laundry tile, and bathroom tile applications. When everything else is simple, it really can become the focal point of the room like in this living room.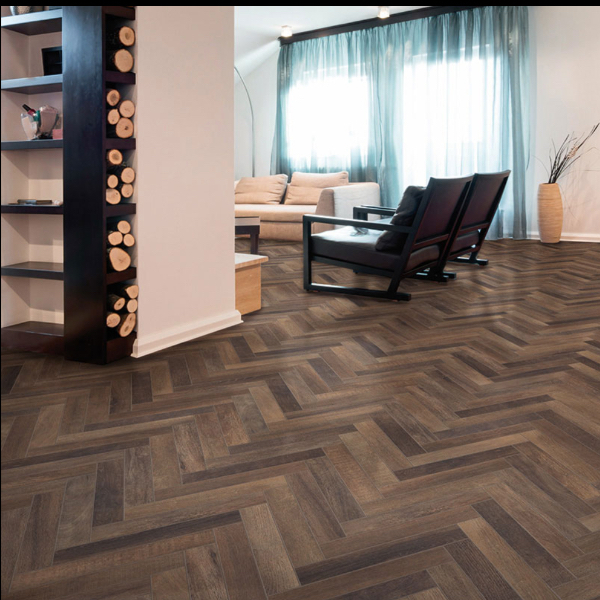 Tempting Travertine
Growing in popularity, travertine-look porcelain offers the same rustic charm as stone. The tiles are large in size to help emulate the authentic stone look, and they can be used in living rooms to outdoor kitchens and patios.
Sensational Slate
Porcelain slate carries the same iconic blue-gray hues, rich texture, and rustic appeal. This low-maintenance tile can be used both inside and out and can be used for pavers, patios, bathrooms, kitchens, and more.
Marvelous Marble
Porcelain tile that looks like marble exudes the same elegance and luxuriousness as the classic material but in a more affordable tile option. The uniform coloring and veining patterns of marble-look porcelain make it much easier to create a large installation in any room, and its versatility to be used in both wet and dry spaces is an excellent alternative to the natural stone that easily soaks up just about everything. Utilize the veining to tie together a color story like with the use of golds and tans in this eclectic living room.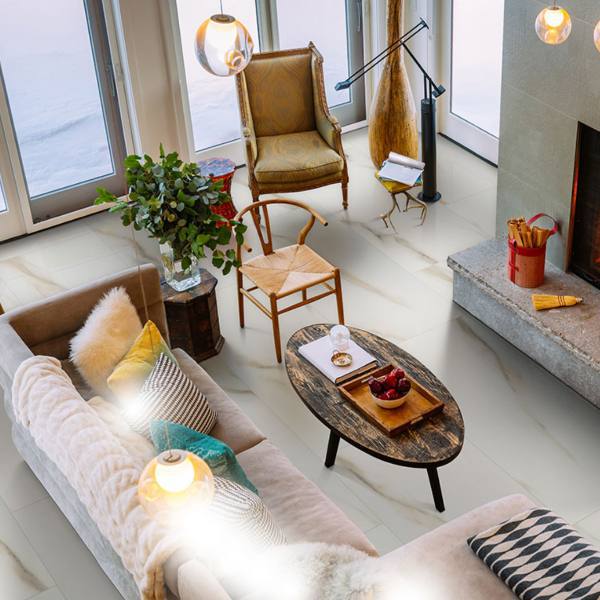 Stunning Sandstone
Sandstone-look porcelain comes in earth tones that beautifully mimic desert sands and beaches. The neutral hues will set the perfect backdrop for any style, and the durable porcelain will be stronger than sandstone.
Beautiful Brick
Adding brick look porcelain tile is one way to achieve that old-world charm or give character to a modern loft. Unlike utilizing antique or vintage reclaimed brick, you'll never worry about running out of tile and having to piece together a patchwork mess. Plus, the pattern you choose will also enhance the brickwork, from offset to basketweave to herringbone, which is featured in this modern minimalistic office space.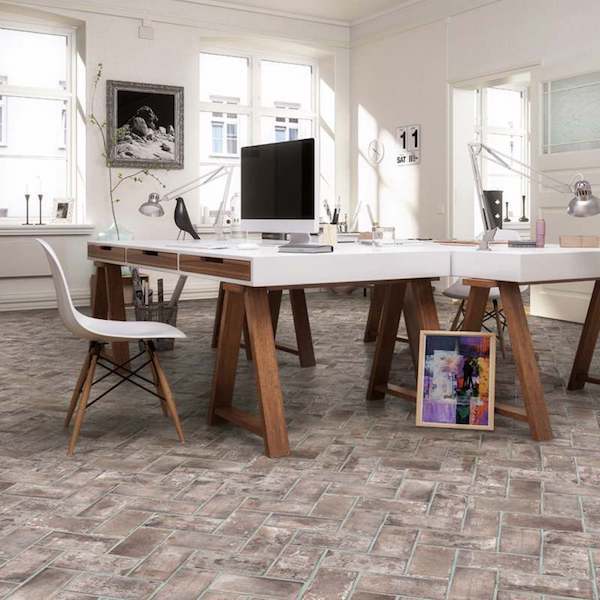 Fabulous Fabric
Textured flooring like porcelain with a fabric design is a subtle way to create dimension and interest in a contemporary space. The fine linen cross-weave patterns come in various neutral tones to create modern floors, feature walls, or backsplashes.
Magnificent Metal
Porcelain tiles that mimic metals like copper, iron, or coal create a distinct metallic look that can go from rustic to modern. With bold colors and finishes that look as if it's been exposed to the elements, these porcelain metal tiles will make a statement in any space. Feature it on the floors or create a dramatic backdrop like in this contemporary living room.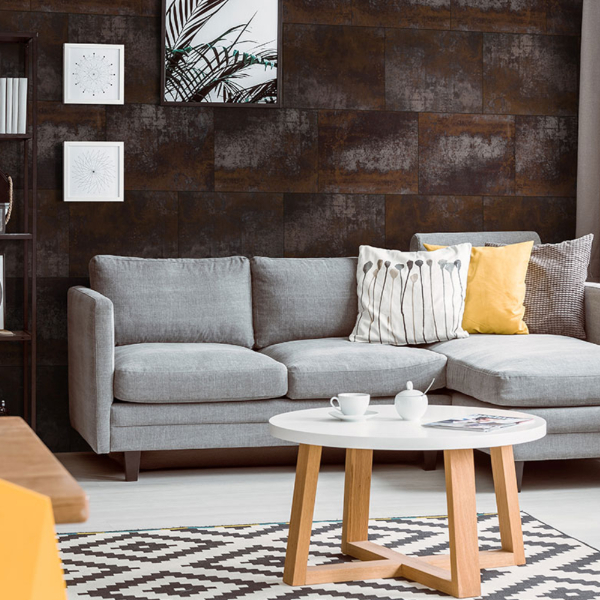 Tantalizing Terra Cotta
Add an artistic touch indoors or out using terra cotta-look porcelain tile. The durable tiles bring to mind the hand-painted look of terra cotta tiles from Spain that are perfect for adding Mediterranean flair, creating an earthy vibe, or building a rustic design.
Pretty Polished Porcelain
From backsplashes to floors, polished porcelain tile can be featured in a number of ways to give a space that classic look. What better way to feature a timeless style than by choosing solid or subtle patterned white, gray, beige, or greige tiles that have a sophisticated shine without that garish glaze.
Which Porcelain Look Will You Pick?
As you can see, porcelain comes in a wide range of colors, patterns, and textures, from porcelain wood tile to stone- and metal-inspired types. The durable material is touted for its low-maintenance requirements and adaptable application use. Not only is it the design that makes the tile special but also the shape of the tile, from subway style to large format tiles, as well as the pattern it's installed in that instantly elevates any residential or commercial space. Now that we see the wheels are turning, you're probably asking yourself which porcelain would you pick for your next project?
READ MORE ABOUT THE BENEFITS OF PORCELAIN TILE
The Prettiest Porcelain Tiles For the Laundry Room
The Pros And Cons Of Porcelain Floor Tiles
The Redwood Series: Naturally Respectful Porcelain Wood Tiles
These Cement Porcelain Tiles Will Change Your Mind About Cement Flooring