Are Quartz Countertops Really Timeless?
December 28, 2019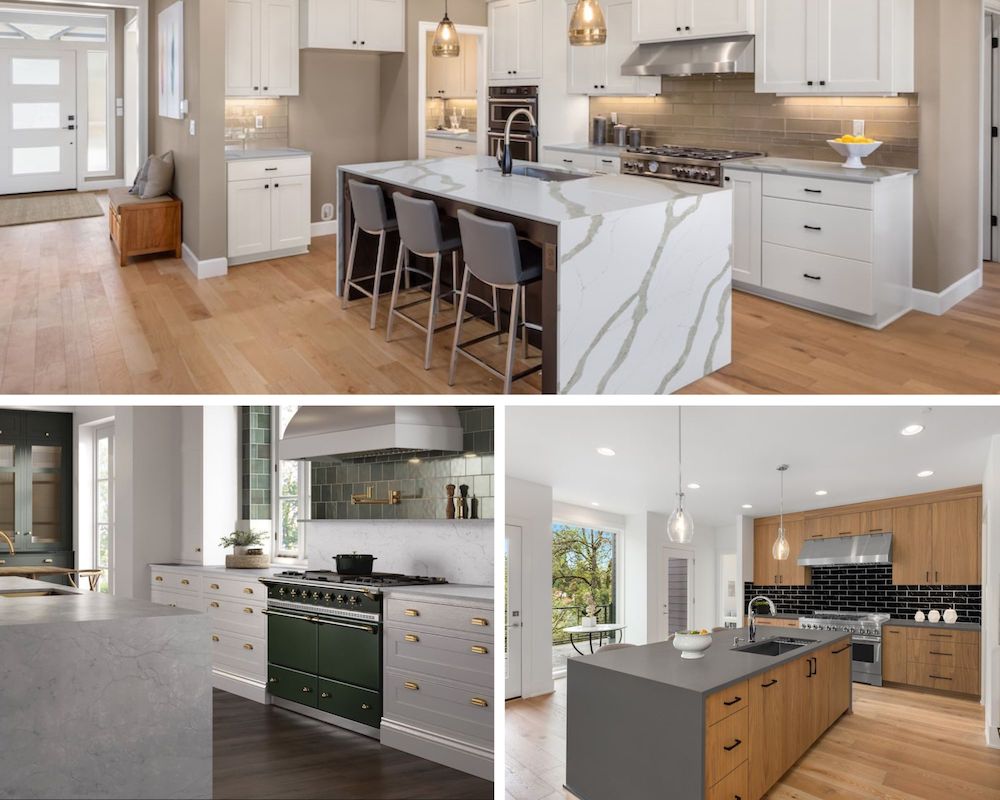 There's no denying that more and more homeowners and designers are turning to quartz countertops for their kitchen and bathroom designs, but that doesn't mean that the popular surface will be out of style any time soon. These countertops are made to last in terms of form, function, and fashion. Since timeless designs have staying power and don't follow trends or fads, classic materials like quartz will continue to be fresh and relevant today, tomorrow, and yesteryear. Using this guide, you can follow the same telltale signs for how to choose quartz countertops with timeless style.
Choose From Timeless, Natural Stone Looks
One of the greatest qualities of quartz is its ability to realistically mimic natural stone, which has proven enduring beauty since it's been used for centuries. Only Mother Nature could come up with so many beautiful, organic patterns, but quartz manufacturers continue perfecting their craft at creating countertops that will fool you into thinking it's the real deal.
From subtle to bold, these stone-like designs feature similar swirls and veining you'll find in coveted stone materials like marble or quartzite. To achieve timeless style, avoid busy designs and choose quartz with plain or minimal patterns. This goes for any surface that mimics stone as well as quartz that looks like concrete, even if your aesthetic is modern or industrial. No or low patterns won't overpower the kitchen or bathroom design with too much veining or texture.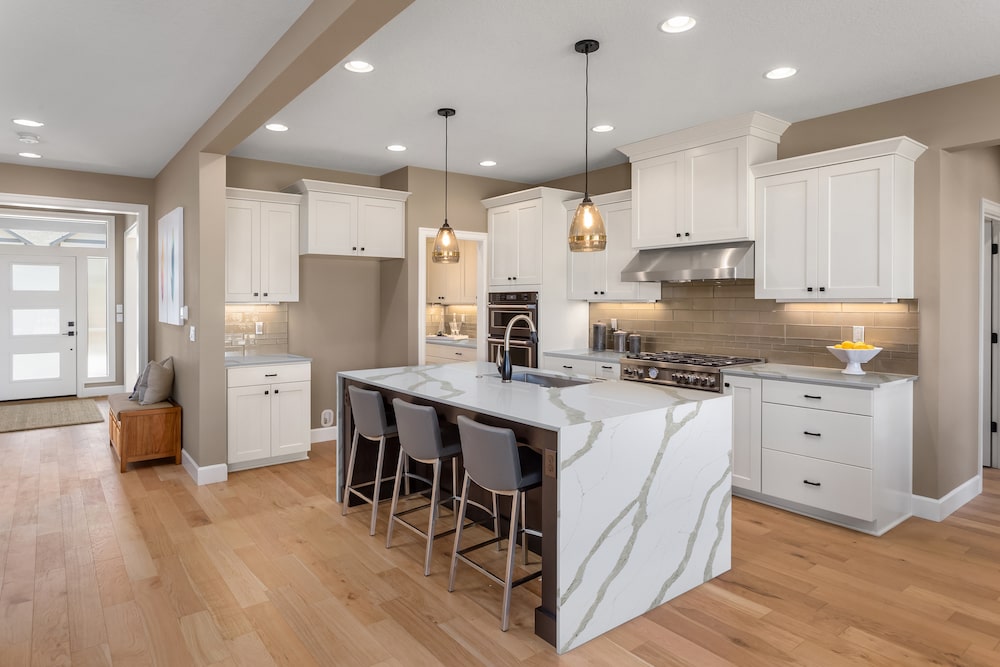 Calacatta Bali
Pick Classic, Neutral Colors
Neutral colors have an enduring attractiveness and a substantial presence in classic and traditional interior design and home décor. Quartz can be a single consistent color or feature the looks of beloved white marble and other soft natural stone patterns. When choosing a quartz countertop that's designed to last through the decades, stick with neutrals like beiges, grays, off-whites, and bright whites. Even though quartz countertop colors include bold choices like red, blue, and black, remember that trendy colors can co-exist with these traditional hues as long as they come in small spurts and aren't a main selection that sets the tone for the room.
Learn the Long-Term Functions
Achieving timeless style also requires long-term function. Quartz is known for its performance longevity as it offers high-functioning features along with low maintenance. The natural quartz mixed with man-made polymers creates a super sturdy surface that's stronger and more durable than natural stone counters like granite and marble. The non-porous surface also resists bacteria, so you and your family can feel good about using this clean, safe material. It's inherently scratch-resistant, heat-resistant, and scorch-resistant, too.
Even with white quartz that looks like marble, a quick wipe with warm water and a soft sponge or towel will do the job, but you can also add a little dish soap for some extra cleaning power. Plus, quartz keeps its shiny, smooth surface, with proper care of course, without ever needing to be sealed, conditioned, or polished.
All of these features may sway your decision, especially if you have a busy, active family but still want your quartz to stay looking like the elegant material it is. Moreover, manufacturers are so confident in their durable quartz counters that they offer a 10 to 15 year warranty, whereas quartz manufacturers like MSI offer a residential lifetime warranty and a 10-year commercial warranty. This gives buyers peace of mind knowing that they'll revel in its beauty for many years to come.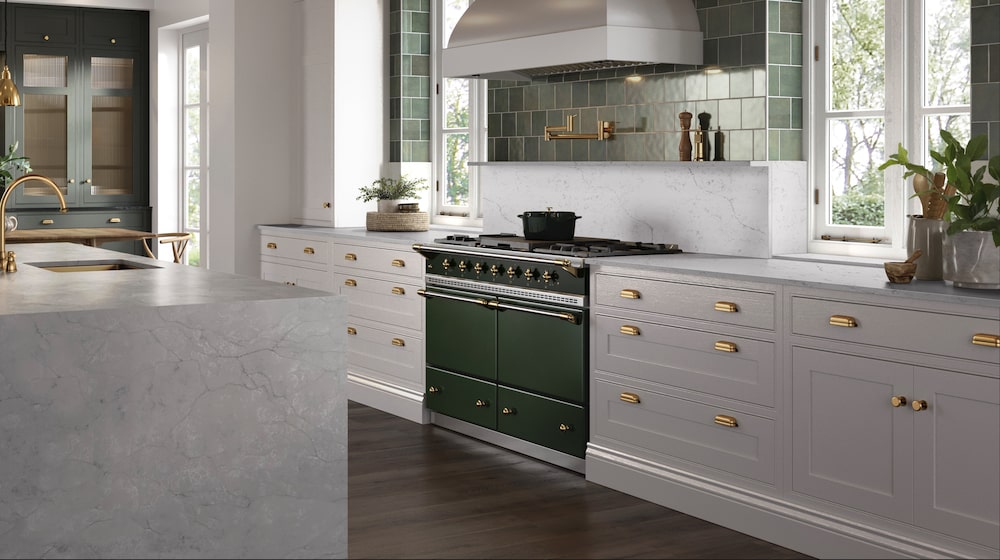 Calacatta Lavasa
Know the Difference in Quality
Renovations are costly, but it's important to put money into high-quality pieces, especially the permanent features like countertops that will eat up a big portion of the budget. Even though many quartz manufacturers use the same patented Bretonstone technology, their formulations, and methods might vary in terms of look, color, and finish. Some might also be less expensive, but beware of non-through-body quartz. This more cost-effective type of product only has coloring and veining on top of the quartz surface. The long-lasting quality you need is through-body quartz, which means the coloring and veining go through the entire material. Although quartz is very durable, it isn't completely indestructible, so if it were to get scratched or chipped over time, through-body quartz would show the same color and pattern beneath it, whereas non-through-body quartz would show a different color and become an eyesore.
Just like with your quartz, you want to look for the best quality you can afford for all of the pieces you choose. Cheap fabric and furniture will make your whole design feel low quality. That's not to say to blow your budget on buying everything that's expensive, but do your best to select items that will last in terms of craftsmanship and classic style. Less is more since timeless design is simple yet balanced.
Match With Other Natural Materials
For your kitchen or bathroom design, choose timeless materials to go along with the classic colors mentioned. Quartz matches well with other natural materials like wood, metal, stone, brick, and cotton. The warm or cool tones in the neutral hues of the countertops will beautifully complement the warm tones in the wood cabinetry, furnishings, or accent pieces as well as the warm or cool tones of metal fixtures, lighting, and accessories. Stone and brick have been used for centuries and will continue to be a timeless feature in home design. Other natural resources to incorporate include upholstered chairs, rugs, and linens in natural fibers. These combinations work with a variety of styles, from rustic to modern to Scandinavian.
Macabo Gray
Timeless designs aren't created to be temporary. They should look fresh and current instead of dated and tired. Since quartz countertops are a permanent installation, the design needs to be carefully considered beyond what's popular at the moment. Since quartz is designed to stand the test of time and is also ageless in performance, you should ask yourself what color and pattern will also last the next several decades and beyond. This way, you won't need to remodel your kitchen or bathroom again or want to ever remove your new quartz countertops.
If you would like more assistance in choosing the right quartz color, reach out! Chat with us now, visit an MSI showroom near you, or contact an authorized MSI retailer in your area for personalized assistance.
More on Quartz Countertops
Quartz Countertop Alternatives to White Carrara Marble
Quartz Countertops: An Environmentally Responsible Design Choice
Which to Choose: Quartz Versus Granite
How To Choose A Quartz Countertop That Matches Your Kitchen Colors
Black and White: Our Favorite Quartz Countertops