Discover The Advantages Of Wall-To-Wall Travertine
July 17, 2013
You can't have too much of a good thing – and when it comes to beautiful travertine tile, this is certainly true. Today's homeowners and homebuyers alike are trending toward more generous use of travertine, not just in a room or two but throughout the home. Where wall-to-wall carpet once touched is now surfaced with a more modern choice that is naturally beautiful, environmentally friendly, and incredibly durable.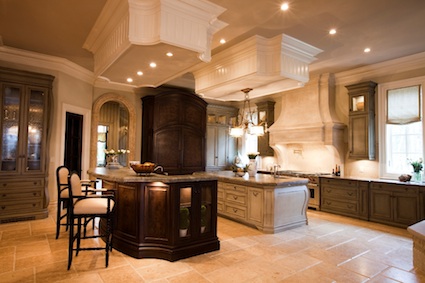 Travertine tile is naturally beautiful. A form of limestone, travertine is a sedimentary rock formed over thousands of years at the mouths of hot mineral springs or in caves. As a natural stone, no two pieces of travertine look exactly the same. MSI Stone offers more than 30 variant colors of travertine, including neutral beiges and tans you might expect as well as those enhanced by other minerals during formation to create vibrant pinks and golds. There are also several finishes available for natural stone, and new finishes appear in the market regularly to keep pace with consumer demand. Some examples include: polished, honed, leathered, brushed, and antiqued. This variety in texture and color allows for a wide range of applications in the home, with selections from subtle, earthy tones for large expanses (like the popular Ivory Travertine) to colorful selections for accents and statement areas.
With all of the options available, it is easy to apply travertine wall-to-wall, creating a unified, organic space throughout while also emphasizing desired areas for added flair. Though synthetic fibers may fade or become discolored over time, the beauty of travertine stone will stand the test of time and its character and depth cannot be rivaled by any pattern of carpet on the market!
Travertine tile is environmentally friendly. Naturally, travertine is a renewable resource from the Earth, but aside from the fact that it is created organically, travertine can contribute to a more friendly environment in the home. Unlike carpet, stone does not hold onto dust and pollens that exacerbate allergies. Natural stone tile is a great option for keeping a more sanitary atmosphere. Cleaning carpet is also a much more in-depth experience with chemicals, brushes, and suction; whereas tile may be dust mopped regularly to remove dirt and sand and wet mopped, if needed, with a gentle cleanser like dish soap.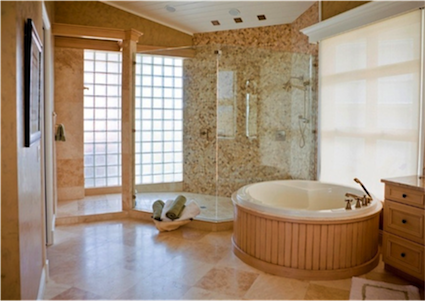 Travertine is highly durable, making it one of the most popular flooring options on the market. MSI Stone offers an assortment of finishes depending on customer need, which includes a filled variety and an unfilled variety. The filled variety is even more durable, filling in the natural pores of the stone to make it harder and less porous. Unlike natural stone, carpet becomes matted and stained, and the padding beneath breaks down over time. It must be replaced several times throughout the lifetime of a home. Depending on the quality of the carpet, it may be less expensive than a natural stone floor to start. However, after replacement several times, the long-term cost of carpet can certainly catch up to and exceed the initial investment of a beautiful travertine floor that lasts for centuries with proper care.
With travertine, minimal maintenance beyond a dust mop is needed on a daily basis. No shampooing, no spot cleaning, and certainly no tear out if it gets too dirty! Normal long-term maintenance of travertine is as easy as a do-it-yourself project that outweighs the more frequent maintenance of carpet. This maintenance involves filling in small holes that may appear in the travertine over time. Travertine is filled at the factory or at the time of installation to increase its durability. This fill can sometimes work its way out of the spaces, resulting in holes that can collect moisture or bacteria. To keep travertine tiles looking their best, as well as clean and sanitary, refilling these holes with an epoxy resin or travertine fill powder as they appear will keep the floor looking its best. For information on how to easily fill travertine holes yourself, check how to fill travertine holes in 5 steps.
Wall-to-wall carpet was once a luxury in 20th century homes. Today, the convenience of carpet is upstaged by the beauty, ease, and environmental advantages of a smooth, clean stone with lots of character. Travertine is the natural choice for the discerning homeowner who desires easy maintenance and lasting beauty. MSI Stone offers a vast variety of colors and finishes for every space, including wall-to-wall flooring, wall cladding, and countertops, too. Create a clean, natural canvas for your home with travertine tile!