Add Sophistication To Your Kitchen With New Gray Granite Countertops
January 14, 2022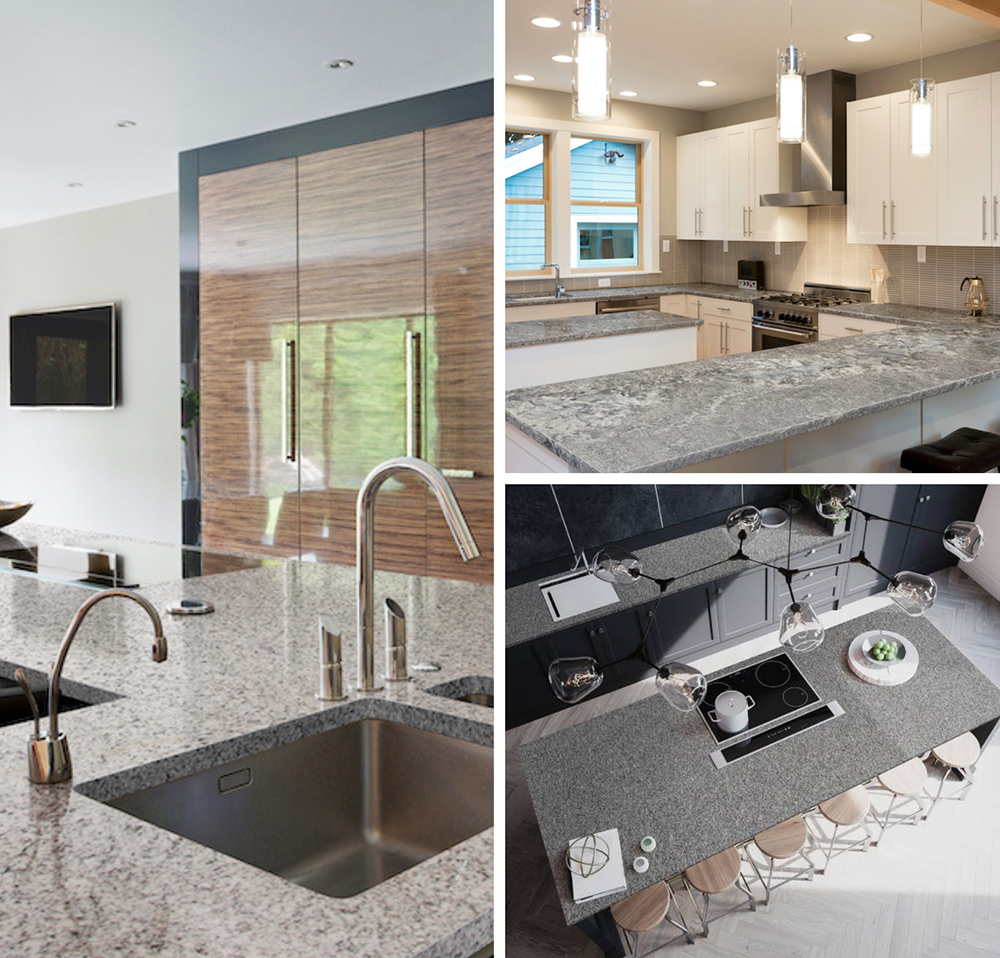 Black and white color palettes are a classic addition to any kitchen design, but gray is the latest neutral to imbue living spaces with a sense of cool serenity. Falling between black and white, gray granite countertops offer a happy medium for anyone seeking ways to temper extreme contrast or pair with literally any color, including wood tones.
A gray counter surface can serve as the perfect transition between white upper cabinets and dark gray or black lower cabinets, a common pairing in contemporary design. With so many varieties and shades of granite to choose from, you have nearly endless options when you undertake your home improvement project.
What if you're not keen on cool grays? You'll be happy to discover the latest trend involves a mixture of gray and warm beige shades, called greiges, that work well with both cool and warm palettes. In other words, anyone can find gray granite countertop materials to suit their design plans and personal preferences.
If you're looking for modern ways to elevate your kitchen remodeling project with a sophisticated addition to any palette, you can't go wrong with the luxury, drama, and dimensionality of granite. Here are a few stunning varieties from MSI you'll definitely want to consider.
Bianco Imperial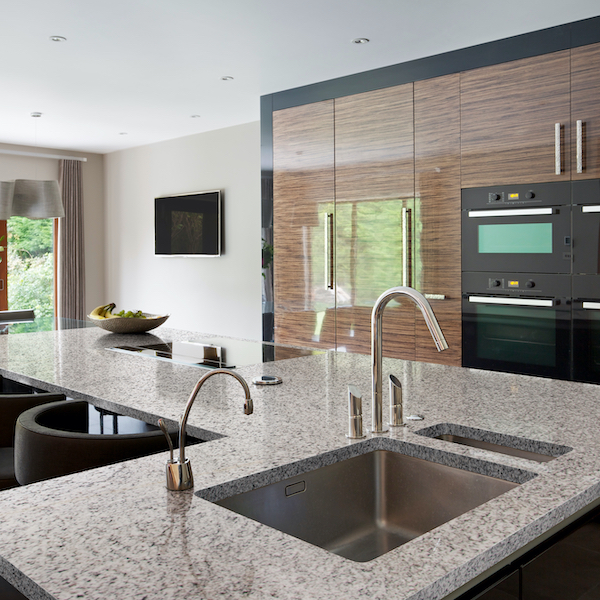 Some granite colors are characterized by incredible variation in their patterning, lending an air of movement and drama to your counter surface and serving as an eye-catching focal point for your overall design. Others have considerably less variation, with salt-and-pepper type patterns that produce a relatively uniform surface, imbuing your space with tranquility and allowing other elements of design to take center stage.
Bianco Imperial, quarried in Brazil, falls between these two extremes, with a white background beset by flecks of light, medium, and dark gray, as well as hints of black. Spotting may be alternately sparse or dense across the surface of this dappled, natural stone, creating mild variations in pattern that produce intermittent areas of movement, like tiny eddies throughout an otherwise placid body of water.
A cool gray that delivers a medium tone overall, Bianco Imperial is an ideal addition to kitchens that feature both black and white elements, where it can act as a visual transition to soften the contrast. It also works well with darker wood tones, like walnut or mahogany, or with dark wood stains that lean toward ashy hues, rather than golden ones.
Fortaleza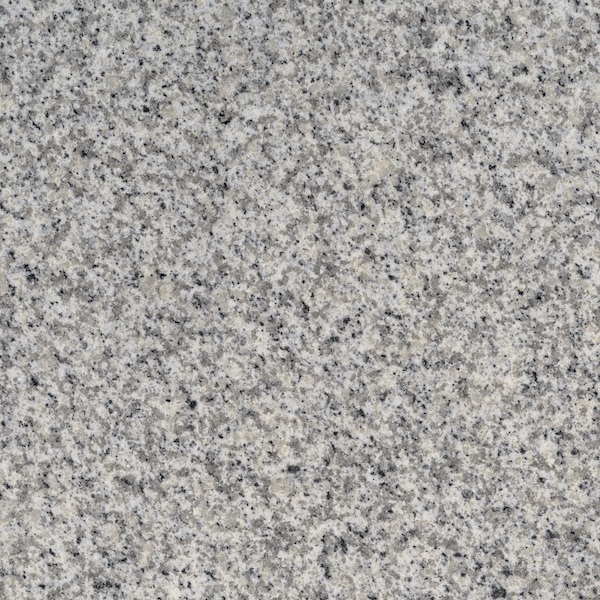 Granite can deliver a lot of drama, but that doesn't mean you have to search elsewhere if you're looking for a soothing expanse of stone from the back wall to countertop edges. Low-variation, Brazilian Fortaleza offers the ideal balance of color, dimension, and uniform pattern that will add elegance to your kitchen space without necessarily elevating visual noise.
Each slab contains a densely speckled surface that almost appears to be solid when seen from afar. Up close, however, you'll note a light gray background marked by tiny flecks of beige, black, and medium gray.
Because this stone presents a relatively uniform appearance, it's a popular choice with homeowners and kitchen designers looking for materials that enhance an overall design without pulling focus away from the whole picture.
Pale Fortaleza is a lovely addition to tonal kitchens in white or off-white palettes, as its coloration pairs well with both pure white and cream tones, as well as blonde or weathered wood cabinetry.
The light gray surface will stand out in a white-on-white palette without creating too much contrast or drama, helping to support a soothing and pristine aesthetic. If contrast is what you crave, however, it can also be added to black or dark gray cabinets.
Gray Atlantico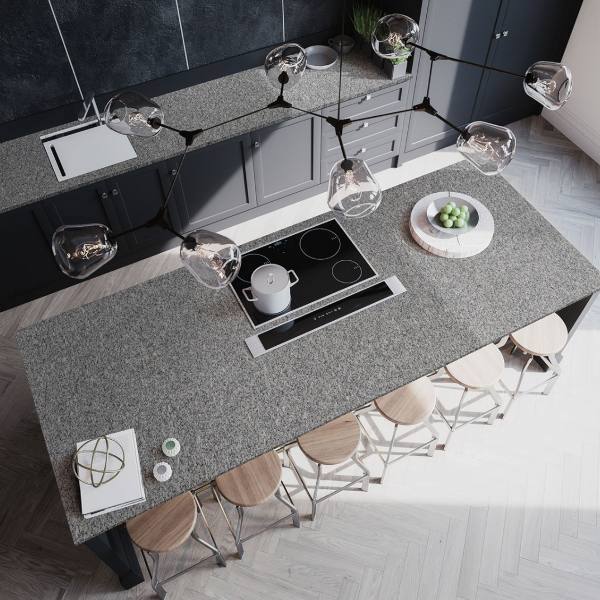 Somewhat similar in appearance to Fortaleza granite, Brazilian-quarried Gray Atlantico features an overall darker wash of color and slightly more prominent speckling, creating a pattern that is marginally bolder. An equal disbursement of light, medium, and dark gray speckles, as well as black grains, peppers the surface of the stone.
This delivers kitchen countertops that appear to be fairly uniform from a distance, but have enough variety of color throughout to create a bit of movement and visual interest. If you've ever watched the hypnotic static on an old-school TV, you'll understand the soothing, yet attractive effect this surface will have in your kitchen space.
Like Bianco Imperial, this is a great choice to soften high-contrast kitchen designs, and because the pattern is muted, it works especially well with complex patterns for backsplash tiles. Like many granite varieties, it's also great at hiding stains and scratches, although granite, in general, is resistant to such damage.
Nevasca Mist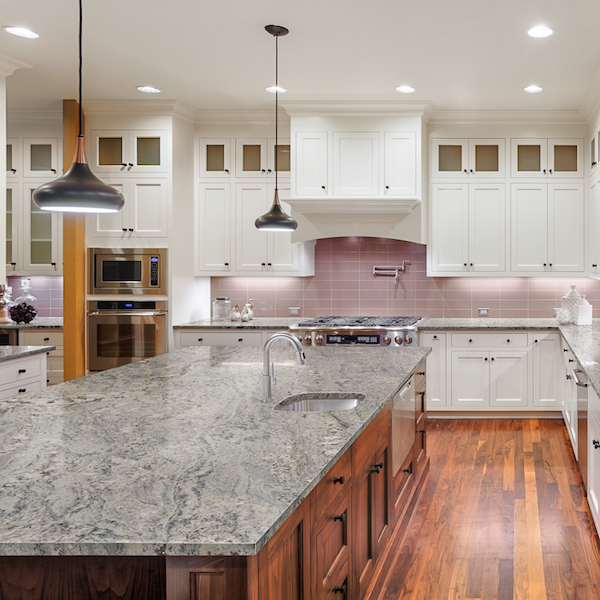 The debate between the merits of quartz vs. granite rages on, but you only have to take one look at eye-catching Nevasca Mist granite, quarried in Brazil, to fall in love with the depth, dimension, and drama particular to this natural stone countertop. This variety features a neutral color palette, but offers massive personality, thanks to variable patterning that introduces incredible depth and movement to any kitchen setting.
The background is a roiling river of grays and beiges, resulting in a swath of trendy greige that's ideal for use in both warm and cool kitchen designs. It also features patches and veins of dark gray, brown, and black, adding to the illusion of intense movement across the surface.
In other words, this variety of granite is a real showstopper. The marriage of warm and cool tones ensures a great fit with nearly any palette. If you're looking for a gray countertop to go with a range of wood tones, Nevasca Mist is a perfect fit.
Silver Falls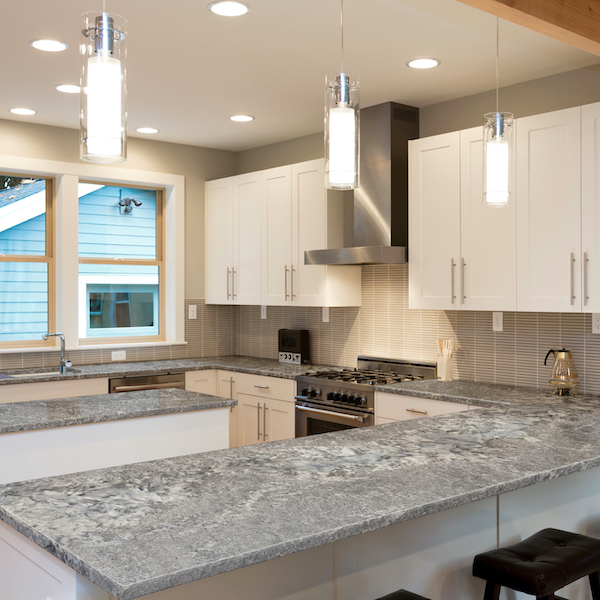 You won't need a granite visualizer to recognize the beauty this natural stone variety will add to your kitchen. With medium variation in patterning, Silver Falls granite, quarried in India, serves as a piece of artwork that takes your kitchen design to the next level.
With a mixture of light, medium, and dark gray tones swirling across the surface like stormy skies, you'll get all the drama you expect from granite, with depth and dimension you could practically fall into. When you choose a piece this stunning, details like granite countertop cost and design integration are secondary. However, you'll find that this granite is best displayed in a muted setting where it can really shine as the star of your design.
Stunning Granite from MSI Surfaces
If you're looking for ways to incorporate trendy grays into your kitchen design, don't go ho-hum with boring, gray cabinets. Instead, choose one of the many striking granite options from MSI to create the focal point you crave or complement a serene kitchen space.
LEARN MORE ABOUT GRANITE COUNTERTOPS
Find the Perfect Granite Countertop with MSI's Kitchen Design Tool
Understanding Granite Countertops and How to Choose the Best One
Visualize Granite Countertops and More with Our Multi-Surface Visualizer Tool