12 Of The Most Popular Granite Countertops For 2022
December 23, 2021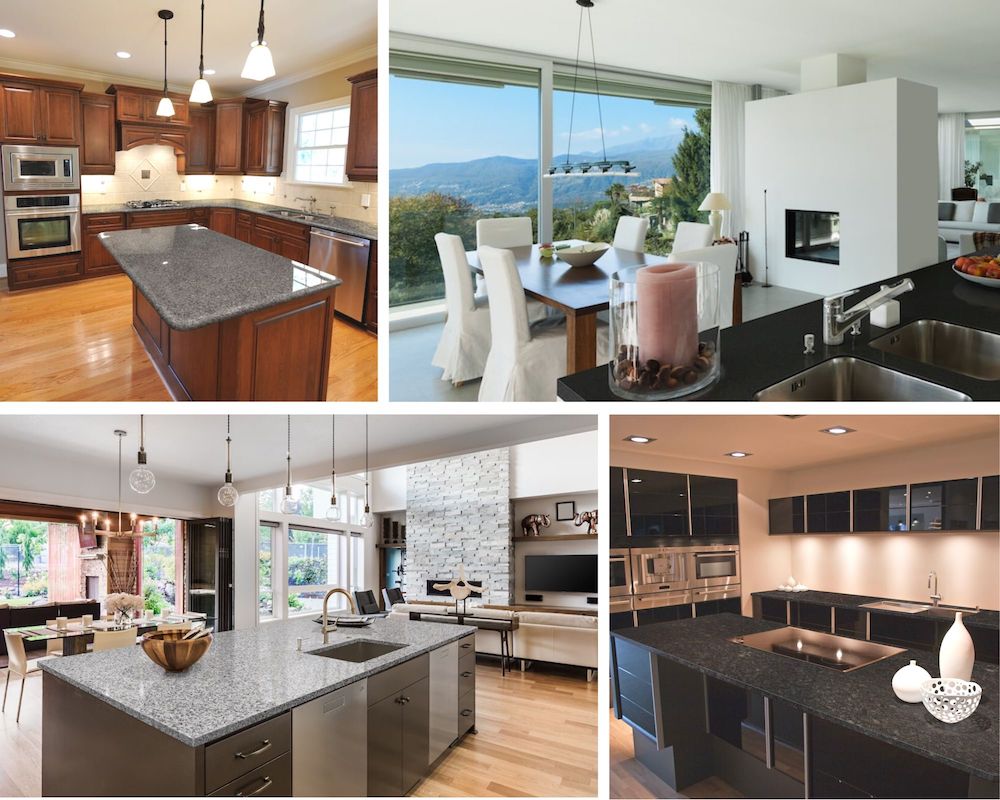 Anyone who is seeking a statement piece to complete their kitchen or bathroom design is sure to appreciate the eye-catching pattern and dimensionality of granite countertops.
In addition to jaw-dropping beauty, granite offers practical features that homeowners are sure to love, including resistance to damage from heat, staining, scratching, etching, chipping, and more.
Granite countertop cost is also comparable to other natural stone types, like marble, quartzite, and even engineered quartz, although it will depend on the variety and slab you choose.
All in all, it's a great choice for busy households looking to add luxury and visual appeal to their interior design. With this in mind, several MSI varieties are gaining popularity heading into the new year.
Silver Cloud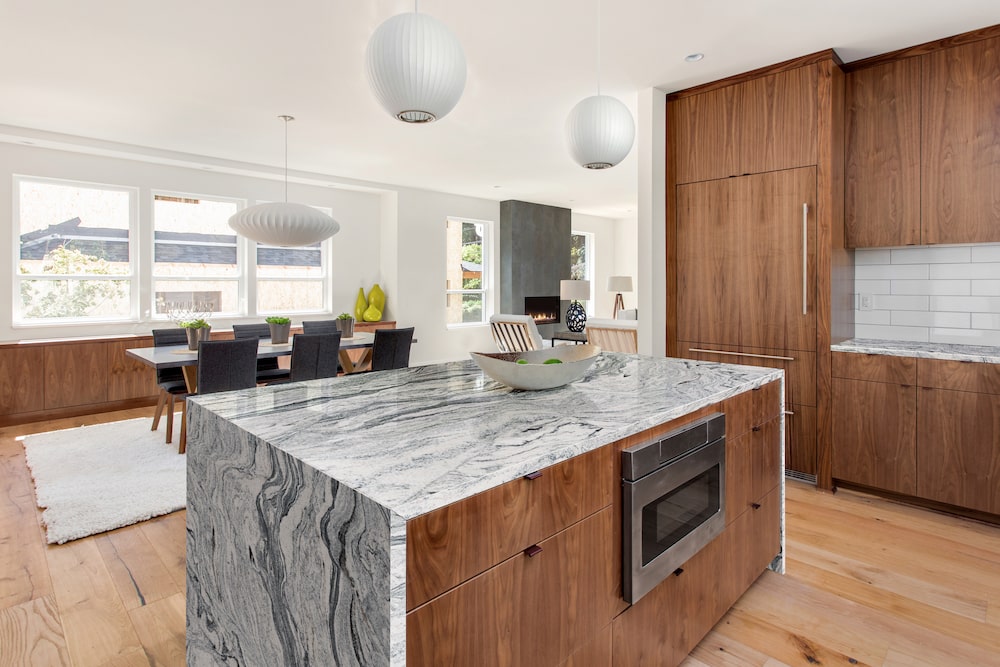 Silver Cloud Granite
Drama is the order of the day when it comes to granite. With granite, intense patterns, paired with incomparable depth and dimension, are difficult to replicate, which is why the real deal often wins out in the quartz vs. granite debate.
Silver Cloud granite is a prime example of this trend, with stunning streaks of light and dark rippling across the surface. A white and ivory background is punctuated by fine-grained rivulets of silver and gray, creating a bold, mesmerizing statement piece for any space.
White Ornamental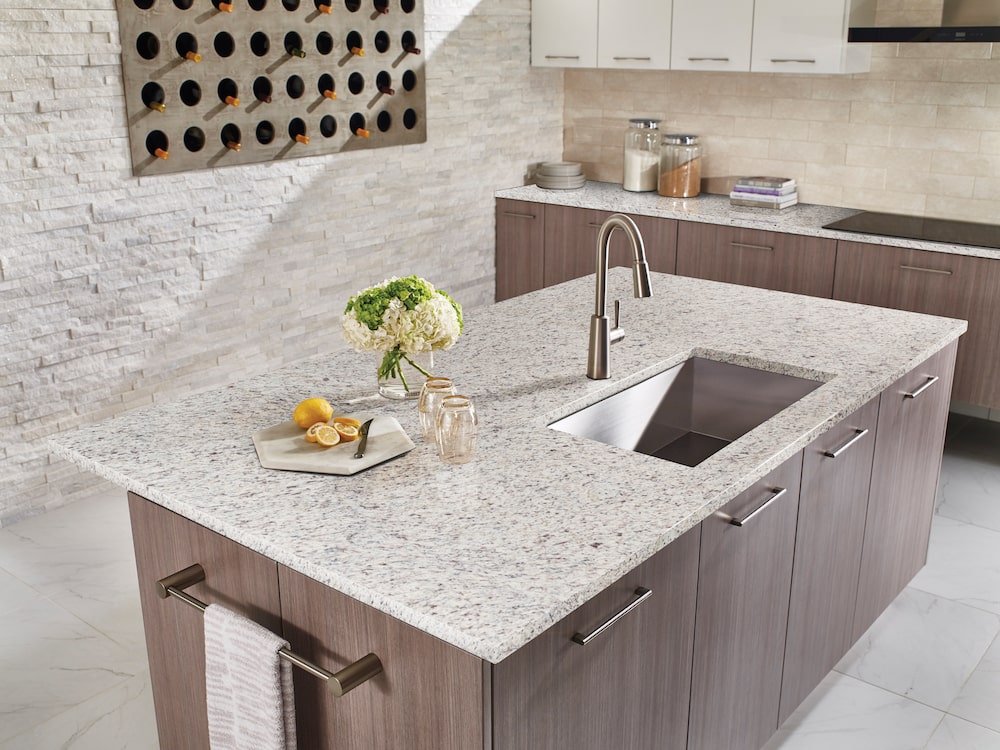 White Ornamental Granite
White Ornamental is a largely white stone countertop material that is somewhat subdued by granite standards, but no less attractive for the subtle patterning. The white background is lightly stippled with flecks of gray and black, making it the perfect option to spice up an all-white kitchen or bathroom, without overwhelming the design. Alternatively, you can use it to tie together light and dark elements in a space.
Colonial White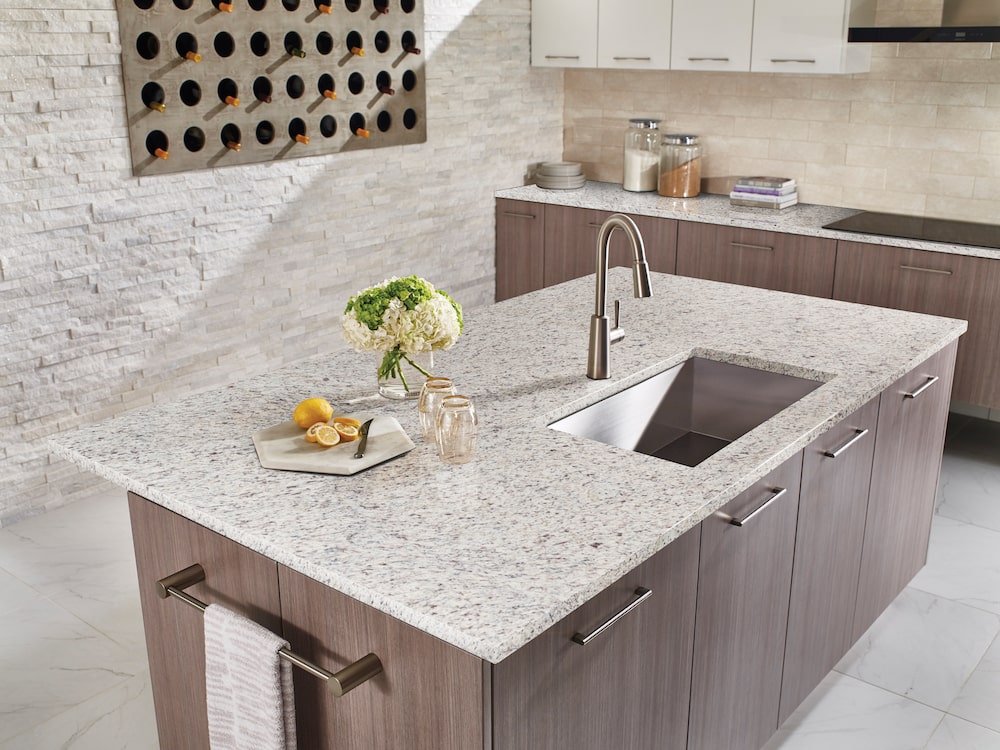 Colonial White Granite
You don't need a granite visualizer to see how stunning this variety will look in any kitchen or bathroom setting! Similar to White Ornamental, this variety features a white swath of stone with small specks of dark graining.
However, the background of Colonial White is a softer blend of cottony white and pale silver, with flecks of black to add personality. The overall aesthetic is like black diamonds strewn across a snowy expanse.
White Ice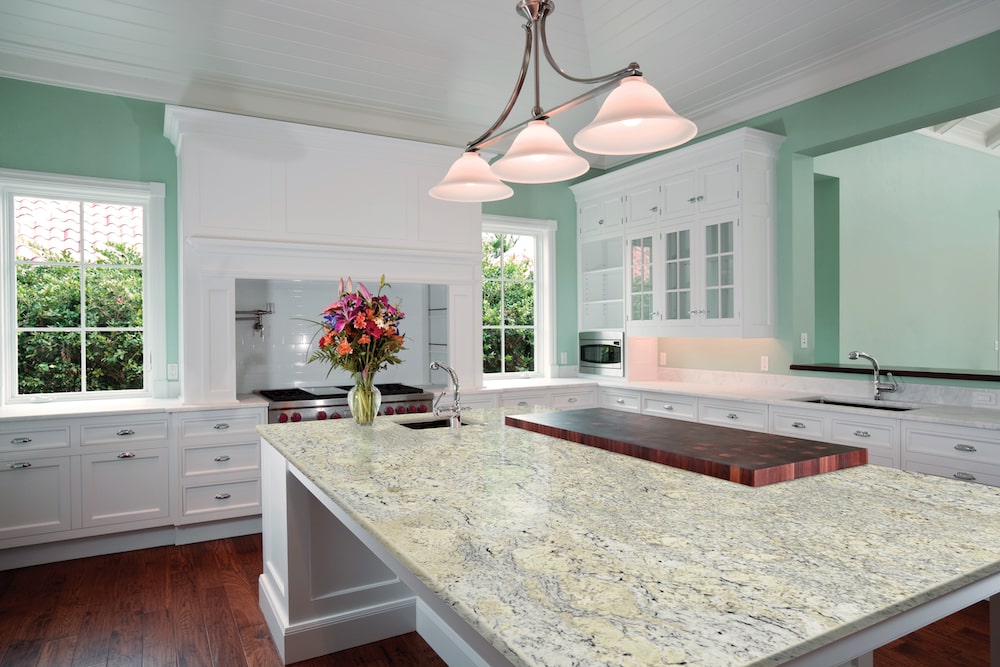 White Ice Granite
Kitchen designers and homeowners alike fall in love with this granite variety because of its incredible versatility and drama. Quarried in Brazil, White Ice is ideal for kitchen countertops in both cool and warmer designs, thanks to coloration that includes swirls of bright white, pale gray, and light beige tones.
Marked by flecks and veins of black, the pattern on this gorgeous granite is an absolute showstopper, making it the perfect option for anyone who is seeking a balance of boldness and ease of coordination with other design elements.
Steel Grey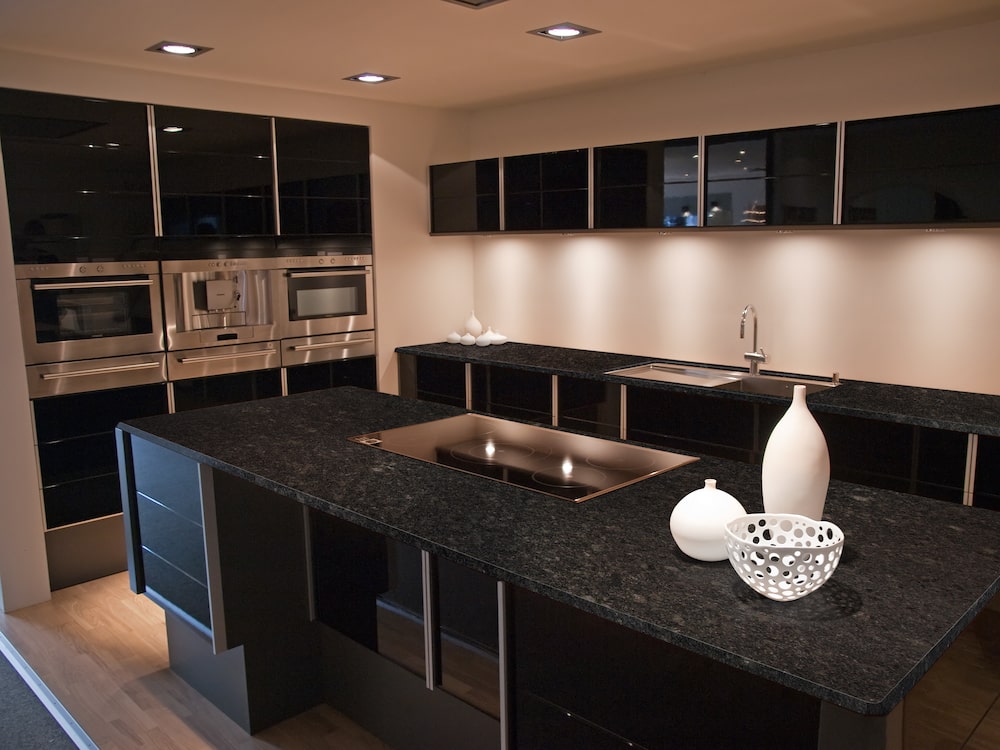 Steel Grey Granite
Anyone who has been searching for dark, but striking countertop materials is sure to love the subtle variegation of Steel Grey granite. Quarried in India, this variety features a dark gray background beset by specks of black, light gray, and silver, creating the impression of stars peeking through a misty cloud cover.
For high contrast, pair it with white cabinetry or set it atop ebony cabinets to elevate both the palette and visual appeal.
Valle Nevado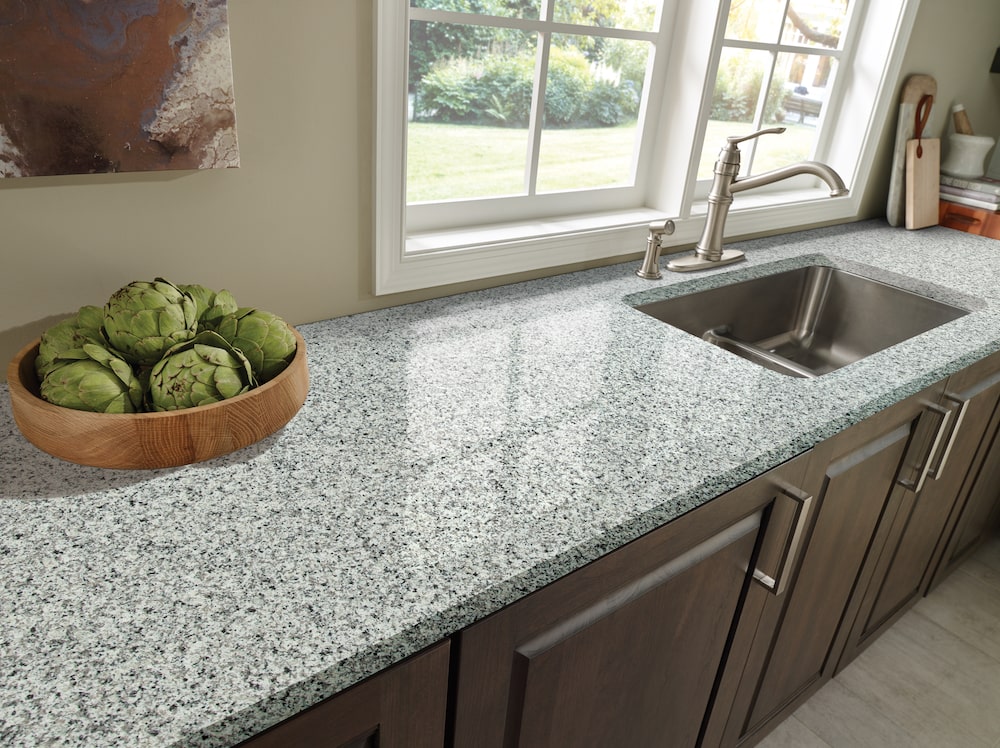 Valle Nevado Granite
If you're interested in kitchen countertops that add a dose of visual interest without completely taking over your design, a low-variation granite variety like Valle Nevado will fit the bill.
This classic granite look displays interspersed stippling of white, black, and gray hues with little discernible pattern, creating an overall expanse that will stand out against painted or wood-grain cabinets without necessarily stealing the show.
Black Pearl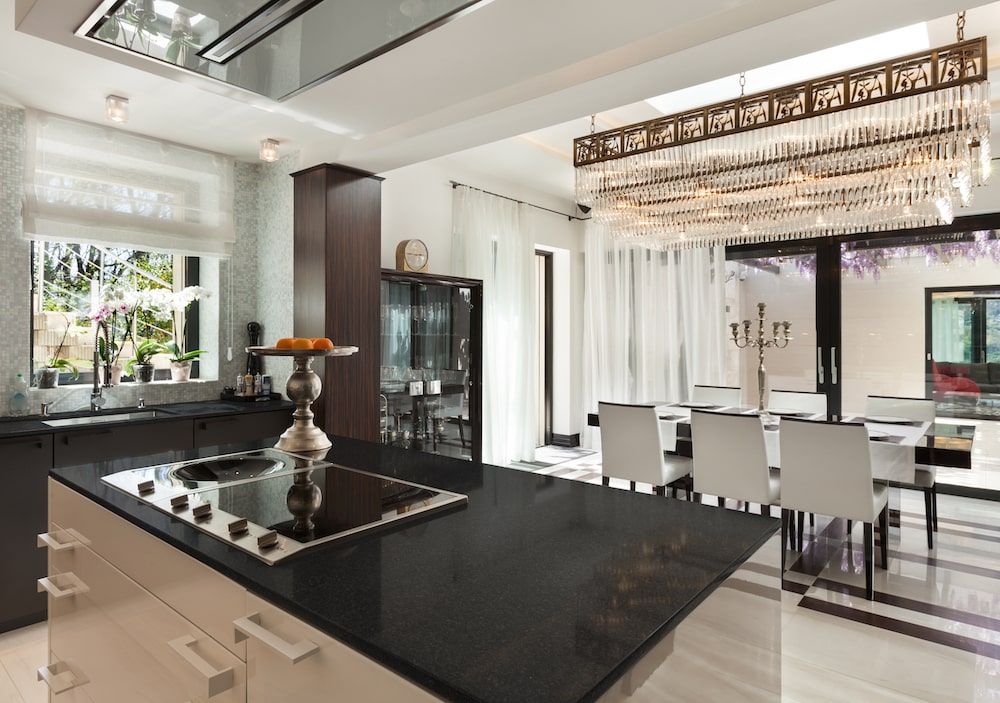 Black Pearl Granite
This incredibly attractive granite variety is appealing in two very important ways. First and foremost, the largely black background is lightly dappled with dots of gray, brown, and green, as well as gold and silver flecks, offering an enchanting, if subtle, tableau.
Best of all, the darker surface of Black Pearl is ideal for busy households keen to hide stains and scratches that seem to be part and parcel of life with children.
Azul Platino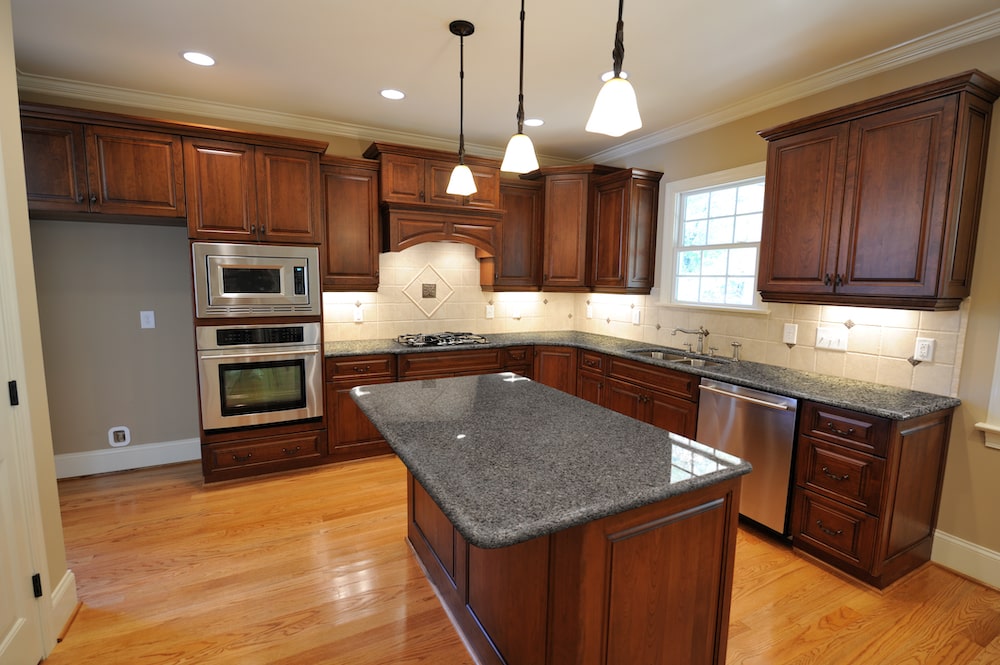 Azul Platino Granite
A Spanish variety, Azul Platino (translating to platinum blue) is a darker granite featuring shades of gray ranging from nearly black to gunmetal to dove gray. While it doesn't necessarily have any blue speckling to speak of, it does skew cool on the gray spectrum, giving it a bit of icy appeal.
This natural stone is exceedingly versatile, pairing well with white, gray, and black interior designs, as well as a range of wood tones and nearly any accent color you can imagine.
Azul Celeste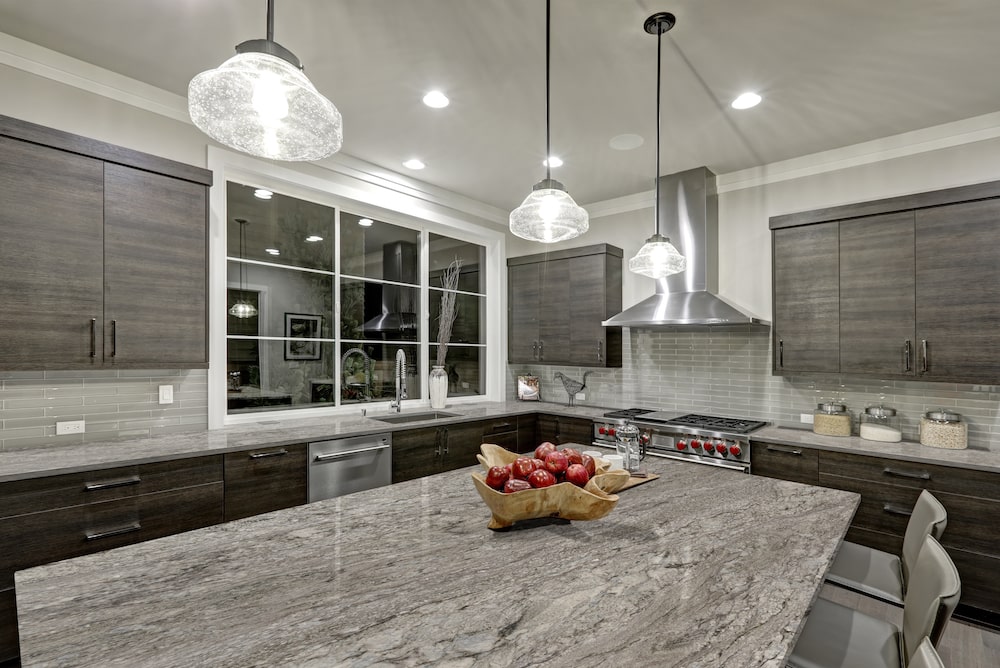 Azul Celeste Granite
It's hard to imagine a prettier granite variety than Azul Celeste, which is among the most variable granite colors in the neutral range. A pale gray background is painted in specks and striations of silver, charcoal, and hints of blue, creating a rich tapestry of swirling eddies that's both soothing and sophisticated.
S F Real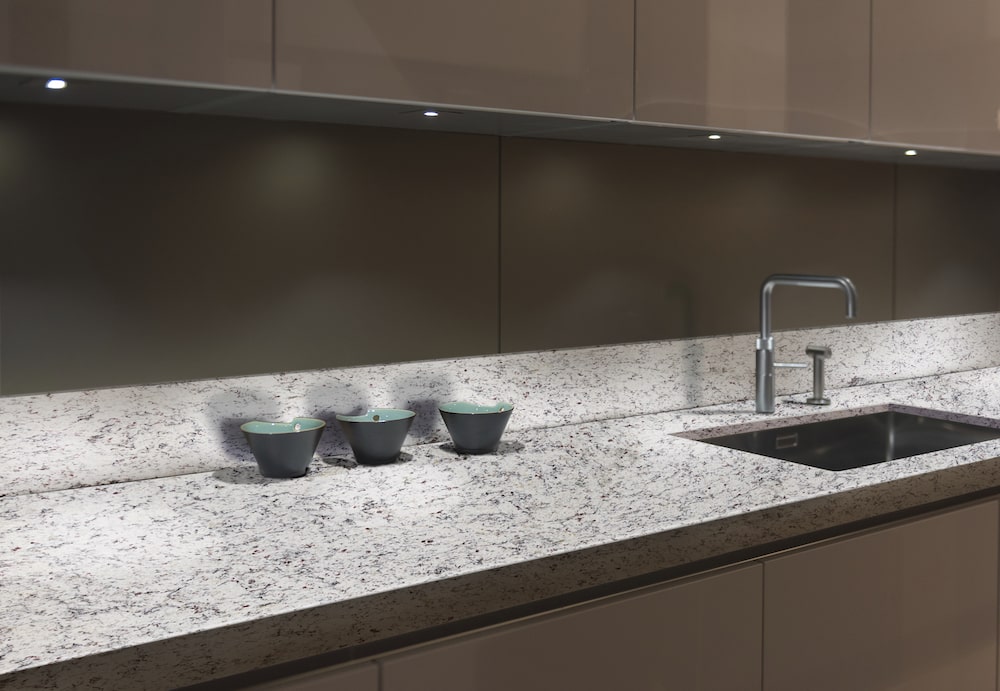 S F Real Granite
This striking Brazilian stone variety will serve as a high point in any kitchen remodeling project, whether you start with S F Real as your centerpiece or you add it to an existing interior design.
The bright white background is dappled with a smattering of specks in black, gray, and burgundy, adding a ton of personality to any space, sans the visual spectacle some other granite varieties are known for.
Premium Black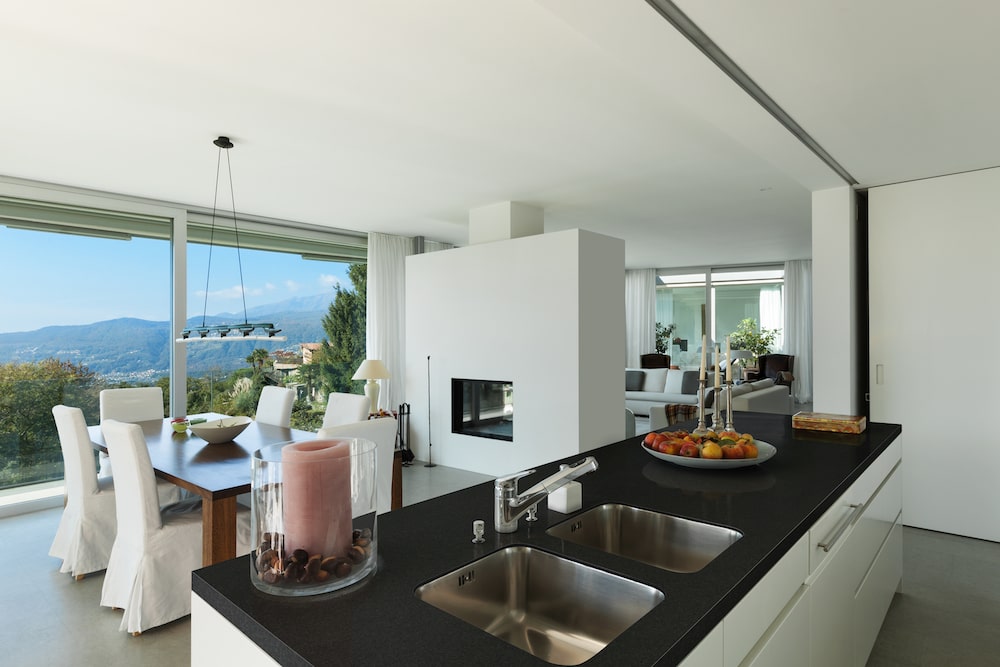 Premium Black Granite
There's something truly dramatic about an inky expanse that extends from the wall to the countertop edges, and Premium Black granite delivers a brooding mystique for sure. It provides a sharp contrast to white cabinetry and perfectly complements more masculine designs.
Nearly solid black with a fine grain of dark gray stippling, this is a rare granite that has a lot of depth with a nearly nonexistent pattern.
Luna Pearl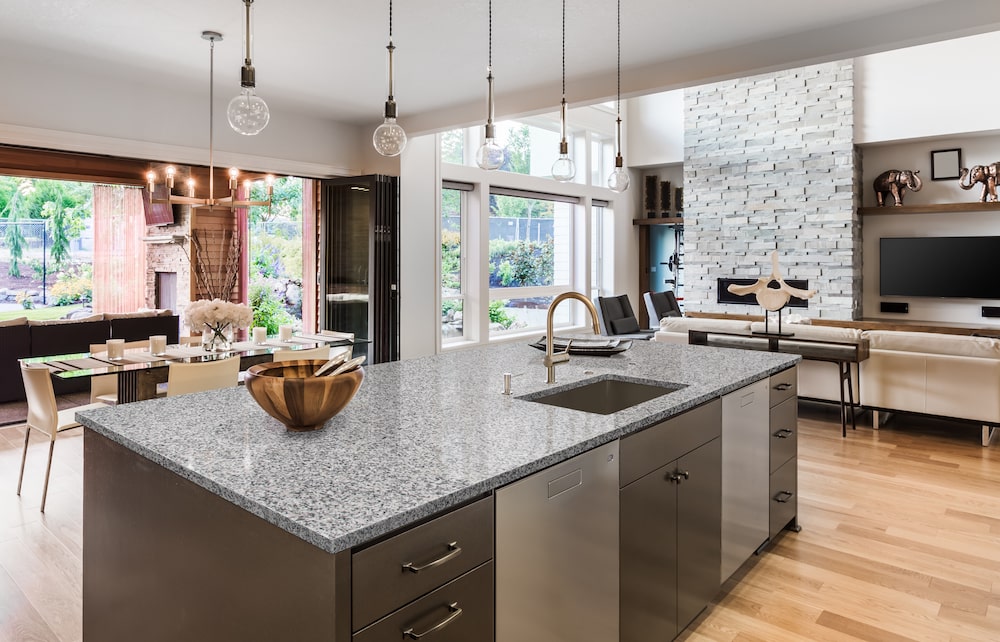 Luna Pearl Granite
Does the surface of this low-variation granite mimic the moon? While you won't find any craters, an argument could be made that the delicate, interwoven grains of white, gray, and black deliver a viewing experience that's similar to the lunar majesty in the night sky. The detail of Luna Pearl up close is exquisite, while the view from farther away is nothing if not serene.
Take Advantage of the Most Popular Countertops
Granite countertops offer an incredibly beneficial form of home improvement, thanks to a strong, durable surface that brings untold personality to interior spaces. When you want to add luxury and boost your home value, you can't go wrong with the outstanding selection of granite from MSI.
There's so much more to discover in granite colors! Chat with us online now, visit an MSI showroom, or contact an authorized MSI retailer near you to explore more.
LEARN MORE ABOUT GRANITE COUNTERTOPS
Find the Perfect Granite Countertop with MSI's Kitchen Design Tool
Add Sophistication to Your Kitchen with New Gray Granite Countertops
Understanding Granite Countertops and How to Choose the Best One
Visualize Granite Countertops and More with Our Multi-Surface Visualizer Tool