What Is A Stacked Stone Fireplace?
August 05, 2020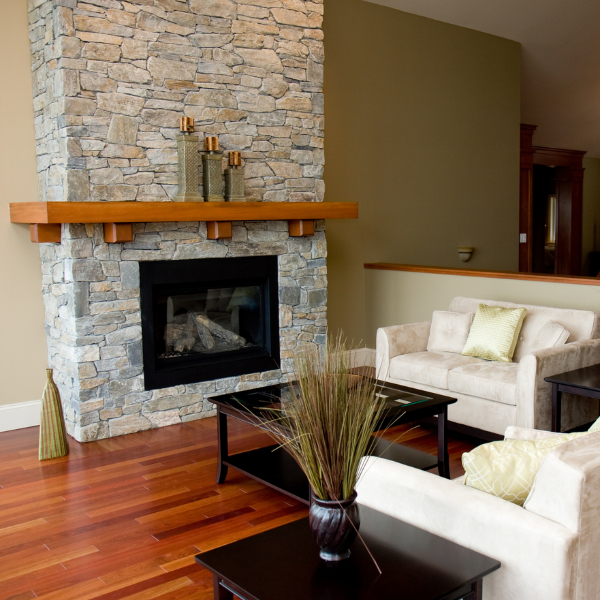 When guests walk into your living room, their eyes naturally gravitate towards your fireplace. It's the main focal point in the room after all! That's why choosing the material for your fireplace surround is an extremely important decision—it will make a statement (and you want it to command the right attention!). A stacked stone fireplace is a popular choice because of it's timeless and homey aesthetic that is pleasing to look at.
What exactly is a stacked stone fireplace? And is it the right choice for your home? The answer is only a stone's throw away. A stacked stone fireplace is made up of rustic stones stacked together from the ground to ceiling, similar to how you would lay bricks or tile on a statement wall. The best part about a stacked stone wall is that it's a bit of a visual trick—while it looks to be comprised of real stones stacked on top of one another, it's actually created with ledger stone panels!
What Are Ledger Panels?
Ledger panels are crafted from natural stone, allowing you to create a timeless look of a solid stone wall along with natural character and warmth. These stone panels are affixed together to create interlocking panels. This makes it extremely easy for homeowners to create a sophisticated look in record time by efficiently applying the pre-arranged stone panels to the wall instead of individual stones. This also makes creating a stacked stone fireplace a much more affordable option to enhance your living space!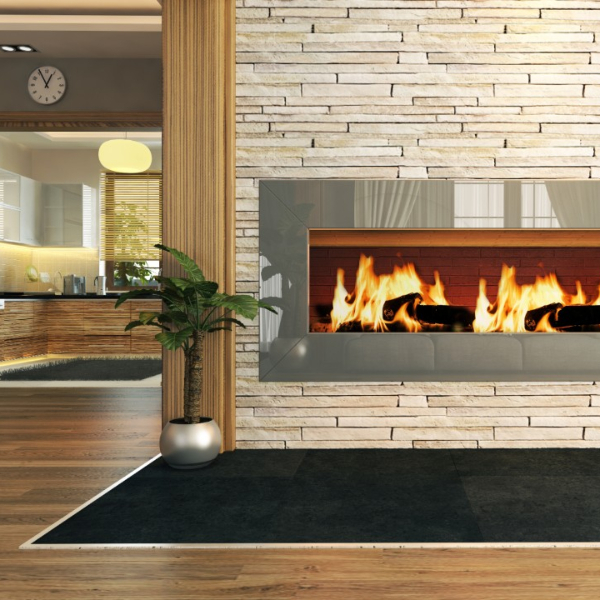 Popular Stone Materials Used for Fireplaces
Installing stacked stone tile as your fireplace surround is a sure way to create a dramatic statement in any space. But with a variety of stone types available to you, it can be difficult to decide which ledger panels will complete your ideal aesthetic.
Some of the most popular stone materials used for fireplaces are:
Marble – When looking for a classic and tasteful look, a marble stone surround is an ideal choice for any homeowner, providing a refined look that can work with any design aesthetic.
Slate – As the focal point of your living space, the fireplace needs to stand out while also seamlessly fitting in with the existing decor. A slate fireplace comes in a variety of colors making it an optimal choice to match your room's look and feel.
Quartzite – Subtle class and sophistication are exactly what you'll get when you install a quartzite fireplace. This choice offers both a practical and sleek that is unmatched by any other stone fireplace material.
Travertine – If you're hoping to create a distinctive fireplace as the focal point with an antique feel, travertine's timeless appearance is the leading contender.
Along with the stone material, you can also customize your fireplace with one of the various finishes like pencil, split-faced, and mixed to create your ideal design.
Benefits of Installing a Stacked Stone Fireplace
Apart from creating a beautiful statement piece, there are many benefits to installing a stacked stone fireplace in your home:
Durable – As you know, your fireplace gets hot! This means to don't want to surround your fireplace with just any material. You need something that is resistant to heat for the safety of your family and home. Luckily, natural stone offers unmatched durability and resistance to heat—making it an affordable, low-maintenance option.
Fade Resistant – Investing in your home can be a costly decision, which is why it's important to choose materials with longevity. You can have peace of mind installing a stacked stone fireplace knowing that ledger stones can last years without losing their luster.
Flexibility – Trends come and go, and your design preferences can change over the years. A stacked stone fireplace comes in a neutral color palette, offering flexibility for any decor changes you make over the years.
Statement – Creating a statement wall is the fastest way to transform your living space. This new focal point will create a wow-worthy space that leaves all your guests applauding your design tastes.
Upscale – Not only will stacked stone tile make create a focal point, but it will improve the overall impression of your home—making it seem much more expensive than it is! The addition of a stacked stone wall can even increase your home's resale value.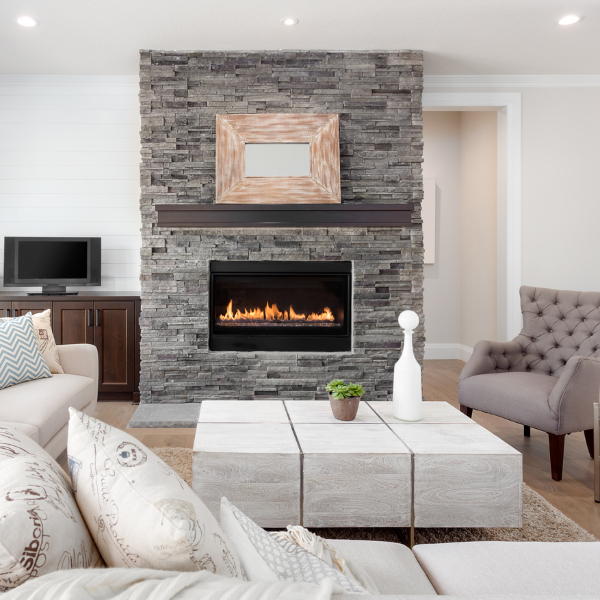 Stacked Stone Wall Installation Tips
If you need help determining the perfect stone ledger panels to create a dramatic focal point, a stacked stone visualizer is a great tool to help you see how the stone will look in your space.
Now that you've selected your stone panels, it's time for the fun part—installing them! While we have helpful installation resources available to you, we've also put together a few tips to ensure a stress-free installation process:
Read all manufacturer instructions – You'd be surprised how many people grab what they think they need and starting installing without picking up the instructions first! Before installing your stone panels, read through all instructions and watch installation videos to ensure you're prepared.
Carefully measure the wall – There's nothing more frustrating than installing a few ledger panels, only to realize that you incorrectly measured the space. You'll never regret measuring (and remeasuring!) the space a few times to guarantee a seamless installation.
Protect your floors from damage – During installation, you'll be dealing with different tools, adhesive, and the stone panels. Avoid damaging your floors by using a drop cloth or newspaper as a barrier throughout the entire process.
Lay your ledger panels out before installing – We recommend laying out your ledger panels on the floor prior to installing them on the wall. This will allow you to piece together the stone panels and make sure they fit together nicely. It's much easier to swap out pieces that might not be a perfect fit before they're stuck in place!
Installing a stacked stone fireplace is a relatively easy do-it-yourself project that any homeowner can tackle. Here are some more tips to guide you through the installation process.