Adding Practical Luxury To Modern Kitchen Designs With Granite Countertops
February 07, 2020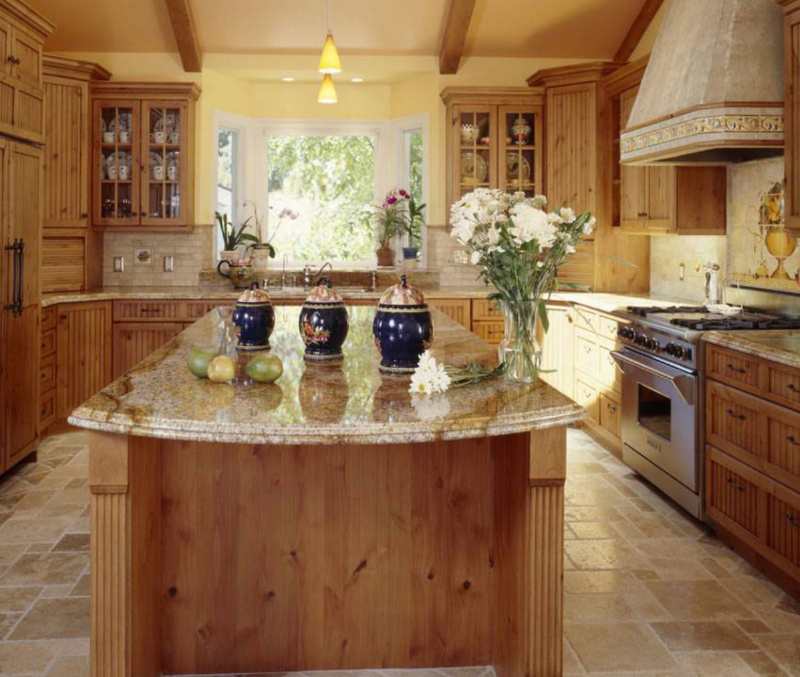 Some home design trends come and go, but granite countertops are eternally stylish. Eye-catching and attention-grabbing, they add a touch of personal style to any space, but they're absolute showstoppers in the kitchen.
Yet, looks aside, are these countertops strong enough to hold up under the wear and tear of normal family life? They might be gorgeous, but can they stand the test of time? The answer is an emphatic "Yes!"
Today, we're exploring the benefits of granite countertops and why they're a smart investment in any home. Ready to learn more? Let's dive in!
Why Choose Granite Countertops?
Granite is a designer go-to in many areas of the house. In addition to kitchen countertops, it's also used as a bathroom vanity topper, fireplace surround, and tub surround.
Why should you consider investing in a slab for yourself? The answer lies in granite's natural beauty and durability. A hard volcanic rock, granite can be found in many parts of the world, although Brazil and India have some of the richest quarries. A granite countertop is a great way to bring the outdoors inside in a beautiful, cost-effective way
Ready to transform the look of your kitchen? Let's take a look at a few reasons why this should be your next choice when you're designing or remodeling the heart of your home!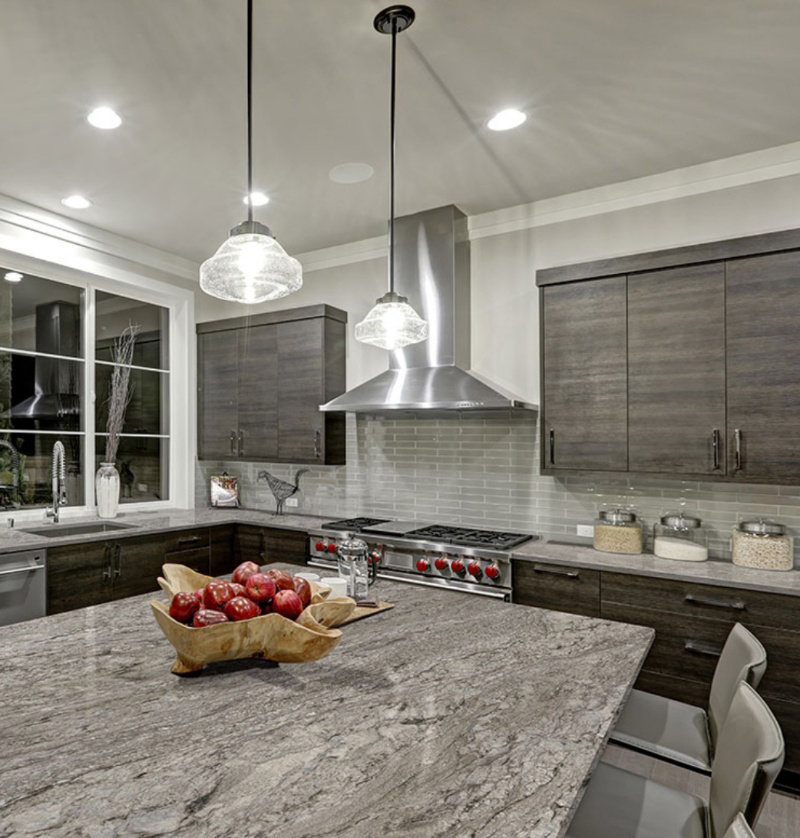 Timeless Beauty
In 50 years, a gorgeous piece of granite will look just as good as the day you bought it. Instead of aging or wearing over time, it maintains its rich tones and sleek design.
As such, it adds instant resale value to your home, allowing you to enjoy it while you're living there and make your investment back if you decide to sell. In some cases, you can make even more!
Industry research shows that 55% of prospective homebuyers are willing to pay more for homes that have granite countertops installed in them.
One of a Kind
You have a unique sense of style and you don't want a home that looks just like your neighbor's. With a granite countertop, you never have to worry about matching anyone!
That's because every single slab of granite is unique, and no two are the exact same. While there are certain colors that are considered market standards, they each have individual nuances that can change over time.
When you're debating on quartz vs. granite, this is one characteristic that leans in favor of the latter. Other stones are gorgeous, but few can match granite's exotic look and feel.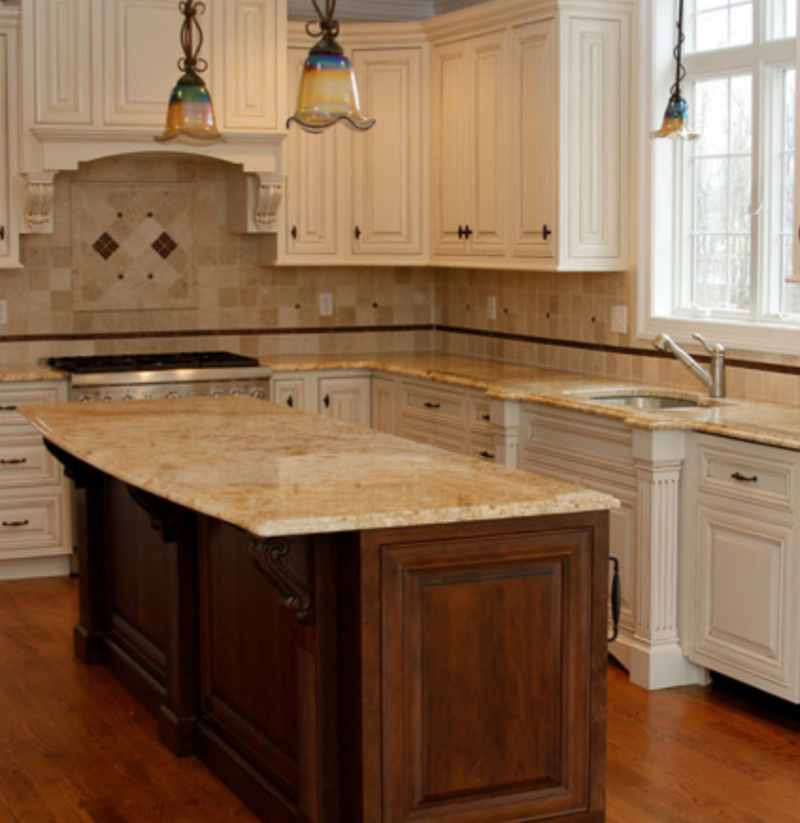 Photo Credit: Houzz
Wide Variety of Colors and Finishes
Looking for a particular style of granite to complement your home's interior? You can search for the perfect piece among thousands of color options. In addition, you can also select from among a few different finishes, including: polished, leather, honed, and flamed.
Looking for a fresh and clean slab to match your modern farmhouse aesthetic? You can't go wrong with timeless white granite. For a moodier and more dramatic touch, black granite is ideal! You're not pigeon-holed into a narrow color range or forced to work with a shade you're not crazy about.
Instead, you can take your time, browse the many options, and find the piece that speaks to you!
You can even find solid-colored granites if you aren't crazy about the movement and fluidity that some slabs can contain. One example is Absolute Black. This pure black granite makes a sophisticated addition to any room in your home. The best part? New colors are introduced every year! The market is brimming with slabs just waiting to find their forever home in yours.
Scratch-Resistant
You should feel comfortable using your kitchen to its fullest. That means chopping food, preparing meals and sharing them with the people you love the most. You shouldn't have to worry about scratching up your surfaces in the meantime. This is where granite really shines. This natural stone is naturally scratch-resistant, meaning that knives and other sharp materials are no match against it. In fact, the only materials that will leave a mark are diamonds and other pieces of granite!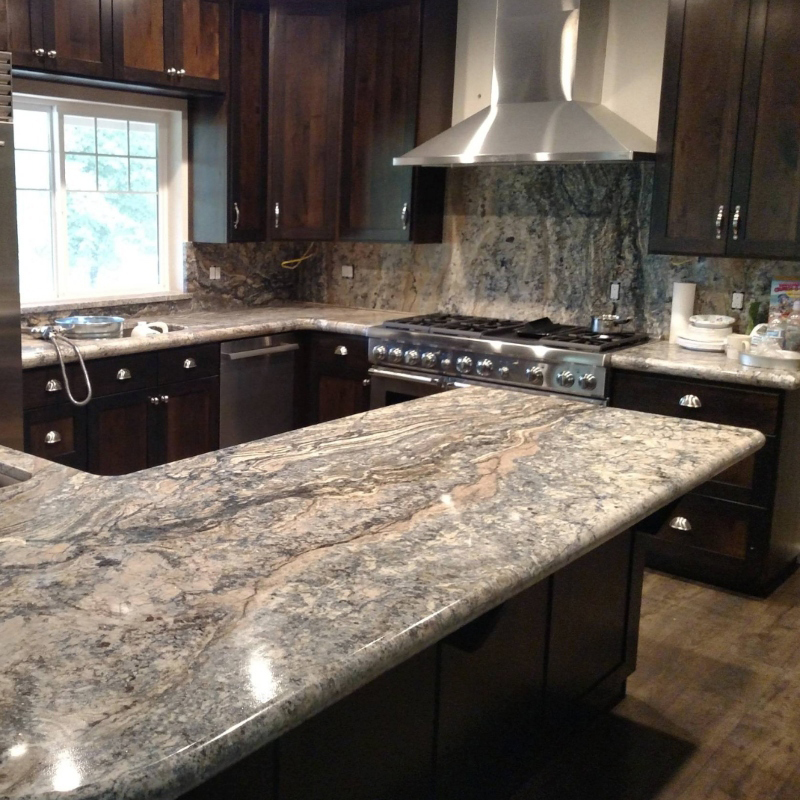 Photo Credit: Houzz
Affordable
Think you can't afford granite kitchen countertops? Think again. Though you'll find them in some of the highest-end homes around, they're more accessible and economical than you might imagine.
In recent years, excavation technologies have improved to the point that the process is easier and less labor-intensive than before, which helps drive prices down. Regardless of which price level you select, the quality remains the same and you can expect a premium product every time.
Easy to Maintain
If you can apply one coat of sealer every year and wait for 10 minutes, you've tacked the hardest part of granite maintenance! You can even skip this step altogether if you opt for a lifetime sealer application.
Granite wipes down easily and is a dream to maintain. If you're concerned about staining, go for a polished, darker colored option. These are often denser than their lighter-colored counterparts and don't absorb stains as easily. Still, if you take care of your new granite, you shouldn't have any issues with staining, regardless of the type you install.
Invest in Granite Countertops Today
When it comes to picking out the finishes in your home, you'll have plenty of options. It can often be overwhelming to consider how many different choices there are!
When you're designing your kitchen, you can't beat the look, feel and price point that granite countertops provide. Whether your style is modern, traditional or anywhere in between, there's a slab with your name on it. Take the time to peruse your options today and start brainstorming. Your dream kitchen awaits!
Read More about Modern Granite Countertops
5 Granite Colors for a Chic and Modern Fireplace
Modern Granite Countertops
Fresh Kitchen Looks With Timeless Granite
The Evolution of Granite: Ancient Times to Modern Days
Polished, Honed, and Brushed Finishes for Granite Floors
READ MORE ABOUT GRANITE COUNTERTOPS
6 Wow(!) Kitchens Featuring Granite Countertops
A Buyer's Guide to Granite Countertops
A Buyers' Guide to Granite Countertops