Current Obsessions: Why Quartz Countertops Are The Most Popular Countertop Choice
August 29, 2018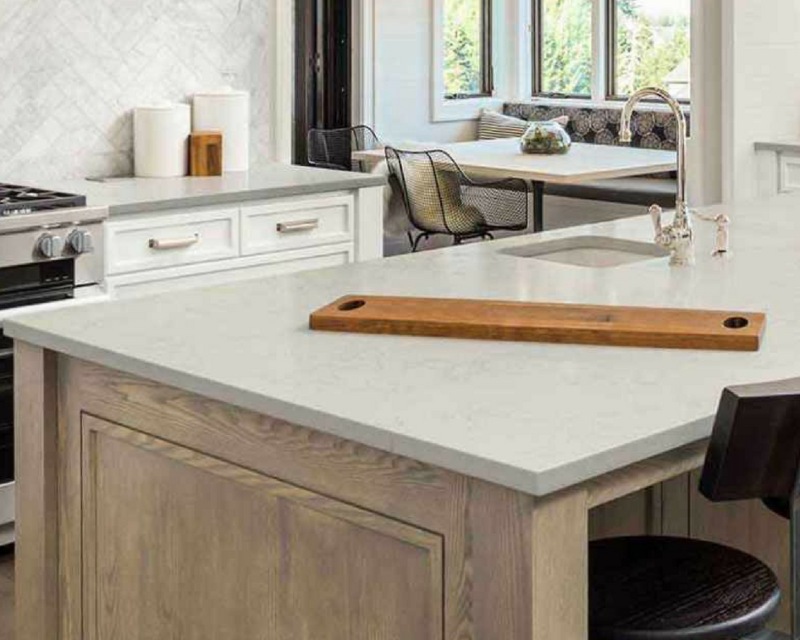 Fashions come and go, even in home decor. The surface materials for kitchens and bathrooms that were popular a generation ago are still popular today — except that today there's another option that has been taking over the industry: Quartz.
What makes one countertop choice more popular than others? It's what that countertop has to offer homeowners. There's beauty, of course, but most of today's options are lovely to the eye. Durability and ease of care play a large part, as does the availability of many color choices. When it comes down to it, though, the answer is value. With quartz countertops, you get more for your money.
Marbella White
Whether they are in the kitchen or bathroom, countertops do much more than look pretty or provide a place for displaying our belongings — they are used. White quartz countertops need to be kept sparkling clean, and not require a lot of work to get it that way. This Marbella White countertop is ready for the cook to begin work. Quartz countertops do not harbor harmful bacteria and easily disinfected without harsh chemicals or extreme effort.
Stellar Gray
This Stellar Gray quartz countertop is well suited for its sleek, contemporary surroundings. However, should the homeowner choose a different style such as a more traditional type of decor, the counter can remain. The cement look is trending for home design in 2018, but who knows what the future may bring? Five, 10, 15 years from now, or even longer, quartz countertops hold their value. The quartz cost is easily offset by its long, beautiful life.
Hazelwood
There's no doubt that a kitchen countertop, in a busy family kitchen, must stand up to heavy use — and sometimes mishaps, too. Hot pans, spills, scratches, and more happen through the years, so it's vital to have a counter material that resists damage when they do. This Hazelwood quartz countertop isn't totally indestructible, but it withstands the demands of daily repeated use better than many alternatives.
Fossil Brown
With or without a center island in the kitchen, a countertop is bound to become the focus of the room. Fossil Brown quartz countertops offer subtle speckles and veining, proving that your countertop doesn't have to be exotic or dramatic to provide incredible visual appeal. It's the centerpiece of the room, so it must have a look that makes the homeowner fall in love with it over and over again.
Blanca Arabescato
Every homeowner is unique, so their homes should be, too. Quartz countertops are popular, in part, because of the incredible array of choices in color and look. This includes countertops that realistically mimic other materials, such as marble-look Blanca Arabescato. To succeed as a lookalike, they must do so impeccably with the same depth and richness.
Conclusion: Value (buyer needs to feel that the benefits justify the cost)
When you consider everything that a quartz countertop has to offer — easy care, timeless appeal, durability, and a huge variety to choose from, it's easy to see why more and more people are choosing it for their homes. Browse MSI's quartz gallery and see why the benefits of quartz are worth every penny.
More on Quartz Countertops
Limestone Looks with Quartz Countertops
You Won't Believe These Quartz Countertops Aren't Natural Stone
Uncommon Reasons Homeowners Love Their Quartz Countertops
Advice Tor Choosing Quartz Countertops Over Natural Stone
You Won't Believe These Quartz Countertops Aren't Natural Stone