Bigger Is Better: Large Format Porcelain Floor Tile
July 01, 2021
When you want a bit of modern drama while still sticking with your clean and sleek aesthetic, look no further than large-format porcelain floor tile. Once primarily installed in hospitality and restaurant industries, oversized tiles are being progressively featured in residential projects. With digital printing advancements constantly improving, the technology allows for tile that looks like wood, stone, concrete, metal, and more. It offers the same beauty as its natural alternatives but in ultra-durable porcelain with minimal maintenance and super slim grout lines. The tiles range in size from 12x24" to a whopping 5x10', so you can create a stunning installation with various levels of lessening visual interruption. In this showcase, we're suggesting five of our favorite large-format tiles along with a few tips and tricks.
What Makes a Tile Large-Format?
Tile size has greatly changed over the years, and supersized tiles are now more common. But what makes a tile large-format versus regular? When a tile's edge is larger than 15 inches, it's considered to be large format. Previously, 12x24" was considered big and very popular, but today's manufacturing abilities allow for tiles to be available in 18x36", 24x48", 32x32", 35x35", and even larger.
Blanc Large-Format Porcelain Tile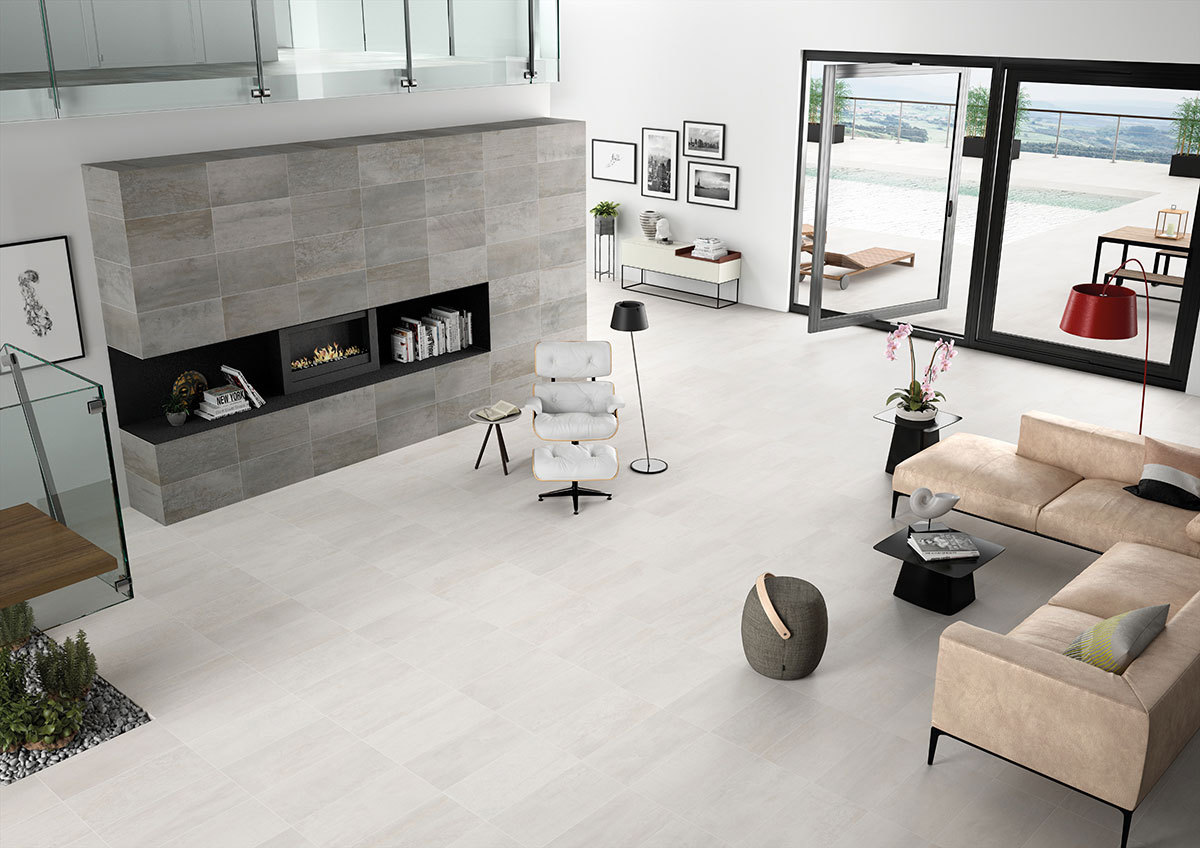 When you opt for lighter tones with minimal pattern, then you get a room that looks and feels expansive and uncluttered. Blanc from MSI's Oxide Porcelain Tile Collection is the perfect neutral for a fresh pick-me-up. The mixture of white hues, beiges, and light grays creates a gorgeous metallic look in 12x24" and 24x48" large-format sizes. The stylized porcelain tile flooring is a flawless pick for this minimalistic space, and it's brilliantly paired with another Oxide porcelain tile product featured on the fireplace to give the room a bit of an industrial edge.
Tile Tip: Light colors also reflect more light and will make your room feel brighter and bigger. Busy patterns will also make rooms appear smaller, so go for something soft and subtle if that's your design mission.
Oro Large-Format Porcelain Tile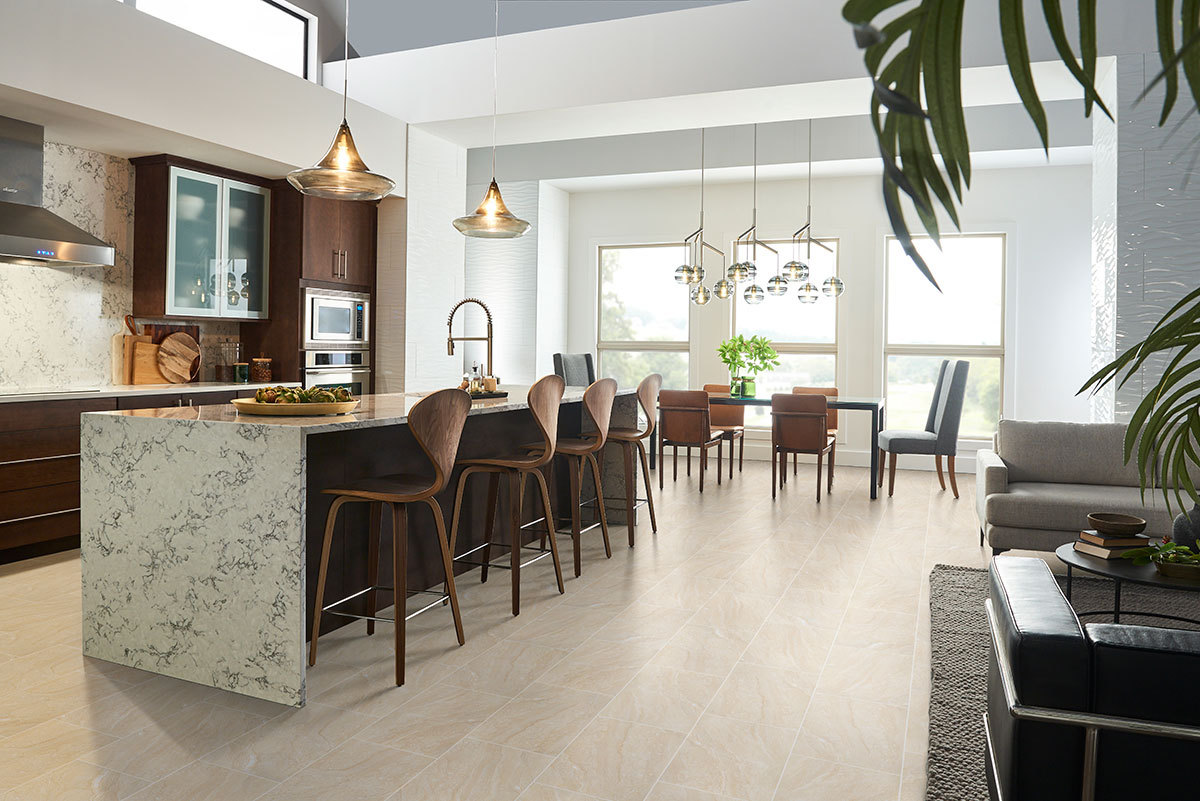 Grout lines and color choices can have a huge impact on the design, but it's something to be wary of when using large-format tiles. Oro from MSI's Aria Porcelain Tile Collection realistically mimics the look of natural stone with its soft beiges and creamy caramels, and the color mixture allows for different grout color options. The large 24x24" and 24x48" polished tiles have a classic sophistication but offer unique beauty that blends with any design style. The large format flooring in this open plan space makes it feel large yet unified. The warm hues are also a nice contrast to the rich woods, grays, blacks, and camel tones in this contemporary, midcentury modern home.
Tile Tip: One goal of using large-format tiles is to minimize grout lines to visually expand the space, so match the color of the grout with the color of the tile to do so. However, you can add a bit of contrast by choosing a slightly lighter or darker grout.
Crema Large-Format Porcelain Tile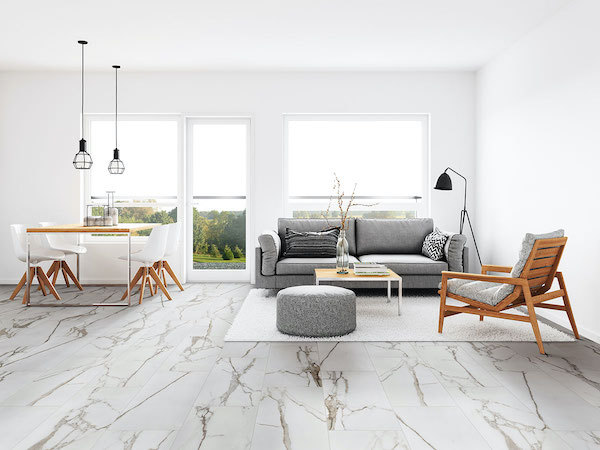 Natural stone tiles are highly sought after, but they require much more daily care and regular maintenance, especially marble. Crema from MSI's Savoy Porcelain Tile Collection is a sophisticated and elegant porcelain tile that looks like marble, and it's available in the larger elongated 12x24" and 24x48" sizes. The rectified glazed porcelain eliminates the maintenance risks associated with marble thanks to its resistance to stains, scratches, and etching.
Having a light-colored flooring isn't scary with porcelain, even when used in the dining area. Spills should be wiped up like with any material, and non-abrasive cleaners should be used. The Crema large-format tiles used in this minimalistic great room are the utmost masterpiece of the design. Everything else is streamlined and simple to let the stunning warm white background and gold and brown veining shine.
Tile Tip: Although porcelain never needs to be sealed, sealing your grout lines will help your floors last longer. You'll be wiping up spills with confidence that your white tile will stay white.
Bardiglio Large-Format Porcelain Tile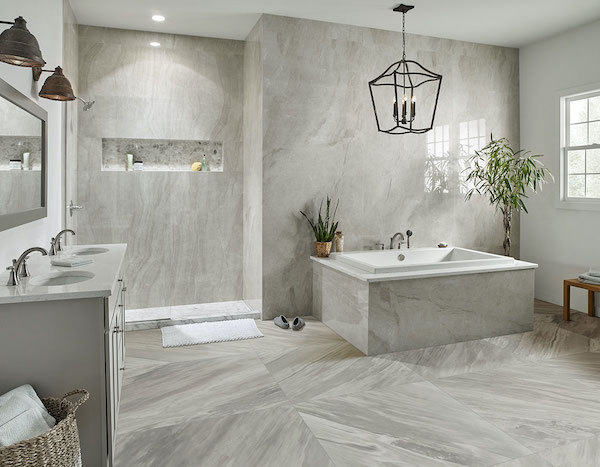 Choosing a monochromatic scheme is one way to create a relaxing space, and what better way than to add large-format tile on the floors and continuing onto the walls with matching or coordinating pieces. Bardiglio from MSI's Eden Porcelain Tile Collection features a cool white and greige look with a striking stone-style pattern perfect for a soothing, neutral aesthetic. The large-format tile in 12x24" and 24"x24" sizes comes in both matte and polished finishes to flow with your design. The combination of oversized tiles and slabs with matching grout colors make the installation in this monochromatic bathroom appear seamless. Large-format wall tile in the bathroom is a great alternative to paint and wallpaper since they'll better protect the walls from splashes and moisture; plus, they're super easy to wipe clean, especially with minimal grout lines.
Tile Tip: Floors and walls need to be as flat as possible because anything over 1/8 inch over 10 linear feet could cause the surface to be uneven.
Midnight Montage Large-Format Porcelain Tile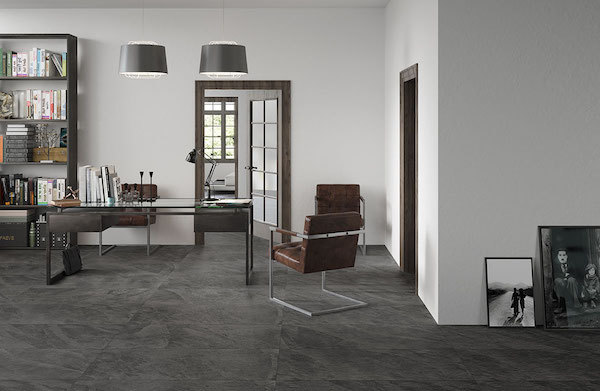 Dark colors are a desirable choice for a bit of drama, particularly when the rooms are larger in size. That's because deeper hues can make a room feel small, but this modern office has more than enough room to easily handle Midnight Montage from MSI's Legions Porcelain Tile Collection. The eye-catching modern tile features a black slate style for a bold statement in any home or office. The large-format tiles come in 24x24" and 24x48" in a matte finish and low sheen that embellishes the textural structure of the product.
Tile Tip: Large tiles tend to be more delicate, so make surer to add in a little extra to your overage just in case of any breaks. That way, you'll avoid any drama during your installation because you'll have backups.
Using large-format tiles for your residential or commercial space is a great way to transform your interiors. These oversized flooring options provide a sleek, modern aesthetic and come in natural stone, concrete, and even metallic styles. At MSI, we offer a vast collection of large-format tiles, so be sure to check out the entire product line in order to find the perfect tile for your next project. To further help you envision what your room would look like, utilize our flooring visualizer tool.
READ MORE ABOUT LARGE FORMAT PORCELAIN SLABS AND PORCELAIN TILE
A Porcelain Revolution: Stile Large Format Slabs
Make A Statement with Large Format Porcelain Tiles
Here's What Happens When You Use Large Format Porcelain Tile