Current Obsessions: Bathroom Beauties With Quartz Countertops
March 24, 2016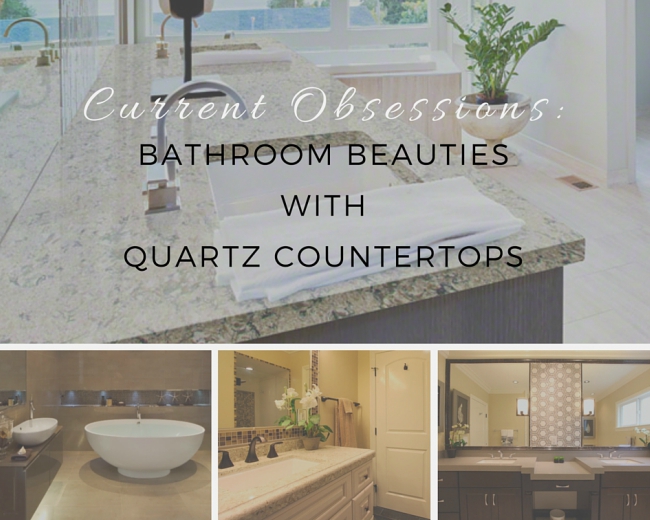 Obsession with the luxury of quartz countertops in the bathroom is evident for its splendor that matches its amazing durability. The bathroom vanity plays host to many beauty products containing ingredients made to enhance our attractive appearance, but that can often stain a lovely stone countertop. Since it is a stone that is non-porous and scratch resistant, quartz has a maintenance-free resilience with no need for sealing or polishing. With natural built-in anti-microbial protection, quartz is the perfect material to use in the bathroom for its ability to impede the growth of bacteria, mold, and mildew.
Lagos Azul
Lagos Azul quartz shines as a slab of solid soft brown colored quartz stone speckled evenly with darker tones to give it a luxurious depth in appearance. The brown color works lovely on bathroom countertops for it brings an Earthiness beauty into your bathroom. The Lagos Azul blends lovely with blues that reflect water and the blooming greens of nature. Use this beautiful quartz to top a tub surround and vanity matched with neutral white mosaic tiled walls and backsplash. Bring in blue or green colors with paint on walls.
Pacific Salt
If you are looking for the appeal of varying colors and veining that granite offers, but with the durability of quartz, then you will love Pacific Salt for your bathroom décor. Pacific Salt looks stunning as a bathroom countertop with its beautiful creamy beige color infused with dark gray and tan veins. Small shots of taupe shades come into play and give this quartz even more depth and beauty. Match this on a vanity top with sleek brushed chrome faucets. Keep the Pacific Salt center stage in the décor by matching it with a light driftwood tone ceramic tile on the floor and walls.
Concerto Quartz
The Concerto Quartz on a bathroom countertop is the perfect match for those looking to tie in multiple textures and finishes into the décor. The lovely color of soft frost grey has a slightly darker grey speckled evenly throughout giving it depth and adding to its luxurious appearance. Use a quartz countertop crafted from Concerto Quartz upon a lovely deep brown wood vanity. The greys of this quartz are a perfect match to mate with White Carrera marble. Add interest on the walls with tiling in mosaic designs that bring in greys and whites.
Iced White Quartz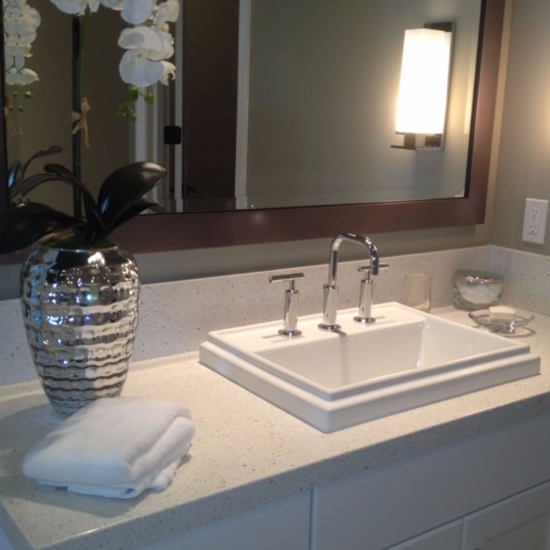 Featured: Iced White Quartz
The shades of white sparkle in Iced White Quartz. Sprinkled throughout the slab are shots of light grey and other neutral tones to give the white appearance elegant depth. It adds a clean and beautiful decorative statement when used as a countertop atop a white vanity. Use this quartz on your tub surround and shower walls as well, matched with a coordinating grey or taupe toned ceramic floor and walls. Shiny polished chrome faucets and hardware are a perfect complement for Iced White quartz.
Cascade White Quartz
With multiple neutral colors of soft blended greys and taupe mixed in with whites and cream, Cascade White Quartz will give an ethereal look to your décor. It looks beautiful as a bathroom countertop matched with a cool slate tiled floor. Add interest on the walls by using glass mosaic tiles in mixed grey and brown shades as a backsplash or border within a neutral soft light ground. Light fixtures, faucets and hardware in brown tones are a perfect match for the Cascade White quartz.
Stellar White Quartz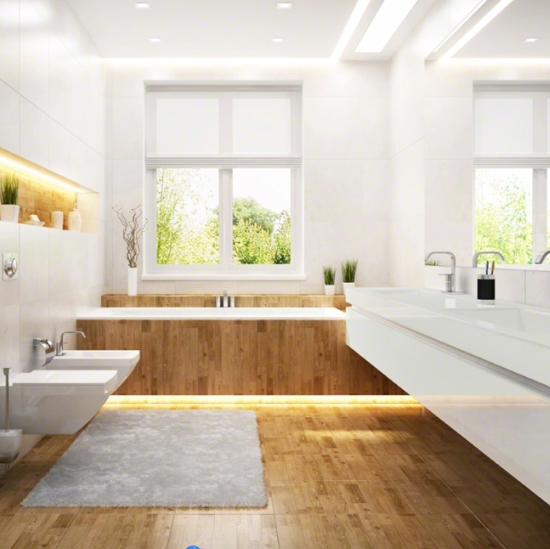 Featured: Stellar White Quartz
The clean gleam realized from Stellar White Quartz make it a perfect mate for the bathroom décor. This white quartz features tiny flecks of greys that add to its lovely appearance. Use the Stellar White for the bathroom vanity top and walls. Match it with contrasting wood-toned ceramic on the floors and soaking tub surround to give your bathroom a true spa feel. Top off with brushed chrome faucets and add a bit of greenery as a finishing touch to your spa décor.
Quartz is perfect for bathroom countertops. In addition to its resilience, there are the wonderful quartz colors to choose from; choices that look like granite and marble, to colors inspired from nature. With the whole spectrum of the rainbow, choosing your ideal quartz color to fit into your bath décor will be a breeze.
More on quartz countertops
Quartz Countertops in Durable Natural Quartzite Looks
Which Marble Look Quartz Is Right for You?
5 Hot Kitchen Trends For 2021 - Quartz Countertops and Beyond!
Are White Quartz Countertops Stain Resistant?