Tips From The Trade: Simple Guide To Quartz Countertop Care And Maintenance
July 11, 2017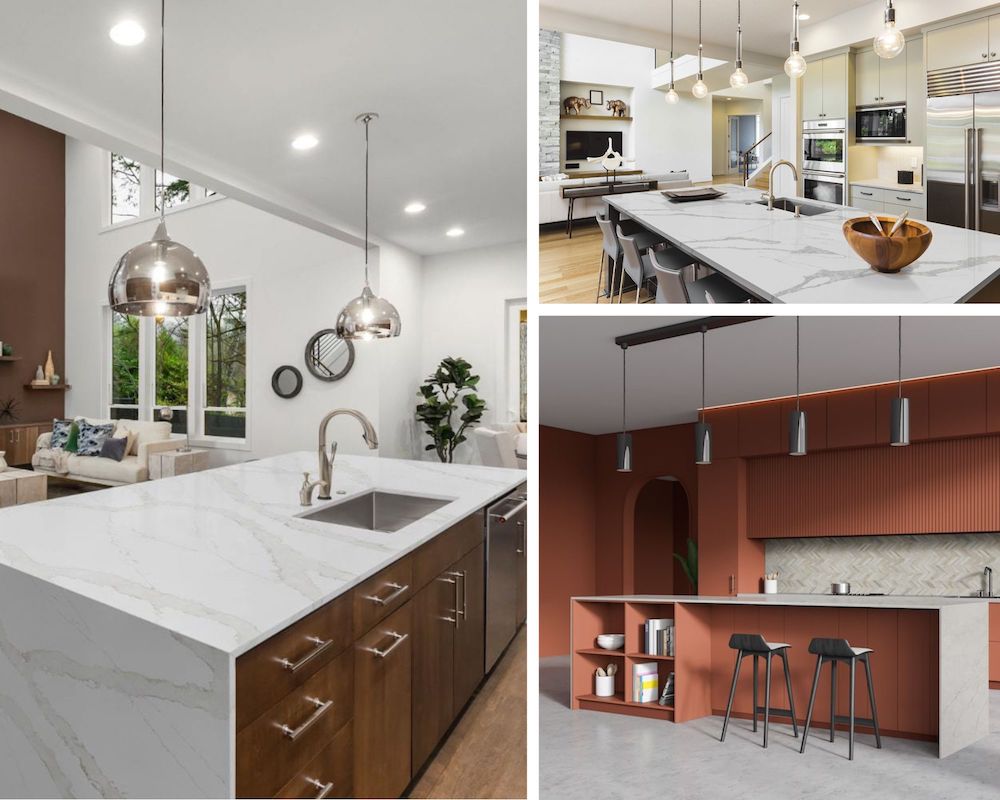 Years ago, there were two basic choices for countertops in the kitchen and bath: a countertop that was low-maintenance and inexpensive, and a countertop that was classy, elegant, and beautiful. Aren't you glad things have changed?
Today's quartz countertops are the ultimate in style and function. With a wide range of colors that range from polished ebony to classic Carrara marble-look quartz with delicate veining, you'll never again need to sacrifice beauty for ease of care.
One would think that a countertop this gorgeous would require special care and dedicated upkeep – but such luxe looks are deceiving! These low maintenance countertops are durable, versatile, and often less expensive than their natural-stone counterparts.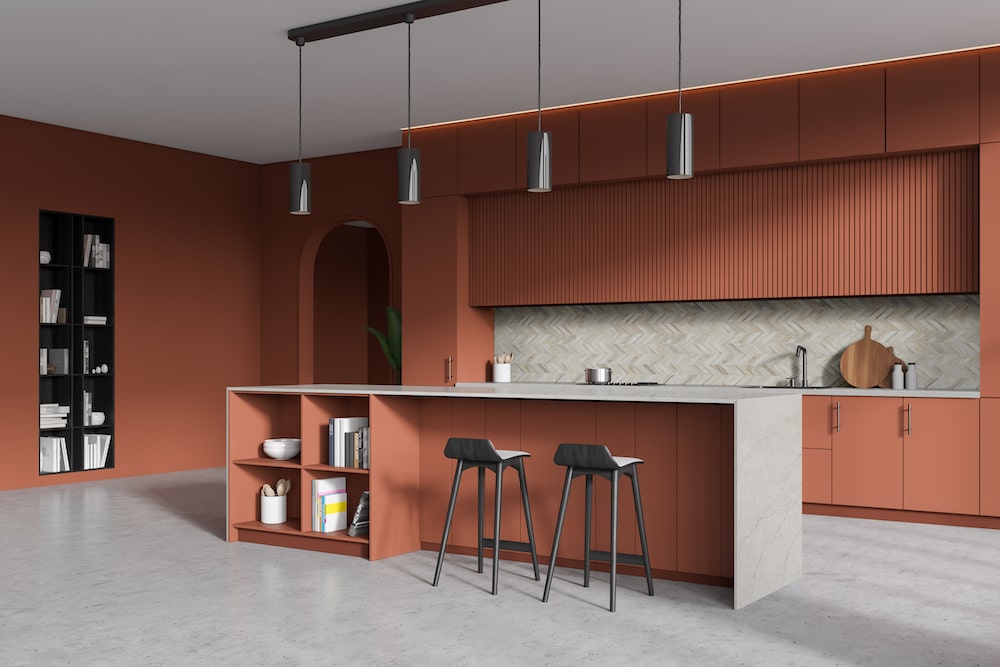 Calacatta Miraggio Sienna Quartz
Quartz is an engineered, man-made material that can resemble a variety of natural products, with all the dramatic veining and sparkle of marble and granite or the subtle swirling textures of travertine. And if you're searching for the perfect pure white countertop, look no further.
Here's a simple care guide that will help you keep that gorgeous quartz countertop just as lovely as the first day it was installed.
Daily Cleaning
Whether your countertop is installed in the kitchen or bath, you need to know how to keep it clean and hygienic. Fortunately, with quartz countertops, it couldn't be simpler.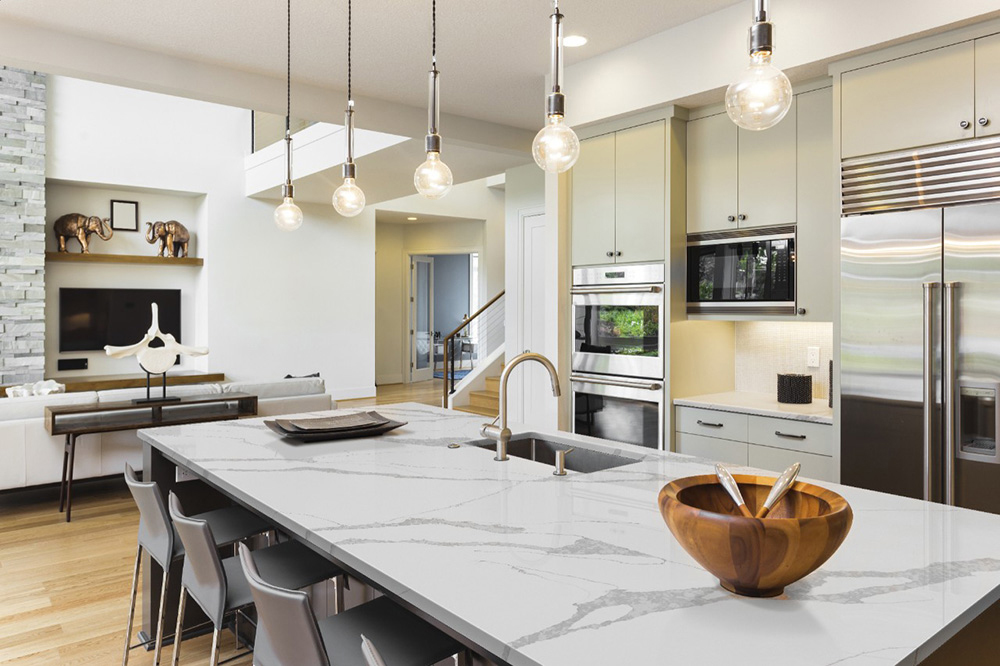 Calacatta Leon Quartz
A quartz countertop is a completely non-porous surface, so liquids and stains won't penetrate the surface. Use a mild soap, such as dishwashing liquid, along with a damp sponge or soft dishcloth. Wipe and rinse.
Special Cleaning
Despite the non-porous surface of a quartz countertop, some messes are too big for your everyday cleaning routine. The best cleaner for these messes is still a mild liquid dish soap. Never use harsh chemicals, as these may react with the resins and etch the surface.
Also, avoid using anything abrasive, such as scrubbing cleansers. For a stubborn, caked-on, dried mess, it's safe to let it soak beneath a damp towel until the dirt loosens. Bon Ami and Barkeeper's Friend are safe cleansers to use on quartz.
Scheduled Maintenance
This is easy – there isn't any scheduled maintenance needed for quartz countertops. Unlike natural stone, quartz does not need sealing or waxing to protect it from stains and mildew, even on a white quartz countertop.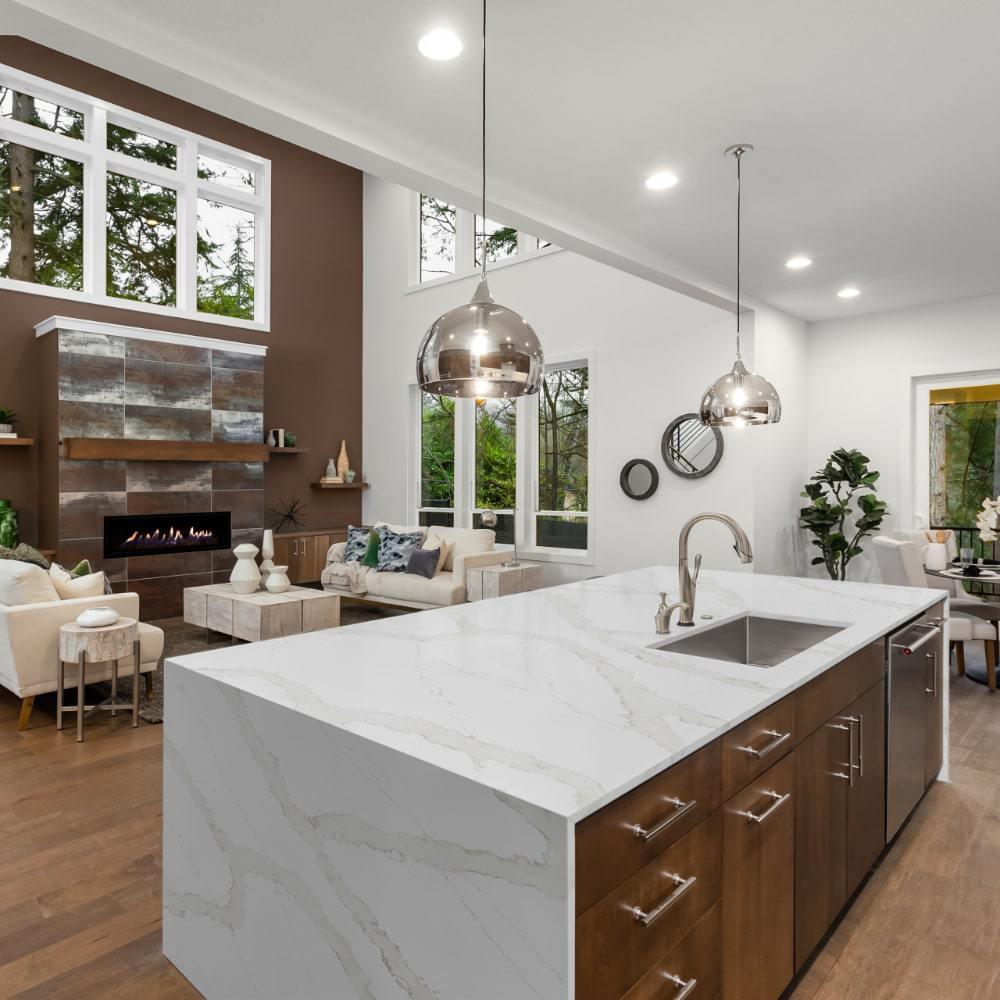 Calacatta Goa Quartz
Things to Avoid
Quartz is an extremely durable material, and the list of "don'ts" is very short. It's important to remember, though. Avoid paint removers, silver polish, nail polish remover, oil-based soaps, bleach, and anything containing trichlorethane or methylene chloride. Ink and permanent markers are very hard to remove and may cause staining.
How to Protect Your Investment
Your quartz countertop can hold up to just about anything your daily life can throw at it, but it's not completely indestructible. Protect it from heat sources such as crock pots, deep fryers, and electric pressure cookers.
Use hot pads or trivets instead of placing hot pots and pans directly on the countertop surface. And use a cutting board to chop those veggies instead of cutting them directly on the counter.
Quartz countertops are beautiful – but don't be deceived by their appearance, as they're among the toughest materials available today for surfaces throughout the home. If easy care and no worries are at the top of your priority list, this is a match made in heaven. Just keep in mind a few simple care tips, and you can enjoy your countertops for decades.
Loving the idea of using quartz counters for your next home design update? Contact us today via our online chat or find an MSI-authorized dealer near you and visit an MSI showroom to see samples in person.