Popular
More Than Mod: A Timeless Take On Modernism
August 24, 2023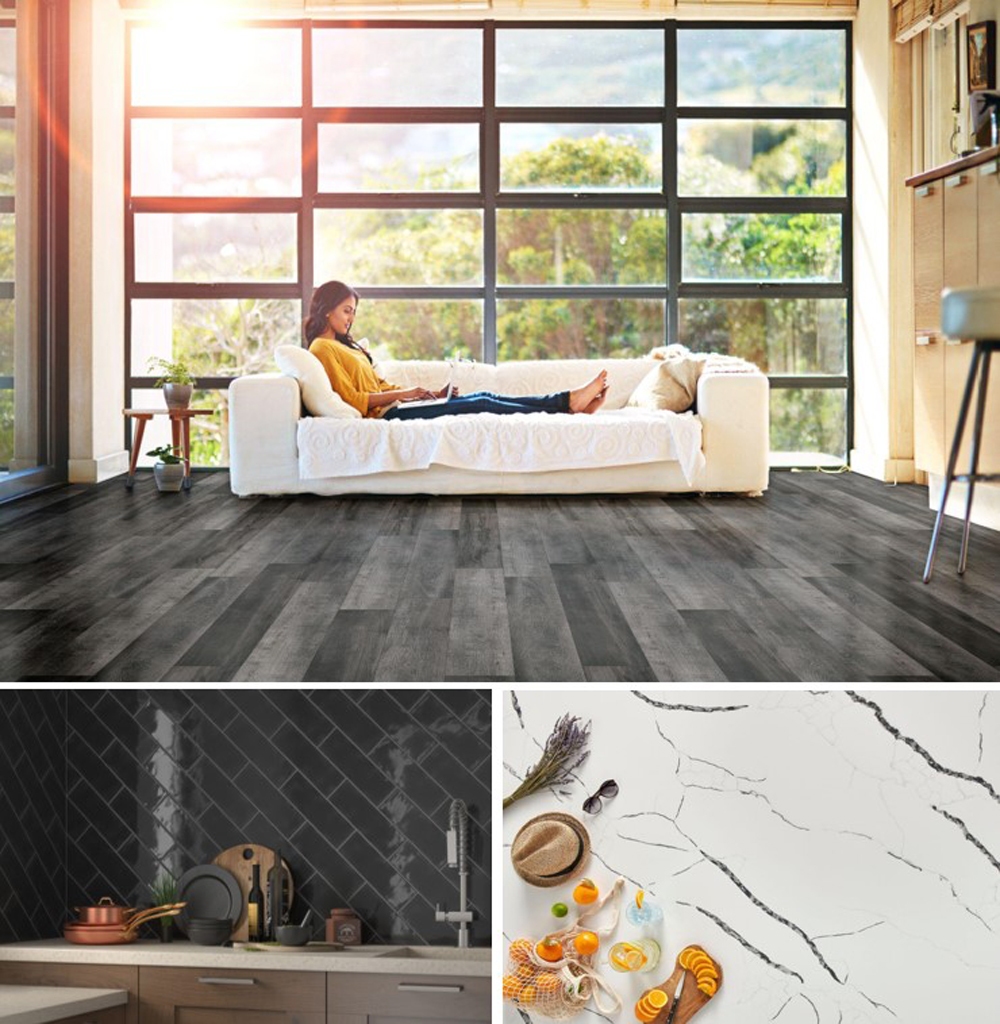 Whether you're appreciating remote work or embracing comfort on your couch, sit back and relax as the natural light shines in just as the sun sets over the horizon. Enhance your living space with an illuminating touch, combining the timeless allure of black and white tones with the warmth of authentic wood-look floors, exquisite marble-look countertops, and striking ceramic backsplash and wall tiles. Infuse a burst of energy into your surroundings with captivating geometric patterns crafted from encaustic prints, penny rounds, or hexagon tiles, elevating the ambiance of any room. Whether it's your entryway, kitchen, bathrooms, or any other space, these awe-inspiring More than Mod design elements will undoubtedly leave a lasting mark on your home.
Create modish surfaces using the materials below:
Backsplash & Walls: Urbano Ink Tile
Countertops: Calacatta Laza Night®
Flooring: Dakworth Luxury Vinyl Planks
THE PLAYBOOK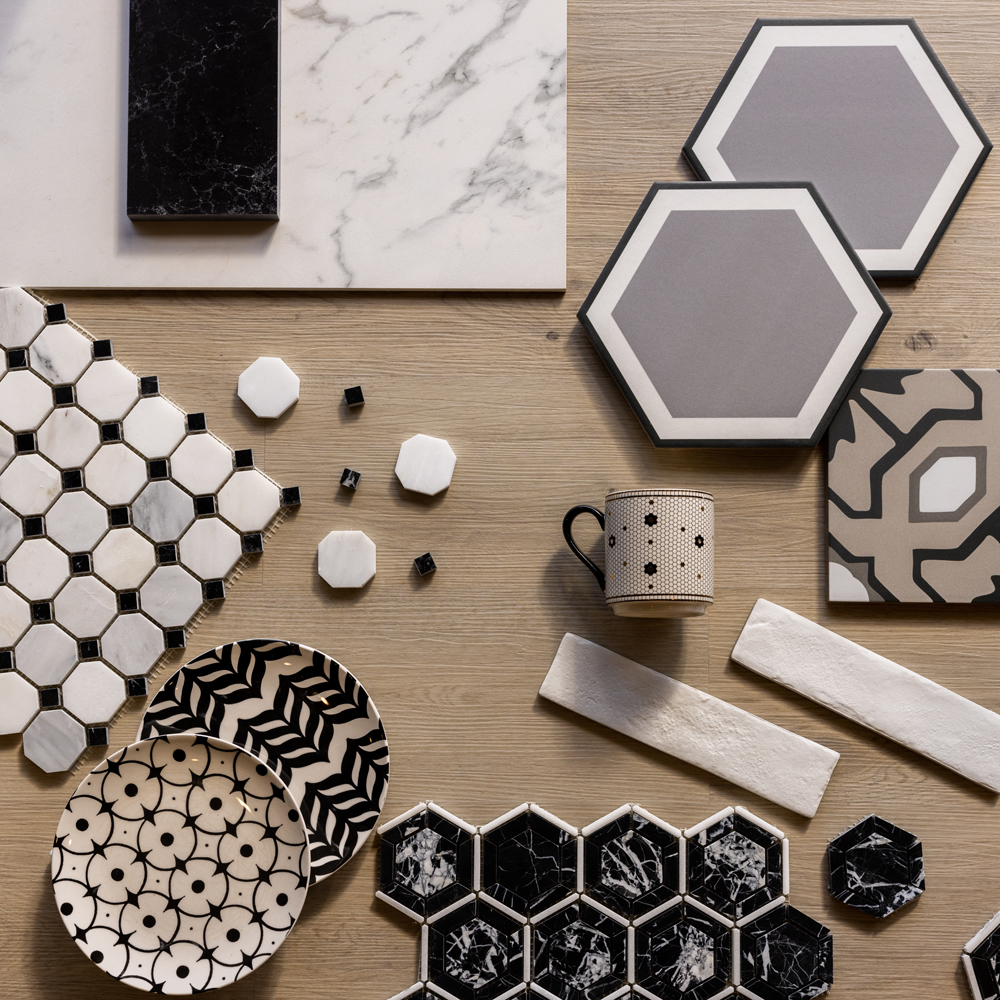 1. Effortlessly blend style and sophistication with Regallo Calacatta Isla marble-look porcelain tile to capture the essence of a timeless aesthetic. Crafted in Italy, this tile brings a classic vibe to a modern room, providing a touch of elegance in any space. With its stunning subtle silver and gray veins, multiple size options and available matte or polished finishes, these tiles offer boundless design possibilities. Make the room more modern by adding black accents to backsplashes along with geometrical shapes on dishware, placemats and other decorative furnishings.
2. Create an enticing blend of elegance and drama with Midnight Corvo quartz. Its lavish black backdrop, boasting refined, cool white veins and a polished surface, adds a contemporary allure to any room. Beyond its exquisite aesthetics, it's also extremely durable and easy to maintain, making it the ideal solution for a brilliant waterfall island in the kitchen or countertop in the master bathroom. Brighten up the room with white accent walls and warm blonde furnishings. Add geometrical patterns in rugs and other textiles throughout your home for a stunning More than Mod appeal.
3. Add a dramatic flair to your space with Nero Hexagon Mosaic Tile. This polished marble mosaic boasts a captivating blend of black elegance, accentuated by striking white veins and other marble accents in a geometric hexagonal pattern, creating an unforgettable visual charm. Add this flashy tile to backsplashes and accent walls in various spaces, including kitchens, bathrooms and other areas where stylish features are needed.
4. Designed to exude elegance, the ashy blonde tones with subtle knots and grains found in Cyrus Runmill Isle, will enhance luxury in any room. Creating a timeless appeal with its authentic wood appearance, these luxury vinyl planks will make any room throughout your space feel warm and welcoming. Spruce up the atmosphere by adding black and white geometrical shapes and patterns within various interior design elements to capture a More than Mod charm.
LAND THE LOOK: ONE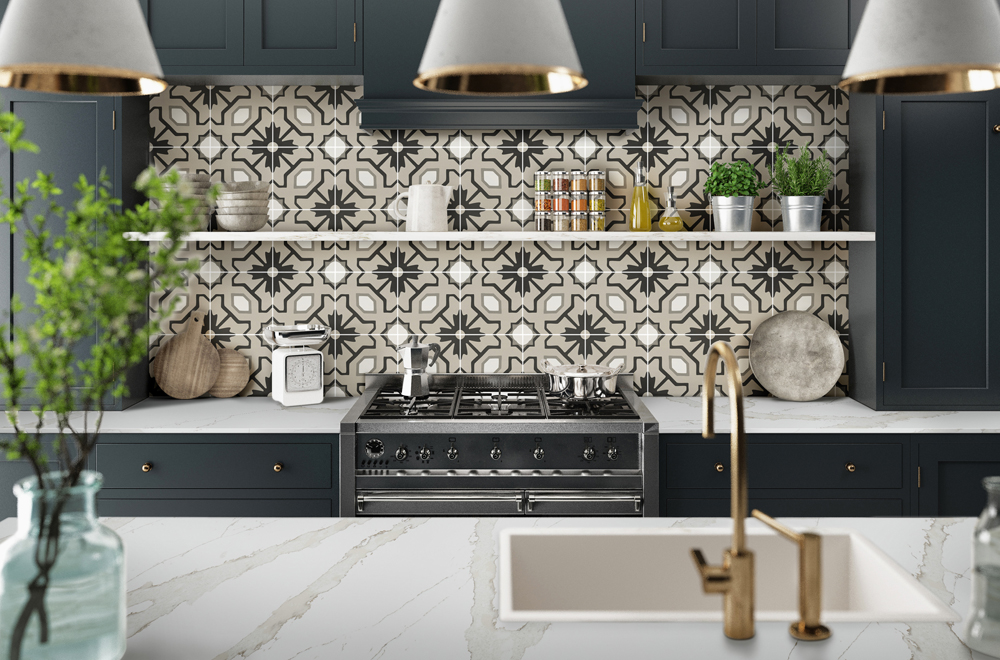 Opt for a statement backsplash by incorporating an enticing encaustic pattern in the kitchen. By placing it right at eye level, this will create a WOW moment that is unexpected!
When adorned with marble looking quartz countertops like Calacatta Goa™ that boast a warm white backdrop and thick russet veins, you can create an ambiance for everyone to appreciate. With cabinets in a dark blue, gray, or black and complementing gold faucets, doorknobs and dishware, this can allow kitchen areas to stand out. This classic twist on modernism will help your kitchen and other interior areas stay on-trend for years to come.
Create modish surfaces using the materials below:
Backsplash & Wall Tiles: Tahari Encaustic Tile
Countertops: Calacatta Goa™
LAND THE LOOK: TWO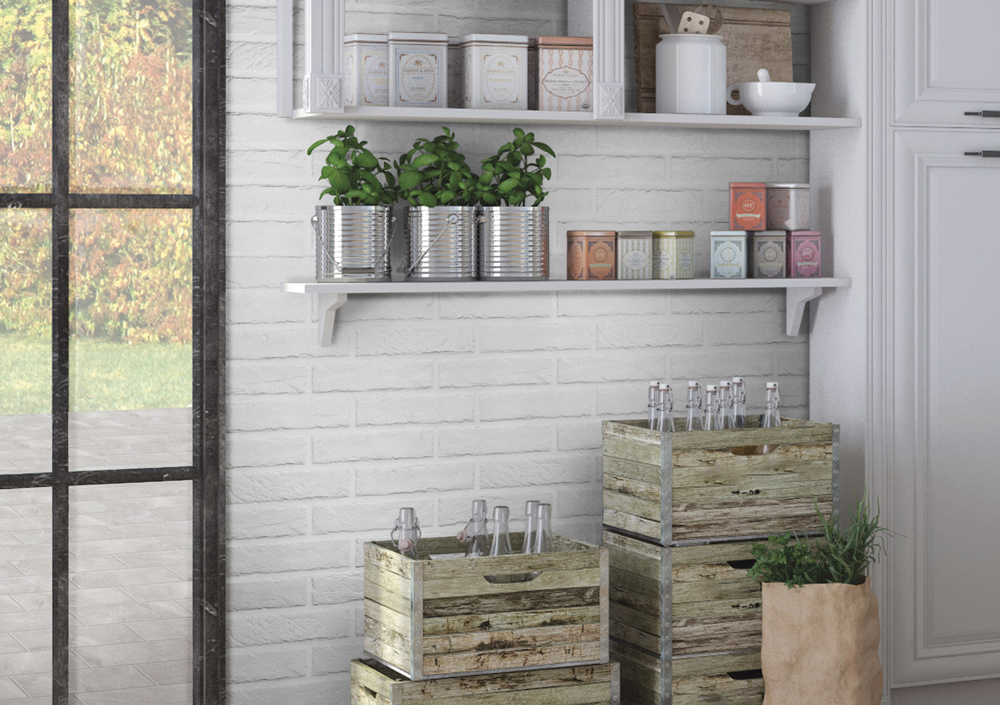 Make white brick the star of the show–or in this case a modern, yet classic statement wall–with Brickstone White porcelain tiles. With a reclaimed brick look, these modish white bricks pair perfectly with weathered accents like black window trims, wooden crates and other decorative features. Complete the look with encaustic flooring like Kenzzi Taza Luxury Vinyl Tile or Dakworth Luxury Vinyl Planks featuring charcoal-black tones with subtle knots and grains for an authentic wood-look.
Create modish surfaces using the materials below:
Backsplash & Wall Tiles: Brickstone White 2x10 Brick Tile
LAND THE LOOK: THREE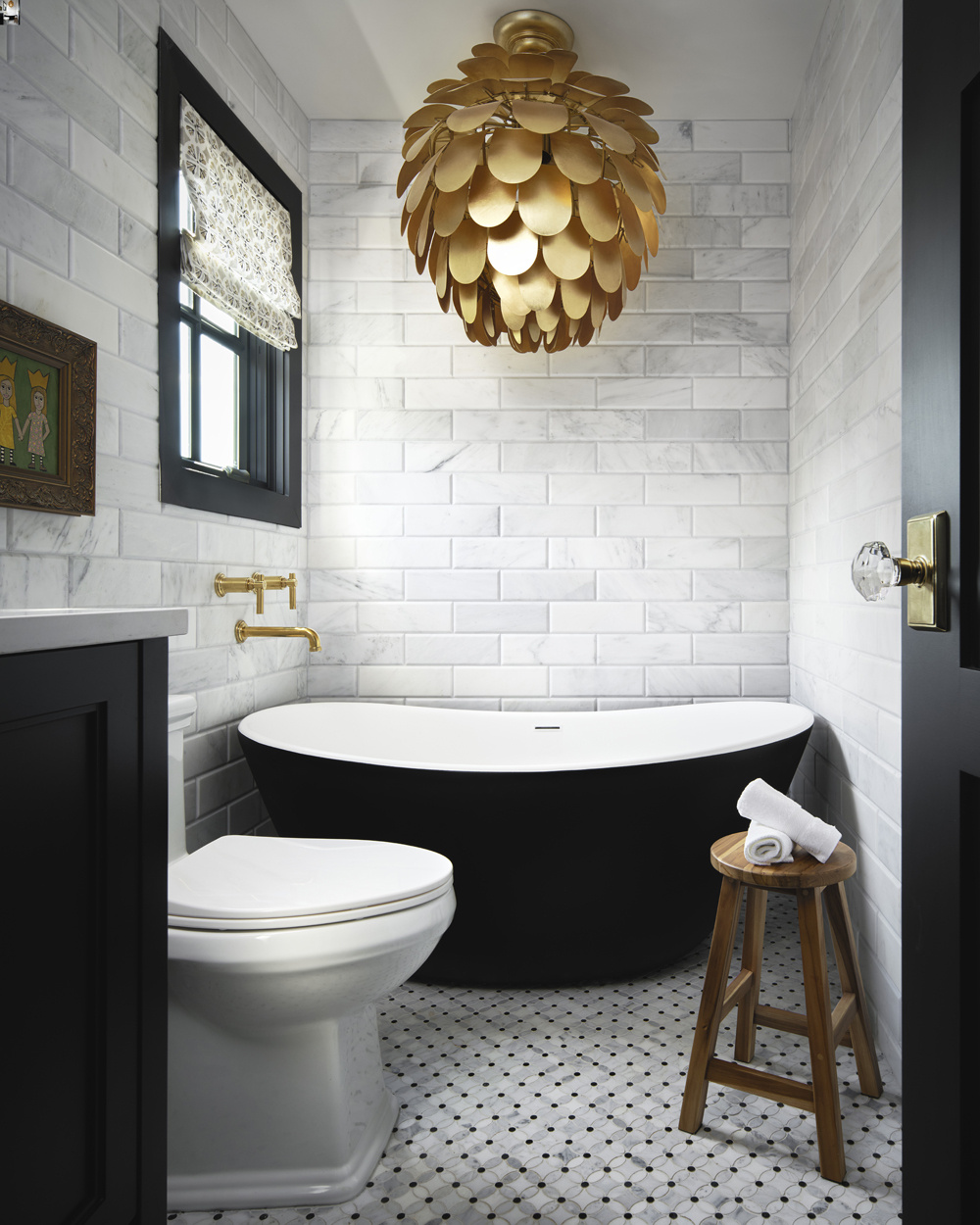 Capture old-world vibes in the bathroom with a garden tub statement piece featuring a black or midnight blue exterior and matching window seal, vanity and entry door. For a More than Mod appeal, add contrasting white marble with Arabescato Carrara Beveled Tile (walls) and Florita Pattern Polished Tile (floor). Incorporate golden metal and honey blonde wood accents to add a touch of refinement to your washrooms.
Create modish surfaces using the materials below:
Flooring: Florita Pattern Polished Tile
Backsplash & Wall Tiles: Arabescato Carrara Beveled Tile 4x12
LAND THE LOOK: FOUR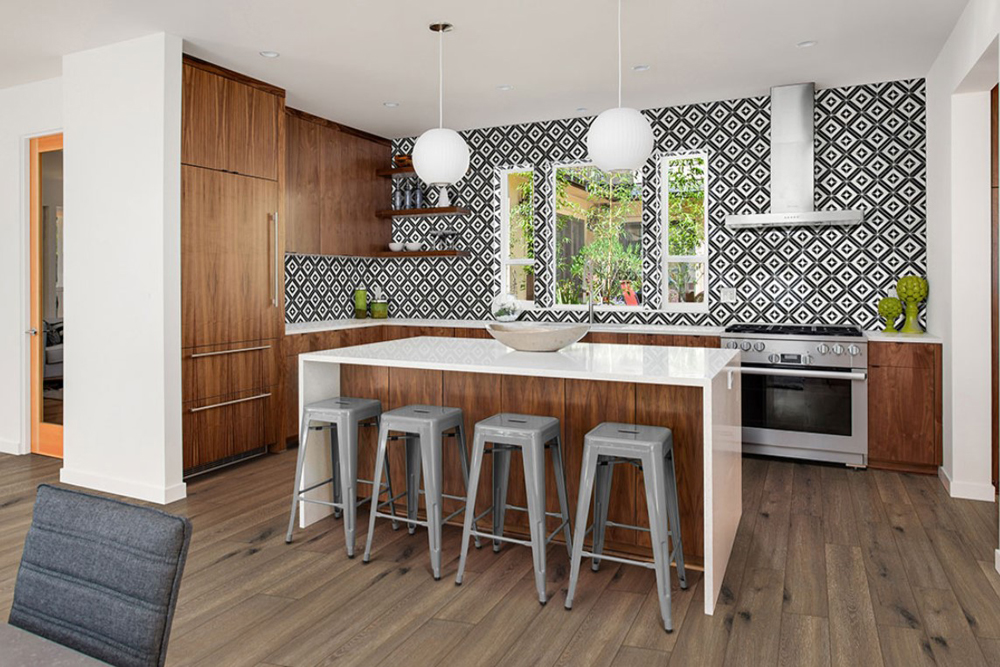 A traditional kitchen adorned with the geometrical patterns found in encaustic backsplash and wall tile can brighten up any room. With the alternating black and white diamond shapes of Rhombix Nero Polished Tile, add depth to walls complemented by wooden cabinets and floors, and metal appliances and bar stools. The concept of having an open kitchen with a large waterfall island that extends from the dining room to other living areas is a favored trend we can all appreciate, especially when we're looking to gather family and friends for a night of relaxation, dinner or entertainment. This modern take on a classic kitchen is one that all can love.
Create modish surfaces using the materials below:
Backsplash & Wall Tiles: Rhombix Nero Polished Tile
ON TREND AND CLASSICALLY MODERN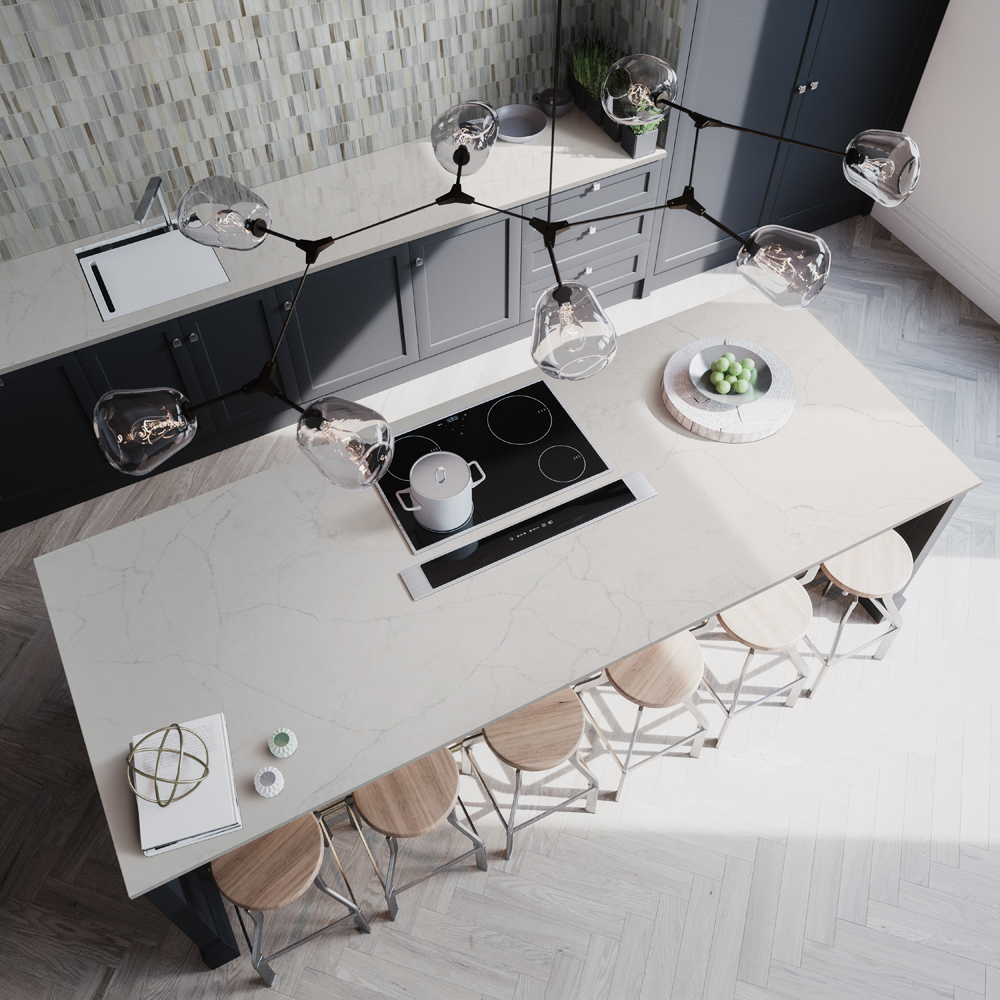 Whether you're gathering the family for Sunday morning breakfast, the kids are doing after school homework, or the in-laws are coming over for dinner, the kitchen is a main get-together spot for multiple occasions–it's the heart of many homes. This highly trafficked area should not only be comfortable, but it should also boast an appealing design aesthetic. The classic duo of black and white in a variety of design elements like marble looking quartz and artistic wall tile to painted cabinets and unique light fixtures allows you to bring a modern touch to interiors. With this neutral yet pleasing color palette, there are no limits when it comes to decorating your home with similar or contrasting trends that appeal to all.
Create modish surfaces using the materials below:
Backsplash & Wall Tiles: Citi Stax Greige
Countertops: Calacatta Monaco
To see this trend come to life, watch the video below. If you're inspired by the More than Mod trend, use it in your next construction or remodeling project. Make sure you capture the greatness and tag us on Instagram - #msisurfaces.
Watch the Trend Come to Life!

Thank you for being a source of inspiration and we look forward to seeing your designs when they show up on our feed. Best wishes! ~ Team MSI
Learn More About Luxury Vinyl Flooring Countertops
MEET ASHTON 2.0™ WITH AN UPGRADED PROTECTION LAYER AND 5 ENTIRELY NEW ON-TREND DESIGNS!
WHY LUXURY VINYL FLOORING IS A SMART CHOICE FOR YOUR BATHROOM
DURABLE AND BEAUTIFUL: TOP 5 XL LUXURY VINYL TILES FROM MSI'S EVERLIFE® COLLECTION
LAMINATE COMPARED TO HYBRID RIGID CORE FLOORING: WHICH IS THE RIGHT CHOICE FOR YOU?