Tile Style: 5 Small Bathrooms With Big Style
September 15, 2016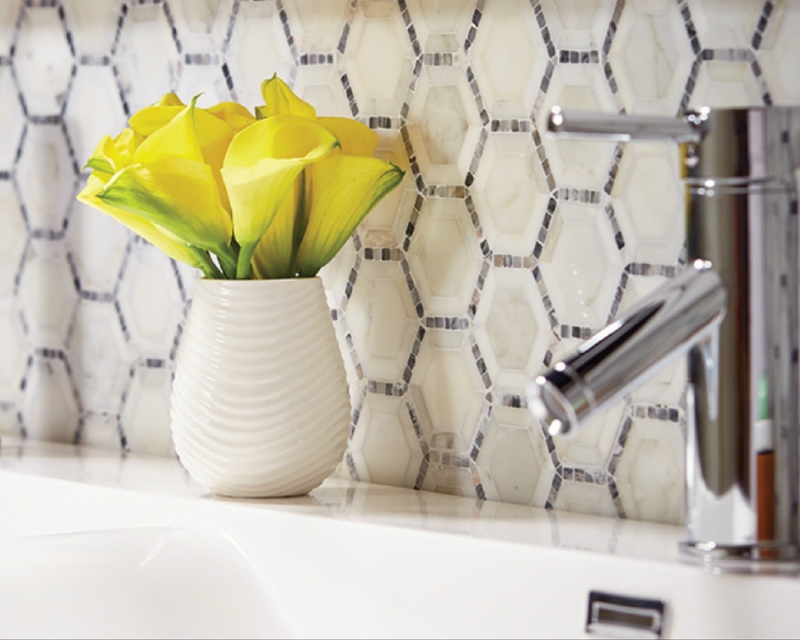 So your home isn't blessed with spacious bathrooms, or perhaps there's a half-bath in the basement or near the guest room that needs some love. Take heart – one of today's building trends is to size down instead of making everything bigger. Building a "tiny house" may be taking it to extreme, but there are many advantages to living in smaller spaces. There's less to clean, for one thing, and you'll use less electricity overall.
Another advantage to decorating a small bathroom: You can do more with less. Creativity can run wild in a small bathroom as well as a large one – devote that creative energy to finding ways to create extra storage, like recessed nooks tucked between wall studs, slim-line fixtures, efficient cabinetry.
Below are 5 of our favorite bathroom designs... and it all begins with great tile!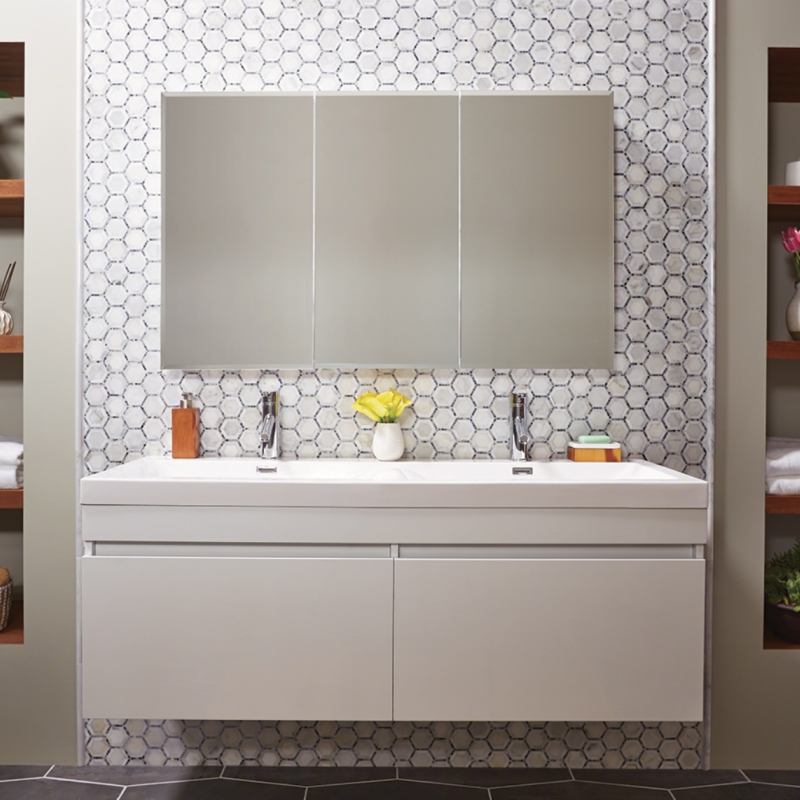 Featured: Telaio 2" Hexagon Honed
Who says you can't use intricate, complex design elements in a small room?
Telaio 2" Hexagon Honed mosaic tile is an appealing focal point for the wall tile in this tiny bathroom. The white marble contrasts with gray accents in this pre-assembled mosaic, taking the traditional hexagon tile pattern to a new level. You could also use this pattern for a countertop or floor, or even the shower wall.
Featured: Taj Mahal Quartzite
A small budget goes a lot farther in a small bathroom! Make the most of the space by investing in luxurious materials such as Taj Mahal Quartzite. With a soft white background and veins of gold, this natural stone resembles marble. Although it's stunning as a countertop, it's durable enough to use for flooring as well.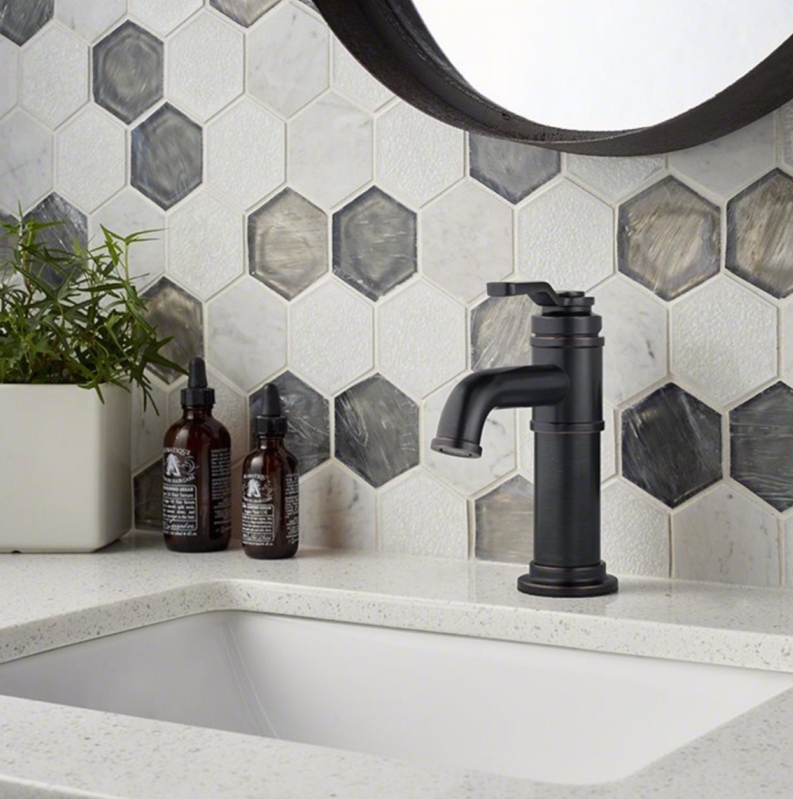 Featured: Sparkling White Quartz
Perhaps the best advantage to a small bathroom is the small amount of time you'll need to keep it pristine. A quartz counter, such as the Sparkling White Quartz pictured above, features one of the most easy-care materials you can install, needing only a quick wipe with soap and water. It will never need sealing, and is extremely resistant to stains – a big plus in a bathroom, where it may be exposed to a variety of cosmetics.
Despite the small size of the room, it's still possible to use more than one statement piece. The secret? It's all about coordination, and quality materials. Calacatta Vicenza Quartz is ideal for tying these elements together. Featuring an elegant white background and subtle gray veins, it's easy to match, for example, with an intricate gray-and-white hexagon mosaic, a white porcelain raised sink, and even a contrasting material such as wood-look porcelain tile.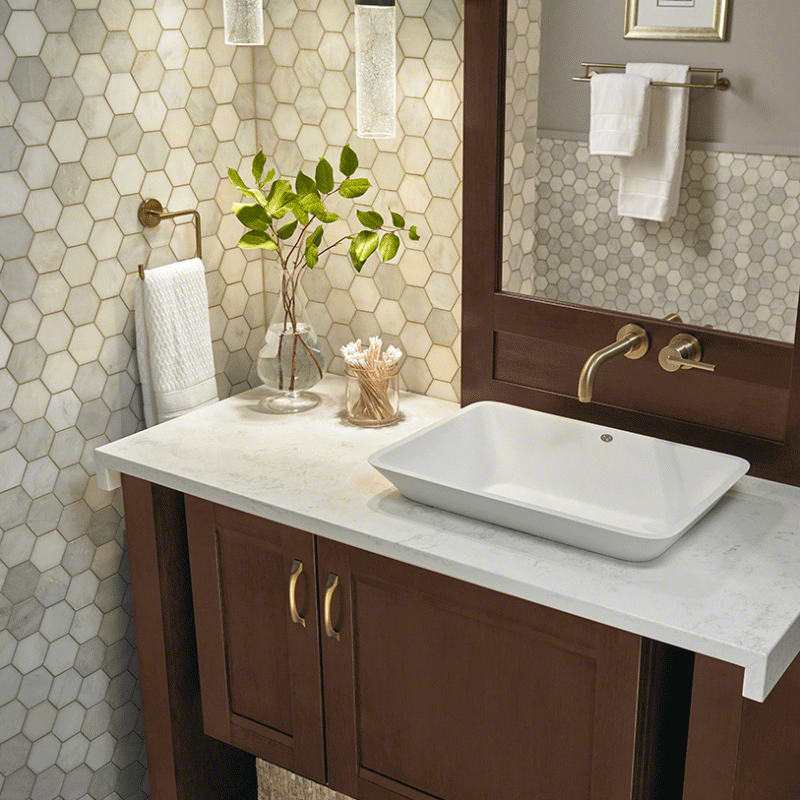 Featured: Calacatta Vicenza and Greecian White 3" Hexagon
Hexagons are a hot design trend, and Greecian White 3" Hexagon polished mosaic tile is as enduring as it is trendy. This is another great idea for creating a statement in a small bathroom while still allowing for other focal statements that don't overpower the room – it works because it's such a classic pattern, and features varying shades of a pale neutral. Try it out as backsplash tile, or flooring.
When mixing patterns and shapes in a small room – or any room, for that matter – it's necessary to provide some "resting" space for the eye in between those elements. Sahara Beige Quartz is an example of this. It provides just enough variation for eye appeal, but the light brown and brick-red flecks in the beige background are subtle enough not to compete with other materials. Using large format tiles shows fewer grout lines between the tile, creating a seamless, sophisticated look.
Small bathrooms can deliver a big impact, when thoughtfully designed. Whether you've been blessed with a diminutive master bath or a pint-sized half-bath, these design ideas can help you create a luxurious haven that lacks nothing and showcases your creativity to its full extent.