10 Reasons To Choose Granite Countertops
February 22, 2023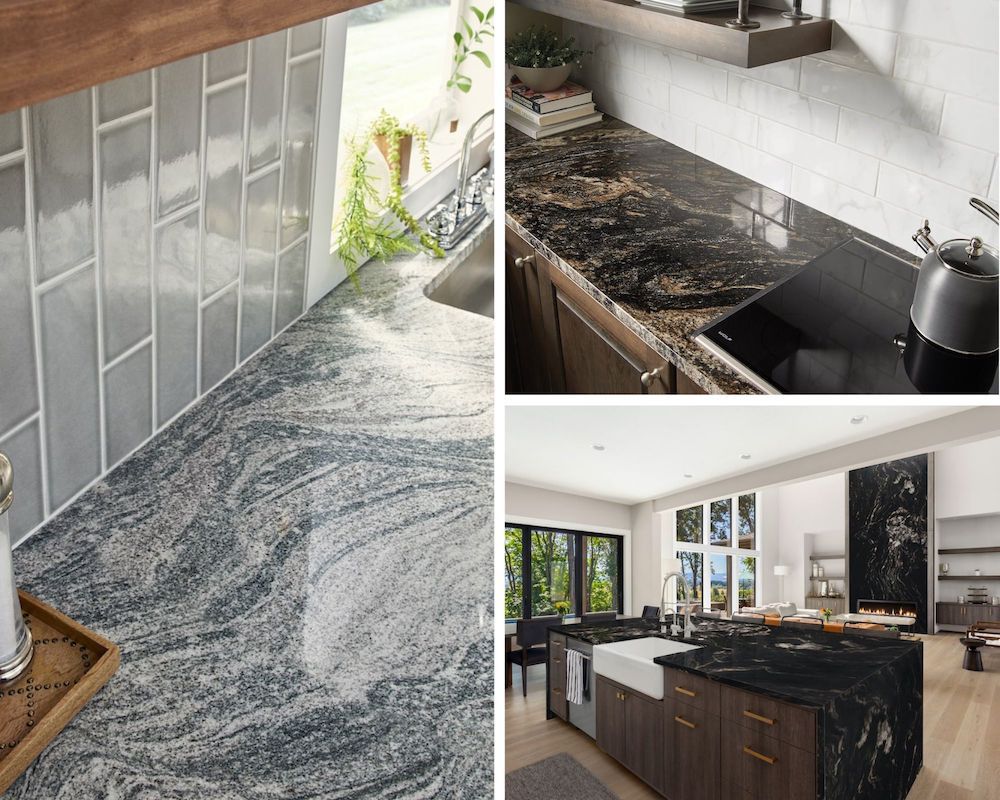 If you're a homeowner looking to boost your property's value, remodeling your kitchen can be a simple and effective solution. Even minor upgrades to your kitchen can yield a significant return on investment.
The value you derive from your kitchen remodel may be directly influenced by the materials you select. With so many options available, granite countertops should be among your top considerations.
Read on to discover the top 10 reasons why you should opt for granite countertops.
1. Increased Durability
When it comes to selecting a material for your kitchen countertops, one of the most significant advantages of granite is its durability and longevity. Granite comes out on top as one of the toughest natural stones, assuring you that it won't easily chip, crack, or scratch.
Granite's scratch-resistant property makes it an ideal choice for families. Additionally, the edges of granite countertops can be rounded and shaped to provide extra protection.
Therefore, if you're looking for countertops that are ultra-durable and can withstand the wear and tear of family life, granite is an excellent choice.
2. Adds Value
In addition to enhancing the visual appeal of your home, granite countertops can also increase its value, making them a valuable investment. By installing new granite countertops, you can make your home more appealing to potential buyers, making it easier to sell your property quickly and at a higher price.
3. Simple to Maintain
Maintaining granite countertops is relatively simple and requires minimal effort. To keep your granite in top condition, it's important to wipe up spills promptly using a soft cloth or sponge to clean the surface. Avoid using harsh chemicals or abrasive materials, which can scratch the surface and may damage the sealant. With proper maintenance, your granite countertops can be a long-term investment.

4. Visually Appealing
Granite is a stunningly beautiful natural stone option with many unique colors and textures - some say the natural movement in granite is a work of art!
The distinctive nature of granite as a stone makes it an ideal choice for kitchen remodeling, instantly enhancing the overall aesthetic of any space.
granite has a unique appearance when compared to other countertop materials. Therefore, you will find each one completely unique when shopping for a granite slab.
Granite slabs also have customized cutting options. This means you can choose the exact patterns and colors you want for your counters. This gives you a one-of-a-kind kitchen with unique patterns, colors, and more. Many homeowners choose to install granite counters simply for their appearance.
5. Affordable
Granite countertops are a cost-effective option, making them a popular choice for homeowners regardless of their budget.
The cost of granite countertops depends on several factors, such as the size and thickness of the slab and the cost of installation. Opting for a thinner slab can help reduce installation costs while still reaping the benefits of owning a granite countertop.

6. Resists Staining
To resist stains, granite countertops must be sealed. The sealing creates significantly reduced porosity, which means they will not easily absorb liquids, making them easier to clean and prevent stains from forming. To maintain the stain resistance, it is essential to re-seal granite countertops periodically. Doing so will help keep them looking great and extend their lifespan.
7. Absorbs Heat
Due to the fact that granite is a stone formed under high temperature and pressure, it has the ability to absorb heat. As a result, granite countertops are renowned for their heat-resistant properties.
This means that your countertops will remain unscathed even if hot pans are placed on them, as the heat will be absorbed into the stone instead of leaving any permanent marks.
8. Wide Selection
Granite slabs come in a diverse range of colors and patterns, making it easy to find one that complements your style preferences. Whether you prefer a granite countertop with a busy pattern and more texture, or a more understated option with neutral colors, there is a granite slab that suits your kitchen design.
One of the simplest ways to explore the full range of granite slabs available is to visit one of our showrooms!

9. Hygenic
Countertops endure heavy usage, making them vulnerable to germs and bacteria. These surfaces are particularly susceptible to bacteria growth due to food preparation and other factors.
Using granite countertops is one of the most hygienic choices you can make for your kitchen. As granite is non-porous, it is more challenging for bacteria to grow, making it easier to maintain a sanitary kitchen environment.
While it's still essential to clean and disinfect your countertops regularly, selecting granite countertops can help keep your kitchen cleaner and more hygienic overall!
10. Repairable
Minor repairs to granite countertops are easily doable by yourself, using a granite polishing powder to handle minor scratches, chips, and stains. To keep your kitchen looking fresh, resurfacing and refinishing your countertops is recommended by cleaning and resealing them regularly.
Small cracks can be filled with an epoxy resin and a hardener, and granite repair kits are readily available at hardware stores. These kits provide all the materials and tools required for repairs. However, larger cracks can be more challenging to fix, and you may want to hire a professional for assistance.
Need Help Finding the Best Granite Countertops?
Investing in high-quality materials can significantly increase the value of your home when remodeling your kitchen. By understanding the benefits of granite countertops, you can choose the best countertop style for your home.
If you require assistance in selecting new countertops for your kitchen, we are here to help! Reach out to us through our chat, or visit one of our showrooms to browse samples and find the perfect countertop for your next project.
Learn More About Granite Countertops
PAIRING GRAY GRANITE COUNTERTOPS WITH DIFFERENT CABINET COLORS
DESIGNING YOUR KITCHEN WITH BOLD BLACK GRANITE COUNTERTOPS
CREATE THE PERFECT OUTDOOR KITCHEN WITH GRANITE COUNTERTOPS
GRANITE COUNTERTOPS VS. MARBLE COUNTERTOPS: WHICH IS THE BEST CHOICE?